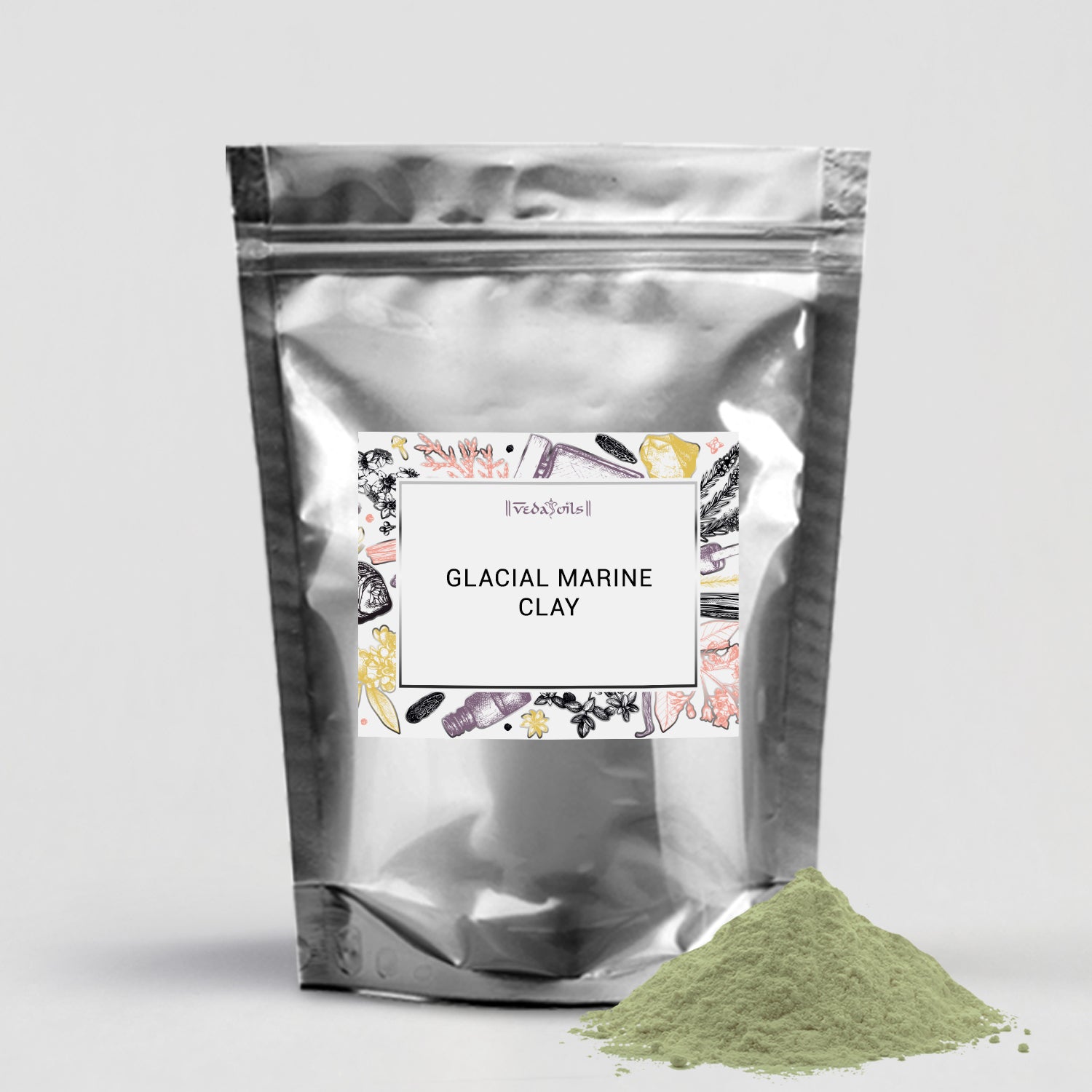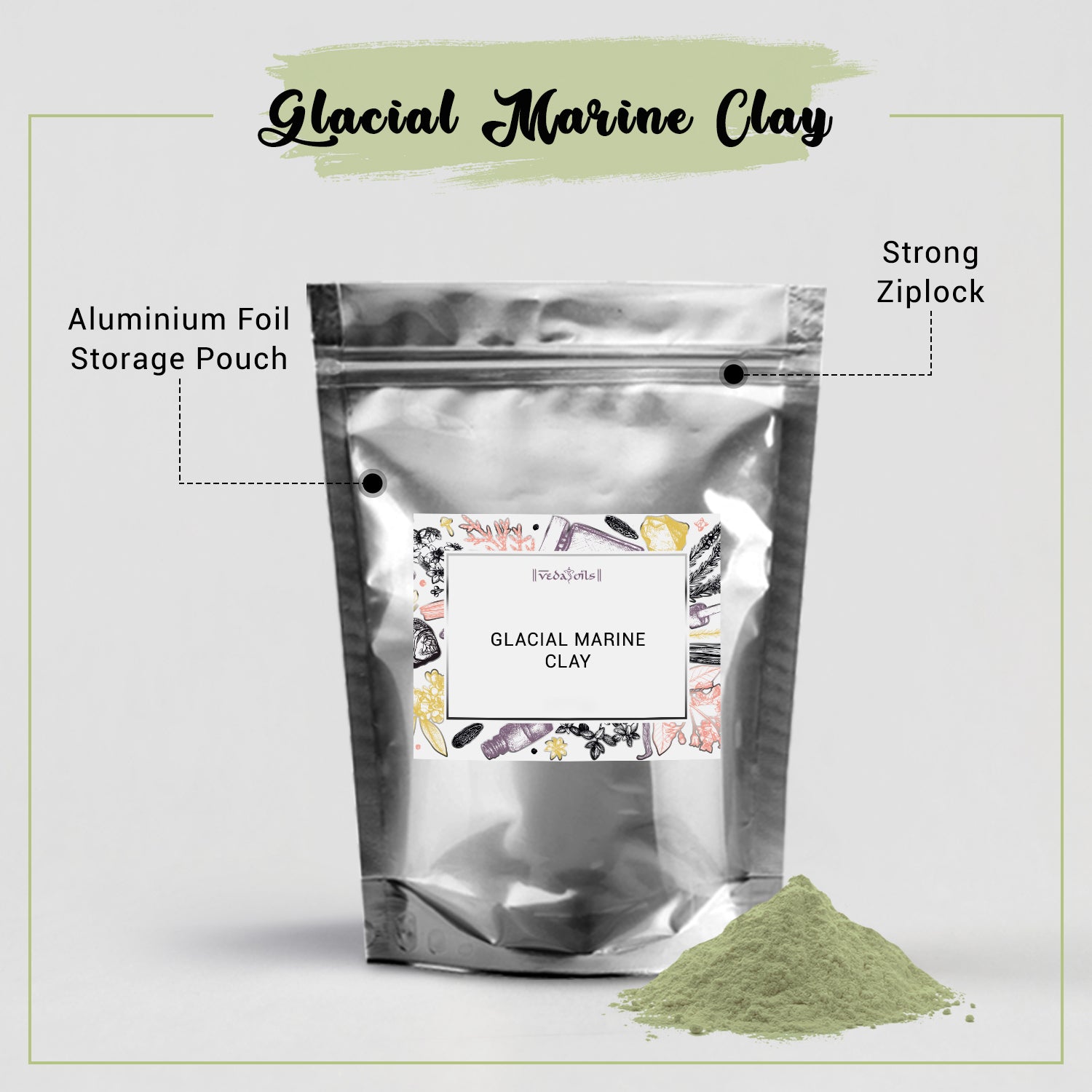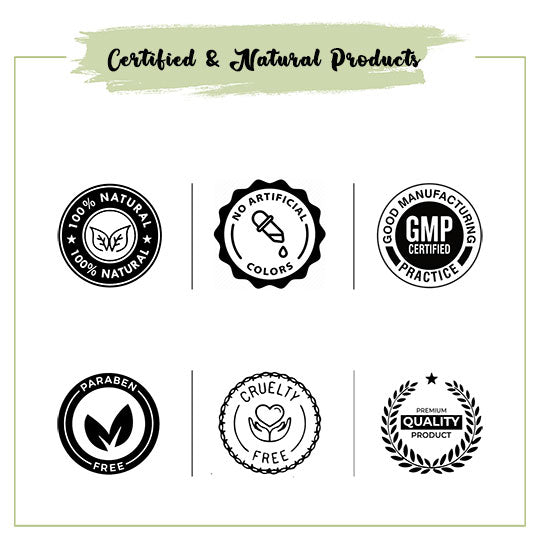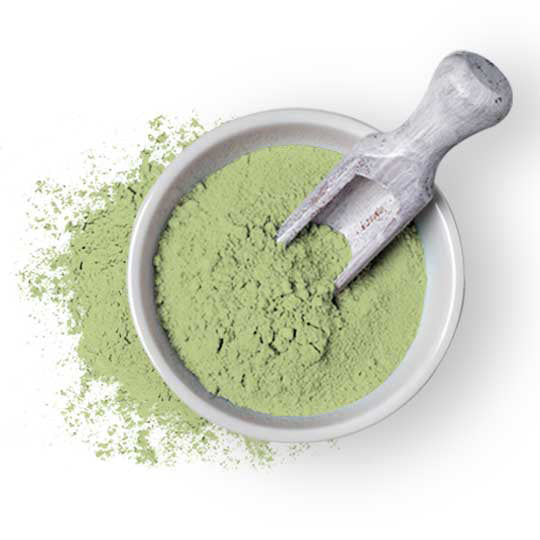 Our Certifications
Glacial Marine Clay
The Organic and Nutrient-rich Glacial Marine Clay is carefully derived from the deposited organic matter of the Pacific Ocean in British Colombia. Powdered Glacial Marine Clay is rich in organic enzymes that gently remove the damaged and dead skin cells. This clay has a unique composition because it contains minerals and micro-nutrients from Marine Phytoplankton.
The application of natural Glacial Marine Clay regularly helps in the growth of new skin tissue and collagen formation. The potent detoxifying, healing, and replenishing properties of Pure Glacial Marine Clay Powder provide optimal radiance to the skin. The high level of minerals and skin recharging elements present in this Clay helps to protect skin from aging, sun damage, and allergies. It also effectively boosts the cellular hydration of the skin.
The versatile nature and powerful attributes of the Marine Clay are used for making many skincare and beauty products. The abundance of minerals and essential nutrients present in Natural Glacial Marine Clay helps to cleanse the pores. It also makes the appearance of skin tighter and firmer. Many facial masks, Body masks, soaps, all-purpose body cleansers, and skin conditioners use Glacial Marine Clay powder.
VedaOils offers the mineral-rich Glacial Marine Clay Online that will make your skin rejuvenated and refreshed. Our Premium-quality Glacial Marine Clay Powder is free from toxins and chemicals. We do not even add any artificial colorant or scents to this clay. You can even creatively use Our Best-quality Glacial Marine Clay powder to make your favorite DIY products.
Glacial Marine Clay Uses
Soap Making
Soap bars use Glacial Clay as it is enriched with minerals and detoxifying properties which help to suck out the impurities and dirt from the skin. Soap Marine Glacial Clay powder also provide deep hydration to the skin.
Facial Mask
Ready-made facial and body masks employ the mineral-rich marine clay as it acts as a magnet to attract the impurities and toxins from the skin. You can even create your DIY facial mask using this clay powder for glowing skin.
Makeup Products
BB creams, concealers, liquid and powder foundations, absorbent powder, and roll-on deodorants use Marine Glacial clay powder for making Mineral makeup products that will make your skin alive and refreshed.
Body Wraps
Body Wraps used in salons and spas use Powdered Glacial Marine clay as it effectively extracts the dirt and toxins from the body. It provides skin with a clear, toned, smoothened, and brightened appearance.
Anti-Aging Creams
Essential minerals and skin-benefiting elements present in this clay are used for making anti-aging creams. Glacial Marine Clay cream will help to promote youthful skin and prevent wrinkles & visible fine lines.
Exfoliating Scrubs
Small particles of organic matter present in Glacial Clay are used to make exfoliating body scrubs. This will remove the excess oil, dirt, and grime from the skin. It improves the blood circulating making skin glowing and smooth.
Glacial Marine Clay Benefits
Detoxify Skin
Application of Glacial Marine Clay powder on the skin helps to attract the impurities and toxins from the skin making it cleaner and smoother. Organic Powdered Glacial Marine Clay treats acne, greasiness, hyperpigmentation, and oily skin issues.
Hydrates Skin
Osmotic strength of Glacial Marine clay effectively pulls the moisture up from deep inner tissues to hydrate and moisturize the skin. This clay also helps in detoxifying the skin without dehydrating or stripping off the natural moisture from the skin.
Balances pH Level
Glacial Marine Clay contains more than 60 minerals which help in maintaining a balanced pH level of the skin. Pure Glacial Marine Clay will help to prevent skin from acne, pimples, and breakouts by strengthening the barrier function of the skin.
Brighten Skin
Beneficial phytoplankton and minerals in Glacial Marine Clay powder enhance blood circulation which makes skin smoother and brightened. Natural elements in it also help to bring out the natural glow and radiance of the skin.
Sun Damage Protection
Essential Minerals and elements present in Oceanic Clay contain some natural and long-lasting protection ingredients which help to protect skin against harmful UVA, UVB, and UVC rays. It also prevents sun damage and tanning.
Shrinks Pore Size
Pores on the skin appear to be bigger due to the clogged dirt and oil in it. The Glacial marine Clay Powder helps to minimize the pore size by cleansing and detoxifying it leaving it smooth and soft.
Product Specifications
| | |
| --- | --- |
| Product Name: | Glacial Marine Clay |
| INCI Name: | N/A |
| CAS No: | N/A |
| Form: | Powder |
| Color: | Brown |
| Alternative Name: | Glacial Marine Clay Powder |
| Product Type: | Clay |
| Paraben Free: | Yes |
| Usage: | Skin Care, Face Mask, Cosmetics, Hair Products |
| Packaging Type: | As Per Requirement |
| Purity (%) | 98 |
| Shelf Life: | 2 years |
| COA: | |
| MSDS: | |
Packaging Sizes
Please Note: The packaging shown above is a General Representation of the various sizes and types of packaging available for this product. Not all sizes and types of packaging for this product maybe available at all times.
Buy Glacial Marine Clay Powder at Wholesale Price
VedaOils is a well-known Bulk Manufacturer, supplier, distributor, and wholesaler of Organic and Mineral-rich Glacial Marine Clay Powder in United Kingdom. We use High-quality Unearthed clay to manufacture our clay powder so it is completely safe for your body. We offer our Glacial Marine Clay Powder at a Discounted Price.
Our natural Marine Clay Powder is free from toxins and chemicals. We do not even add any artificial or chemically infused ingredients to our clay. We guarantee you that it is free from any kind of additives, fillers, or preservatives so you can use them to make different DIY Products. Our Glacial clay is also Vegan-friendly and Cruelty-free.
We pack our Premium-quality Glacial Marine Clay in a strong aluminum zip lock bag so that it does not spill or get damaged in transit. We ensure to follow certain quality check measures while packing our premium quality Clay so that you can receive them safely at your doorsteps.
We at VedaOils offer our Glacial Marine Clay Powder in packages of different quantities (100gm, 500gm, 1kg) so that you can order them on our website as per your needs. We export our Glacial Marine clay in bulk quantities all around the globe which includes countries like The USA, Canada, Australia, and many more countries using our logistic partners DHL, FedEx Blue Dart, India Post, etc.
Frequently Asked Questions
WE NOTICE YOU ARE FROM
US & CANADA LOCATION