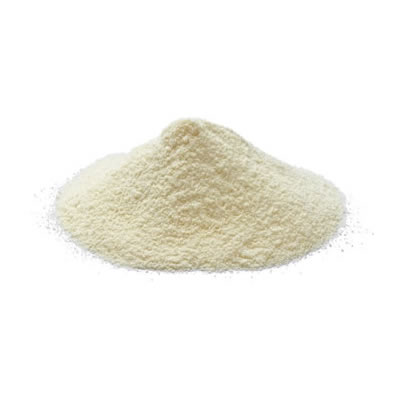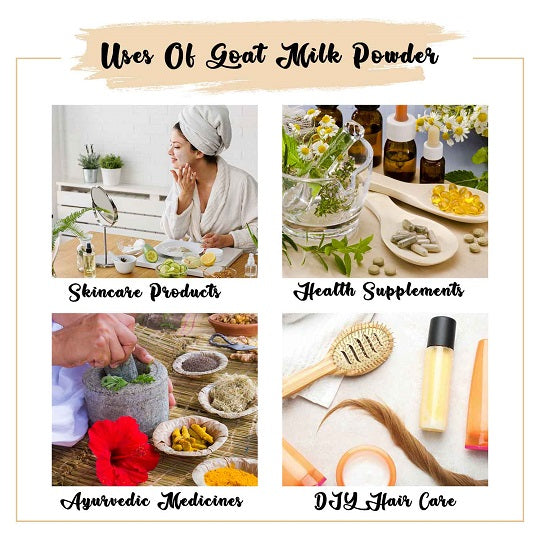 Our Certifications
Goat Milk Powder
Made from nutritious goat milk, this Goat Milk Powder is specially formulated for cosmetic applications. It acts as a natural emollient and restores dry and itchy skin. Also, it is rich in minerals, vitamins, and beta-casein, which help to retain the moisture level of your skin for a long time. No preservatives or chemicals are used while making this unpasteurized Raw Goat Milk Powder. Only full-fat creamy milk is used, and therefore, it is natural and safe to use. It does not dissolve in both water and oil but can be dispersed in both.
You can use it for making lotions, creams, soaps, moisturizers, bath powders, etc., due to its skin conditioning and moisturizing properties. Pure Goat Milk Powder also has the ability to soothing dry and irritated skin. Moreover, it is often used to maintain a good pH level of the formulated products due to its neutral pH value. Due to the abundance of lactic acid, it can also cleanse your skin effectively without being too harsh. Therefore, it suits most skin types and tones perfectly. You can use it in dry and cold weather to treat dry skin.
Organic Goat Milk Powder is white or sometimes creamy white in appearance and is odorless. The lactic acid present in this powder exfoliates your skin and eliminates dead skin cells to give you smoother, healthier, and youthful skin. Its antibacterial properties make it an ideal cosmetic ingredient for producing anti-acne applications. Goat Powder can also nourish your scalp and provide relief from dry and itchy scalp. As a result, it can also help to reduce dandruff. The presence of proteins makes it good enough to make your hair strong from the roots. Therefore, it is sometimes used in hair conditioners as well.
Goat Milk Powder Uses
Infant Formula
Goat milk powder is often used as a base for infant formula, especially for babies who experience difficulties digesting cow's milk. However, it's important to consult with a pediatrician or healthcare professional before using goat milk powder as a replacement.
Culinary Applications
Goat milk powder can be used as a substitute for cow's milk powder in various culinary recipes. It can be reconstituted with water to create goat milk that can be used in baking, cooking, or preparing beverages such as smoothies or hot drinks.
Skin Brightening Creams
Organic Goat Milk Powder is an important ingredient in many skin brightening creams. It contains lactic acid that reduces the formation of melanin responsible for the darkening of the skin. Moreover, it also lightens your skin naturally due to its high mineral content.
Anti-Dandruff Solutions
Soothing effects of goat powder minimize the scalp's flakiness and work against scalp irritation or itching. Therefore, it proves to be a good remedy against dandruff and also nourishes your scalp naturally. In addition, you may find it as a key ingredient in several shampoos due to these properties.
Hair Growth Formula
Goat milk powder is rich in protein, fats, calcium, vitamin E, D, B12, and B2. These vitamins and nutrients improve your scalp health and also strengthen hair roots. Moreover, they also promote quick hair growth and are often used in hair growth formulas and conditioners due to these uses.
Skin Cleanser
Goat Milk Powder exhibits gentle skin exfoliating properties due to lactic acid in it. Moreover, it is also effective against scars and can eliminate toxins and excess oil from your skin pores. Makers of skin cleansers, face washes, and body scrubs will find these uses of Goat Milk Powder to be appealing.
Goat Milk Powder Benefits
Nutritional Content
Goat milk is a rich source of essential nutrients and vitamins. It contains higher levels of calcium, potassium, and magnesium compared to cow's milk. Additionally, it is a good source of protein, vitamins A and D, and healthy fats. Goat milk powder retains these nutrients, making it a convenient and nutritious option, especially for those who cannot consume fresh goat milk.
Soothes Infections
Antibacterial, anti-inflammatory, and antimicrobial properties possessed by Goat Powder may prove useful against skin infections of different types. It also contains prebiotic compounds that work well against gastrointestinal issues and soothe the pain associated with skin infections.
Healthy for Teeth
Goat Milk Powder is rich in calcium that is healthy for bones and teeth. Makers of toothpaste and tooth powder may utilize these benefits of Goat Powder in their products. It is especially healthy for the teeth of growing kids and infants with ingredient such as whitening agents.
Reduce Dark Circles
Skin lightening effects of natural Goat Milk Powder can even reduce dark circles. It may be incorporated in moisturizers and face creams to improve the complexion of your face. You may also find it in products that are formulated to reduce the puffiness of the eyes.
Nourishes Lips
Milk Goat Powder is often used to make DIY lip balms and lip scrubs due to its nourishing properties. It also prevents the darkening of lips and makes your lips soft, smooth, and luscious. Makers of lip care products will find our pure Goat Milk Powder properties to be very beneficial.
Digestive Health
Goat milk is known to be easier to digest compared to cow's milk. It contains smaller fat globules and a different protein structure, making it a suitable option for individuals with lactose intolerance or sensitive digestive systems. Goat milk powder can provide relief from digestive issues such as bloating, gas, and diarrhea.
Product Specifications
| | |
| --- | --- |
| INCI Name: | Goat Milk Powder |
| Raw Material Source: | Goat's Milk |
| Manufacturing Process: | It is made by evaporating goat milk (full cream) and then it is spray dried to obtain the final product. |
| Edible: | Yes |
| GMO: | It is GMO-free but does not contain a certificate for it. |
| Vegan: | Vegans may also use Goat Milk powder. |
| Shelf Life: | 2 Years |
CAUTION: It is meant for external purposes. Keep it away from the reach of your kids and avoid direct contact with eyes
Packaging Sizes
Please Note: The packaging shown above is a General Representation of the various sizes and types of packaging available for this product. Not all sizes and types of packaging for this product maybe available at all times.
Buy Goat Milk Powder Powder Online in UK at Best Price
Vedaoils is one of UK's prominent manufacturers, suppliers, & wholesale distributors of Goat Milk Powder and other herbal powders. Our products are trusted all over United Kingdom for their high quality and purity. No artificial colours, preservatives, or fragrances are added while making Organic Goat Milk Powder. We perform numerous tests and quality checks to ensure that only Goat Milk Powder's premium quality reaches you.
We also employ the highest quality and delivery standards to supply the desired results of our Milk Goat Powder. Shop Goat Milk Powder Online for industrial use, Skincare products, Hair care products, and other uses through Vedaoils Online Portal at affordable prices. Vedaoils Raw Goat Milk Powder is 100% organic and contains all these qualities. In addition, our portal uses a secure payment gateway to run smooth and safe transactions.
Order Goat Milk Powder Online through Vedaoils shopping portal according to your requirements. We deploy high-standard delivery to ensure that the best quality product reaches you in time. We export Goat Milk Powder in bulk quantities to The USA, Canada, Australia, and many more countries using our logistic partners DHL, FedEx Blue Dart, India Post, etc. You can also buy Milk Goat Powder in Bulk at wholesale prices from us. We offer discounts and wholesale rates for bulk purchases. Leave a query in our Bulk Enquiry section to order Pure Goat Milk Powder at the lowest price in UK.
Frequently Asked Questions
WE NOTICE YOU ARE FROM
US & CANADA LOCATION