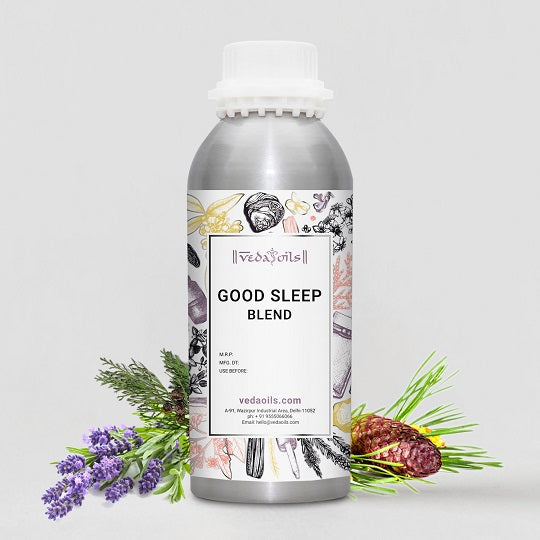 Our Certifications
Good Sleep Blend
Sleeping well is the key to a healthy life, considering the most basic and common need of human nature, VedaOils formulated Good Sleep Essential Oil Blend to provide relief from sleepless hours and uneasiness at night. Prepared with 100% pure essential oils, this Oil Blend promotes the feeling of relaxation and drowsiness to help you sleep better.
Good Sleep Blend is a natural and pure blend of essential oils, including Cedarwood, Pine, Cypress, and Lavender, that help fight insomnia and maintain a healthy sleep cycle. The natural aroma creates a soothing and serene environment when diffused. Its soothing smell is suitable for making soaps, candles, and bath bombs that ease tensed muscle and calms your mind.
Cypress Essential Oil is added which is known for its sedative and relaxing qualities. Infused with a rich amount of Cypress oil, our Good Sleep Diffuser Blend can be used as a natural remedy for anxiety and insomnia. You can quickly inhale the aroma of this blend when you need to relax or facing restlessness while sleeping.
Devoid of artificial colours, fragrances, harmful chemicals, and additives, Good Sleep Blend Essential Oil especially helps women and those with wild insomnia to get a sense of relief from sleepless nights and tiredness. You may consider adding few drops of this blend to your pillowcase shortly before bedtime for a sense of tranquillity and peaceful sleep.
How to Use: Add 2-3 drops of Good Sleep Essential Oil Blend to a diffuser. Pour a few drops on a cotton pad and put that cotton pad underneath your pillow for a deep slumber. You can also rub this oil into the soles of your foot, wrists, and palms for relaxation.
Good Sleep Blend Ingredients
Cedarwood Oil
Cedarwood essential oil is thought to be an excellent detoxifying and distressing agent. Inhaling Cedarwood clears the toxins and negative emotions from the mind. It triggers the release of serotonin in the brain, which ultimately stabilizes the mood and release stress.
Sandalwood Oil
Sedative properties of sandalwood essential oil will provide instant relief from stress. For that, you can rub some oil on your pillow or inhale it before sleeping. As a result, it will help you to sleep peacefully at night.
Lavender Oil
Lavender, one of the more popular essential oils, is most commonly used for relaxation and sleep. When used before bed, this oil not only helps you fall asleep but also improves the overall quality of rest. It is also helpful in relaxing strained muscle and joint pain.
Good Sleep Blend Uses & Benefits
Aromatherapy
Therapeutic properties of Good Sleep Essential Oil Blend help you ease your mind and sleep better at night. Pour a few drops into an aromatherapy diffuser to calm yourself and for better health & well-being.
Reliefs Stress
With sleep-inducing essential oils, Good Sleep Essential Oils Blend helps relieve tension from the mind and body for a good aromatherapy sleep. Discover better mood with positive thoughts when you use sleep oils for diffusers.
Soothes Muscle Pain
Antispasmodic and pain-relieving properties of Good Sleep Essential Oil Blend helps to relieve tensed and strained muscle. Its effective benefits also solve issues like back pain, joint pain, muscle spasms, etc.
Room Freshener
Good Sleep Essential oil blends have a delicate floral aroma that calms down nervousness and anxiety. It eliminates the foul odour from your room and refreshes your surroundings by reducing the smell of toxins products.
Scented Candles
Soothing and refreshing fragrance of Good Sleep Essential Oil Blend poses deep relaxing qualities. Making scented candles by using this blend and using it in your bedroom will tranquillize your living space and redirect your mind to relax.
Massage Oil
Warm massage with Our Good Sleep Essential Oil Blend helps you get rid of tensed muscles. It is specially formulated to use as a massage oil, you can rub a few drops onto your feet and soles or add it to your massage oil to attain maximum relaxation while sleeping.
Packaging Sizes
Please Note: The packaging shown above is a General Representation of the various sizes and types of packaging available for this product. Not all sizes and types of packaging for this product maybe available at all times.
Buy 100% Pure Good Sleep Blend In UK at Low Price
VedaOils is one of the leading manufacturers and suppliers of pure essential oils, essential oils blends, and other natural raw materials In United Kingdom. Our Good Sleep Essential Oil Blend is a beautiful concoction of pure essential oils beneficial for your sleep cycle and overall well-being.
VedaOils' Good Night Sleep Oil Blend is prized for its ability to improve your sleep and other ayurvedic use. When it comes to preparing the essential oils blends, our experts stick to our long live organic roots and design a remedy that is so versatile in use. We provide premium quality Pure Therapeutic Grade Good Sleep Blend at the best price in United Kingdom.
Buy Good Sleep diffuser blend online through VedaOils' online shopping portal. Our portal uses a smooth transaction process, and our customer care services are available to help you out shopping or getting the answer to your queries. We deliver Good Sleep Blend all over United Kingdom and in other countries using our logistic partners DHL, FedEx BlueDart, India Post, etc.
We ensure you that our Oil Blend is completely free from any additives. We do not use coloured tints, preservatives, fragrances, or chemically infused ingredients to manufacture diffuser oil blend. Use our product without any hesitation!
Frequently Asked Questions
WE NOTICE YOU ARE FROM
US & CANADA LOCATION