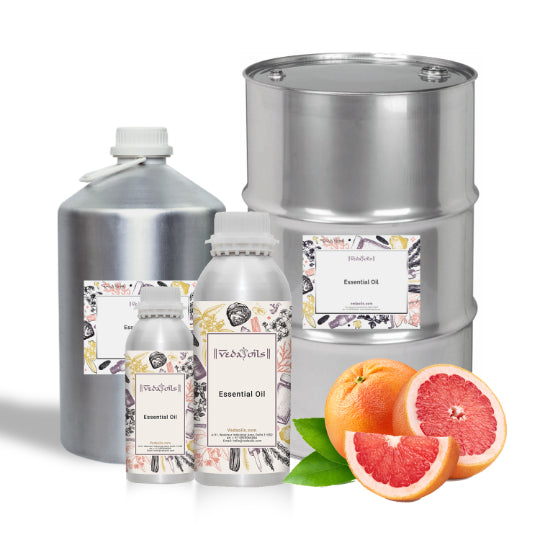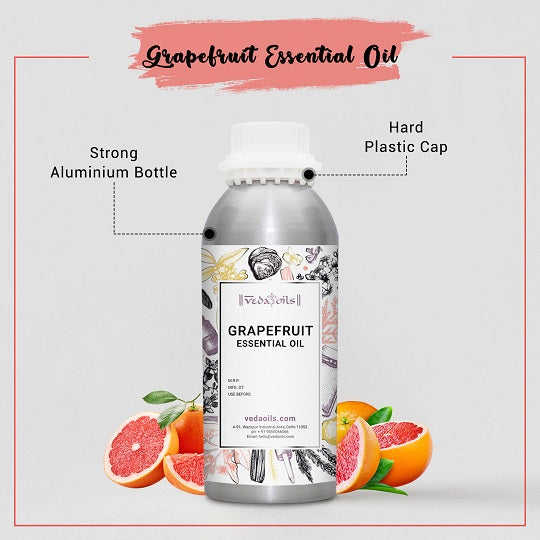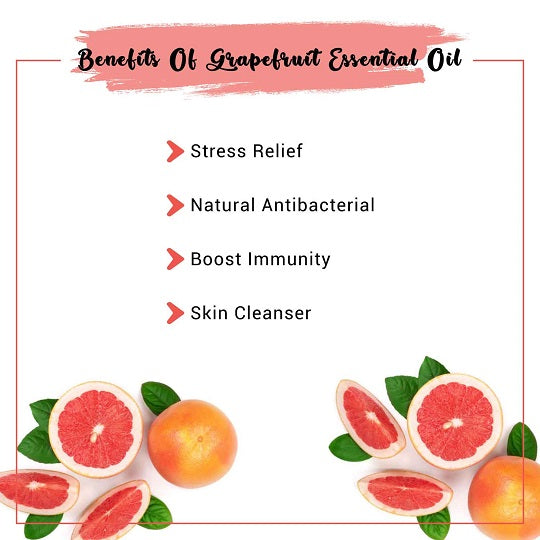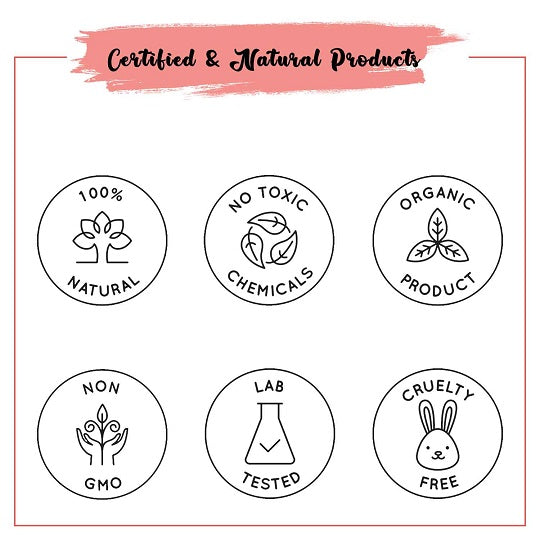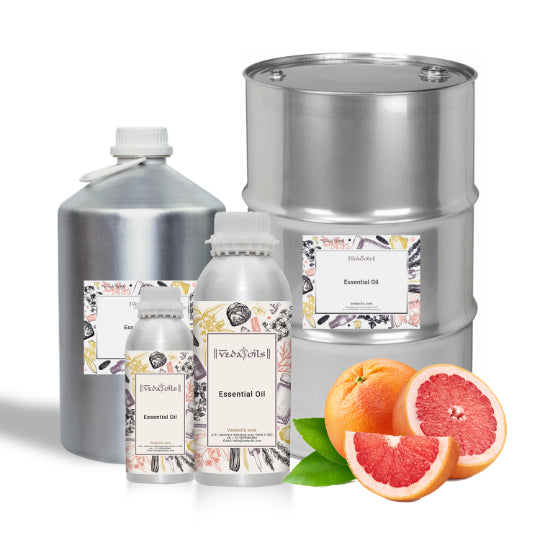 Our Certifications
Grapefruit Essential Oil
Produced from the peels of Grapefruit, which belongs to the Cirrus family of fruits, the Grapefruit Essential Oil is known for its skin and hair benefits. It is made through a process known as steam distillation in which heat and chemical processes are avoided to retain the extracts' natural properties and goodness. Therefore, it is pure, fresh, and natural essential oil.
The blissful aroma of pure grapefruit essential oil makes it one of the key ingredients in Aromatherapy applications. The tangy and refreshing scent of grapefruit essential oil is good for making soaps, body washes, perfumes, and natural Grapefruit oil can reduce stress levels. It also promotes a feeling of well-being and happiness when diffused.
Natural Grapefruit essential oil's Antifungal and Antimicrobial properties enable you to use it as a natural preservative in your cosmetic formulations. You can also add it to your creams and lotions to make them last longer. Adding Grapefruit essential oil to your face scrubs and masks will soften your skin naturally. It gives a smooth texture and a glowing complexion to your skin. and keeps your skin soft and feels nice on your lips.
Multi-purpose organic grapefruit essential oil can help you fight against several skin issues and conditions. A small quantity of grapefruit essential oil is enough to deliver the desired results. Therefore, you must be careful while choosing the proportion of grapefruit oil in DIY skincare and cosmetic applications.
Pure Grapefruit essential oil is packed with nutrients like Vitamin C, Citronellol, Limonene, Pinene, Myrcene, etc. These nutrients are beneficial for your skin and overall well-being. The most important constituent of grapefruit oil is limonene that protects your skin from damage caused due to toxins and free radicals. You can incorporate this essential oil into your skincare regime to protect your skin from damage.
Grapefruit Essential Oil Uses
Aromatherapy Essential Oil
Grapefruit Oil is used during meditation as it clears your mind and improves concentration. It is used in aromatherapy for enhancing mental focus and concentration.
Skincare Products
Adding Grapefruit Essential Oil to your skincare products such as face scrub & masks will soften your skin naturally. It will also give a smooth texture and a glowing complexion to your skin.
DIY Hand Cleanser
The presence of Limonene makes it capable of dissolving unwanted oils. Grapefruit Essential oil is best suited to use for making DIY hand cleansers as it kills germ and disinfects.
Disinfecting Surfaces
The ability of grapefruit essential oil to disinfect surfaces makes it an ideal contender to add to your existing floor and surface cleaners to make them more powerful than before.
Weight Loss
The scent of grapefruit essential oil reduces sugar cravings and controls the intake of calories. you can use it to prevent weight gain by diffusing it or inhaling it before meals.
Scented Candles & Soaps
Sweet and tangy aroma of geranium oil can be used for making scented candles. You can also add few drops of Grapefruit Oil with a carrier oil or your skincare products such as Soap Bar, Lotions, Creams, etc.
Grapefruit Essential Oil Benefits
Reduces Blemishes
To reduce the appearance of dark spots and blemishes, apply a small quantity of Grapefruit Essential Oil on your face every night before sleeping. Use sunscreen in the morning for better results.
Fights Fatigue
Rub a diluted form of Grapefruit Essential Oil on your shoulders and neck if you are feeling low or drowsy. The blissful aroma of this oil will help you to fight fatigue and dullness after a hectic day.
Protects Skin
The presence of antioxidants in Grapefruit Essential Oil protects your skin from external factors like pollution, harsh sunlight, etc. Add it to your lotions, creams, moisturizers, etc.
Relieving Muscle Pain
You can use Grapefruit Essential Oil for easing the stiffness of muscles and for relieving joint pain. For that, you will have to blend it with a carrier oil and massage it into the cramped muscles.
Fortifies Immunity
Pure Grapefruit Essential Oil stimulates your immune system. Grapefruit oil prepares your system to fight against disease-causing germs, it promotes wellness and vitality.
Antibacterial
The antibacterial properties of grapefruit essential oil can curb the formation of bacteria on your skin, scalp and armpits. Moreover, it makes it capable of fighting skin infections.
Product Specifications
| | |
| --- | --- |
| Product Name: | Grapefruit Essential Oil |
| Botanical Name: | Citrus Paradisi |
| CAS No: | 801620-4 |
| Country of Origin: | India |
| F.E.M.A: | 2530 |
| Specific Gravity: | 0.899 |
| Optical Rotation: | +91 to +96 |
| Refractive Index: | 1.479 |
| Flash Point: | 120° C |
| Origin of part used: | Peel |
| Form: | Liquid |
| Shelf Life: | 2 years |
| Packaging Type: | As Per Requirement |
| Extraction or Processing Method: | Steam Distillation |
| Solubility: | Soluble in Alcohol |
| Color: | Light yellow to yellow |
| Odor: | Characteristic |
| Major Constituents: | Grapefruit Peel Extract |
| Blends with: | Lavender, Bergamot, Peppermint, and Rosemary essential oils |
| Consistency: | Thin |
| COA: | |
| MSDS: | |
CAUTION: It is meant for external purposes. Keep it away from the reach of your kids and avoid direct contact with eyes
Packaging Sizes
Please Note: The packaging shown above is a General Representation of the various sizes and types of packaging available for this product. Not all sizes and types of packaging for this product maybe available at all times.
Buy Grapefruit Essential Oil Online in UK
VedaOils is one of the leading Wholesale Suppliers, Manufacturer, and Exporter of Grapefruit essential oil and other Essential oil in India. We offer the purest forms of essential oils to our customers. No chemicals, additives, or fillers are added to them. They also do not contain any artificial colors, preservatives, and fragrances. Therefore, they prove to be ideal for daily use. Though entirely natural, you should dilute essential oil before using it for topical application as it is highly concentrated.
We employ numerous tests and quality checks to ensure that only Premium-quality Grapefruit essential oil reaches you. The highest quality and packaging standards are employed to deliver desirable results on usage. Also, our portal uses a secure payment gateway to safeguard your transactions. Buy Grapefruit oil from VedaOils online according to requirements at the best competitive prices in the market. Check out Grapefruit oil price per Kg, even you can purchase this essential oil in bulk quantity.
We are one of the largest manufacturers, suppliers, and exporters of top-quality Grapefruit Essential Oil and other essential oils in India. We also export our high-quality essential oils to the US, Canada, UK, Australia and other countries. Our products follow the highest standards when it comes to quality and purity. We assure you that you will not regret choosing us! We also deliver the products throughout the world using our logistic partners DHL, FedEx Blue Dart, India Post, etc. Do not miss this excellent opportunity to buy chemical-free, fresh, and multi-purpose Grapefruit oil from VedaOils.
Frequently Asked Questions
WE NOTICE YOU ARE FROM
US & CANADA LOCATION