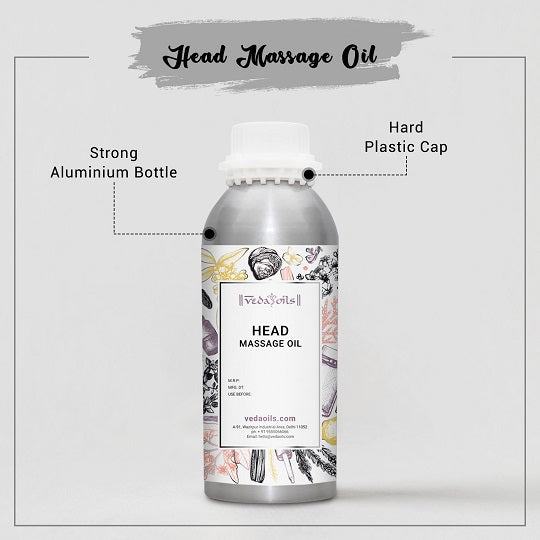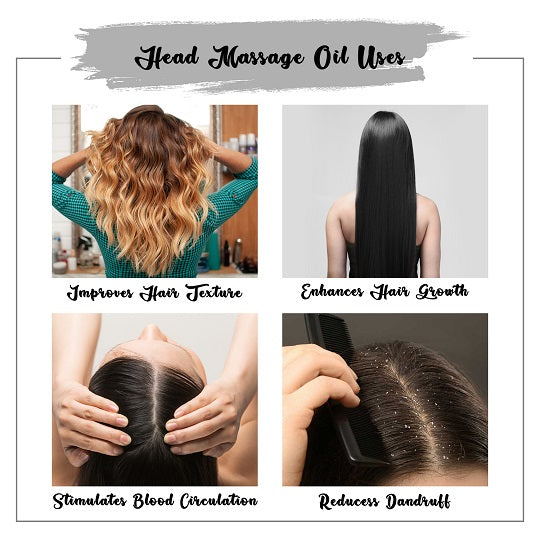 Our Certifications
Head Massage Oil
Head Massage Oil is a nourishing hair oil made from an ancient recipe documented in the Vedas as it incorporates Black Sesame, Coconut, Amla, Bhringaraj, Onion, and Tea Tree Oil. This head massage oil blend will revitalize the hair with its own nutrients, giving it more elasticity and preventing breakage and greying. It is suitable for all hair types, including curly, straight, textured, thick, thin, fine, coarse, color-treated, and so on. This blend can be used as a Best Hair oil for Head Massage, and it is also suitable for use on any type of scalp.
The Ayurvedic preparation of Head Massage Oil nourishes the scalp and strengthens hair follicles. It aids in the prevention of hair loss. This combination promotes healthy hair growth and restores volume. This Cooling Head Massage Oil improves scalp conditions by detoxifying the scalp, removing excess oil, and locking in moisture, leaving it with a natural shine that is silkier and stronger. The application of this oil will reduce dandruff and flakiness on the scalp by removing dirt, debris, and oil from the scalp.
The oil's potent formulation relaxes the mind and lulls you into a deep sleep. This Ayurvedic Oil for Head Massage refresh and recharge your batteries when you wake up. People who regularly use this head massage oil have been known to discontinue their use of sleeping pills. Anxiety and stress levels are higher in people who have a high Vata. The special herbs and extracts used in this Natural Head Massage Blend are VataHar and play an important role in reducing Vata, reducing anxiety, and making one calm.
How to Use: Dispense slightly warm Head massage oil in your palms. Rub it on your scalp and hair strands. Massage your head using light pressure. You can even massage the pressure points on the head and neck for intense relaxation with VedaOils best oil for head massage.
Head Massage Oil Ingredients
Black Sesame Oil
Antibacterial and antifungal effects of black sesame oil may help to prevent or decrease frequent scalp skin infections. Natural Black Sesame Oil may aid in the prevention of hair breakage and split ends. Sesame oil fills in gaps and produces a protective seal on the hair.
Coconut Oil
Coconut oil may provide a number of advantages for your hair and scalp. It may help hydrate and nourish the hair. Coconut oil reduces protein loss in all hair types. Natural coconut oil is high in lauric acid and rapidly enters the hair shaft, it is ideal for use as a daily conditioner.
Amla Oil
It is said that pure Amla oil strengthens and conditions follicles all the way down to the roots. Ayurvedic practitioners believe that amla oil adds shine and silkiness to the hair, decrease dandruff, and prevent greying. Amla oil can be used for scalp massage for natural hair growth.
Bhringaraj Oil
Bhringraj oil aids in the alleviation of headaches, particularly those caused by stress. It is regarded as a stress reducer. Bhringraj oil contains magnesium, to boost mood and sleep habits. Massage with Bhringraj oil to increase blood circulation to your hair roots.
Onion Oil
Onion Oil nourishes your scalp and increases blood circulation, resulting in thicker and stronger hair growth. Regular use of onion oil in your crown area can boost hair regrowth while also preventing bacterial infections . You can also use head massage oil that contains Onion oil.
Tea Tree Oil
Tea tree oil helps alleviate the symptoms of seborrheic dermatitis, a common skin ailment characterized by scaly areas on the scalp. Tea tree oil is useful for relaxing the head and curing dandruff; Natural tea tree essential oil can also help to prevent excessive hair loss.
Head Massage Oil Benefits
Promotes Hair Growth
Use of head massage oil improves blood circulation to the roots. Improved blood circulation results in better nutrient absorption by the roots and, better or improved hair growth. Regular massage prevent scalp conditions that can impede hair growth, such as dryness, dandruff, flakiness.
Stimulates Blood Circulation
Inadequate or poor circulation around the head causes pain and fatigue. Head massage oil aid in the proper or optimum flow of blood, a head massage can help to alleviate the symptoms of fatigue and pain. This head massage oil for brain also stimulates blood circulation.
Relieves Headache
Calming and relaxing Head Massage oil contain essential Ayurvedic oil that can help with Migraine, headaches, and stress. Applying pressure to specific points with this massage oil may help relieve migraine symptoms. It could also increase blood flow to the brain.
Reduces Tension & Stress
Stress can contribute to health problems such as digestive problems, sleeplessness, and so on. Head massage can help reduce tension, anxiety and improves energy levels, pain levels, and mental well-being. Improved blood circulation leads to a more relaxed and peaceful mind.
Cure Insomnia
Stress can cause agitation and sleeplessness. We seldom pay attention to these signs, which might exacerbate the condition. This best Ayurvedic oil for head massage can help you sleep better. Natural Head massage oil will assist you in relaxing and sleeping well.
Boost Memory
Concentration and memory power can be improved by using a head massage oil. It can help you concentrate and remember things better by improving blood flow to your nervous system. This cooling head massage oil will also increase efficient thinking, focus, attention, and mental clarity.
Product Specifications
| | |
| --- | --- |
| Product Name: | Head Massage Oil |
| Brand: | VedaOils |
| Country of Origin: | United Kingdom |
| Ingredeints List: | Jojoba |
| Foam: | Liquid |
| Alcohol-Free: | Yes |
| Usage/Application: | Body Massage / Aromatherapy |
| Packaging Type: | As per requirement |
| Storage: | Store in a Cool & Dry place. |
| Shelf Life: | 2 years |
| Aroma | No Smell |
| Color | Light To Dark Yellow |
CAUTION: It is meant only for external use. Do a patch skin test before applying it to your skin. Dilute it before topical application. Avoid direct exposure to sunlight. Pregnant women should consult a doctor before using it.
Packaging Sizes
Please Note: The packaging shown above is a General Representation of the various sizes and types of packaging available for this product. Not all sizes and types of packaging for this product maybe available at all times.
Buy Head massage oil Online In UK at Low Price
VedaOils is the leading manufacturer, wholesaler, and supplier of Premium grade Head Massage Oil Online in United Kingdom. We are also the leading exporters of top-quality essential oils, natural oils, and other cosmetic raw materials in United Kingdom. We export our high-quality essential oils to the US, Canada, Australia, and many other countries. Our products follow the highest standards when it comes to quality and purity.
We do not use any harsh chemicals, pesticides, or fillers while producing our Best Quality Head Massage Oil. Therefore, it can be incorporated into your daily healthcare and wellness routine. You can use this massage oil as per your needs and requirements.
We offer attractive discounts on bulk orders. Apart from that, a secure payment gateway is provided to ensure the safety of your transactions. The best packaging standards and collaboration with top logistic companies like DHL, Post, BlueDart, etc. enable us to provide undamaged and effective essential oils to our customers.
Buy Head Massage Oil Online in Bulk from VedaOils today and we assure you that you will be able to reap many benefits from it
Frequently Asked Questions
WE NOTICE YOU ARE FROM
US & CANADA LOCATION