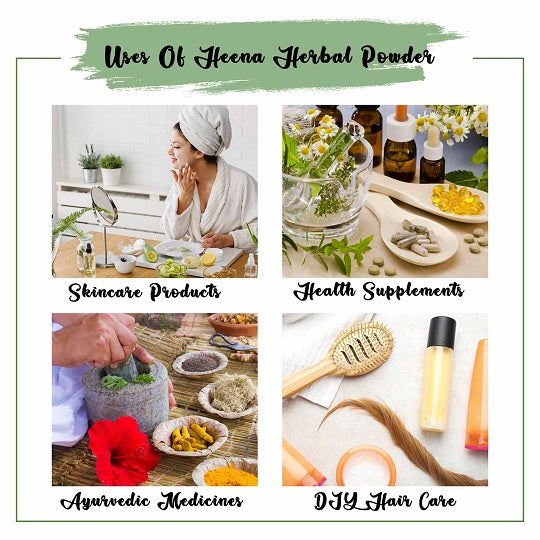 Our Certifications
Henna Powder
It is 100% pure and natural Henna Powder free from chemicals and added fragrances, preservatives, and artificial colors. Mehandi Powder is made from the leaves of Henna and is known for its natural coloring properties. Henna Powder is mostly used to dye hair and in products that are meant for coloring hair. However, it also possesses powerful anti-inflammatory properties, making it ideal for treating skin dry, inflamed, and chapped skin.
Organic Henna Powder is available in a fine powdered form and has a light greenish-brown color. Its typical fragrance can refresh your mood, but sometimes this fragrance can be too overpowering as well. It is also known as Mehendi Powder in common Indian households and is used for external purposes only. Please keep it away from the reach of kids and pets. You can add it directly to your skin conditioners and shampoos but remember that it will color your hair as well.
Mehndi Powder can reduce dandruff, and it also reduces issues like itching and irritation of the scalp. Also, it can be used to strengthen your hair as it conditions your hair naturally and improves the overall health of your hair follicles by strengthening their roots. It is used in hair care applications like conditioners, shampoos, and hair coloring products. Fresh Henna Powder is triple sifted, dyes red burgundy tones, covers grey hairs, creates gorgeous henna body art designs, helps grow the hair, and reduces dandruff. Buy 100% Pure Henna Powder from VedaOils.
Heena Powder Uses
Hair Dyes
Henna Powder is popular as a hair dye as it colours grey hair strands naturally to give them a darker shade. Therefore, it is widely used in hair colorants and hair styling products. You may even mix Henna powder with shikakai powder while using it for colouring hair.
Medicinal Uses
Our Pure Henna Powder can be effective as a coagulant for cuts, open wounds, and bruises. Its strong anti-inflammatory properties have a soothing effect on your skin which can be used for treating skin burns and issues like eczema by using it as a poultice.
Scalp Health
Use Organic Henna Powder to maintain scalp health due to its antifungal and antibacterial properties. Good Henna Powder removes impurities from your scalp and prevents scalp itchiness and dandruff as well. It has a cooling and soothing effect on your hair and scalp.
Infection Treatment
Bactericidal and fungicidal properties of Henna Powder can be used to treat skin infections of different types. You may use it for treating skin infections like ringworm. Henna Powder also possesses antiseptic properties, due to which it is often used in ointments.
Hair Care Products
Pure Henna Powder can prove to be instrumental in curbing hair fall. It improves the texture of your hair and unclogs clogged pores to reduce hair fall to a great extent. Therefore, it proves to be a useful ingredient in hair care products.
Reduces Fever
Organic Henna Powder induces sweating and provides instant relief from high fever due to its antiviral properties. Best Henna Powder is also sometimes used for making cooling gels by using ingredients like Aloe Vera gel due to its ability to cool the skin.
Heena Powder Benefits
Boosts Hair Growth
Our Natural Henna Powder is known for boosting hair growth. It balances the pH level of your scalp and improves the thickness and natural luster of your hair. Makers of hair growth formulas use it extensively to turn hairs thick, smooth, and wavy.
Anti-aging Properties
Astringent properties of henna powder make it effective against blemishes, wrinkles, and other signs of aging. It might also fade the appearance of dark spots and scars on your face. As a result, makers of anti-aging solutions use our natural Henna Powder sometimes in their applications.
Enhances Nail Health
Use Fresh Henna Powder to reduce the infection that might affect the health of your cuticles and gaps between your finger and nails. Henna Powder prevents nails from becoming cracked and brittle. It also enhances the texture and appearance of your nails naturally.
Pain Reliever
Anti-inflammatory properties of our pure Henna Powder is sometimes used for healing arthritic pain and rheumatic pain. Therefore, it is often used as an ingredient in ointments and soothing gel and can relieve wounds and ulcers.
Alleviates Sleep Issue
People suffering from sleep issues can use our best Henna Powder to relax and peaceful sleep at night. Heena Powder powder's soothing properties help your body rest and introduce a calm state in your mind to help you sleep without any issues.
Hair Conditiong
Lawsonia Inermis Leaf Powder is a natural hair conditioner that creates a protective barrier outside your hair follicles. This barrier helps lock the moisture in your hair follicles and gives lustrous, soft, smooth, and manageable hair.
Product Specifications
| | |
| --- | --- |
| INCI Name: | Lawsonia Inermis |
| Raw Material Source: | Henna leaves |
| Manufacturing Process: | It is made from fresh leaves of henna and ground into a fine powder. |
| Tested On Animals?: | No |
| GMO: | GMO-free but not certified for it. |
| Vegan: | Vegans can use it because it does not contain any animal-derived components. |
| Shelf Life: | 2 years |
CAUTION: It is meant for external purposes. Keep it away from the reach of your kids and avoid direct contact with eyes
Packaging Sizes
Please Note: The packaging shown above is a General Representation of the various sizes and types of packaging available for this product. Not all sizes and types of packaging for this product maybe available at all times.
Buy Henna Powder Online in UK at Best Price
VedaOils is one of the prominent manufacturers, suppliers, & wholesale distributors of Henna Powder and other herbal powders in United Kingdom. Our products are trusted all over UK for their high quality and purity. No artificial colors, preservatives, or fragrances are added while making Henna Powder. Hence our Henna Powder is 100% natural and organic.
Order Henna Powder online through VedaOils' shopping portal according to your requirements. We deploy high-standard delivery to ensure that the best quality product reaches you in time. Henna Powder is now available in packets of 100gm, 500gm, 1kg, and 5kg.
You can also Buy Henna Powder in Bulk at wholesale prices from us. We offer discounts and wholesale rates for bulk purchases. You can leave a query in our Bulk Enquiry section to buy orange peel powder at the best price in UK. We export Organic Henna Powder in bulk quantities to The USA, Canada, Australia, and many more countries using our logistic partners DHL, FedEx Blue Dart, India Post, etc.
Frequently Asked Questions
WE NOTICE YOU ARE FROM
US & CANADA LOCATION