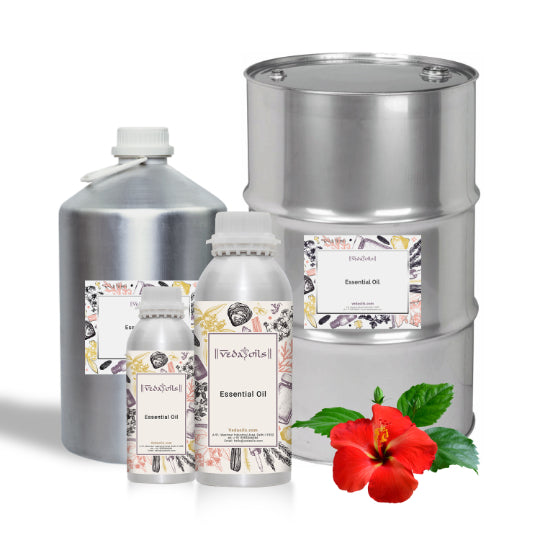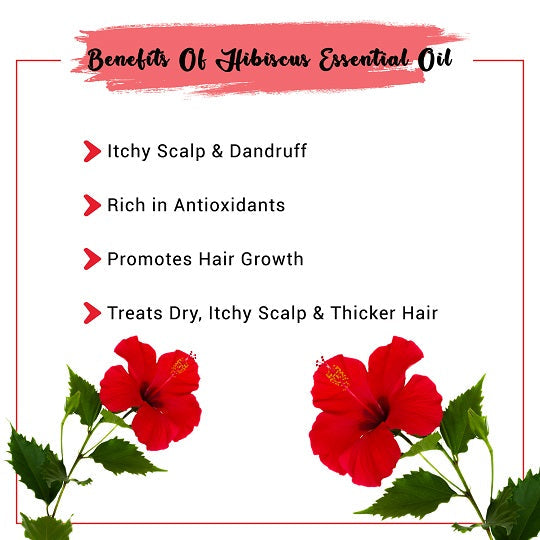 Our Certifications
Hibiscus Essential Oil
Made from the leaves and flowers of the Hibiscus plant, Hibiscus Essential Oil is also known as Gudhal Oil. It contains Vitamin A, Vitamin C, amino acids, and alpha-hydroxy acids. Therefore, it is packed with antioxidants that are beneficial for your hair and skin health. This oil is mostly used for hair treatment. You can incorporate it in your hair masks to experience a deep conditioning effect. Due to the AHA acids, it also cleanses your skin and nourishes it.
The presence of Vitamin C lightens your skin and proves to be useful for acne treatment as well. Due to these benefits, Hibiscus Essential Oil is one of the favourite essential oils of those who manufacture skin and hair care products. It also exhibits skin regenerating properties that can be used for maintaining the overall health of your skin. As it is a concentrated essential oil, you need to dilute it before applying it to your skin or hair. Hibiscus Oil used for treating a variety of skin and hair issues.
Hibiscus Essential Oil Uses
Hair Growth Shampoos
Presence of Vitamin A and C makes Hibiscus Essential Oil a top remedy for hair growth. Mixing it with coconut oil and applying it to the scalp and hair makes your hair stronger and grow longer. For best results, apply the oil overnight and wash in the morning.
Anti-dandruff Formulas
Dry and undernourished scalp often result in dandruff formation. Hibiscus Essential Oil nourishes the scalp and also exfoliates dead skin cells. Therefore, it prevents the scalp from getting dry and flaky and controls itchiness. Apply warm Hibiscus oil after blending it with coconut oil on the scalp for instant results.
Anti-greying Solutions
People who regularly incorporate Hibiscus Essential Oil in their hair care routine have dark hair. It prevents hair from greying and also gives it a shiny appearance. It is possible due to the amino acids that condition your hair and maintain its health and texture over a long time.
Anti-ageing Creams
Add Hibiscus Essential Oil face care routine to reduces fine lines or wrinkles on your face. The antioxidants of this oil improve the elasticity of your skin and boost collagen products. In addition, the moisturizing effects of this oil remove fine lines and wrinkles from your face.
Hair Masks
Hair masks made with Hibiscus Essential Oil repair damaged hair with a lustrous shine and smooth texture. During winter, your hair might become dry and rough. The hair masks containing Hibiscus oil, honey, yogurt, and other natural ingredients will restore the natural softness of your hair.
Skin Brighteners
Makers of face creams include Hibiscus Essential Oil in their products. Vitamin C present in this oil lightens skin and balances even tone. Moreover, due to its lightweight, Hibiscus oil gets absorbed in the skin instantly and acts as a mild exfoliant to eliminate dead skin cells and dirt.
Hibiscus Essential Oil Benefits
Treats Hair Issues
Hibiscus Oil is used to treat variety of issues like split ends, dandruff, dryness, hair fall, etc. It is added in various hair care products like shampoos, oils, and conditioners.
Acne Treatment
Presence of Vitamin C helps to lighten the scars left by acne marks. It also minimizes the blemishes and restores the natural appearance of your skin.
Moisturizing
Hibiscus Oil moisturizes your skin and maintains its elasticity. You can blend it in your face creams and moisturizers and apply it every night before going to bed for faster results.
Treats Dandruff
Hair mask made by blending Aloe Vera Gel and Hibiscus Oil proves to be an excellent hair mask to reduce your hair dandruff. It also provides relief from scalp irritation.
Exfoliating
Pure Hibiscus essential oil acts as a gentle exfoliant for your skin. Therefore, you can use it to keep excess oil, dirt, pollution, and other impurities away from your skin.
Skin Regenerating
Skin regenerating properties allow Hibiscus oil to restore and repair damaged skin cells. As a result, your skin will become nice and youthful if you incorporate this oil into your daily skincare regime.
Product Specifications
| | |
| --- | --- |
| Botanical Name: | Hibiscus Sabdariffa |
| CAS No: | 84775-96-2 |
| Country of Origin: | India |
| F.E.M.A: | 2051 |
| Specific Gravity: | 0.98000 - 0.96000 @ 25°C |
| Optical Rotation: | +5 to +15 @ 20°C |
| Refractive Index: | 1.45000 - 1.49000 @ 20°C |
| Flash Point: | 179° F |
| Origin of part used: | Leaves and Flowers |
| Form: | Liquid |
| Shelf Life: | 2 years |
| Packaging Type: | As Per Requirement |
| Extraction or Processing Method: | Steam Distilled |
| Solubility: | Insoluble in water, soluble in alcohols and oils |
| Colour: | Pale Yellow |
| Odor: | Mild Floral |
| Major Constituents: | Hibiscus Flower & Leaf Extract |
| Blends with: | Ylang Ylang, Geranium, and Lavender essential oils |
| Consistency: | N/A |
| COA: | |
| MSDS: | |
CAUTION: It is meant for external purposes. Keep it away from the reach of your kids and avoid direct contact with eyes
Packaging Sizes
Please Note: The packaging shown above is a General Representation of the various sizes and types of packaging available for this product. Not all sizes and types of packaging for this product maybe available at all times.
Buy Hibiscus Essential Oil Online In UK at Best Price
VedaOils is one of the leading wholesale suppliers of Hibiscus Essential Oils and other essential oil in United Kingdom. We ensure that all our products adhere to the highest standards of safety and quality. We offer the purest forms of essential oils to our customers. No chemicals, additives, or fillers are added to them. They also do not contain any artificial colours, preservatives, and fragrances. Therefore, they prove to be ideal for daily use.
Though completely natural, you should dilute essential oil before using it for topical application as it is highly concentrated. We employ numerous tests and quality checks to ensure that only premium-quality and effective oils reach you. The highest quality and packaging standards are employed to deliver desirable results on usage. Also, our portal uses a secure payment gateway to safeguard your transactions.
You can purchase High Quality Hibiscus Oil at low price for your daily purposes and we also sell it in bulk online with complete secure payment gateways with fast shipping, and complete customer support. Do not miss this wonderful opportunity to buy chemical-free, fresh, and multi-purpose hibiscus essential oils from VedaOils. We assure you that you will not regret choosing us.
Frequently Asked Questions
WE NOTICE YOU ARE FROM
US & CANADA LOCATION