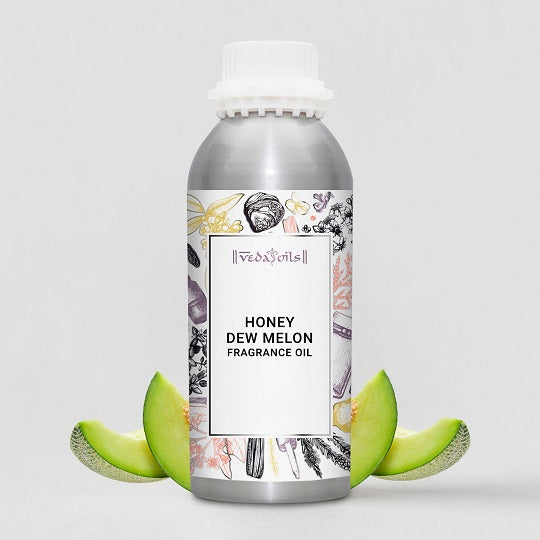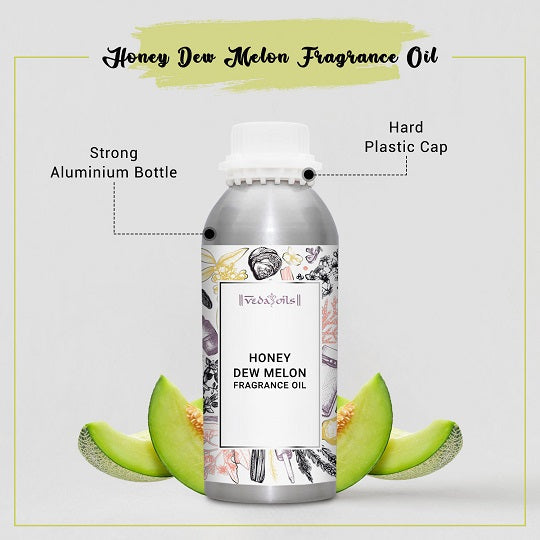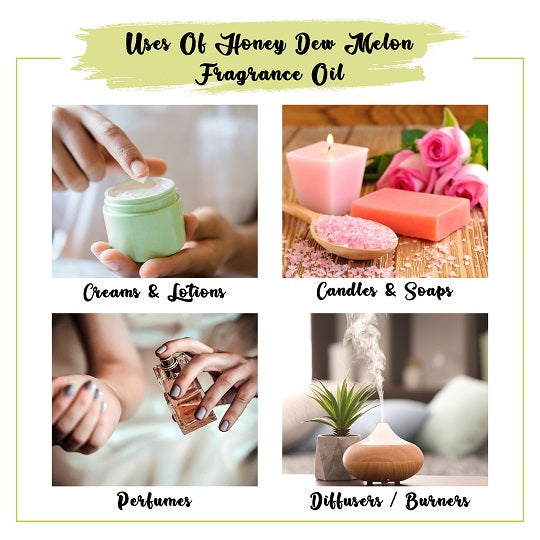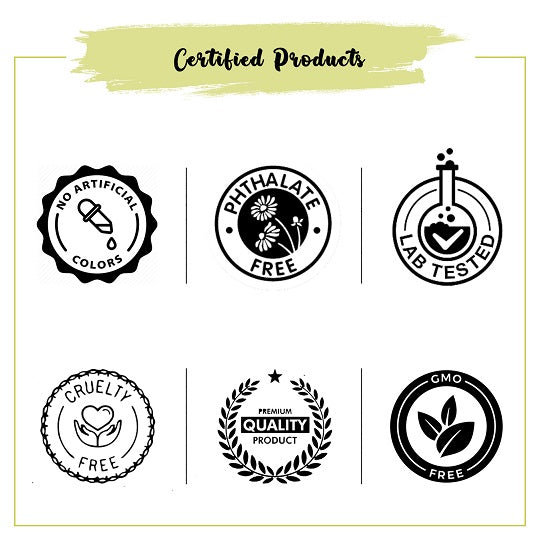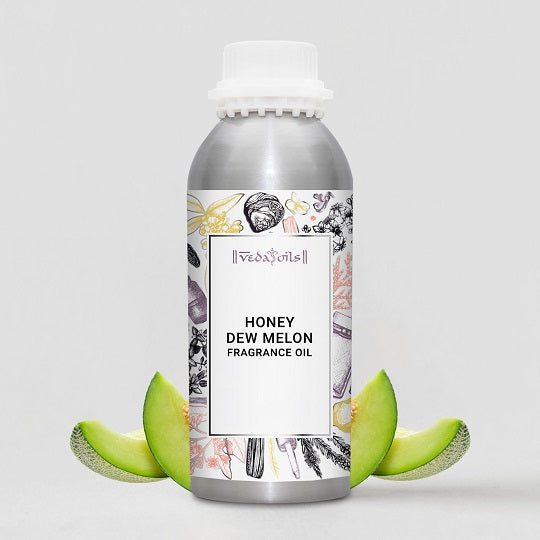 Our Certifications
Honeydew Melon Fragrance Oil
Organic honeydew melon fragrance oil is derived from the fresh pulp of Honeydew Melon and is widely utilized by industries worldwide for its delightful scent. It smells delicious, with notes of sweet peach, melon, and a bit of juicy berry. Our honeydew melon fragrance oil, used in a diffuser or candles, has a delightful perfume of sweet peachy and melony that will transport you to a fresh garden and remind you of your first summer.
Since our honeydew melon scent is chemical-free, producers of beauty and skincare goods have begun to include it in their products. It also allows them to give their products a distinct and pleasant scent. This fragrance oil's deep and inviting perfume would be ideal for luxury soap bars, scented candles, and body wash products.
Honeydew Melon Fragrance Oil Uses and Benefits
Soap Making
Our pure honeydew melon fragrance oil can be used in your luxury soap bars due to its refreshing aroma and effects; its sweet peachy scent will boost the fragrance of your goods. This aroma contributes to the silky smooth feel of your soap.
Scented Candles
Honey melon fragrance oil is ideal for producing scented candles since its invigorating aroma will transport you to a romantic stroll along the beach in the summer breeze. It emits a mind-calming aroma when lit. It will refresh your mood.
Air Fresheners
Its refreshing scent of sweet and subtle vegetal elements will lift the mood of your cozy space. A diffuser filled with honey melon fragrance oil will fill your home with a wonderful refreshing perfume that you've been craving.
Perfumes
Honeydew fragrance oil is widely regarded as the greatest perfume industry because of its unique, refreshing scent. Its refreshing aroma will remind you of your childhood summer. Cologne sprays, perfumes, and deodorants can benefit from this aroma oil.
Cosmetics Care
Our best marine sea mist scent oil is used by skincare, haircare, and cosmetic industries because it imparts a faint yet enticing aroma to their products. This fragrance oil can scent body lotions, moisturizers, and face scrubs.
Bathing Products
Honeydew melon fragrance oil produces shower gels, bathing lotions, body wash, and other products. Its vegetable undertones will give your product a pleasant perfume for the entire day. Its lovely peachy smell will enhance the overall experience of bathing.
How to Use Honeydew Melon Fragrance Oil?
Soap Making: A refreshingly fragranced soap bar gives a luxurious and rich feel to the skin. You can add your favourite 10 ml of Honeydew Melon aroma oil in a 150 grams soap base to get perfectly scented soap bars.
Scented Candle: Scented candles with calm and comforting aromas are made using Fragrance Oil in a calculated quantity. To obtain perfect smelling scented candles, you can use 15 ml of Honeydew Melon perfume oil for 250 grams candle wax flakes. Make sure you measure your quantities correctly so that the fragrance doesn't get overpowered.
Skin Care & Cosmetic Products: Mild and gentle scented cosmetic products are made using Honeydew Melon fragrance oil in very little proportion to not react to the skin.
Aromatic Bath: A good aromatic bath in a bathtub helps to relax and calm the body. You can add 5-6 drops of Honeydew Melon fragrance oil in a bathtub to enjoy the aromatic bath's rejuvenating and relaxing session.
Note: The concentration of pure Honeydew Melon scented oil needs to be varied according to the purpose of use.
Product Specifications
| | |
| --- | --- |
| Product Name: | Honeydew Melon Fragrance Oil |
| INCI Name: | N/A |
| Country of Origin: | India |
| Foam: | Liquid |
| Flash Point: | N/A |
| Color: | Pale yellow to amber in color. |
| Aroma: | Fresh, Earthy, and Sweet Floral fragrance |
| Suitable for: | Bath Bombs, Lipsticks, Lip Balms, Facial and Body Scrubs, Creams, Perfume Oils |
| Packaging Type: | As per requirement |
| Storage: | Store in a Cool & Dry place. |
| Shelf Life: | 2 years |
| COA: | |
| MSDS: | |
Packaging Sizes
Please Note: The packaging shown above is a General Representation of the various sizes and types of packaging available for this product. Not all sizes and types of packaging for this product maybe available at all times.
Buy Honeydew Melon Fragrance Oil at Wholesale Price In UK
Produced from fresh, crisp honeydew melon, honeydew Melon Fragrance Oil by VedaOils has a seductive sweet peachy perfume with a hint of aqueous and vegetal notes. Our honeydew Melon fragrance oil is 100 per cent pure, and its fragrance can be used to make various items. VedaOils is a leading manufacturer and supplier of the purest Honeydew Melon Fragrance Oil in bulk at the fairest prices In United Kingdom. Please visit VedaOils' website for a variety of current discounts.
SLS, parabens, phthalates, and other chemical-based compounds are not used to produce our Honeydew Melon Fragrance Oil. Since it is manufactured from plant-based materials, our aromatic oil is Vegan-friendly. As this honeydew Melon scented oil is quite stable, it can be used in various DIY applications. Our users can transact with VedaOils most simply and safely as possible. We take debit and credit cards and provide a secure payment gateway to protect your transactions.
While packing our high-grade honeydew Melon fragrance oil, we adhere to particular packaging standards and quality control techniques to ensure that you receive them in great condition at your doorstep. Honeydew Melon Fragrance Oil is available from VedaOils in a variety of sizes (100ml, 500ml, 1L, 5L) so that you can get just what you need. Through our logistic partners DHL, FedEx Blue Dart, India Post, and others, we export our Honeydew Melon Fragrance Oil in bulk quantities to Europe, Canada, and Australia.
Frequently Asked Questions
WE NOTICE YOU ARE FROM
US & CANADA LOCATION