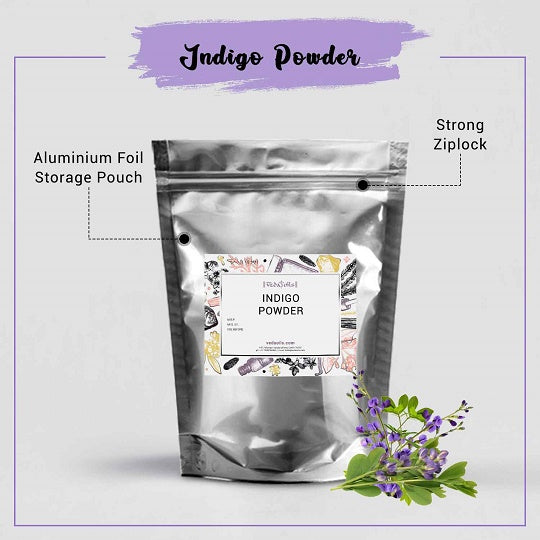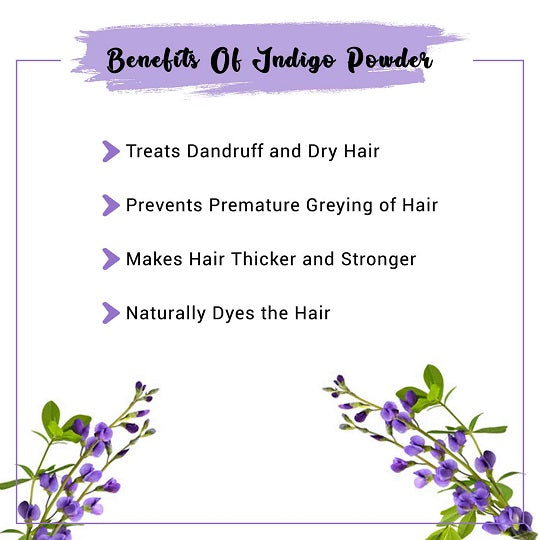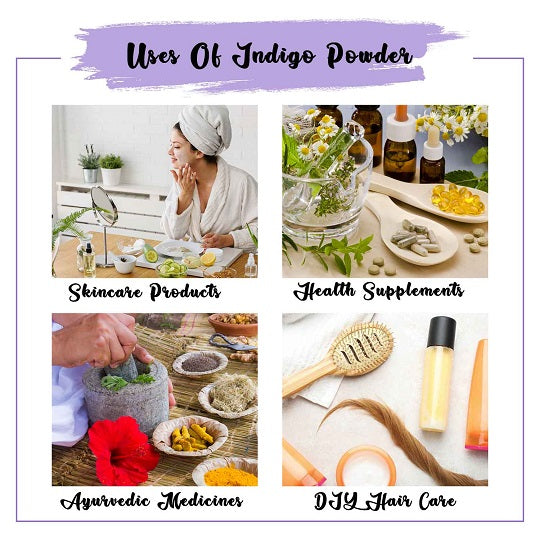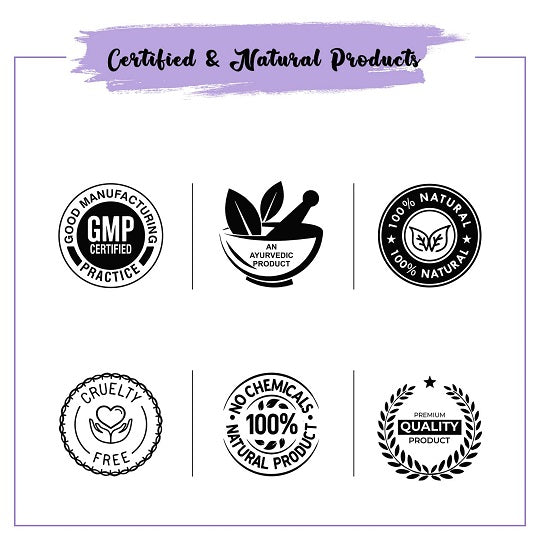 Our Certifications
Indigo Powder
Made from Indigo plants, our Indigo Powder is organic and free from artificial colors and preservatives. It is completely natural and is mostly used for hair dying purposes. It can also be mixed with Henna Powder to give a darker tint to your hair. Since ancient times, the Natural Indigo Leaf Powder has been used to hide grey hair and hair growth since it has a pigment of deep blue color that darkens your hair naturally.
It also improves the strength of your hair and gives it more volume and thickness naturally. It is widely used in many hair care formulations. It comes in a powdered form of green color and exhibits a herbal fragrance. Indigo is also cultivated on a large scale in farms as it proves to be useful for fabric dying purposes. Therefore, a different procedure is followed to make Indigo Hair Color Dyes as it comprises other ingredients and processes. However, we provide only organic, high-quality, and pure Indigo powder without any other ingredients.
Used primarily for hair dying purposes, you can also combine the best Indigo powder with Mehendi (Henna Powder) to obtain darker shades of brown. It also protects your hair from the damage caused due to pollution and extreme sunlight.
Organic Indigo Powder can be used as an all-natural hair colorant that imparts a rich black color with Henna—made from Organic Indigo leaves, the indigofera tinctoria leaf powder. Pure and Herbal Indigo is a Natural Dye used to color your Hair and Beard. Buy Natural Indigo Powder Online From Vedaoils at Best Price.
Indigo Powder Uses
Natural Hair Dye
Natural hair coloring pigments that are present in the Indigo Powder enable the hair dye manufacturers to incorporate them in their products. It proves to be even better when you blend it with natural Henna powder. It is mostly preferred by people who want to color their hair to dark brown or black.
Hair Darkening Formulas
Incorporate our organic Indigo Powder in natural hair darkening formulas as it prevents premature hair greying. It is much better than artificial hair darkening solutions that may cause scalp irritation after use. Indigo hair color powder makes hair soft and manageable and it is sometimes added in hair conditioners.
Hair Growth Oils
People who suffer from hair fall and slow hair growth can apply the hair oils that are infused with our natural Indigo Hair Powder. It will promotes the growth of new hair follicles and strengthens the hair roots and improves scalp health. Massaging indigo leaf powder blend on your scalp will reduce greying symptoms.
Ringworm Healer
Antiseptic and antibacterial properties of organic Indigo Powder enable it to heal ringworms, blisters, sores, and other skin infections of various types. It is also added in several antiseptic lotions and creams due to its antimicrobial effects. Indigo hair works best when mixed with sesame oil.
Fabric Dyes
Pure Indigo Powder can be included in formulas that are meant to dye fabrics of different types. It appends a royal blue tint to the fabrics and is widely incorporated in fabric dyes due to its ability to brighten clothes and fabrics. The woolen threads may also be dyed with our best Indigo Powder.
Spa Bars
Indigo Powder is blended with clays and other natural ingredients to make spa bars of premium quality. When added in soaps and spa bars, Indigo Powder enhances its overall color, texture, and skin benefits. It also adds skin softening and restorative properties when incorporated in soap bars.
Indigo Powder Benefits
Soothes scalp
Indigo powder improves scalp health and soothes the scalp. It is often implemented in scalp treatments due to its ability to soothe infections. It may even be incorporated in shampoos and conditioners as it reduces scalp itchiness and dandruff to a great extent. You may even restore dry and rough hair by adding it to your hair conditioners.
Detangles Hair
Indigo Powder can detangle your hair strands and make your hair shiny and manageable, When incorporated in hair care formulas. It also increases the natural thickness of your hair and can be added to hair growth shampoos. You may blend it with essential oils for making natural hair masks.
Brightens Skin
Our pure Indigo Powder can be blended with yeast and Morrocan clay to brighten the skin. Organic indigo leaf powder formula can also help fade dark spots and can be used to lighten the skin areas that have been turned dark in the areas or intimate areas.
Soothes Wounds
Anti-inflammatory properties of natural Indigo Powder can soothe wounds and provide instant relief from cuts, scars, and scrapes. Its skin regenerative and restorative properties also help you to recover from injuries faster. The cooling sensation provided by indigo powder reduces the pain that is associated with cuts and wounds.
Immunity Booster
Antibacterial properties of Indigo Powder keep pathogens, germs, and insects away from your body. It also provides relief from skin irritation caused due to issues like psoriasis. As a result, this organic Indigo Powder supports your overall health and immunity naturally and helps you to stay fit and healthy.
Relaxes Mind
Medicinal qualities of Indigo Powder can be used to relax the mind and body and it also provides relief from anxiety, stress, headache, sleeplessness, and other mental issues. . A lack of energy, fatigue, low mood, etc. is some of the other issues in which Indigo powder can play a pivotal role.
Product Specifications
INCI Name:

Indigofera Tinctoria

Raw Material Source:

Indigo plant leaves

Manufacturing Process:

The leaves of Indigo plants are immersed in little water and soaked overnight after which you can see the color of the water turning blue. The leaves are then dried until they become crisp and then they are ground finely to obtain the powdered form

Alternative Names:

Indigo Leaf Powder, Indigo Leaves Powder, Neel Patti Powder, Indigofera tinctoria, Nil Patta Powder, Nila, Nili, Neel

Tested On Animals?:

No

GMO:

GMO-free but not certified for it.

Vegan:

Vegans can use it because it does not contain any animal-derived components.

Shelf Life:

2 years
CAUTION: It is meant for external purposes. Keep it away from the reach of your kids and avoid direct contact with eyes
Packaging Sizes
Please Note: The packaging shown above is a General Representation of the various sizes and types of packaging available for this product. Not all sizes and types of packaging for this product maybe available at all times.
Buy Indigo Powder Online at Best Price in UK
VedaOils is one of the prominent manufacturers, suppliers, & wholesale distributors of Indigo Powder and other herbal powders in UK. Our products are trusted all over United Kingdom for their high quality and purity. No artificial colours, preservatives, or fragrances are added while making original indigo powder. Hence our indigo flower powder is 100% natural and organic.
Order Pure indigo powder online through VedaOils' shopping portal according to your requirements. We deploy high standard delivery to ensure that the best quality product reaches you in time. Indigo powder is now available in packets of 100gm, 500gm, 1kg, and 5kg.
You can also Buy Indigo Powder in Bulk at wholesale prices from us. We offer discounts and wholesale rates for bulk purchases. You can leave a query in our Bulk Enquiry section to buy organic indigo powder at the best price in UK. We export Organic Powder in bulk quantities to The USA, Canada, Australia, and many more countries using our logistic partners DHL, FedEx Blue Dart, India Post, etc.
Frequently Asked Questions
WE NOTICE YOU ARE FROM
US & CANADA LOCATION