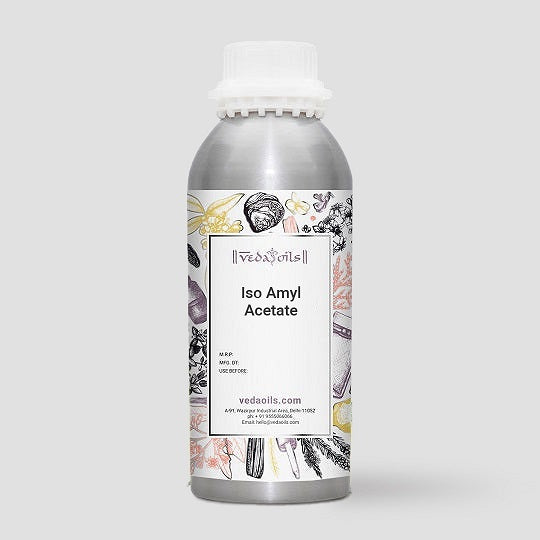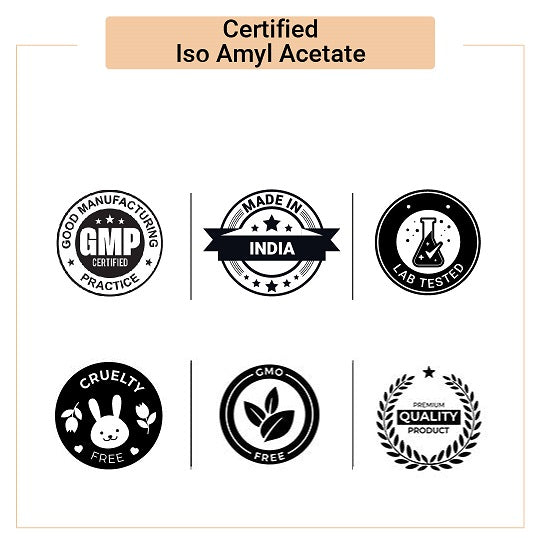 Our Certifications
Iso Amyl Acetate
Iso Amyl Acetate, a synthetic fragrance compound, takes center stage in the world of perfumery and scented formulations. With its intriguing and versatile fruity aroma, Iso Amyl Acetate adds a touch of vibrancy and playfulness to fragrance compositions. Iso Amyl Acetate's presence conjures images of succulent fruits and cheerful botanicals, contributing to both men's and women's perfumes.
Derived through synthetic processes, this compound holds the power to infuse scents with a dynamic and alluring top note, making it a sought-after choice for creating contemporary and captivating fragrances. From its role in harmonizing scent profiles to its contribution to the evolving tapestry of olfactory experiences, this compound captures the essence of modernity and embodies the spirit of the ever-changing world of fragrance artistry.
Iso Amyl Acetate Benefits & Uses
Perfumery
Iso Amyl Acetate is a valuable ingredient in perfumery, often used to provide a fresh and vibrant fruity top note to fragrance compositions. Its playful and cheerful scent adds a touch of energy to perfumes and colognes.
Flavoring Agent
It is used as a flavoring agent in the food and beverage industry. Iso Amyl Acetate imparts a sweet and fruity flavor to products like candies, chewing gum, beverages, and confections.
Cosmetics
Iso Amyl Acetate can be incorporated into cosmetic products like lotions, creams, and body washes to add a subtle and fun fruity aroma.
Air Fresheners
Its lively and fruity scent makes Iso Amyl Acetate suitable for use in air fresheners, room sprays, and diffusers, creating a cheerful and inviting atmosphere.
Hair Care Products
Its lively and fruity scent makes Iso Amyl Acetate suitable for use in air fresheners, room sprays, and diffusers, creating a cheerful and inviting atmosphere.
Aromatherapy
Iso Amyl Acetate's uplifting and lively aroma makes it suitable for use in aromatherapy, creating an atmosphere of positivity and joy.
Product Specifications
| | |
| --- | --- |
| Product Name : | Iso Amyl Acetate |
| Brand Name: | Vedaoils |
| Chemical Formula: | C7H14O2 |
| CAS Number: | 123-92-2 |
| Form: | LIQUID |
| Color: | COLOURLESS |
| Shelf Life: | 2 Years |
| Applications: | Flavor foods, Perfumes & Shoe polish. |
Packaging Sizes
Please Note: The packaging shown above is a General Representation of the various sizes and types of packaging available for this product. Not all sizes and types of packaging for this product maybe available at all times.
Buy Iso Amyl Acetate Online in UK at Low Price
VedaOils is one of leading Wholesale suppliers, manufacturer, and exporter of Iso Amyl Acetate in United Kingdom. VedaOils manufactures the highest quality Iso Amyl Acetate cosmetic that does not compromise your health and beauty. Our Cosmetic Ingredients do not contain any harmful preservatives, fragrances, additives, or filler. Order menthol bold crystal raw ingredients at a low price for Industrial & Personal end products.
We employ numerous tests and quality checks to ensure that only Premium-quality Iso Amyl Acetate reaches you. The highest quality and packaging standards are employed to deliver desirable results on usage. Also, our portal uses a secure payment gateway such as Visa, Mastercard to safeguard your transactions. Order Iso Amyl Acetate online in Bulk Quantity at Wholesale different packages so that you can order and use them as per your needs.
We export our Iso Amyl Acetate to the US, Canada, Australia, and worldwide. Our products follow the highest standards when it comes to quality and purity. Your orders are delivered to your doorstep, so you don't have to worry about going outside. We assure you that you will not regret choosing us! We also deliver the products worldwide using our logistic partners DHL, FedEx, Blue Dart, India Post, etc. Get great cashback, combo offers, deals, and discount offers while buying Iso Amyl Acetate online from the VedaOils store.
Frequently Asked Questions