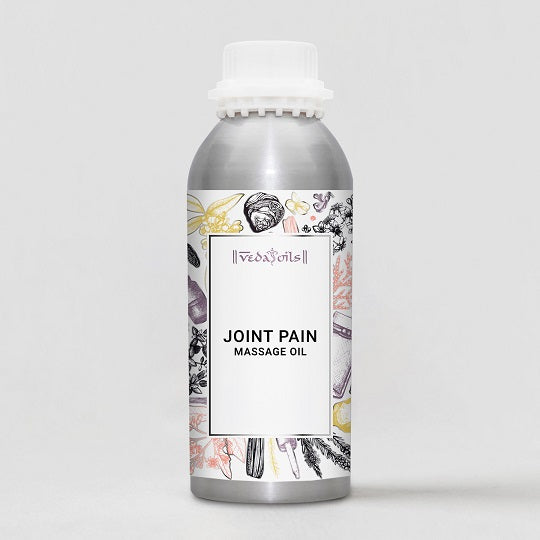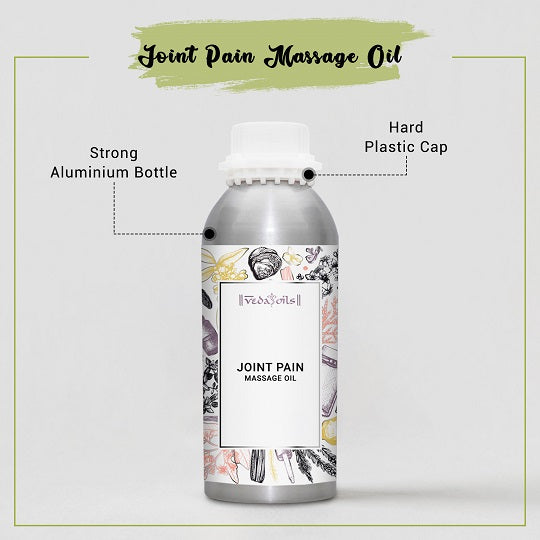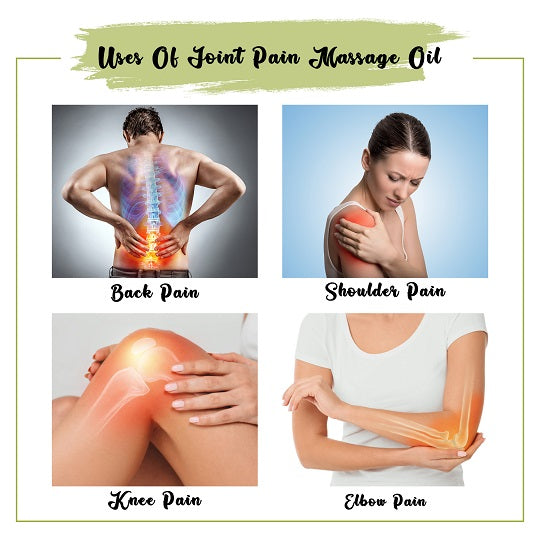 Our Certifications
Joint Pain Massage Oil
Joint Pain Massage Oil is a pain-relieving oil made from natural oils such as Amba Hald or Jungli Haldi Extract, Wintergreen oil, Clove Oil, Ginger Oil, Mustard oil and Sesame oil. It lowers stiffness in the knees, shoulders, lower back, and other joints. Joint Pain Massage Oil's analgesic, and anti-inflammatory qualities aid in decreasing pain by improving blood circulation. This oil can also help to relieve discomfort in joints.
Massaging the painful joint area for a few minutes with this Pain relieving oil helps to reduce the inflammatory reaction in the musculoskeletal system and, at the same time, enhance the joint functions. This massage oil also alleviates muscular pains, joint stiffness, and general pain. Natural components present in this oil act to decrease swelling and promote blood circulation in the afflicted joints and muscles.
Joint Pain Massage oil gives powerful joint relaxation as well as relief from pain, sprains, and tightness throughout the body. This oil also strengthens the aching joints and constricted tissues. Different organic oils and extracts present in this oil contain potent anti-oxidative and regenerative effects supporting sensitive tissues and joints while also improving strength, vitality, and flexibility.
Joint Pain Massage Oil Ingredients
Amba Hald or Jungli Haldi Extract
Amba Haldi extract can be used to decrease inflammation, enhance blood circulation, and increase joint mobility. This spice is generally utilised in herbal treatments to assist reduce many sorts of pain, especially aggravated joint discomfort. Curcumin, a natural therapeutic ingredient included in Jangli Haldi Extract, boosts joint and muscular strength.
Wintergreen oil
Wintergreen oil's active component, methyl salicylate, is similar to acetylsalicylic acid, popularly known as aspirin which helps in relieving pain. It possesses analgesic and anti-inflammatory qualities, which aid in alleviating joint discomfort. Wintergreen oil constituents are frequently utilized as an anti-inflammatory and topical pain reliever, making joint function responsive and dynamic.
Clove Oil
Clove Oil relieves pain by inhibiting the neuron's capacity to send pain signals. Eugenol also decreases inflammatory cytokines in the body, which helps to lessen joint inflammation. Clove oil's numbing and anti-inflammatory properties make it one of the greatest natural therapies for treating joint pain.
Ginger Oil
Ginger oil can be used to relieve muscular and joint discomfort. Regular application of this oil also helps relieve Sore muscles or aching joints. Ginger's anti-inflammatory and analgesic qualities act as a topical pain reliever, easing soreness and uneasiness between joints. Its bioactive components make it beneficial for both acute and chronic arthritis.
Mustard oil
The chemical component allyl isothiocyanate, present in mustard oil, has an impact on pain receptors in the body. This oil is also high in alpha-linolenic acid (ALA), an omega-3 fatty acid that helps reduce inflammation. All these constituents present in this oil help repair a variety of joint discomfort by promoting blood flow.
Sesame oil
Mustard oil has a wide range of nutrients, including vitamins and minerals such as calcium, copper, and zinc, all of which boost metabolism and blood circulation. All of these nutrients help to promote bone density and bone quality. It also has substantial anti-inflammatory capabilities, which decrease joint discomfort and swelling as well as bone and joint strength.
Joint Pain Massage Oil Benefits
Enhances Blood Circulation
The active components in joint pain massage oil enhance blood circulation by penetrating deeply into the skin's layer. Due to adequate blood circulation, physiologically active substances such as polyphenols, oleocanthal, hydroxytyrosol, lignans, and others significantly decrease joint damage.
Soothes Joint Pain
Joint pain-relieving massage oil is designed especially to be used as a topical oil to ease tightness, pain, and swelling of the joints and muscles. It is a powerful blend of carefully selected essential oils that have specialized healing properties resulting in immediate and long-term relief.
Anti-Inflammatory Effect
Joint Pain Massage Oils decrease inflammation by suppressing the generation of pain and inflammation-causing chemicals. Massage of the afflicted regions on a regular basis will help reduce the tension on the joints, tissues, and muscles caused by inflammation.
Enhance Muscle Mobility
Joint Pain massage oil has anti-oxidative and rejuvenating characteristics that can help to relax and soothe aching muscles and tissues. The use of this oil also aids in the improvement of strength and the reduction of weariness in the body. It also efficiently enhances muscular mobility and flexibility.
Nurtures Skin
Apart from treating muscle and joint pain, Joint Pain massage oil also mellows out wrinkles and restores a healthy shine to dull and dry skin. Regular application of this oil enhances sagging skin and gives significant nutrition to the skin.
Reduces Swelling and Tightness
Joint Pain massage oil is an excellent treatment for joint rigidity and discomfort, as well as injuries and contractions. This oil can also help with other joint-related problems such as backaches, knee pain, shoulder pain, locked shoulder, tennis elbow, joint pain, and muscular stiffness.
Product Specifications
| | |
| --- | --- |
| Product Name: | Joint Pain Massage Oil |
| Brand: | VedaOils |
| Country of Origin: | United Kingdom |
| Ingredeints List: | Sesame Oil, Jojoba Oil, Almond Oil, Lavender Oil, Manjistha Root Extracts, Turmeric Extract |
| Foam: | Liquid |
| Color: | Light Yellow To Dark Yellow |
| Aroma: | N/A |
| Alcohol-Free: | Yes |
| Usage/Application: | Body Massage / Aromatherapy |
| Packaging Type: | As per requirement |
| Storage: | Store in a Cool & Dry place. |
| Shelf Life: | 2 years |
Packaging Sizes
Please Note: The packaging shown above is a General Representation of the various sizes and types of packaging available for this product. Not all sizes and types of packaging for this product maybe available at all times.
Buy Joint Pain Massage Oil Online In UK at Low Price
VedaOils is a reputed name when it comes to manufacturing, supplying, distributing, and exporting Joint Pain Massage Oil and other natural oils. Our products are not only trending in United Kingdom but are also in great demand internationally. We supply our essential oils and carrier oils to countries like the US, Australia, Canada, and other countries as well.
The exceptional quality of Joint Pain Massage Oil and the highest standards of purity and safety enable us to deliver effective results to our customers. Our Glowing Skin Massage Oil and other massage oils are highly concentrated and pure. They are completely natural as no chemicals, fillers, additives, and synthetic preservatives are used while extracting them. We adhere to the highest standards of safety and packaging for the convenience of our customers.
You can even place bulk orders of Joint Pain Massage Oil for commercial purposes as we are offering them at reasonable and discounted rates. A secure payment gateway ensures that you don't face any hassles while completing the payment process. We have partnered with the best logistics companies like FedEx. India Post, DHL, BlueDart, etc. to ensure timely delivery of orders. The Joint Pain Massage Oil offered by us is effective enough to meet your expectations.
Frequently Asked Questions
WE NOTICE YOU ARE FROM
US & CANADA LOCATION