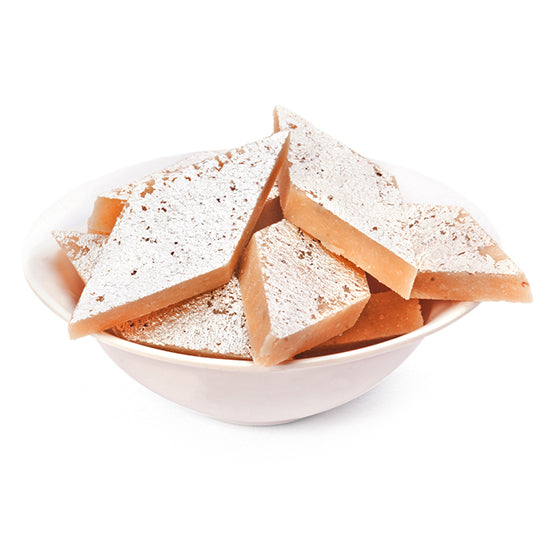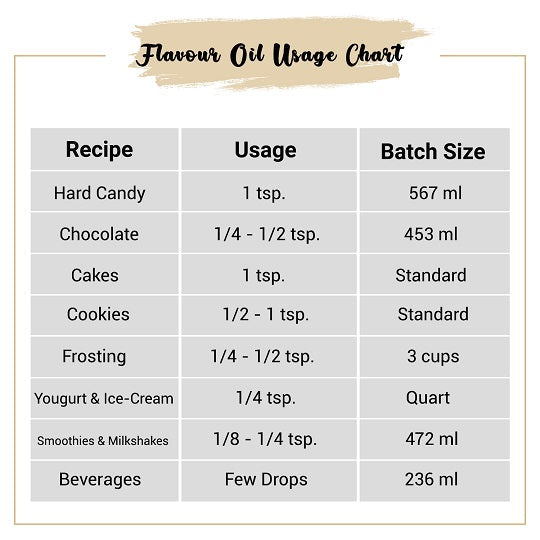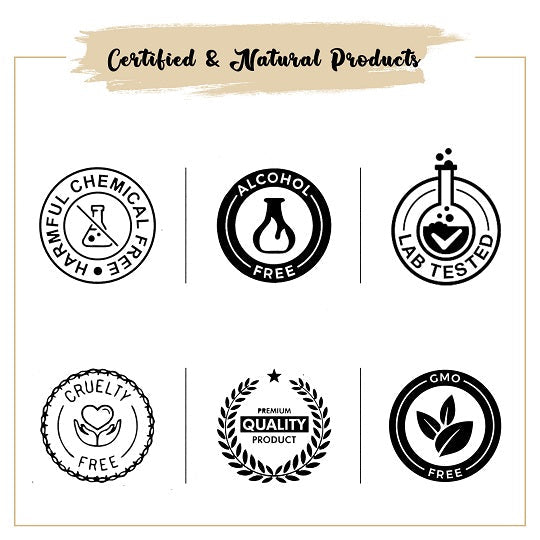 Our Certifications
Kaju Katli Flavour Oil
Kaju Katli is an Indian delicacy that is made purely from a fresh paste of cashew nuts. These delicious sweets have sweet and creamy flavours which melt in the mouth easily. The velvety and rich flavours of cashews are rightly captured in Kaju Katli Flavour Oil. This super strength oil's prominent essences give a sweet and desserty flavour that draws the attention of many people. This oil has a pleasant aftertaste that will delight your taste buds.
This Kaju Katli flavour oil is made from the essence of high-quality cashew and provides delightful tastes of creaminess and sweetness. The Kaju Katli flavoring oil formulation is particularly stable since it preserves the same scent and taste even when used at extremely high temperatures.
Kaju Katli flavoured oil has a taste that is similar to that of real Kaju Katli, and as a result, it is extensively used in the creation of cakes, sweets, sherbets, milkshakes, ice creams, etc. This is used in food and beverages to provide a nutty, and sweet flavour. Because of its versatility, the richness and creaminess of Kaju Katli super strength oil are used in a range of culinary items.
It is great for baking, cooking, and even freezing.
Because the edible super strength oil in the Kaju Katli flavour is fairly powerful, just a few drops of this flavouring agent are required to impart the necessary taste to your food products. This flavoured oil contains no added sugar, fats, or carbs. It is also free of chemically infused components, making it safe to consume.
Kaju Katli Flavour Oil Uses
Lip Care Products
The richness of Kaju Katli flavoring oil's creamy and nutty flavor is used to lend a luxury touch to lip care products such as lip balms, lip gloss, and lipsticks. This high-quality oil's stable nature makes lip products safe and skin-friendly.
Bakery Items
Cakes, pastries, tarts, icing, fondants, and other bakery items utilize Kaju Katli flavoring oil to enhance the flavor of actual Kaju Katlis to baking emulsions. This flavoring compound is popular among professional bakers since it contains no alcohol or other additives.
Shakes and Liqueurs
Because it has a very deep tone that makes the goods delicious and seductive, naturally sweetened Kaju Katli flavoring oil is commonly used in shakes, sherbet, smoothies, frappes, and so on. It is also appropriate for smoothies and frappes.
Candies And chocolate
Candies and chocolates are made with the velvety and smooth flavor of food-grade Kaju Katli essential oil. This flavor oil is also used in the production of lollipops, candy floss, hard candies, and other confections since it imparts a strong flavor to the candies.
Confectionery Goods
The balanced flavor of Kaju Katli flavoring oil is used in the production of confectionery items such as marshmallows, chocolate chips, ice creams, wafers, and so on. This flavor oil is also used by professional chefs to create gourmet culinary products.
Dessert
Kaju Katli flavoring oil has a sweet gourmet flavor and is used in sweets such as Kaju Katli bars, cookies, dry fruit pies, and so on. The Kaju Katli super strength oil's creamy and buttery qualities give richness to the pastries. This flavor oil is also used by professional chefs.
Kaju Katli Flavouring Oil Benefits
Vegan-friendly
Food-grade Kaju Katli essence oil contains no other animal-derived components, making it Vegan-friendly and cruelty-free. It has also received Kosher and Halal certification. Furthermore, It is completely free from dairy or animal acquired components.
Gluten-free
Because Kaju Katli flavor oil is gluten-free and dairy-free, it is perfectly safe for gluten-allergic or gluten-intolerant persons. This food-grade flavored oil has been lightly processed, making it safe for eating.
Versatile
Because of its versatility, food-grade Kaju Katli flavor oil may be utilized in a wide range of goods. This flavored oil can effortlessly incorporate the flavor and scent of genuine Kaju Katlis into a variety of goods.
Blendable
The formulation of Kaju Katli super strength oil is designed to be easily soluble with both oil-based and water-based substances. This flavoring oil's taste or color does not alter in watery or solid substances.
100% Food Grade
Kaju Katli flavored oil is 100 percent edible and safe to consume because it is devoid of any synthetic components. Because it is acquired naturally, it does not include any harmful chemicals, preservatives, additives, or fillers.
Strong Flavors
Kaju Katli flavoring oil has a strong taste, thus a few drops of this oil may fill any food with the creaminess of real Kaju Katli. Because of this, a small bit of this flavoring ingredient goes a long way.
Product Specifications
| | |
| --- | --- |
| Product Name: | Kaju Katli flavour oil |
| Brand Name: | VedaOils |
| Ingredients: | Edible Vegetable Oil, Permitted Nature Identical & Flavouring substances |
| Suitable For Flavouring: | Cakes, candy, jellies, pastries, gum, dark and milk chocolates, juices, confectioneries and baked food items and other beverages. |
| Aroma: | Sweets |
| Colour: | Ochre Yellow Colour |
| Alcohol-Free: | Yes |
| Storage: | Store the bottle in a cold and dry place away from direct sunlight for prolonged use. |
| Shelf Life: | 2 Years |
CAUTION: It is meant for external purposes. Keep it away from the reach of your kids and avoid direct contact with eyes
Packaging Sizes
Please Note: The packaging shown above is a General Representation of the various sizes and types of packaging available for this product. Not all sizes and types of packaging for this product maybe available at all times.
Buy Kaju Katli Flavour Oil Online in UK at Low Price
VedaOils leading manufacturer, distributor, and supplier of premium-quality Kaju Katli flavour oil, We specialize in both oil and water-soluble flavour oil and our catalog is wide enough to serve all your requirements. Our food-grade flavour oils are gluten-free and naturally prepared. Organic Kaju Katli flavour oil does not include any toxins or chemicals that may harm your health in any way. It is free from alcohol, animal-based ingredients, and artificial preservatives. Even vegans may use it as per their requirements.
High stability of essence oils enables you to add them to numerous DIY and commercial products. We are offering Best Kaju Katli flavour oil at cost-effective and wholesale prices for commercial users and also provide discounted rates and offers to make them economical for everyone. Our quick delivery and high standards of quality and packaging enable us to deliver effective and high-quality products at your doorsteps.
Vedaoils Kaju Katli flavour oil is available in packages of 0.100 KG, and 1.0 Kilogram through our website, we are exporting them in various countries like the USA, Australia, and Canada. Our logistics partners like FedEx, Blue Dart, India Post, DHL, etc that make it possible to deliver our products in real-time.
Frequently Asked Questions
WE NOTICE YOU ARE FROM
US & CANADA LOCATION