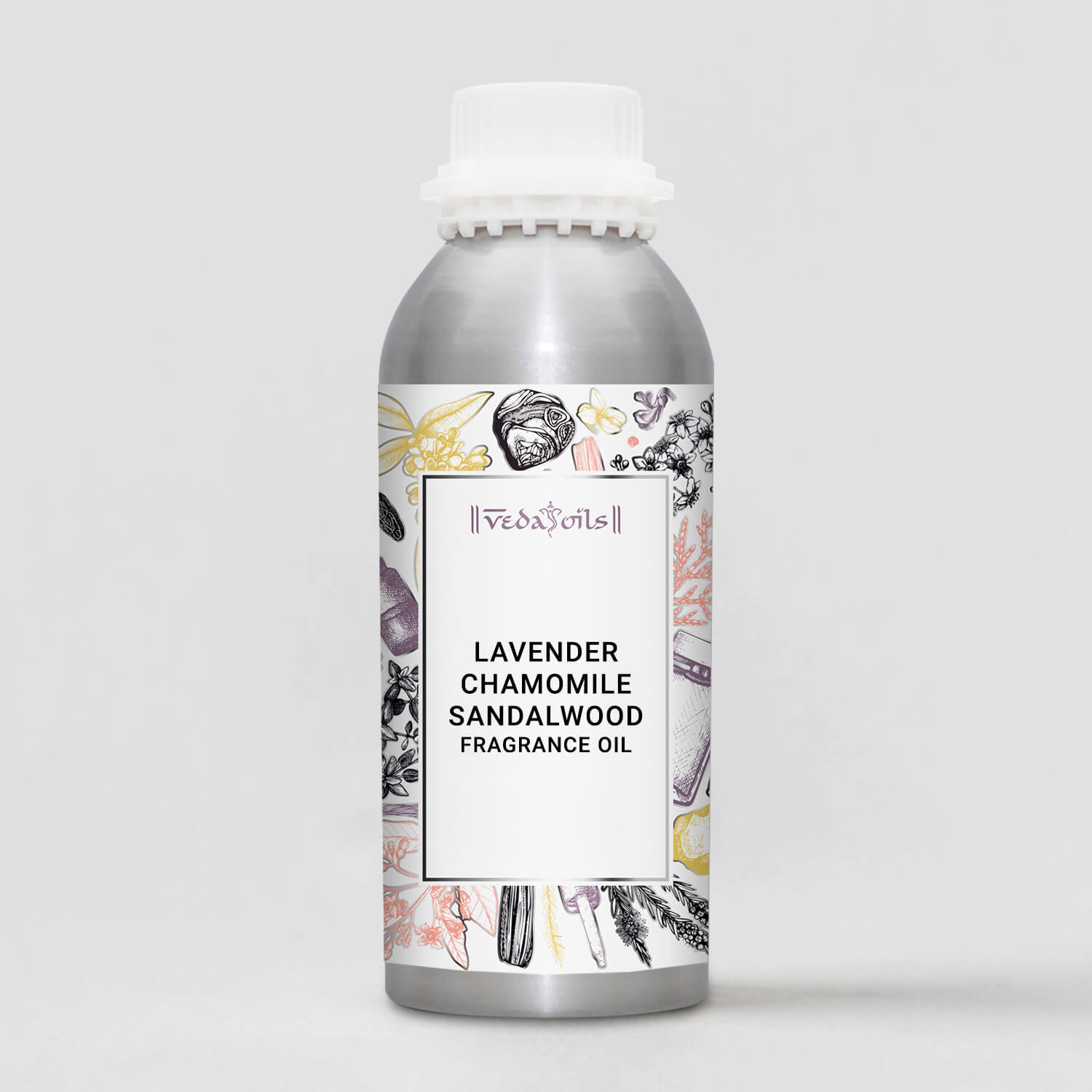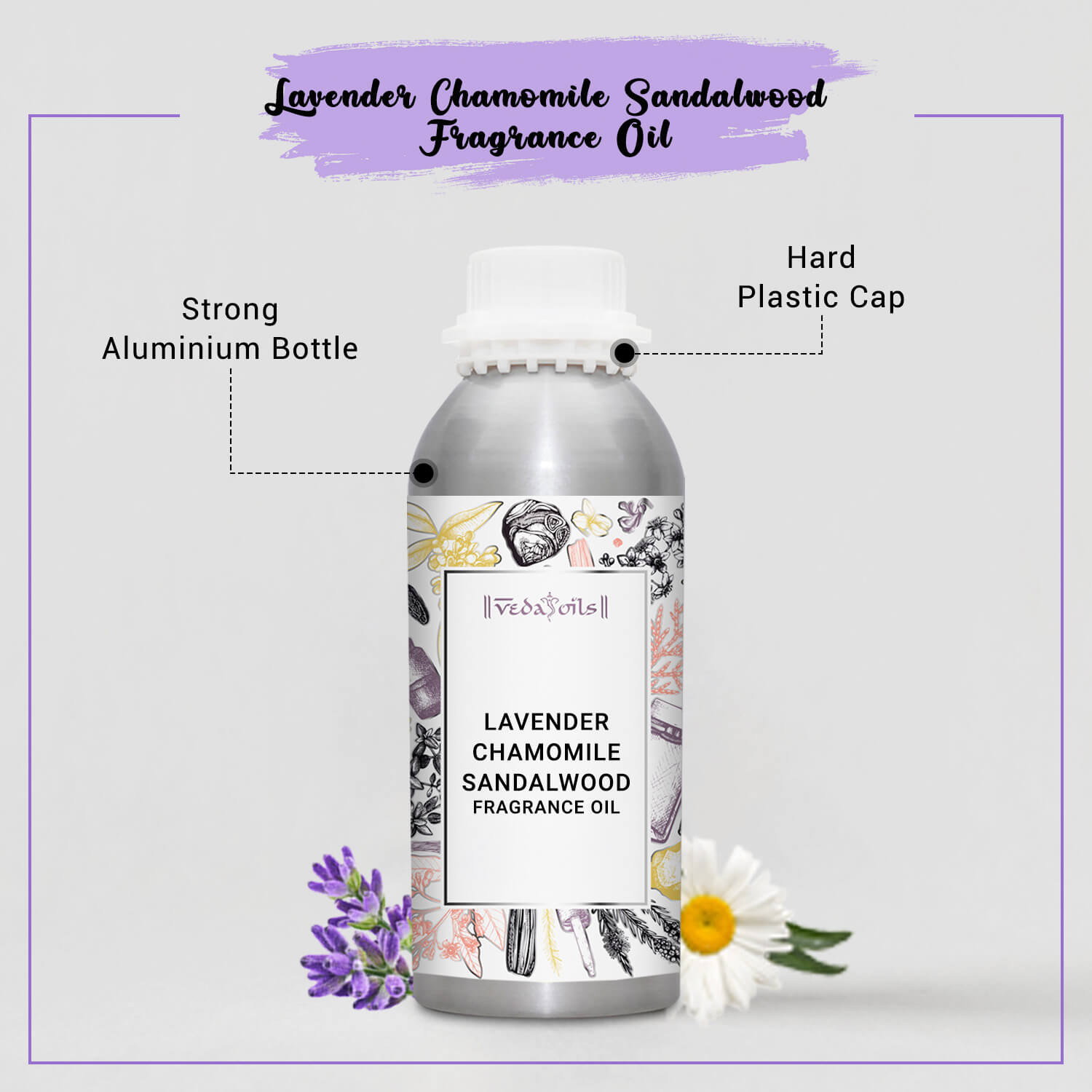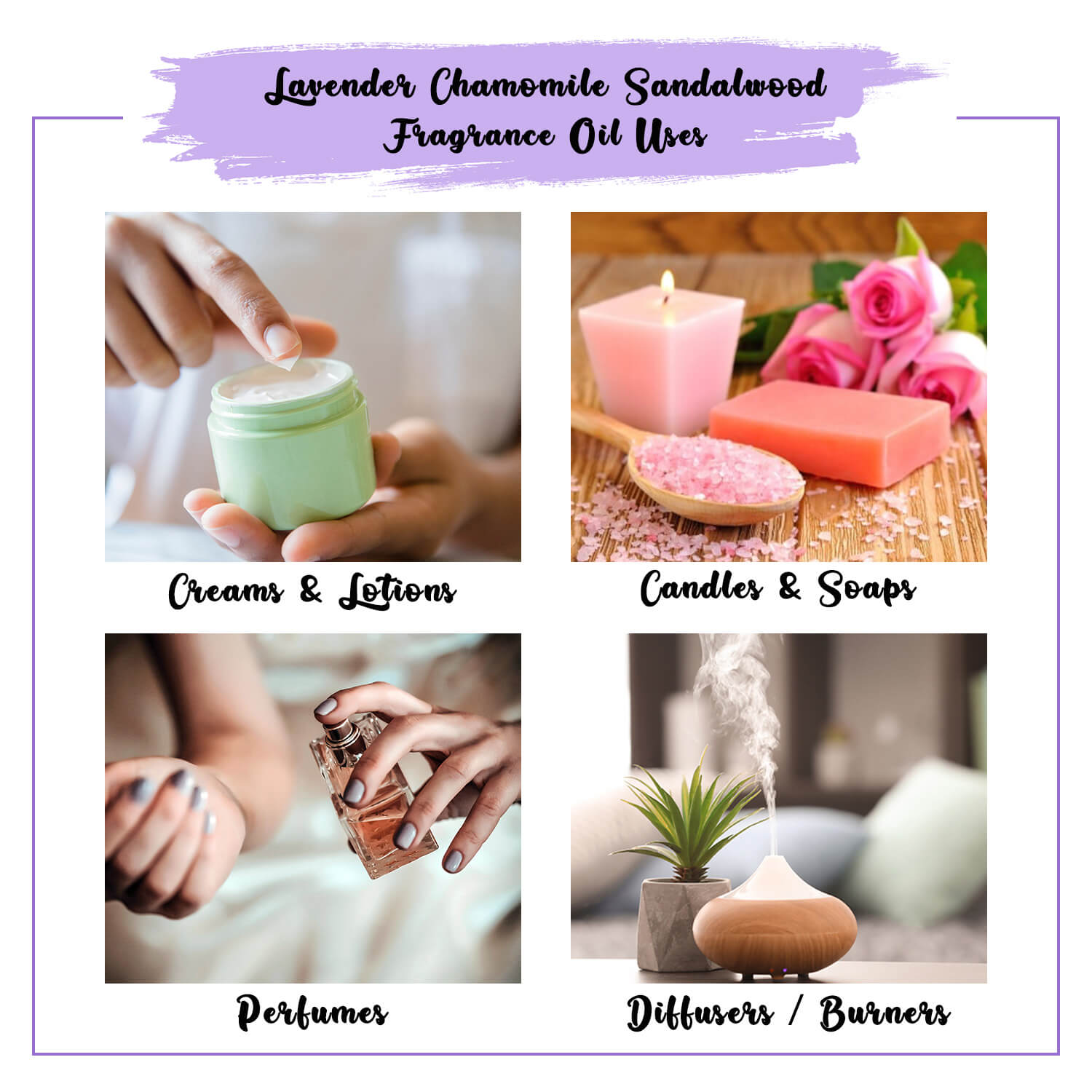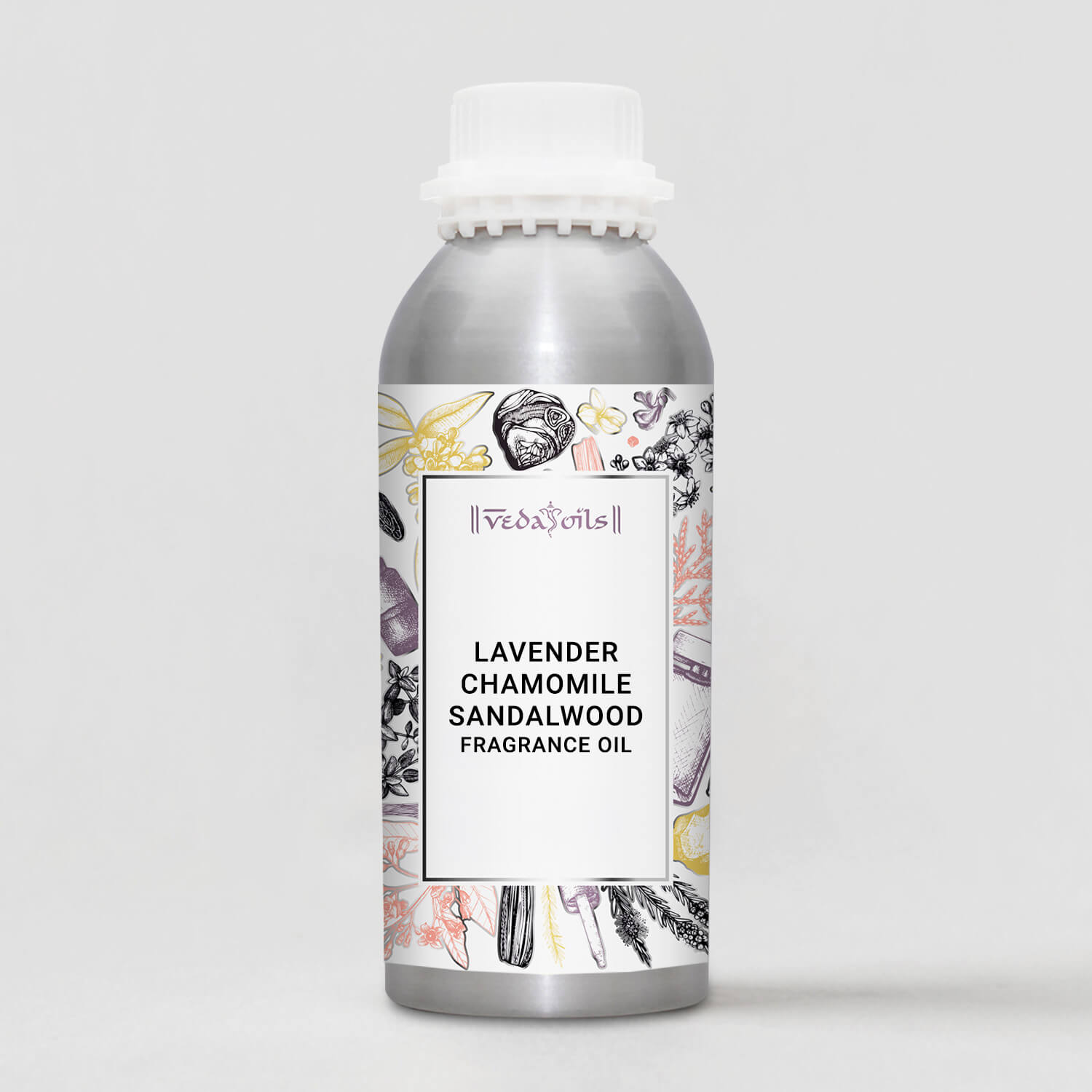 Our Certifications
Lavender Chamomile Sandalwood Fragrance Oil
The comforting, sensual, and seductive scent of lavender chamomile Sandalwood Fragrance oil is made from freshly processed lavender chamomile Sandalwood. Its luxurious and rich aromatic oil brings out a sweet, fresh, floral, and delightfully creamy scent.
The lavender chamomile Sandalwood fragrance oil has a cozy and comforting fragrance that helps to create the perfect invigorating ambiance, any time of the year. Additionally, the fragrance of the room is filled with a pleasing and delightful scent that effectively promotes relaxation of the body and mind.
You can add creamy, sweet, and woodsy aromas to your preferred homemade candle, soap, or lotion. The base for body spray, cologne, deodorants, and other products is made from its rich, warm, and earthy scent. To experience the most energizing and revitalizing sensation, you may even add this scented oil to bathing products.
We believe in offering all organic fragrance oil, VedaOils fragrance oil are Phthalate-free and Chemical-free and can be used in a variety of products to offer them a soothing and pacifying fragrance of floral, herbal, and evergreen woodsy, creamy at the same time.
Lavender Chamomile Sandalwood Fragrance Oil Uses & Benefits
Scented Soap Making
The luxurious and fresh herbal and milky aroma of lavender chamomile Sandalwood Perfume oil makes it suitable for use in the preparation of scented soaps. Enrich your cold-process and melt and pour soaps with the sensual aroma of buttery, milky, sweet, and refreshing notes
Candle Making
The classic floral, sweet, and buttery aroma of lavender chamomile Sandalwood Scent Oil make it suitable for the candle-making process. Mystic, evergreen woodsy, sweet aroma uplifts and energizes the mood and makes the atmosphere relaxing, sensual, and comfortable.
Skin Care Products
The sensual and seductive sweet milky aroma of lavender chamomile Sandalwood perfume oil is used to make products like Toners, moisturizers, lotions, face packs, etc. Products that use lavender chamomile sandalwood fragrance oil do not trigger sensitivities or allergies so, it is completely safe on the skin.
Incense Sticks
Lavender chamomile Sandalwood Scented Oil is used to make scented Incense Sticks or Agarbatti which throw a woodsy and smooth refreshing and calming scent. These incense sticks can be used while doing Yoga, Meditation, Prayer, etc., to calm the mind.
Perfume Making
Lavender chamomile Sandalwood Perfume Oil is used in making carrier oils and diffusers act as air and room fresheners which can get rid of any harmful microbes present around the atmosphere and also removes any foul odors with its floral, sweet, musky, and milky tones.
Cosmetics Care Products
Woody, creamy, yet sweet lavender chamomile Sandalwood Fragrance Oil can be added to toners, moisturizers, face washes, face packs, and such to infuse the aromatic fragrance of Sandalwood which is hydrating and refreshing and also good for the skin.
Product Specifications
| | |
| --- | --- |
| Product Name: | Lavender Chamomile Sandalwood Fragrance Oil |
| INCI Name: | Lavandula Angustifolia/ Chamomilla Recutita/ Santalum Album |
| Country of Origin: | India |
| Foam: | Liquid |
| Flash Point: | N/A |
| Color: | Pale yellow to amber in color. |
| Aroma: | Sweet, Fresh, Floral, And Delightfully Creamy |
| Suitable for: | Bath Bombs, Lipsticks, Lip Balms, Facial and Body Scrubs, Creams, Perfume Oils |
| Packaging Type: | As per requirement |
| Storage: | Store in a Cool & Dry place. |
| Shelf Life: | 2 years |
| COA: | |
| MSDS: | |
Packaging Sizes
Please Note: The packaging shown above is a General Representation of the various sizes and types of packaging available for this product. Not all sizes and types of packaging for this product maybe available at all times.
Buy Lavender Chamomile Sandalwood Fragrance Oil at Wholesale Price
VedaOils is a leading manufacturer, distributor, and wholesaler of premium quality Lavender Chamomile Sandalwood Fragrance Oil in the UK. Our Pure Lavender Chamomile Sandalwood Fragrance Oil is free from toxins and alcohol-based ingredients. It is also Vegan-friendly and Cruelty-free so that you can add it to any ingredients of your choice. The formula and consistency of this Fragrance oil are perfect for adding in any DIY product as it is highly stable.
We offer Natural Lavender Chamomile Sandalwood Fragrance Oil wholesale price in bulk quantities for personal and commercial purposes. It is extracted from the natural Rose plant. This aroma oil has boundless uses and benefits. It is also very versatile. The olfactive notes of this scented oil contain aroma of Sweet, Fresh, Floral, And Delightfully Creamy, which can be used in different ways.
Now you can order Lavender Chamomile Sandalwood Fragrance Oil at best-assured prices. Get big discounts, cashback offers, and great deals while buying fragrance oils online from the VedaOils platform. We follow certain packaging standards while packing our high-grade fragrance oil so that you can receive them in perfect condition at your doorsteps.
VedaOils offers its Pure Lavender Chamomile Sandalwood Fragrance Oilin packages of different quantities (100ml, 500ml, 1lt) so that you can order them as per your needs from our website. We export our Aroma Oil in bulk quantities to various countries like The USA, Canada, Australia, etc., through our logistic partners DHL, FedEx Blue Dart, India Post, etc.
Frequently Asked Questions
WE NOTICE YOU ARE FROM
US & CANADA LOCATION