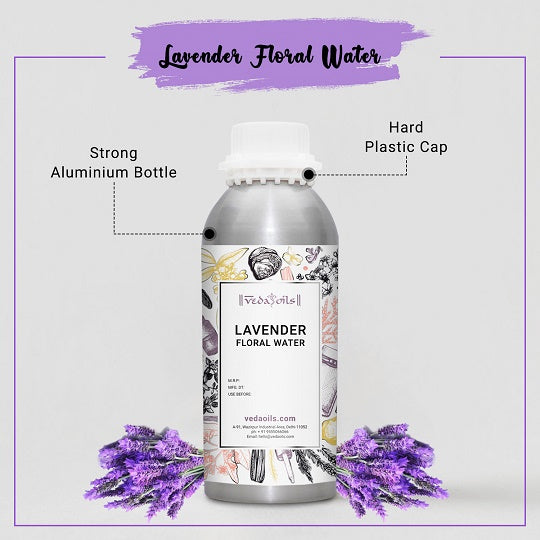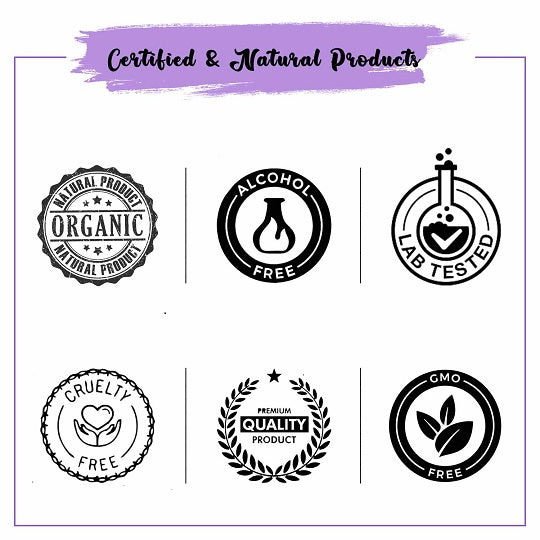 Our Certifications
Lavender Hydrosol Water
Obtained from the flowers and plants of Lavender plant through steam or hydro-distillation process, Lavender Hydrosol is renowned for its ability to relax and balance your mind. Its soothing and fresh floral scent will help you to relax after a tiring day. Not only that, Lavender Hydrosol is loaded with astringent properties which makes it excellent for skincare purposes.
Natural Lavender Hydrosol acts as a mild tonic that may help you to fade blemishes, spots, and scar marks from your skin. It has the sweet and relaxing scent of Lavender that may be used to manufacture car sprays and room fresheners.
You may also diffuse Lavender Floral Water for aromatherapy purposes or to simply eliminate foul odor from the surroundings. The anti-inflammatory properties of Lavender Hydrosol can be used for curing insect bites and skin inflammation. It may also provide relief from the headache that is caused due to stress.
Lavender Hydrosol Uses
Skin Brighteners
Powers of our natural Lavender Hydrosol to remove blemishes and scars from your face make it a key ingredient of several skincare products. It also rectifies your skin tone and may be incorporated in skin brighteners as well.
Hair Care Products
Lavender water soothe your scalp and provides relief from irritation. It is incorporated in several hair care products like shampoos and conditioners as it keeps your hair and scalp healthy naturally. It is added as a fragrance enhancer.
Face Mists
Soothing effects of natural Lavender floral water on your skin works with its ability to hydrate your skin to keep your skin healthy and fresh. Lavender Water is also used in face mists or toners because of its ability to tone loosened facial muscles.
Makeup Removers
Cleansing properties of our pure Lavender Hydrosol make it an ideal component of face cleansers and makeup removers. It will eliminate the fine particles of dust, and dirt from your skin pores to give you a clean and fresh look.
Aromatherapy
To combat stress and tension, you can diffuse our organic Lavender tonic water. It balances emotions and helps you to fight against these mental issues. You may also incorporate it in aromatic baths to get quick relief from insomnia.
Linen Sprays
Invigorating and intensely floral scent of our best Lavender Water enables you to add in while making DIY linen sprays or room fresheners. Lavender Hydrosol eliminates foul odor from your fabric and sustains the fresh scent for a long time.
Lavender Water Benefits
Soothe Cuts
To get quick relief from minor wounds, scrapes, cuts, and injuries, you can apply Lavender Hydrosol on the affected area. Its anti-inflammatory properties will help to curb the pain and its antiseptic qualities may prevent the spread of infection.
Relief From Cough
Lavender Water is often used to get relief from cold and congestion. The expectorant properties of this floral water help to break the phlegm and mucus which ultimately helps you breathe freely. It also soothes coughs and colds instantly.
Hydrates Skin
Include Lavender floral water in skin lotions and moisturizers for keeping your skin hydrated for a long time. It makes your skin soft and supple and also helps to heal skin redness or rashes. Its cooling properties help to fight sweat for a long time.
Homemade Cleansers
Add our organic Lavender Hydrosol in homemade kitchen and cabinet cleansers. Its powerful cleansing properties will help to get rid of the stain marks easily. It will give a fresh and pleasant smell to your living spaces and surroundings.
Healthy for Hair
Pure Lavender Water is healthy for hair as it fights against dandruff and scalp irritation. Include it in shampoos and conditioners to enhance their ability to purify or cleanse your scalp and hair. It can also be used as an ingredient in hair oils.
Heals Fatigue
Fatigue or restlessness can be tackled by diffusing natural Lavender Hydrosol. The deep and invigorating scent of this floral water refreshes your mind and uplifts your mood naturally. It keeps negative thoughts and emotions at bay.
Product Specifications
| | |
| --- | --- |
| Product Name: | Lavender Hydrosol Water |
| INCI Name: | Lavandula angustifolia |
| Raw Material Source: | Lavender leaves |
| Extraction Process: | Steam Distillation |
| CAS Number: | N/A |
| Country of Origin: | United Kingdom |
| Suitable For: | Creams, Lotions, Facial steam |
| Color: | Colorless |
| Odour: | Soft, Slightly Green, Fresh, Swwet Anise/Licorice-Like Aroma |
| Solubility : | Soluble In Water And Alcohol, Insoluble In Fixed Oils |
| Storage: | Store in a Cool & Dry place. |
| Shelf Life: | 2 years |
| COA: | |
| MSDS: | |
CAUTION: It is meant for external purposes. Keep it away from the reach of your kids and avoid direct contact with eyes
Packaging Sizes
Please Note: The packaging shown above is a General Representation of the various sizes and types of packaging available for this product. Not all sizes and types of packaging for this product maybe available at all times.
Buy Lavender Hydrosol Online in UK at Low Price
<p>Vedaoils is the largest manufacturer, supplier, wholesaler and seller of Helichrysum Hydrosol. We promise to indulge you in the freshness and quality of our wide-range products, including our Organic Helichrysum Flower Water. Vedaoils do not compromise the quality of the products when it concerns your health and beauty. We assure you that we adopt the highest quality standards in production and packaging, delivering the ultimate, premium quality product to you.</p>
<p>We follow strict packaging standards while packing our high-grade Helichrysum Hydrosol so that you can receive them in perfect condition at your doorstep. We offer Vedaoils Pure Distilled Helichrysum Floral Water in packages of different quantities (1kg, 5kg, 10kg, 25kg) to order them as per your needs from our website. We aim to provide you with the finest of the goods, giving you the richness and the goodness of purely natural ingredients.</p>
<p>You can purchase Vedaoils Helichrysum Italicum Flower Water from our online store, from the comfort of your home at the most affordable prices and safe payment methods. Our Helichrysum Flower Water not only caters to your cosmetic and beauty needs but also the preparation of cleaners, room sprays and more. Check out the bulk prices of our products and avail of huge discounts.</P>
<p>Besides being a fine manufacturer in the United Kingdom market, Vedaoils quickly emerges as a leading producer and exporter of Organic Immortelle Hydrosol. Therefore, it does not contain chemicals or artificial preservatives and is an excellent alternative to synthetic fragrances and oils. We export products globally to countries like the USA, Canada, Australia and many more. Our logistics partners like DHL, India Post, Blue Dart, FedEx, etc.</p>
Frequently Asked Questions
WE NOTICE YOU ARE FROM
US & CANADA LOCATION