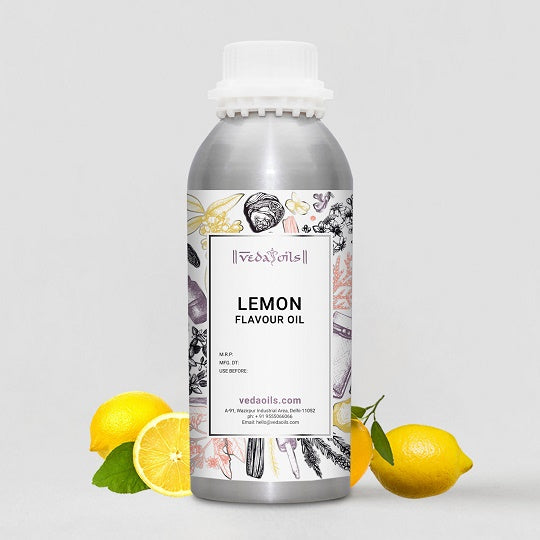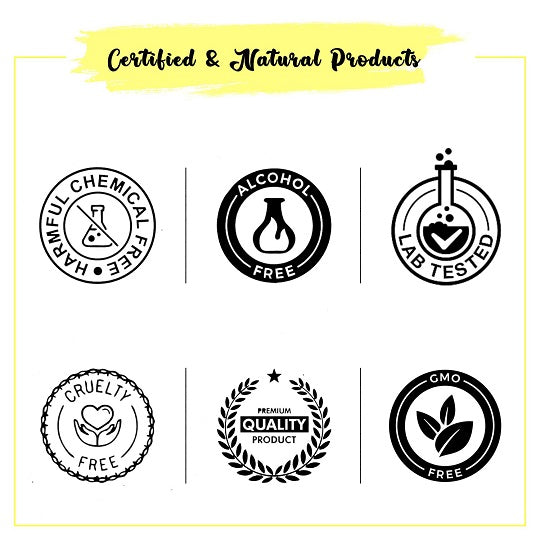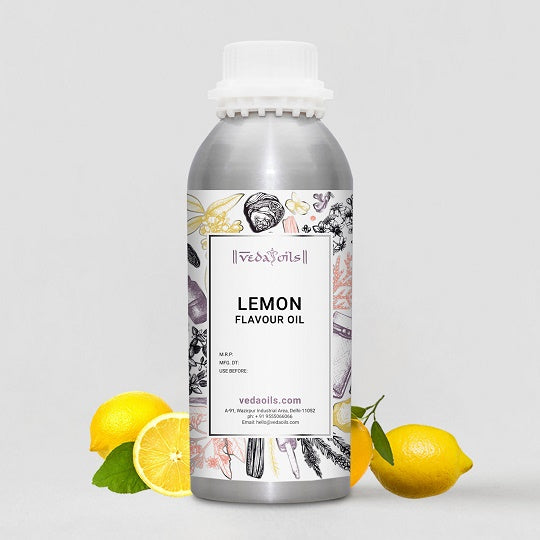 Our Certifications
Lemon Flavour Oil
Lemon Flavouring Oil is made from fresh, ripe, and juicy lemons. The citrusy and tangy flavours of this oil bring freshness to the taste palette. Lemon flavour extract can enhance any application that demands the flavourful taste. It is a perfect substitute for a twist or rind of a lemon for the reason that it is obtained from real lemons. The clean and fresh odor of natural lemon with a fresh and fruity character makes food items even more tempting.
Fruity and natural Lemon Food Flavour Oil is well suitable for beverages like mocktails, juices, cocktails, soft drinks, etc. It is also used in bakery products like cheesecake, pastries, tarts, donuts, pies, etc. The fruity and tangy taste of this flavouring oil adds a unique twist to different cuisines and recipes. It is also a perfect super-strength oil to add to salads and soups as it has a mouthwatering taste.
Lemon flavouring oil is meticulously formulated so that it is water as well as oil soluble. A couple of drops of Lemon Food Essence Oil is enough to infuse the desired taste and scent to your preparations as it has a very strong flavour. Only a small quantity of this essence can fill the combination of sweet and tangy taste to your food items. Also, this flavouring essence retains its aroma and taste even when used at extremely high temperatures.
Lemon Flavour Oil Uses
Lip Care Products
Lemon Flavouring Oil has a tangy and slightly sweet taste which is used to flavour lip care products like lip scrubs, lip balms, lip gloss, and even lip creams. The formulation of this flavouring agent consists only of natural ingredients which make it safe and skin-friendly.
Bakery Items
Sour and citrusy flavours of lemon super-strength oil mixes well with the sweetness and creaminess of bakery items. Cakes, pastries, tarts, pies, donuts, etc use this flavouring essence to add a uniquely refreshing and fruity taste to them.
Mocktails
Clean and fresh taste of natural lemon flavouring oil is used widely for making beverages like juices, lemonade, mojito, mocktails, etc. Hot beverages like lemon tea and tonics also use this flavouring agent to enhance the taste of your drinks and cocktails.
Candies and Chocolates
Juicy and fruity flavours of lemon-flavoured oil are used to make candies, lollipops, candy flosses, chewing gums, etc. These candies are perfect for people who have nausea as it has a balanced flavour of citrusy and fruity taste. Moreover, Its taste is long-lasting.
Salad Dressings
Lemon Flavoured oil is used in a variety of soups and salad dressings as it has a very unique taste which makes even the boring food items delicious. The tanginess and fruitiness of the lemon essence bring excitement to food.
Cooking Recipes
Lemon Flavouring oil is used to induce the sweet and savory flavour into the dishes. They are mainly used while cooking sauces and curries. The light and fresh flavour of this essence remain intact even when cooked at high temperature.
Lemon Flavour Oil Benefits
Natural Lemons
Lemon flavouring oil is derived from freshly plucked real lemons and it does not contain any added salt and sugar. It is an ideal substitute for lemons. So, if you want to impart the flavours of real lemon, you can easily use this flavouring essence.
Fresh Scent
Fresh aroma of lemon super-strength oil makes the food items and beverages even more tempting. Its uniquely refreshing aroma will certainly leave a positive impact on your taste buds. Chefs and bakers use this flavouring oil to infuse the freshness of lemon into the food.
Good Solubility
Food-grade lemon-flavoured oil is formulated intricately so that it can blend easily with other natural ingredients like sugar, honey, salt, etc. The liquid essence of lemon is soluble with water as well as water-based ingredients which makes it ideal for almost all food items.
Natural Ingredients
Lemon super-strength oil is formulated to be suitable for internal consumption and for that reason it is made from only natural ingredients. It does not contain added chemicals, fillers, and preservatives. It is also free from synthetic colors and fragrances.
Gluten-Free
Food-grade flavour that is 100% free from gluten and alcohol. It does not contain any synthetically made chemicals and scents which makes it safe for consumption. People who have gluten intolerance and allergies can easily consume this flavouring oil.
Vegan Product
Lemon flavouring oil is free from dairy obtained products or any other animal-derived components which makes it a safer option for Vegans. It is also accredited with Kosher and Halal standards so that vegans can use it as well.
Product Specifications
| | |
| --- | --- |
| Product Name: | Lemon Flavour Oil |
| INCI Name: | Citrus Lemon |
| Brand Name: | VedaOils |
| Ingredients: | Edible Vegetable Oil, Permitted Nature Identical & Flavouring substances |
| Suitable For Flavouring: | Candies, sherbets, cakes, pastries, and other bakery items. |
| Aroma: | Sweet & Fruity |
| Colour: | Ginger Orange |
| Alcohol-Free: | Yes |
| Storage: | Store the bottle in a cold and dry place away from direct sunlight for prolonged use. |
| Shelf Life: | 1 Year |
CAUTION: It is meant for external purposes. Keep it away from the reach of your kids and avoid direct contact with eyes
Packaging Sizes
Please Note: The packaging shown above is a General Representation of the various sizes and types of packaging available for this product. Not all sizes and types of packaging for this product maybe available at all times.
Buy Lemons Flavour Oil Online in UK at Low Price
VedaOils leading manufacturer, distributor, and supplier of premium-quality Lemon Flavour Oil, We specialize in both oil and water-soluble flavour oil and our catalog is wide enough to serve all your requirements. Our food-grade flavour oils are gluten-free and naturally prepared. Organic Lemon Flavouring Oil does not include any toxins or chemicals that may harm your health in any way. It is free from alcohol, animal-based ingredients, and artificial preservatives. Even vegans may use it as per their requirements.
High stability of essence oils enables you to add them to numerous DIY and commercial products. We are offering Best Lemon Flavour Essence at cost-effective and wholesale prices for commercial users and also provide discounted rates and offers to make them economical for everyone. Our quick delivery and high standards of quality and packaging enable us to deliver effective and high-quality products at your doorsteps.
Vedaoils Lemon Flavour Oil is available in packages of 0.100 KG, and 1.0 Kilogram through our website, we are exporting them in various countries like the USA, Australia, and Canada. Our logistics partners like FedEx, Blue Dart, India Post, DHL, etc that make it possible to deliver our products in real-time.
Frequently Asked Questions
WE NOTICE YOU ARE FROM
US & CANADA LOCATION