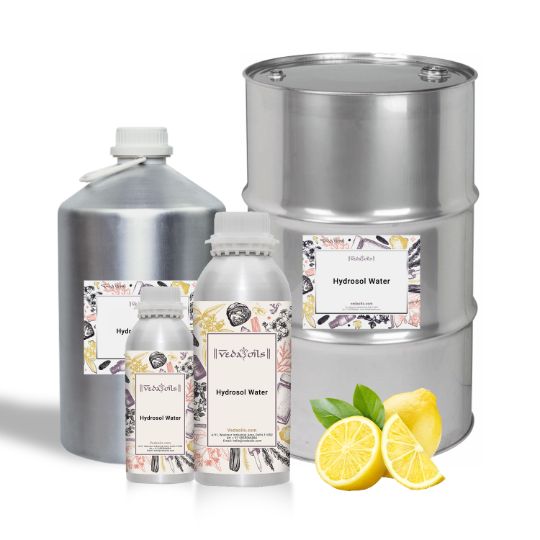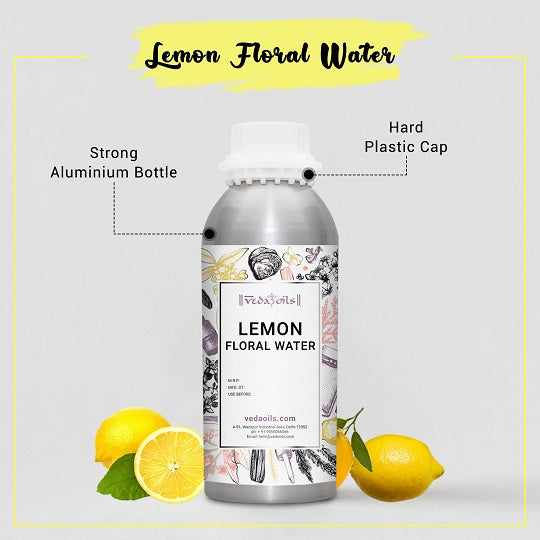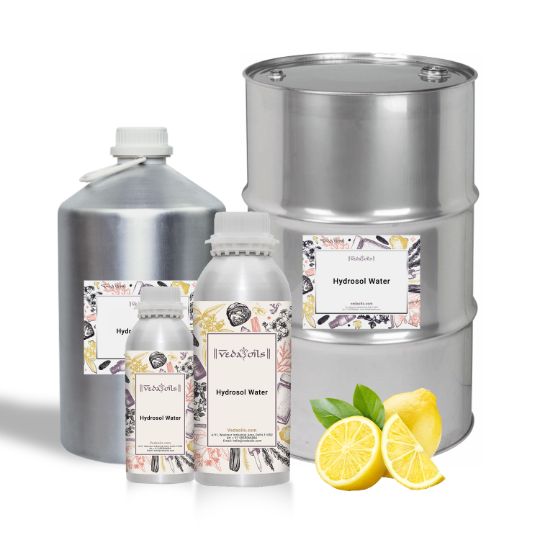 Our Certifications
Lemon Hydrosol
Prepared from the fresh and ripe lemons from a process known as steam distillation, Lemon Hydrosol is known for its fresh, citrusy, clean, and energizing aroma. It has an appetizing aroma that may help to overcome negative emotions and thoughts. You may use our organic Lemon Hydrosol for aromatherapy purposes as it has a positive influence on your mind and thoughts.
Our pure Lemon Water contains vitamin C and powerful antioxidants that are healthy for your skin. The rich and lemony scent of Lemon floral water can be incorporated in skincare products, hair care products, etc., and can be included while making perfumes, deodorants, and cologne sprays.
Lemon Hydrosol proves to be a wonderful addition to room fresheners because of its ability to deodorize the air. When used in perfumes, deodorants, or body sprays, Lemon aromatic water helps to minimize the foul odor emanating due to sweat, dust, and dirt particles. You may use our organic Lemon Hydrosol for aromatherapy purposes as it has a positive influence on your mind and thoughts.
Lemon Hydrosol Water Uses
Surface Cleansers
Powerful cleansing properties of our natural Lemon Water make it a good addition to surface cleansers. You may also incorporate DIY cleansers for your kitchen cabinets or bathroom as it eliminates the bacteria and other germs seamlessly from their surfaces.
Skin Brighteners
Skin brightening properties of lemon is present in this pure Lemon Hydrosol as well. Makers of skin brighteners can use it widely in their products. Lemon floral Water also eliminates scars, dark spots, and blemishes from your face instantly.
Acne Removing Creams
Natural Lemon Hydrosol balances the production of oil in your skin pores. By doing so, it helps to keep acne and pimples in check. Lemon Hydrosol rejuvenates your skin and makes it appear soft, bright, smooth, and flawless!
Anti-aging Products
Strong antioxidants present in the best Lemon Water can help in reducing acne scars and wrinkles. It also lightens the dark spots and proves to be a key ingredient in several anti-aging products. You may incorporate it in your daily face care routine as well.
Face Toners
Lemon Hydrosol Water tones your face naturally and makes your skin youthful. It helps you get rid of the sagginess of facial muscles and helps to restore the natural firmness and glow of your face and skin. You may apply it directly on your face as a face toner.
Makeup Removers
Exceptional cleansing properties of Lemon Hydrosol Water make it a powerful makeup remover as well. It helps to get rid of makeup, oil, and dirt residue that get accumulated in your skin pores throughout the day. It helps to make you look energetic and fresh.
Lemon Hydrosol Water Benefits
Wound Healer
Anti-inflammatory properties of Lemon Water are good enough to provide relief from minor cuts, scrapes, and wounds. You may use it to soothe skin burns or to reduce joint or muscle inflammation. Makers of after-shave lotions use it widely in their products too!
Induce Sleep
People who are struggling with sleep issues can inhale, diffuse, or use our natural Lemon Hydrosol Water via aromatic baths. It balances your mind and helps to fight against negative thoughts which ultimately helps you to get deep and relaxing sleep at night.
Makes Clothes Smell Fresh
Natural Lemon Hydrosol is incorporated widely in linen sprays due to its ability to curb foul and stale odor. Lemon water maintains the freshness of your clothes for a long time and is especially useful for making the bedding accessories smell good.
Reduces Oiliness
If your skin has become oily, greasy, or tacky due to excessive production of oil in the skin cells, Natural Lemon Hydrosol may come to your rescue. It does so by eliminating excess oil and by controlling oil production in them.
Making Cosmetics Smell Good
Pure Lemon Water is a great addition to cosmetic products and soaps. It makes them smell good and also creates a soothing sensation on your skin that makes you feel light and happy. It also curbs skin irritation and redness.
Healthy for Hair
By reducing scalp irritation and by eliminating dandruff, Lemon Hydrosol can keep your hair fresh, hygienic, and healthy. Natural lemon floral water is widely used in shampoos, conditioners, hair oils, and other hair care applications.
Product Specifications
| | |
| --- | --- |
| Product Name: | Lemon Hydrosol Water |
| INCI Name: | Citrus Limonum |
| Raw Material Source: | Leaves and tops |
| Extraction: | Steam Distilled Hydrosol |
| CAS Number: | N/A |
| Country of Origin: | United Kingdom |
| Suitable For: | Aromatherapy, Cosmetic products, Cures blood circulation related problems, Good for greasy skin, varicose veins,acne prone and cellulite. |
| Solubility: | Water soluble |
| Color: | Pale yellow to yellow liquid with Characteristic lemon rind odor. |
| Storage: | Store in a Cool & Dry place. |
| Shelf Life: | 2 years |
| COA: | |
| MSDS: | |
CAUTION: It is meant for external purposes. Keep it away from the reach of your kids and avoid direct contact with eyes
Packaging Sizes
Please Note: The packaging shown above is a General Representation of the various sizes and types of packaging available for this product. Not all sizes and types of packaging for this product maybe available at all times.
Buy Lemon Hydrosol Online in UK at Low Prices
Vedaoils is the largest manufacturer, supplier, wholesaler and seller of Helichrysum Hydrosol. We promise to indulge you in the freshness and quality of our wide-range products, including our Organic Helichrysum Flower Water. Vedaoils do not compromise the quality of the products when it concerns your health and beauty. We assure you that we adopt the highest quality standards in production and packaging, delivering the ultimate, premium quality product to you.
We follow strict packaging standards while packing our high-grade Helichrysum Hydrosol so that you can receive them in perfect condition at your doorstep. We offer Vedaoils Pure Distilled Helichrysum Floral Water in packages of different quantities (1kg, 5kg, 10kg, 25kg) to order them as per your needs from our website. We aim to provide you with the finest of the goods, giving you the richness and the goodness of purely natural ingredients.
You can purchase Vedaoils Helichrysum Italicum Flower Water from our online store, from the comfort of your home at the most affordable prices and safe payment methods. Our Helichrysum Flower Water not only caters to your cosmetic and beauty needs but also the preparation of cleaners, room sprays and more. Check out the bulk prices of our products and avail of huge discounts.
Besides being a fine manufacturer in the United Kingdom market, Vedaoils quickly emerges as a leading producer and exporter of Organic Immortelle Hydrosol. Therefore, it does not contain chemicals or artificial preservatives and is an excellent alternative to synthetic fragrances and oils. We export products globally to countries like the USA, Canada, Australia and many more. Our logistics partners like DHL, India Post, Blue Dart, FedEx, etc.
Frequently Asked Questions
WE NOTICE YOU ARE FROM
US & CANADA LOCATION