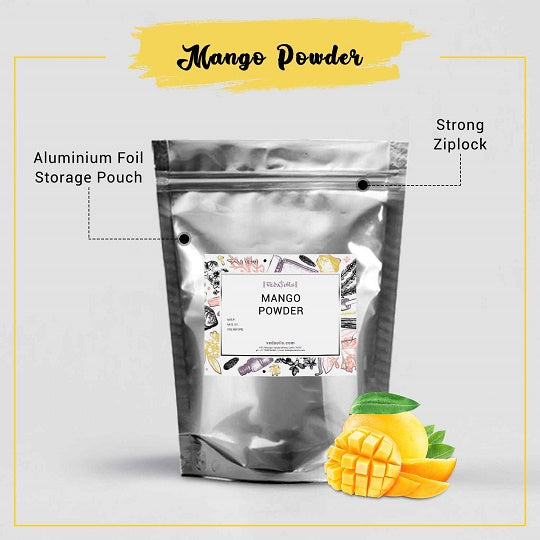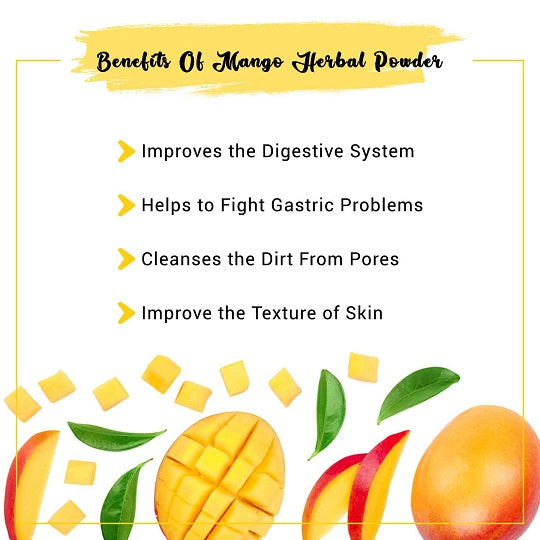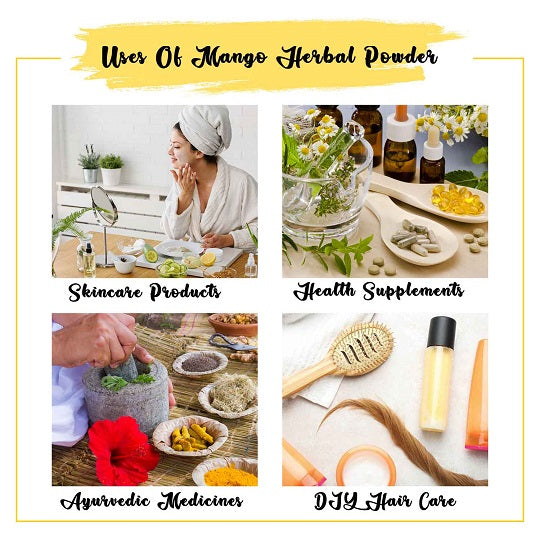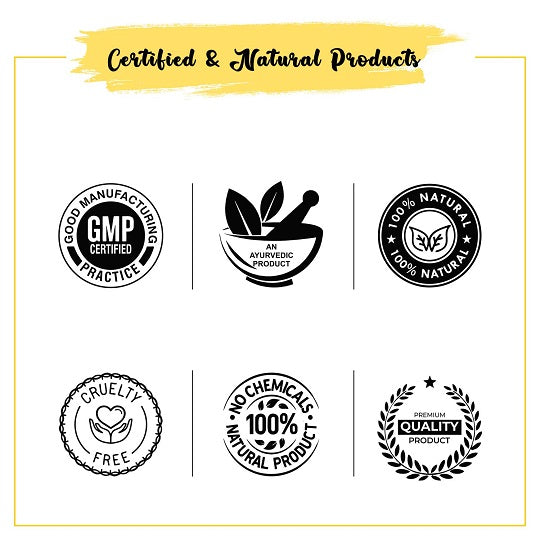 Our Certifications
Mango Powder
Mango Powder which is popularly known as Amchur Powder in India is made from the unripe mangoes which are dried first for making it easy to crush it into a fine powder. Natural Green Mango powder has a light yellow color and consists of fine particles. It has a sour and tangy aroma similar to the odor that comes out of unripe mangoes. Raw Mango powder does not contain any additives or fillers and is completely natural and pure. Creams, lotions, moisturizers, face gels, face masks, scrubs, soaps, and other skin care and cosmetic products can contain mango herbal powder.
Mango Juice powder or Amchoor powder contains potassium, iron, Vitamin C, Vitamin A, calcium, and phosphorus. These nutrients make it healthy for your skin. You can use mango powder for skin helps in making DIY facial masks, scrubs, and other products due to its Rejuvenating Effect on your skin. It is made by following the highest standards of quality and purity which makes it suitable for all skin types. Raw Mango powder works perfectly well for people who have dry and sensitive skin but people who are suffering from skin allergies or other issues must consult a doctor before using it.
Green Mango powder proves to be a good addition to skincare products as it can provide relief to dry, irritated, and patchy skin. It is also sometimes used for making soaps due to its exfoliating properties. Though it possesses exfoliating properties, the effect is mild, and therefore, your mind needs to blend it with other exfoliants to detoxify your skin completely. Amchur Powder is usually used when the mangoes are out of season.
Mango Powder Uses
Skin Cleansers
Unripe Mango Powder or Amchur acts as a good skin cleanser as it removes dead skin cells, oil, dirt, and other toxins from your skin pores. As a result, your skin becomes beautiful, and young after using products that contain amchur powder as a vital ingredient. You may find it in several skin cleansers due to these reasons.
Skin Brightening Cream
Vitamin A and retinol is present in Amchur Powder which is known to stimulate the production of collagen. Dry Mango Powder lightens dark areas or patches of your skin also provides lighter and brighter complexion. Makers of skin brightening solutions incorporate it widely in their products.
Hair Growth Shampoos
Presence of Vitamin C in Green Aamchoor Powder makes it ideal for the healthy growth of hair. It also reduces the dullness of your hair by providing healthy scalp and shine. It also exhibits hair conditioning properties. These uses make it a vital ingredient in several hair growth formulas.
Anti-Frizz Solutions
If you are suffering from frizzy hair, you can prepare hair mask with our Organic Amchur Powder by mixing it with yogurt and egg yolk. It reduces dryness of your hair and also works wonders for frizzy and unmanageable hair. Raw Mango powder is preferred by makers of anti-frizz solutions.
Wound Healing Creams
Mango Powder can be blended with a suitable carrier oil to make DIY wound healing creams. It not only promotes faster healing of wounds but also provides instant relief from swelling and pain. This is possible due to its strong antiseptic and pain-relieving properties.
Anti Acne Solutions
Ability of Green Mango Powder to control production of oil in skin cells makes it effective against acne and pimples. You can create face pack with honey, Amchur, and curd to get relief from acne and pigmentation. Makers of anti-acne solutions hold it in high regard due to these uses.
Mango Powder Benefits
Tan Removal
Dry Mango Powder can be use to create face masks that eliminate suntan. Add it to your moisturizers and body lotions to reverse damage and darkening of skin caused due to overexposure to sun. These benefits also make it a vital component in sunscreens and skin protection creams.
Reduces Fine Lines & Wrinkles
Our Green Mango Powder moisturizes skin deeply also eliminates fine lines and wrinkles. It also helps in prevention of skin aging and can be incorporated into your face care routine to keep skin youthful. Aam Powder is also added in anti-aging solutions due to these benefits.
Gives Healthy Glow
You can make face mask and face pack with mixing Organic Amchur Powder and Green Tea Powder. This face mask will detoxify your skin to make it look fresher and younger. Also, it will give a healthy glow to your face and will reduce the signs of aging naturally.
Heals Joint Pain
Anti-inflammatory properties of our Natural Mango Powder make it useful against joint pain. It may also provide relief from pain caused due to arthritis. It also provides relief from sunburns, heat, rashes, and skin redness. You may use it to create multipurpose massage packs.
Removes Blackhead
Mango Powder is incorporated in body scrubs. In face scrubs, it proves to be effective against blackheads and dead skin cells. It also minimizes dark spots and improves complexion and health of your skin naturally. Your skin will become soft and smooth after using Amchur Powder.
Fades Scars
Powerful antioxidants present in Aam Powder improve collagen production and help to fade scars from your skin. Women who suffer from stretch marks after pregnancy can use it to obtain clear and younger-looking skin. It also works against sagging skin.
Product Specifications
| | |
| --- | --- |
| INCI Name: | Mangifera Indica (Mango) Powder |
| Raw Material Source: | Unripe mangoes |
| Manufacturing Process: | The unripe mangoes are dried first and then crushes and processed into a fine powder. |
| Tested On Animals?: | No |
| GMO: | It is GMO-free but does not contain a certificate for it. |
| Vegan: | Vegans may also use amchur powder as it is free from animal-derived components. |
| Shelf Life: | 2 years |
CAUTION: It is meant for external purposes. Keep it away from the reach of your kids and avoid direct contact with eyes
Packaging Sizes
Please Note: The packaging shown above is a General Representation of the various sizes and types of packaging available for this product. Not all sizes and types of packaging for this product maybe available at all times.
Buy Mango Powder Online in UK at Best Price
Vedaoils is one of India's prominent manufacturers, suppliers, and wholesale distributors of Organic Mango Powder and other herbal powders. Our products are trusted all over India for their high quality and purity. No artificial colors, preservatives, or fragrances are added while making natural amchoor powder. We perform numerous tests and quality checks to ensure that only Raw Mango Powder's premium quality reaches you.
We also employ the highest quality and delivery standards to supply the desired results of our amchur Powder. Shop Raw Mango Powder Online for industrial use, Skincare products, Hair care products, and other uses through Vedaoils Online Portal at affordable prices. Vedaoils raw mango extract powder is 100% organic and contains all these qualities. In addition, our portal uses a secure payment gateway to run smooth and safe transactions.
Order Mango Juice Powder Online through Vedaoils shopping portal according to your requirements. We deploy high-standard delivery to ensure that the best quality product reaches you in time. We export Raw Amchur Powder in bulk quantities to The USA, UK, Canada, Australia, and many more countries using our logistic partners DHL, FedEx Blue Dart, India Post, etc. You can also buy Amchoor Powder in Bulk at wholesale prices from us. We offer discounts and wholesale rates for bulk purchases. Leave a query in our Bulk Enquiry section to order organic green mango powder at the lowest price in India.
Frequently Asked Questions
WE NOTICE YOU ARE FROM
US & CANADA LOCATION