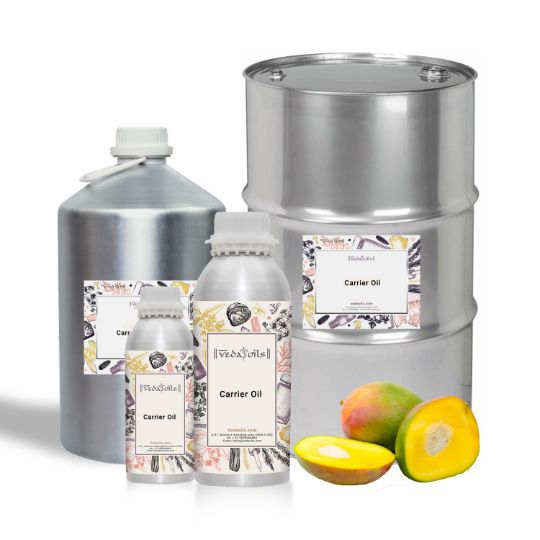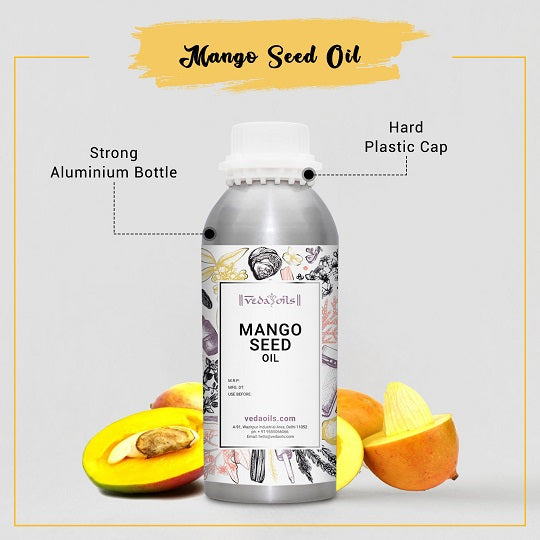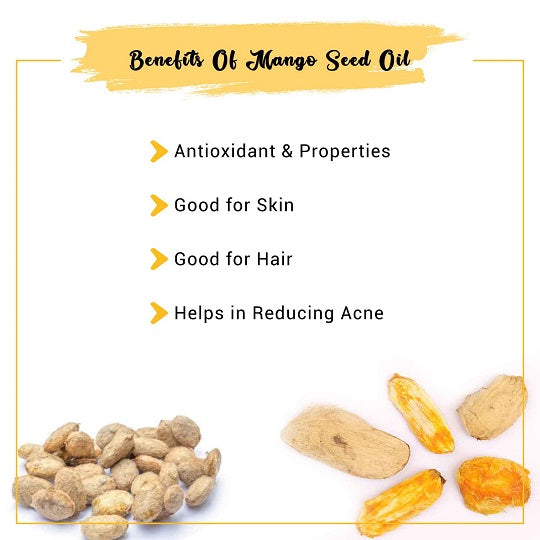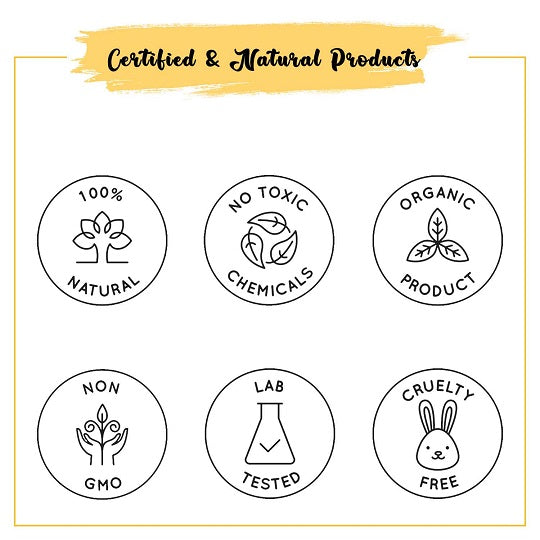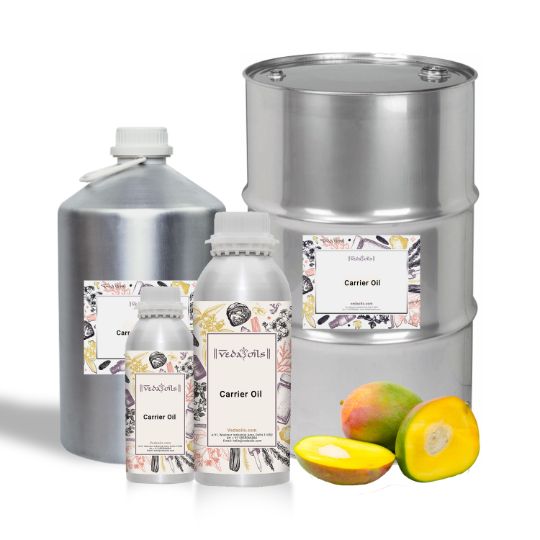 Our Certifications
Mango seed oil
Mango Seed Oil is extracted from the Mangifera Indigenous plant's seeds. The fruit mango is very famous among many nations, but the seeds are generally not used much. These seeds are pretty helpful as they provide oil that is very beneficial for us. Due to its fresh fruity aroma, you can incorporate it into Soaps, Scented Candles, and Room fresheners.
The Mango seed oil is extracted via the cold-pressing procedure. Organic Mango seed oil has beneficial properties like Anti-stress, Anti-oxidant, and Anti-sedative properties. It is filled with nutrition and vitamins like Vitamin A and Vitamin C. Mango's seed herbal medicinal oil is being used for decades for many Health Care purposes. It helps in keeping the skin and hair healthy too.
For premium quality best Mango seed oil, you can get it here. We provide pure-quality oil that is manufactured by following high-standard methods and packaging. Our Mango seed oil is hugely used in the Aromatherapy diffuser blends field due to the powerful antioxidants that are present in it.
Mango Seed Oil Uses
Soap Making
Organic Mango Seed oil is rich in fatty acids. When used in soap making, it makes a rich and nourishing soap. It helps in keeping the skin oily, soft, and moist. Besides deep cleansing, it infuses essential nutrients in the skin too.
Scented Candles Making
Pure Mango Seed oil is famous for its fresh aroma with a hint of mango. It is preferred for candle-making purposes. Candle made with mango herbal oil, a sweet fresh aroma with mango essence spreads in the entire room, creating a refreshing environment.
Acne Creams
Vitamins (Vitamin A and C) present in natural Mango seed oil helps to make your rough skin smooth, soft, and supple. It diminishes skin breaks or scars. Organic mango seed oil reduces acne and prevents them from happening in the future.
Aromatherapy
Natural Mango seed oil is used in aromatherapy massage by blending it with any carrier oil. When you infuse this oil with any carrier oil and apply it helps the muscles to relax, remove stress and anxiety, and promote a refreshing feel.
Hair Care Products
Our best Mango seed oil serves a great purpose in hair care too. It helps to get rid of chunks of dandruff and prevent them in the future. Apply mango oil with your regular hair oil on your scalp and hair and wash it off after few minutes.
Dark Spots Creams
Vitamin C and vitamin E present in the Mango seed oil infuses nutrition in your skin and keeps it healthy. It keeps away free radicals and prevents any oxidative damage from happening in our skin cells. It prevents wrinkles, dark spots, blackheads, etc.
Mango seed oil Benefits
Prevents Sun Damage
Our best Mango seed oil can be used as your regular sunscreen. It prevents the harm caused by sun rays on our skin. The high amount of anti-oxidant properties present in this herbal oil prevents tanning of the skin.
Hydrates Skin
Dry eyes, dark circles, and swelling around eyes have become quite common nowadays. Mango seed oil acts as a fantastic remedy for these problems. It rejuvenates and rehydrates the area around your eyes and decreases swelling.
Promotes Hair Growth
According to many studies, applying organic Mango seed oil daily on your scalp and hair will increase blood circulation in your scalp. It will provide nutrition and proper oxygen to the hair roots and promote faster hair growth.
Enhance Sleep Quality
Presence of serotonin in our organic Mango seed oil helps bring excellent and deep sleep. Serotonin produces melatonin that is a sleep-inducing property in our body. It helps insomniacs to get proper sleep daily and cools down their nerves.
Anti-inflammatory
Pure Mango seed oil has a high amount of anti-oxidant properties. It is preferred in cosmetics for this reason. It keeps the skin away from pimples, inflammations, or other minor problems. Mango seed oil also helps in keeping the skin hydrated.
Prevents Split Ends
Natural Mango Seed oil is very beneficial for people with dry and damaged hair. It nourishes the hair, makes it moist, shiny and removes the dryness. It also heals split-ends and prevents further breakage of hair. It conditions the hair.
Product Specifications
| | |
| --- | --- |
| Product Name: | Mango Seed Oil |
| Botanical Name: | MANGIFERA INDICA SEED OIL |
| CAS No: | 90063-86-8 |
| F.E.M.A #: | N/A |
| Specific Gravity: | 0.911 @ 20°C |
| Optical Rotation: | -27 to +24° |
| Moisture Content: | 0.01% |
| Refractive Index: | 1.459 |
| Flash Point: | >60°C |
| Acid Value: | 0.04% |
| Relative Density: | 0.886 gm/ml |
| Origin of part used: | Mango Seed |
| Form: | Liquid |
| Shelf Life: | 2 years |
| Packaging Type: | As Per Requirement |
| Extraction or Processing Method: | Cold Press |
| Solubility: | Soluble in Alcohols and Fixed oils. |
| Color | Clear To Yellow Liquid |
| Odor | Sweet Characteristic |
| Major Constituents | Fatty acids |
| Mango Seed Oil Blends with | Coconut oil, Sweet Almond oil |
| COA: | |
| MSDS: | |
CAUTION: It is meant for external purposes. Avoid direct exposure to sunlight. Do not let it come in direct contact with your eyes. Keep out of the reach of children.
Packaging Sizes
Please Note: The packaging shown above is a General Representation of the various sizes and types of packaging available for this product. Not all sizes and types of packaging for this product maybe available at all times.
Buy Mango Seed Oil Online In UK
VedaOils is one of the leading Online Mango seed oil Wholesale Suppliers, Manufacturer, and Exporter, also deals in other Essential oil in United Kingdom. We offer the purest forms of oils to our customers. Our Mango seed oil has No chemicals, additives, or fillers added to them. They are also free from artificial colors, preservatives, and fragrances. Therefore, Mango seed oil proves to be ideal for daily use. Though entirely natural, you should dilute Mango seed oil before using it for topical application as it is highly concentrated.
We employ numerous tests and quality checks to ensure that only Premium-quality Mango seed oil reaches you. The highest quality and packaging standards are employed to deliver desirable results on usage. Also, our portal uses a secure payment gateway to safeguard your transactions. Buy Mango seed oil from VedaOils Online according to requirements at the best competitive prices in the market. You can order Mango seed oil for your daily purposes such as dark circles, skin lightening, hair growth, and arthritis. Check out the Mango seed oil price per Liter, even you can order Mango seed oil in bulk quantity.
We also export our Mango seed oil and other oils to the US, Canada, Australia, and other countries. Our products follow the highest standards when it comes to quality and purity. We assure you that you will not regret choosing us! We ensure delivery of our products throughout the world by using prestigious logistic partners DHL, FedEx Blue Dart, India Post, etc. Try out Our Mango Seed Oil which is chemical-free, fresh, and multi-purpose.
Frequently Asked Questions
WE NOTICE YOU ARE FROM
US & CANADA LOCATION