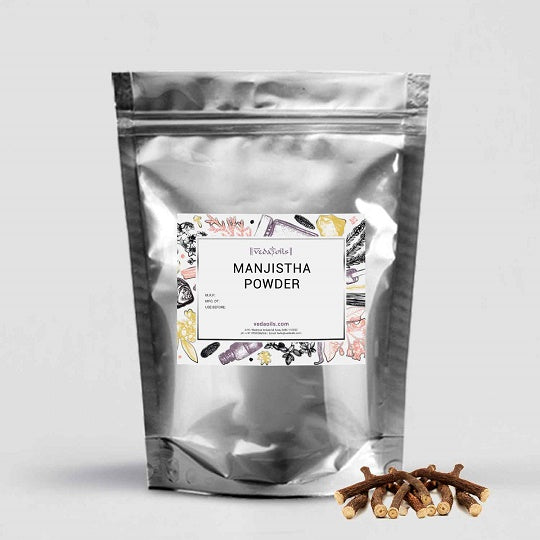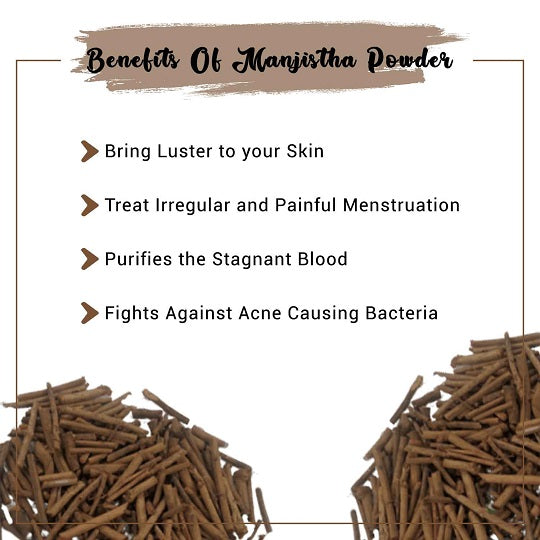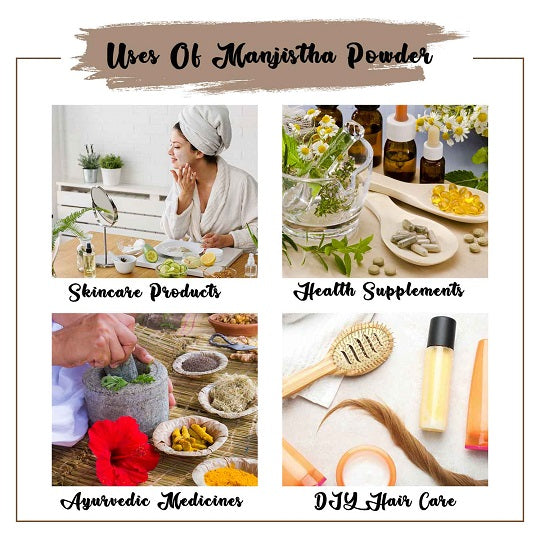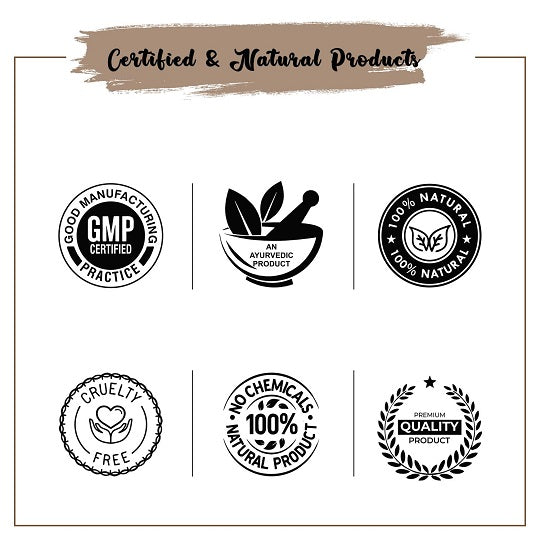 Our Certifications
Manjistha Powder
Manjistha is known as a rejuvenating herb that has many detoxifying effects. Manjistha Powder is extensively used to prepare various remedies to detoxify the blood, treat skin diseases, improve complexion, relieve liver diseases, and many more. You can use manjistha herbal powder in paste, liquids, and powder (churna).
It is used for making face cream, manjistha kadha, face packs, lip scrub, hair masks, etc. Rubia Cordifolia Powder has excellent blood detoxifying qualities that help remove toxins from the blood to treat infection and reduce the risk of aging problems like wrinkles, blemishes, fine lines, spots, dark circles, and skin problems like pimples, zits, scabies, eczema, psoriasis.
Manjistha herbal powder contains many antioxidants, antimicrobial, and anti-inflammatory properties, making it a good solution for many skin problems. The presence of anti-bacterial and anti-diarrheal properties in Majith Powder makes it suitable to remove bacteria from the intestines that cause diarrhea and other intestinal infections.
It helps in treating the common cold, sore throat, cough, and flu symptoms. It also helps in treating many respiratory problems like Asthma and other bronchial conditions. VedaOils have integrated the highest safety and quality standards to maintain the effectiveness and purity of the Rubia Cordifolia Root Powder. You cannot ingest dried Manjistha herbal powder as it is meant only for external purposes. However, it cannot be used to impart fragrance to cosmetic products.
Manjistha Powder Uses
Hair Coloring Products
Organic Manjistha Powder enhances the color of your hair naturally and is also used to fight hair fall issues. If you suffer from premature greying of hair, you can incorporate our pure Manjistha Powder in your hair care regime. This powder also enhances the strength of your hair roots and prevents them from falling.
Dark Spot Removal
Glycosides present in Rubia cordifolia powder works well against dark spots, and it also helps to enhance the complexion of your skin and lighten dark spots. It is often used in dark spot removal creams, and it also improves the texture and glow of your skin due to the powerful antioxidants.
Wound Healer
Bactericidal and anti-inflammatory properties of natural Manjistha Powder works well against cuts and bruises. It also exhibits disinfectant properties that help to disinfect the wounds to prevent the further spread of infection. Also, it curbs the inflammation of your skin due to its soothing effects.
Anti-Dandruff Solutions
Antimicrobial qualities of our pure Manjistha Powder help to reduce dandruff. In addition, it nourishes the scalp and resolves issues like itching and scalp dryness. This further helps to prevent dandruff. It is also sometimes used in hair conditioners because it can make your hair soft and nice.
Acne Reducing Cream
Creams and lotions formulated to fight against acne may contain manjistha root powder due to its ability to inhibit the bacteria that cause acne. It also reduces pimples and can be blended with rose water and honey for faster results. Acne prevention is also possible due to its strong antioxidants.
Skin Brightening Solutions
Among the various Ayurvedic powders used to brighten your skin, Rubia cordifolia root powder also proves to be effective. It promotes skin brightening and can be used in fairness creams and soaps as well. It also reduces the appearance of scars and blemishes on your face.
Manjistha Powder Benefits
Moisturizes Skin
Apart from its use as a complexion improver, Manjistha Powder is also known to nourish and moisturize your skin. It is effective against dry skin and works well against skin pigmentation to provide a balanced skin tone. Therefore, it proves to be an excellent ingredient for making skin toners and moisturizers.
Reduces Pain
Manjistha is a rare herb that can be useful against various types of joint pain and inflammation. In addition, it reduces the heat and toxicity from your body to provide relief from ailments like rheumatoid arthritis. You may use majith powder via massages and aromatherapy sessions for faster pain relief.
Cleanses Skin
Manjistha Powder cleanses skin naturally to eliminate the toxins and excess oil from your skin pores. Therefore, it is widely used in face cleansers and body scrubs. However, though it exhibits exfoliating properties, it does not eliminate the natural oils that are important for your skin's overall health and wellness.
Soothes Insect Bites
You may apply a paste containing Manjistha Powder and water to soothe insect and bug bites. It also contains antiseptic properties that make it an important component in anti-allergy creams and ointments. It also purifies toxins from your blood to provide quick relief from inflammation.
Eases Stress
Best Manjistha Powder relaxes muscles and provides relief from spasms and muscle stiffness. It can also be incorporated in aromatherapy, massages sessions to ease the thoughts and swelling. It proves to be effective against anxiety, stress, depression, and other mental issues.
Fades Sun Tan
Manjistha Powder can prove to be an effective home remedy against suntan and rashes. It is also effective against sunburns and can be incorporated in sunscreen due to its ability to block harmful UV rays. In addition, it revitalizes and replenishes the moisture of your skin, even during cold and rough weather.
Product Specifications
| | |
| --- | --- |
| INCI Name: | Rubia Cardifolia Root Extract |
| Raw Material Source: | Manjistha |
| Brand: | VedaOils |
| Manufacturing Process: | Dried Manjistha is finely ground to obtain the powder. Then it is further processed and filtered to remove any impurities that might be present in it. |
| Tested On Animals?: | No |
| GMO: | It is GMO-free but does not contain a certificate for it. |
| Vegan: | Vegans may also use Manjistha powder as it is free from animal-derived components. |
| Shelf Life: | 2 Years |
CAUTION: It is meant for external purposes. Keep it away from the reach of your kids and avoid direct contact with eyes
Packaging Sizes
Please Note: The packaging shown above is a General Representation of the various sizes and types of packaging available for this product. Not all sizes and types of packaging for this product maybe available at all times.
Buy Manjistha Powder Online at Best Price
Vedaoils is one of United Kingdom's prominent manufacturers, suppliers, & wholesale distributors of Manjistha Powder and other herbal powders. Our products are trusted all over UK for their high quality and purity. No artificial colors, preservatives, or fragrances are added while making Organic Manjistha Powder. We perform numerous tests and quality checks to ensure that only Manjistha Powder's premium quality reaches you.
We also employ the highest quality and delivery standards to supply the desired results of our Best Manjistha Powder. Shop Manjistha Powder Online for industrial use, Skincare products, Hair care products, and other uses through Vedaoils Online Portal at affordable prices. Vedaoils Manjistha Powder is 100% organic and contains all these qualities. In addition, our portal uses a secure payment gateway to run smooth and safe transactions.
Order Manjistha Powder Online through Vedaoils shopping portal according to your requirements. We deploy high-standard delivery to ensure that the best quality product reaches you in time. We export Manjistha Powder in bulk quantities to The USA, Canada, Australia, and many more countries using our logistic partners DHL, FedEx Blue Dart, India Post, etc. You can also buy Manjistha Powder in Bulk at wholesale prices from us. We offer discounts and wholesale rates for bulk purchases. Leave a query in our Bulk Enquiry section to order Manjistha Root Powder at the lowest price in UK.
Frequently Asked Questions
WE NOTICE YOU ARE FROM
US & CANADA LOCATION