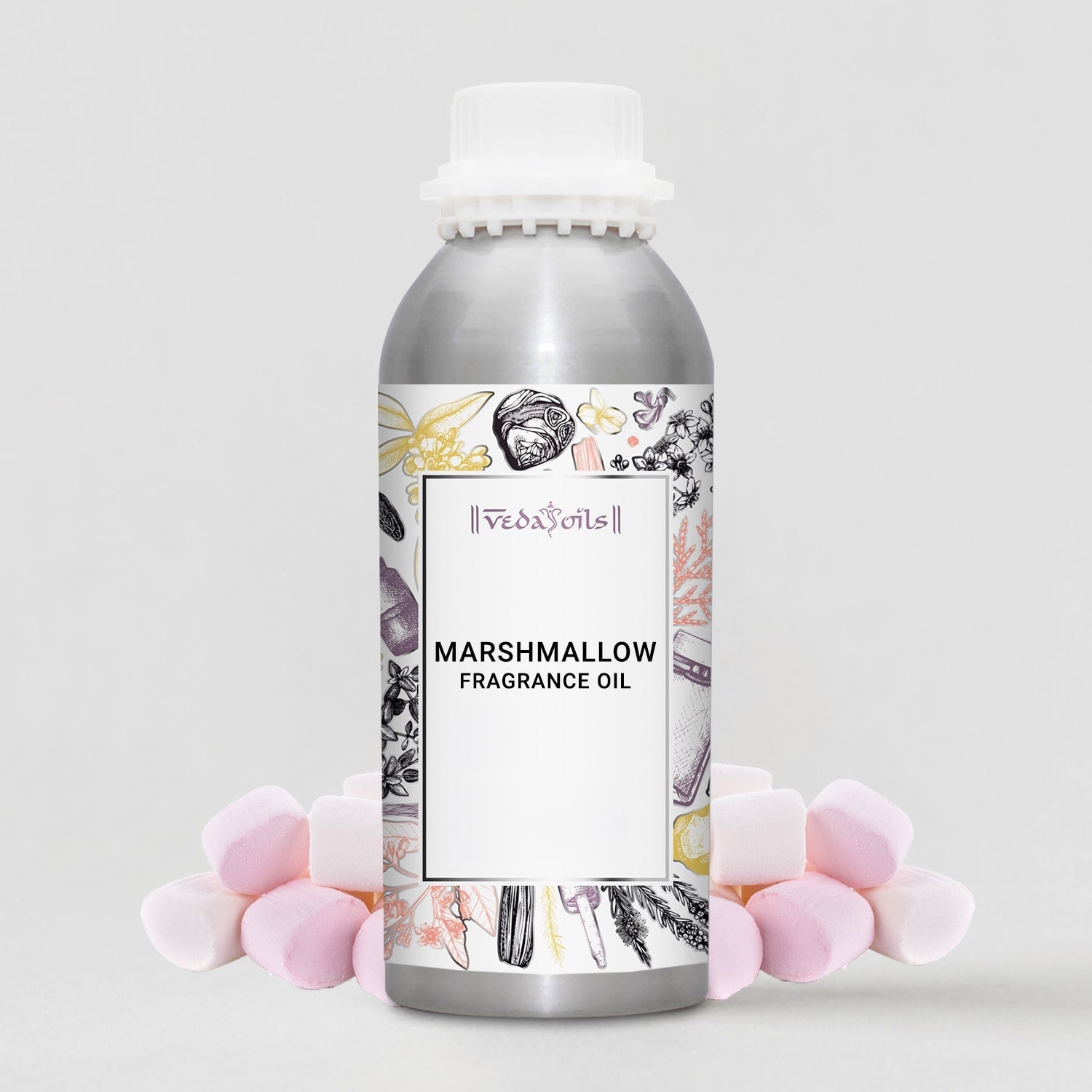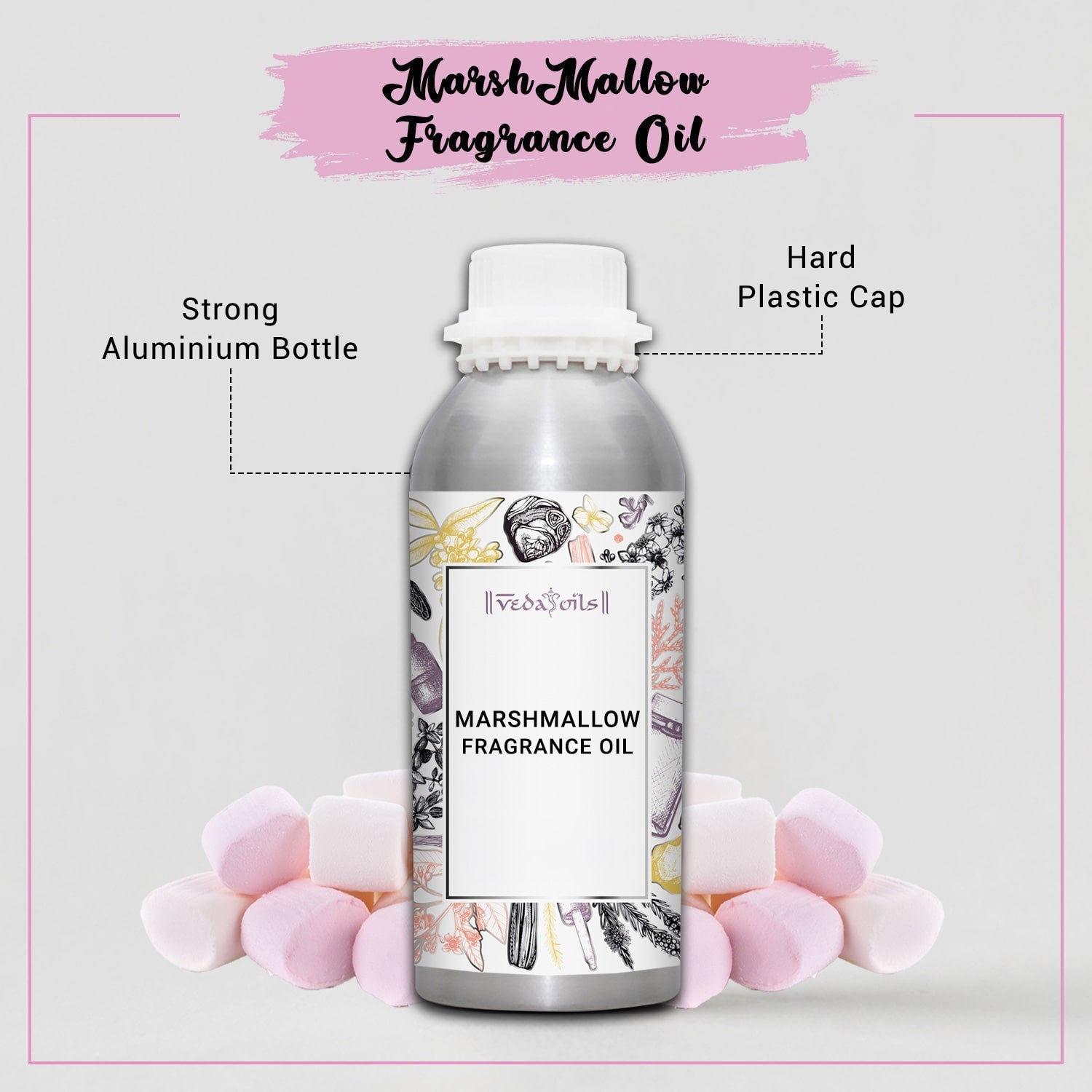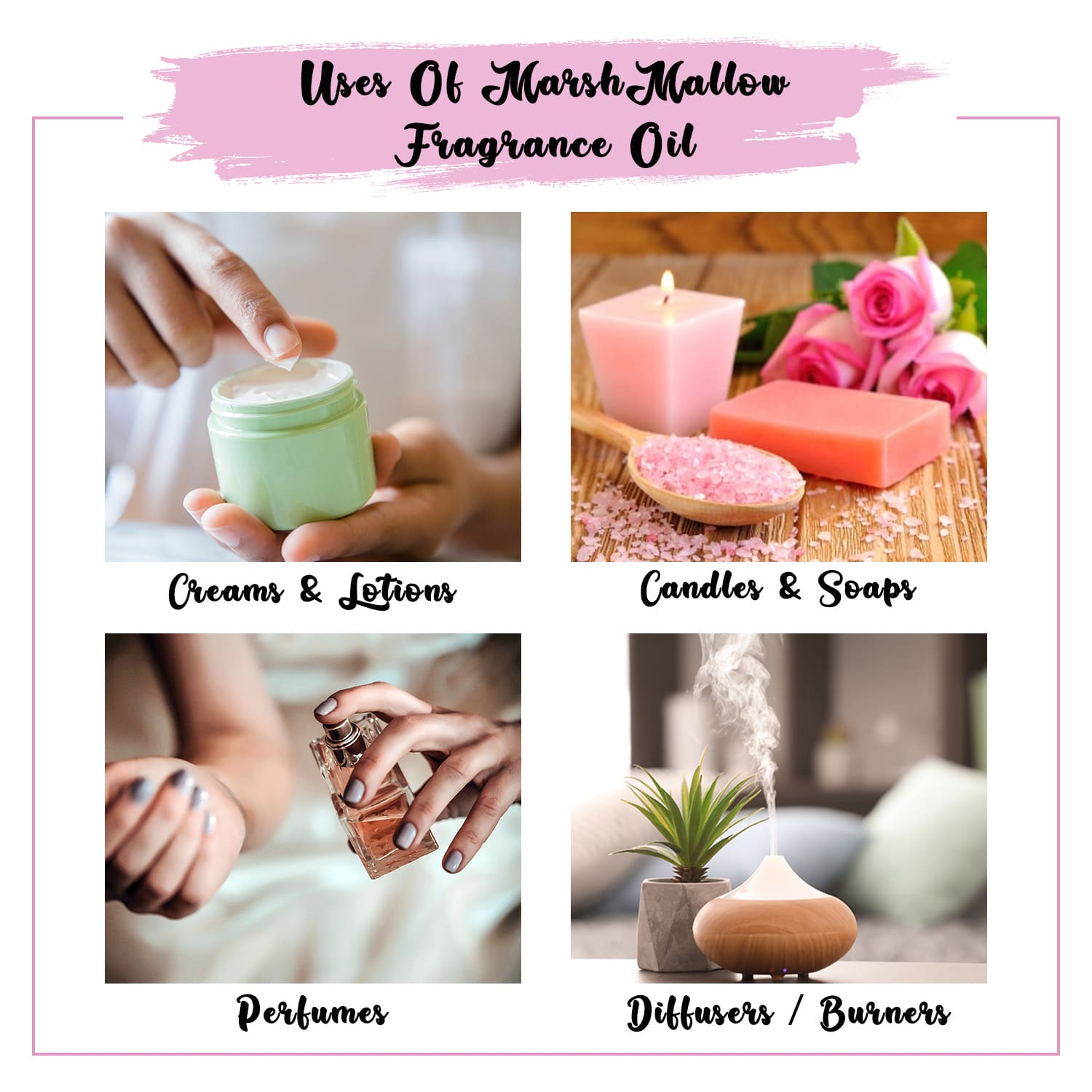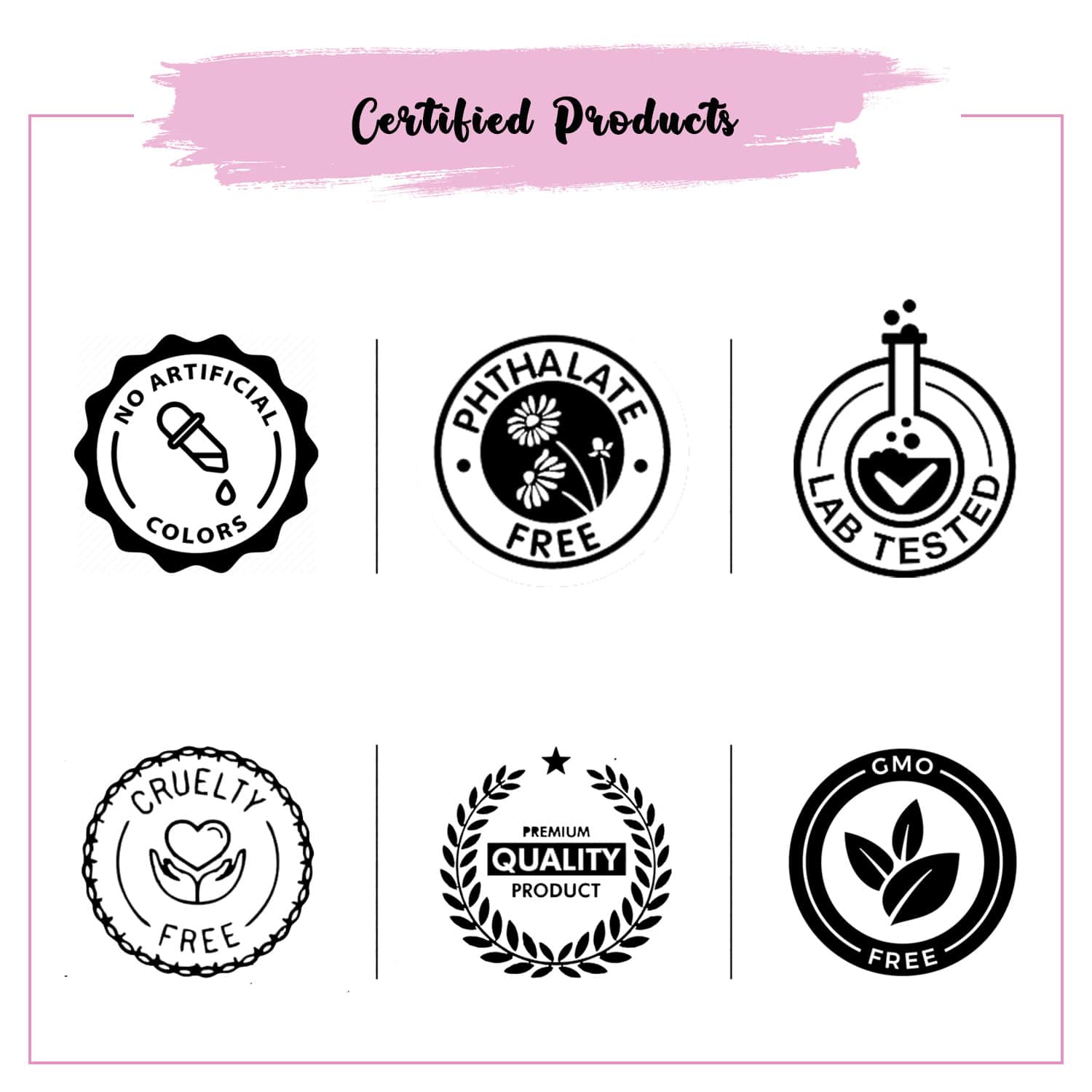 Our Certifications
Marshmallow Fragrance Oil
A fluffy, delectable, and sweet smell of marshmallows with slight notes of vanilla makes this beautiful VedaOils marshmallow fragrance oil. It is one of the most powerful and sweet fragrance oil that instantly livens up our five senses and triggers enjoyable thoughts. Marshmallow fragrance oil closely replicates the perceived aroma of delicious Marshmallows.
Marshmallow fragrance oil is carefully crafted to release the magnificently prominent and strong smell you can associate with creamy and white sugar notes. The aroma of this fragrance oil fills the room with a scent that leaves a cosy and comfortable ambience. Marshmallow fragrance oil is one of the favourite picks to make scented candles and soaps as it surrounds the environment with a scent enhanced by light undertones of lactone, white mimosa, and amber.
The aroma of marshmallow fragrance oil leaves a wonderful trace aftertaste of creamy Vanilla, delectable Marshmallows, and musk. This sweet fluffy marshmallow smell is used to craft perfumes, room fresheners, air diffusers, and beauty products. VedaOils provide premium quality marshmallow fragrance oil that is 100% concentrated and fully compatible with crafting various scent-based DIY products.
Marshmallow Fragrance Oil Uses & Benefits
Soap Making
Marshmallow fragrance oil is used to produce soap bars because of its tempting aroma. This fragrance oil is simple to use in melt-and-pour and liquid soap bases. The aroma lasts long when used in body soap and leaves a sweet, fragrant trail behind.
Candle Making
Marshmallow Fragrance Oil often used to produce scented candles, has the sweet and delicious perfume of fresh and fragrant marshmallows. The aroma of these candles rapidly lifts one's spirits.
Beauty Products
Because of its sumptuous and rich gourmet scents of strawberries, raspberries, and all things sweet, Marshmallow Fragrance Oil is used in lip care items such as lip balms, lip gloss, lipstick, and other cosmetics.
Bath Products
Because of its creamy, silky, and delightful scent, Marshmallow Fragrance Oil is utilised in shower gels, body washes, bath bombs, and bath salts. This fragrance is also safe for all skin types and is free from irritant ingredients.
Perfumes
Perfume, Scents, Cologne, and Body Mists employ candy-like sweet Marshmallow fragrance oils to create a fresh and energetic seasonal trademark aroma. Marshmallow fragrance perfumes have a candy-like sweet, rich scent that leaves a clean and beautiful trail.
Air Diffusers
Because of its delicate and pleasant perfume, Marshmallow Fragrance Oil is used in aroma and reed diffusers. It eliminates all unpleasant and harsh odours from the environment and creates a pleasant odour.
How to Use Marshmallow Fragrance Oil?
Scented Candle: Scented candles with Calm and comforting aromas are made using Marshmallow Fragrance oil. You can use 2 ml of Marshmallow oil for 250 grams candle wax flakes to obtain perfect smelling scented candles. Make sure you measure your quantities correctly so that the fragrance doesn't get overpowered.

Soap Making: A nice fragranced soap bar gives a luxurious and rich feel to the skin. You can add 5 ml of Marshmallow aroma oil in a 1 kg soap base to get perfectly scented soap bars.

Aromatic Bath: A good aromatic bath in a bathtub helps to relax and calm the body. You can add 5-6 drops of Marshmallow fragrance oil in a bathtub to enjoy a rejuvenating and relaxing session of the aromatic bath.

Skin Care & Cosmetic Products: Mild and gentle scented cosmetic products are made using Fragrance oil in very little proportion so that it doesn't react to the skin.
Tip: Make sure you use the fragrance oil in calculated quantities so that it does not react with your skin.
Product Specifications
| | |
| --- | --- |
| Product Name: | Marshmallow Fragrance Oil |
| INCI Name: | Glycerin, Water, Athae Officinalis Root Extract |
| Country of Origin: | India |
| Foam: | Liquid |
| Flash Point: | N/A |
| Color: | N/A |
| Aroma: | Fresh, and Sweet Floral fragrance |
| Suitable for: | Bath Bombs, Lipsticks, Lip Balms, Facial and Body Scrubs, Creams, Perfume Oils |
| Packaging Type: | As per requirement |
| Storage: | Store in a Cool & Dry place. |
| Shelf Life: | 2 years |
| COA: | |
| MSDS: | |
Packaging Sizes
Please Note: The packaging shown above is a general representation of the various sizes and types of packaging available for this product. Not all sizes and types of packaging for this product maybe available at all times.
Buy Marshmallow Fragrance Oil In UK
VedaOils Marshmallow Fragrance Oil contain a sweet and nutty aroma which is very mild and gentle to smell in the United Kingdom. This aromatic oil can be used in many products because of its versatile nature. The sensory pleasure and olfactive notes of this scented oil contain a hint of milk and mossy notes.
We are a well-known manufacturer, distributor, supplier, and wholesaler of the Best-quality Marshmallow Fragrance Oil. All of the products on our website are available at wholesale prices and in bulk quantities. Our Marshmallow Fragrance Oil is free from toxins and alcohol-based ingredients. It is also Vegan-friendly and Phthalate-free so it will be safe for your skin. This Aromatic oil is highly stable so it can ideally be added to various DIY products.
We ensure to follow certain packaging standards while packing our high-grade fragrance oil so that you can receive them in perfect condition at your doorsteps. VedaOils offer its Marshmallow Perfume Oil Online in packages of different quantities (100ml, 500ml, 1L, 5L, 10L, and 25L )so that you can order them as per your needs from our website. We export our in bulk quantities to various countries like The USA, Canada, Australia, etc. using our logistic partners DHL, FedEx Blue Dart, India Post, etc.
Frequently Asked Questions
WE NOTICE YOU ARE FROM
US & CANADA LOCATION