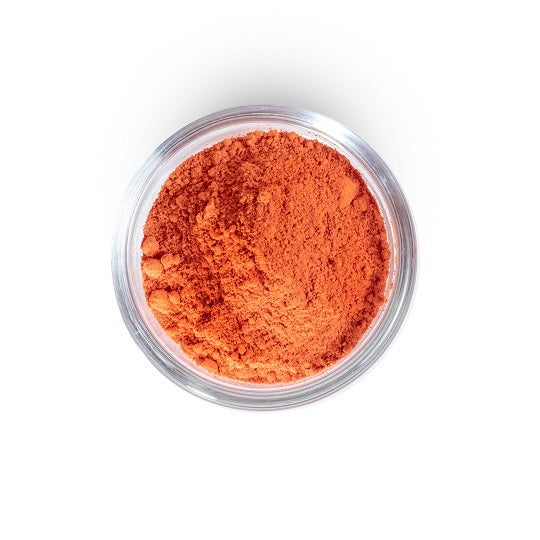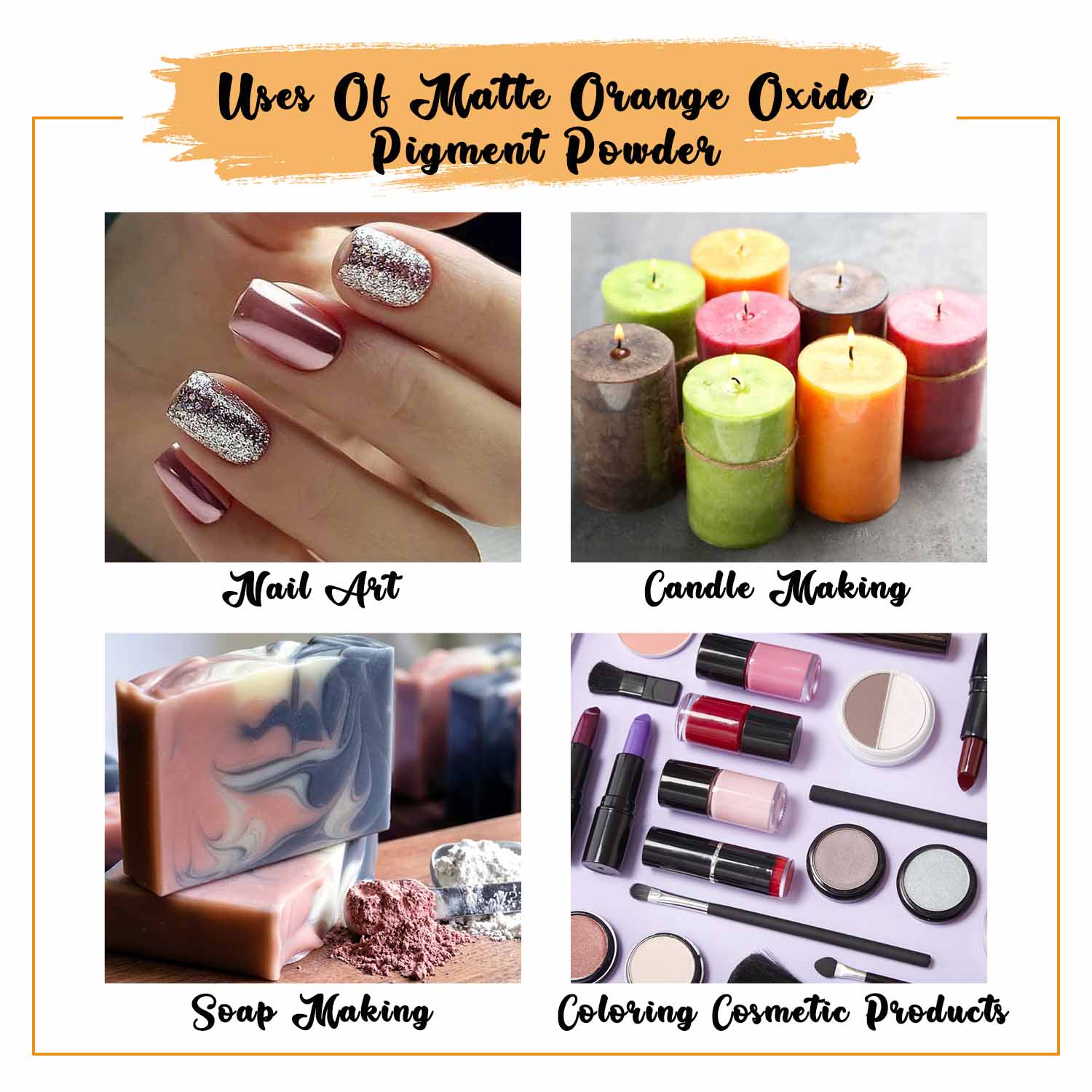 Our Certifications
Orange Soap Colour
Matte orange oxide pigment powderis a naturally vibrant, bright orange coloured pigmenting substitute. It is regarded as a cosmetic grade colourant and can be used in a variety of different purposes ranging from cold process soap making activity to using as a colourant in various make-up and cosmetic accessories. Matte orange oxide pigment powder is enriched with mica, a popular ingredient used widely in the cosmetic and beauty care industry.
Orange oxide pigment powder pigmenting powder can be used to colour a product in hues ranging from extremely pale and light orange tone to vibrantly brilliant deep orange shade. It can also be used to mix with other pigmenting powders to create new, innovative colours. For instance, Orange pigment mixed with pink pigment powder in varied ratios can be used to prepare pigments like peach, salmon and coral.
VedaOils Matte Orange Oxide Pigment Powder is suitable for use in bath, body and beauty products. Having non-bleeding, non-fading and non-morphing properties, this pigment powder can be added directly to oils during the preparation of cold process soaps. However, it must be kept in mind to not use hemp oil and proceed with caution in melt and pour soaps, since using the colourant in these might cause colour alteration and speckling, respectively.
Uses of Matte Orange Oxide Pigment Powder
Lipsticks & Lip Gloss
Matte Orange Soap Colour Powder is used as a colourant in lipsticks, lip gloss, lip balms, mineral make up items and such. Vedaoils Orange Soap Powder product is enriched with mica, a highly popular ingredient in the beauty industry due to its inherent non-bleeding and non-morphing properties
Nail Paints & Eye Shadows
Matte Orange Soap Colour Powder allows you to prepare and use your own shade of nail paints and eye shadows. Being vibrant in nature, the nail paints and eye shadows prepared using the Vedaoils Matte Orange Soap Colour Powder have shown effective results and colour depths
Art and Craft
Flawlessness Matte Orange Soap Colour Powder, enables it to be use in a varied range of different activities, including soap making, candle making or cosmetic care products, DIY projects and art & craft items. Use matte orange Soap Colour in DIY art projects. It is safe , non-toxic and ethical
Soap Making
Matte orange soap colour powder is on a rise as a high quality pastel bright orange colourant in the soap-making industry. It has the fabulous ability to create the matte and depth effects in the various types of soaps prepared. It absorbs oil makes soap product best of all.
Candle Making
Vedaoils Matte Orange Soap powder serves as an efficient product in the process of candle-making. Having the ability to work in all types of wax, including paraffin, soy, gel or beeswax, the product serves its purpose naturally, ethically and effectively.
Cosmetic Products
Orange Soap Colour powder is effective ingredient in preparation of cosmetic products like blushes, eye shadows, foundations and other beauty items. Mineral enriched Vedaoils Matte Orange Soap Colour Powder gives make-up smooth, silky texture which is easy to apply.
Packaging Sizes
Buy Matte Orange Soap Colour Online at Wholesale Price
VedaOils Matte Orange Oxide Pigment Powder has fabulous properties of being a non-bleeding and a non-morphing cosmetic ingredient which is deemed best for use in cold process soap making and more of the other activities. Having the miraculous consistency of mixing best with glycerin and propylene glycol, the VedaOils Matte Orange Oxide Pigment Powder is best in class and the finest quality ingredient for all your cosmetic needs.
At Veda Oils, purchase our raw material products and ingredients from ethically acclaimed producers and manufacturers in the UK and all around the world to ensure the absolute best and fine quality for our customers. All our ingredient suppliers are screened rigorously to ensure quality, ethical responsibility and consistency so that the product delivered to you is always the first in class.
Orange Oxide Pigment Powder and all of our other quality ingredients come with a full 30 day money back guarantee if the quality of the product does not meet your standards. So, shop online for our matte orange oxide pigment powder, from the comfort of your home with best in class standards and 100% secure payment options.
Frequently Asked Questions
WE NOTICE YOU ARE FROM
US & CANADA LOCATION