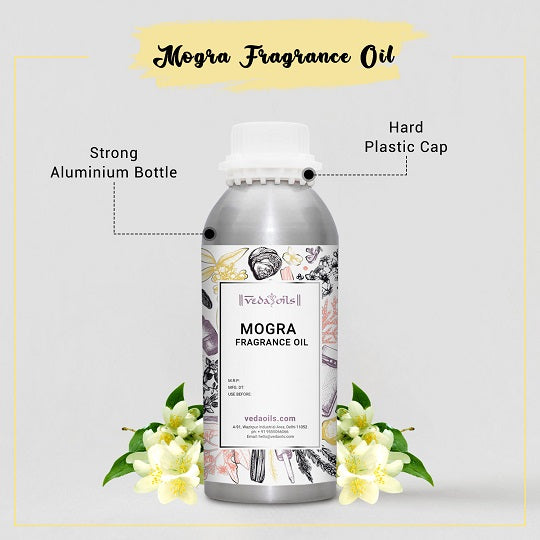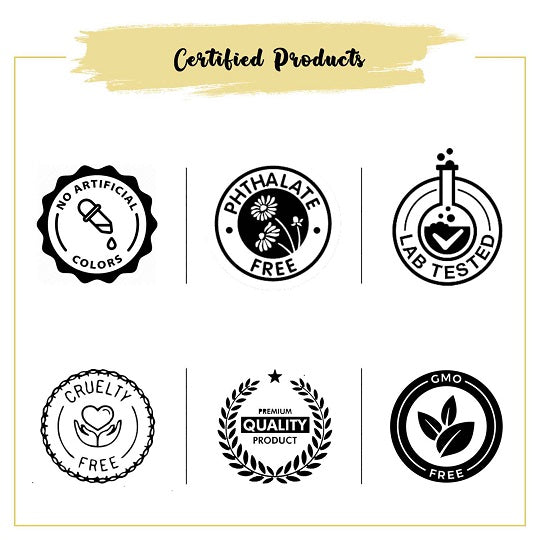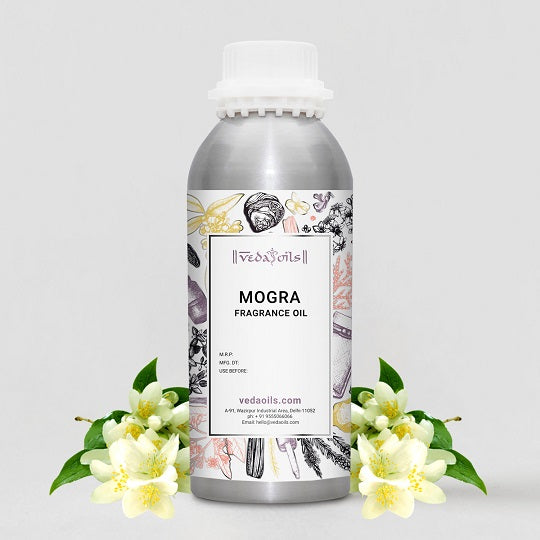 Our Certifications
Mogra Fragrance Oil
Elegant and velvety fragrance of Natural Mogra Flower Perfume Oil that comes from the blooming Jasmine flowers. The aroma of this fragrance oil is one of the world's best-known floral scents. Mogra Attar Scented Oil has an exotic and oriental aroma that contains a lusty base of other floral and vegetal scents like rose, white plumeria, lily, and thyme. Its delightful and alluring aroma brings vibrancy into the space.
The calming and invigorating floral aroma from the White Mogra Fragrance Oil makes the atmosphere lively and radiant. It also has an enticing aroma that effectively reduces stress and anxiety by relaxing the body and mind. This intense floral scent adorns the atmosphere making it much more dreamy and exciting. The application of this perfume oil gives the feeling of walking into the garden full of blooming Jasmine flowers.
Mogra Flavour Scent Oil unwraps a beautiful floral scent that is used to make DIY scented candles and soaps. This premium-grade scented oil is also used to make perfumes, deodorants, body mist, and cologne that flings a sweet fragrance of real jasmine flowers on the body. Many air fresheners and aromatic diffusers also use Wild Mogra Fragrance Oil because of its charming aroma. This aromatic oil is free from allergen so it can be used for making skin care and cosmetic products. VedaOils offers premium quality Wild Mogra Flower Scent that helps to imbue the fragrance of blossoming Jasmine Flower into a different variety of products. A few drops of this product will your favorite product with this floral fragrance.
Mogra Fragrance Oil Uses & Benefits
Soap Making
Delicate and classic scent of Natural Mogra Essence Oil is used to make DIY soap bars and bathing bars as its delightful aroma stays for a long time on body, making it feel fresh and good-smelling throughout the day.
Scented Candle
Musky Mogra Perfume Oil has sophisticated and rich fragrance which is used to make perfumed candles. These candles have superb floral throw which instantly fills the atmosphere with romantic and dreamy scents.
Potpourri
Mogra Flower Scent Oil is used for making Potpourri which makes the space much calmer and soothing. It also helps to effectively stamp out the foul and stinky odour from the atmosphere.
Skincare Products
Skincare Products like creams, lotions, serum, toners, moisturizers, etc., use Original Mogra Musk Fragrance Oil to instill the products a beautiful and elegant fragrance of Mogra. It is free from allergen and safe for the skin.
Bathing Products
Mogra Flavour Perfume Oil is used to make Shower gels, bath sprays, bathing lotions, body cleansers, etc., to imbue scent of freshly blooming Mogra. The aroma of these products lingers throughout the day.
Incense Sticks/Agarbatti
Lighting Incense sticks or Agarbatti used organic Mogra flower scented oil to fill up the atmosphere with fresh and floral aroma of Mogra flower. These incense sticks are environment friendly.
Product Specifications
| | |
| --- | --- |
| Product Name: | Mogra Fragrance Oil |
| INCI Name: | Jasminum |
| Country of Origin: | India |
| Foam: | Liquid |
| Flash Point: | N/A |
| Color: | N/A |
| Note: | Fresh, Earthy, Sweet and Floral fragrance |
| Suitable for: | Bath Bombs, Bath and Body products, Lipsticks, Lip Balms, Facial and Body Scrubs, Creams, Shower gels, Shampoo, Conditioners |
| Packaging Type: | As per requirement |
| Storage: | Store in a Cool & Dry place. |
| Shelf Life: | 2 years |
| COA: | |
| MSDS: | |
Packaging Sizes
Please Note: The packaging shown above is a General Representation of the various sizes and types of packaging available for this product. Not all sizes and types of packaging for this product maybe available at all times.
Buy Mogra Fragrance Oil At Wholesale Price
Mogra Fragrance Oil from VedaOils is made from the blossoming Mogra flower. This aromatic oil contains floral and vegetal scents, which give out a refreshing and rejuvenating scent. It is a versatile product, so it can easily be added to instill the fragrance of Jasmine flowers in different kinds of products.
VedaOils is a leading manufacturer, distributor, supplier, and wholesaler of premium quality Musky Jasmine Scented Oil. We offer all of the fragrance oils at affordable price and in bulk quantities. We do not add any chemical-based ingredients like SLS, parabens, phthalates, etc., in the manufacturing of our Best Mogra Fragrance Oil. Our aromatic oil is Vegan-friendly because it is made from plant-based ingredients. This scented oil is highly stable, so it can easily be added to various DIY products.
We follow certain packaging standard methods and quality check measures while packing our high-grade fragrance oil so that you can receive them in perfect condition at your doorsteps. VedaOils offer its White Mogra Fragrance Oil packages of different quantities (100ml, 500ml, 1lt, 5lt) so that you can order them as per your needs from our website. We export our Musky Mogra Perfume Oil in bulk quantities to various countries like The USA, Canada, Australia, etc., through our logistic partners DHL, FedEx Blue Dart, India Post, etc.
Frequently Asked Questions
WE NOTICE YOU ARE FROM
US & CANADA LOCATION