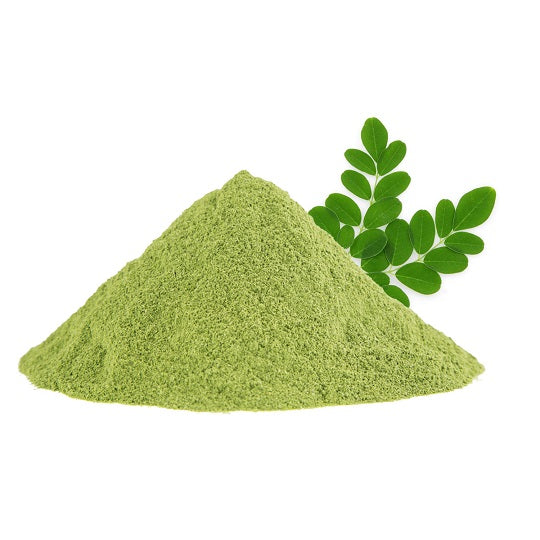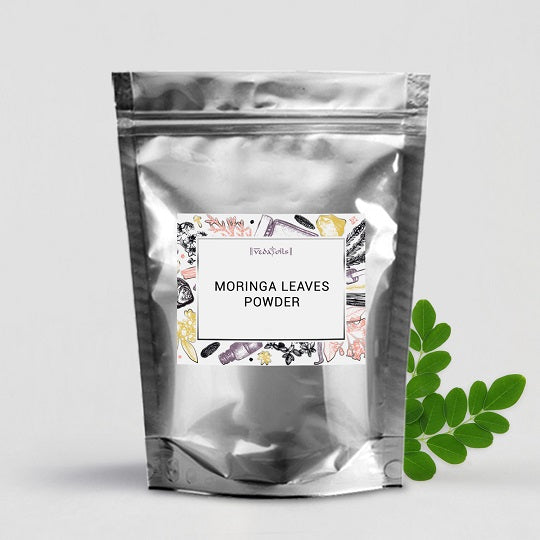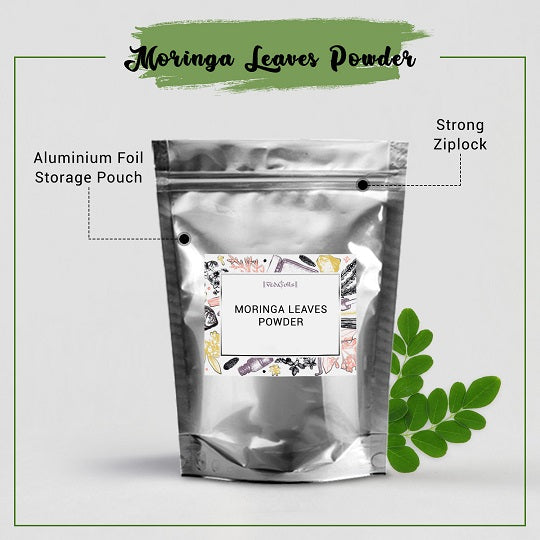 Our Certifications
Moringa Leaves Powder
Natural Moringa tree is native to northern India's Himalayan Mountains and is planted all over the world. It's commonly utilized as both a meal and a medicinal. Its dried leaves may be processed into a fine Organic Moringa Leaves powder. The ancient Egyptians, Greeks, and Romans utilized this herbal powder for thousands of years because it is high in calcium, iron, potassium, and vitamins A, C, and E.
Drumstick or Moringa leaves powder can be used to disinfect polluted surfaces as an antiseptic. It has a broad spectrum of antibacterial and antifungal properties as well. Fresh Moringa leaves powder is also used to treat a variety of other disorders, including malaria and typhoid fever, as well as hypertension and diabetes. Its positive benefits are assumed to be due to the wide range of chemicals found in it.
Natural Moringa tree leaves powder benefits as antimicrobial characteristics which can help prevent acne outbreaks on your skin. It can also aid with the removal of blemishes, dark spots, pimples, and blackheads. Moringa leaves are high in amino acids, which are the foundations of cells. This aids in hair renewal and hence lowers alopecia. It awakens dormant hair follicles, promoting hair growth in bald regions.
Moringa Leaves Powder Uses
Abundant Bioactive Compounds
High concentration moringa leaf powder such as vitamins, flavonoids, alkaloids, and other nutritional components. These chemicals are useful in treatment of chronic illnesses such as hypertension, diabetes, insulin resistance, and general inflammation.
Hormone balance
Reduce oxidative stress indicators but also improved fasting blood glucose and hemoglobin levels, implying more balanced hormones. Moringa leaves powder linked to better thyroid health, which regulates hormones that affect energy, sleep, and digestion.
Combat free radicals
Antioxidants present in moringa leaf powder, such as flavonoids, polyphenols, and ascorbic acid, act as an antidote. These antioxidants demonstrated to help prevent early wrinkles and protect your cells by preventing oxidative stress, cell damage, and premature aging.
Decrease inflammation
Drumstick leaves powder drastically reduce cellular inflammation. Moringa decreases inflammation by decreasing inflammatory enzymes and proteins in body, in addition to possessing anti-inflammatory polyphenols and isothiocyanates.
Balance blood sugar
In lab trials, the leaf powder was found to be helpful at lowering cholesterol and glucose levels as well as regulating oxidative stress. Its antioxidant qualities, as well as decreased fasting glucose levels, may aid in the reduction of weight gain and insulin resistance.
Enhance digestion
Around 30% fibre majority of which is insoluble, require for digestion also lower your risk of illness. Moringa tree powder is natural antibiotic and antibacterial that may aid in inhibition of growth of many infections that can cause digestive disorders.
Moringa Leaves Powder Benefits
Plant-based Protein
Powders prepared from Moringa tree leaves powder are high in protein. You can have an advantage over legumes since they contain all of the key amino acids required for muscle repair, energy generation, and mood modulation.
Haircare Products
drumstick leaves powder based hair care products are high in amino acids, which aids in hair renewal. High in Biotin, which promotes formation of RBCs that increases delivery of oxygen to scalp. This prevents hair loss and increases lifetime of hair cells.
Anti-Microbial Remedies
organic Moringa leaves powder includes pterygospermin, functions as anti-bacterial and anti-fungal medicine, aiding in prevention of dandruff, itchy scalp, psoriasis, eczema, and bacterial blisters. It also aids in healing of microbial infections and wounds.
Skincare Products
Moringa leaves is used topically to face to help reduce wrinkles and free radical damage. Moringa may help tighten up facial skin while also reducing wrinkles and blemishes, making you seem younger. It also lightens hyperpigmentation from skin.
Detox Teas & Juices
Drumstick leaves powder is a natural cleaner that aids in detoxification of the system. This aids in the maintenance of the body and promotes immunity to numerous illnesses. It boosts body's energy levels. It cleanses whole body by draining out all toxins.
Health Supplements
Moringa leaf powder includes calcium and phosphorus, which help maintain bones healthy and strong. Moringa extract, in addition to its anti-inflammatory effects, may aid in treatment of illnesses such as arthritis and may also assist to mend broken bones.
Product Specifications
| | |
| --- | --- |
| INCI Name: | N/A |
| Raw Material Source: | Moringa Leaves Powder |
| Brand: | VedaOils |
| Colour: | Yellowish Green |
| Manufacturing Process: | Dried Moringa leaves are crushed and grounded to form a fine powder and then filtered to remove impurities from it to obtain the final product. |
| Tested On Animals?: | No |
| GMO: | GMO-free but not certified for it. |
| Vegan: | Vegans can use it because it does not contain any animal-derived components. |
| Shelf Life: | 2 years |
CAUTION: It is meant for external purposes. Keep it away from the reach of your kids and avoid direct contact with eyes
Packaging Sizes
Please Note: The packaging shown above is a General Representation of the various sizes and types of packaging available for this product. Not all sizes and types of packaging for this product maybe available at all times.
Buy Moringa Leaves Powder Online at Best Price
VedaOils is one of the prominent manufacturers, suppliers, & wholesale distributors of Moringa Tree Leaves Powder and other herbal powders in United Kingdom. Our products are trusted all over UK for their high quality and purity. No artificial colours, preservatives, or fragrances are added while making organic Drumstick Leaves powder. Hence our Moringa Leaves powder is 100% natural and organic.
Order Moringa Leaves powder online through VedaOils' shopping portal according to your requirements. We deploy high standard delivery to ensure that the best quality product reaches you in time. NaturalMoringa Leaves powder is now available in packets of 100gm, 500gm, 1kg, and 5kg.
You can also Buy Moringa Leaf Powder online in Bulk at wholesale prices from us. We offer discounts and wholesale rates for bulk purchases. you can leave a query in our bulk enquiry section to buy Moringa Leaves powder at the best price in UK.
Frequently Asked Questions
WE NOTICE YOU ARE FROM
US & CANADA LOCATION