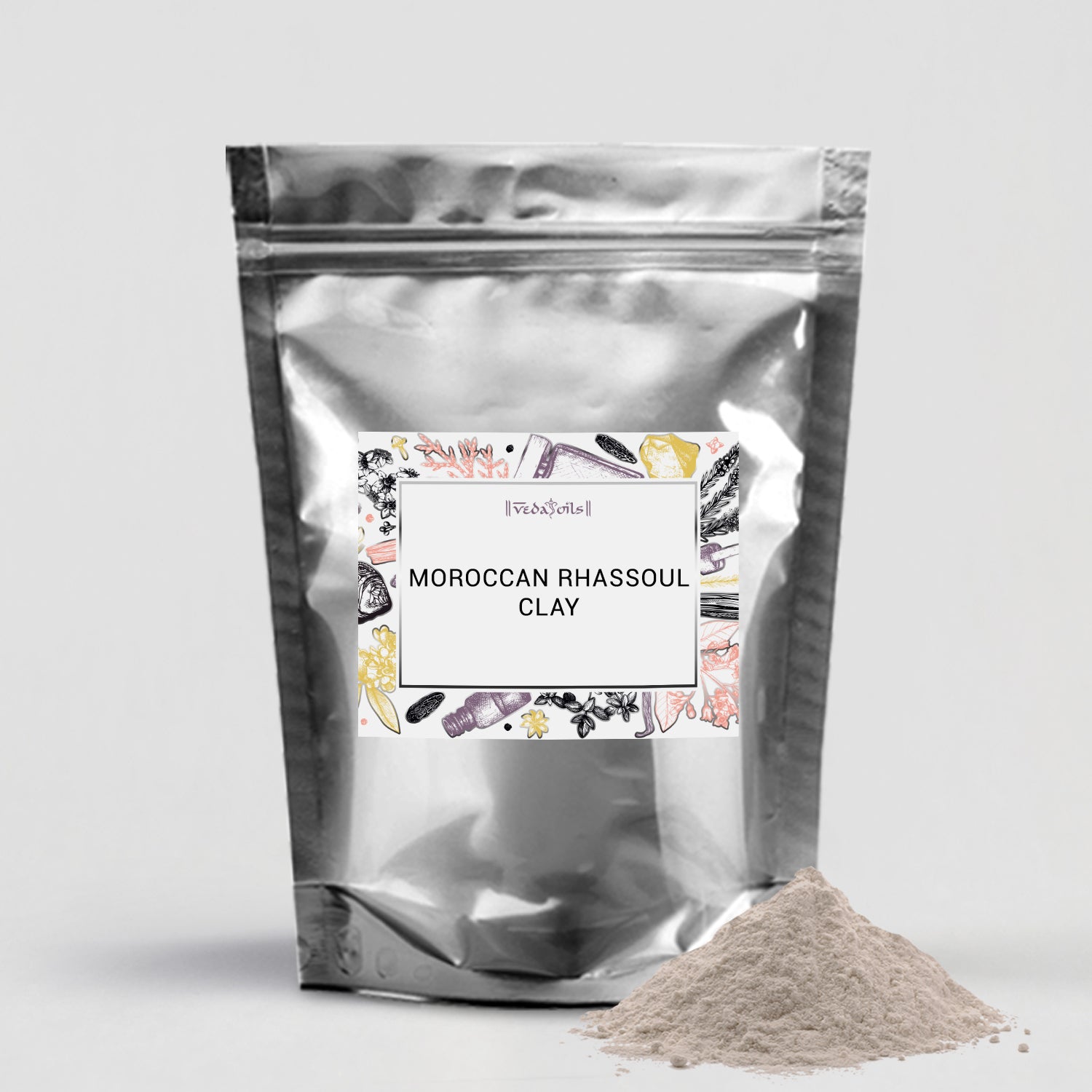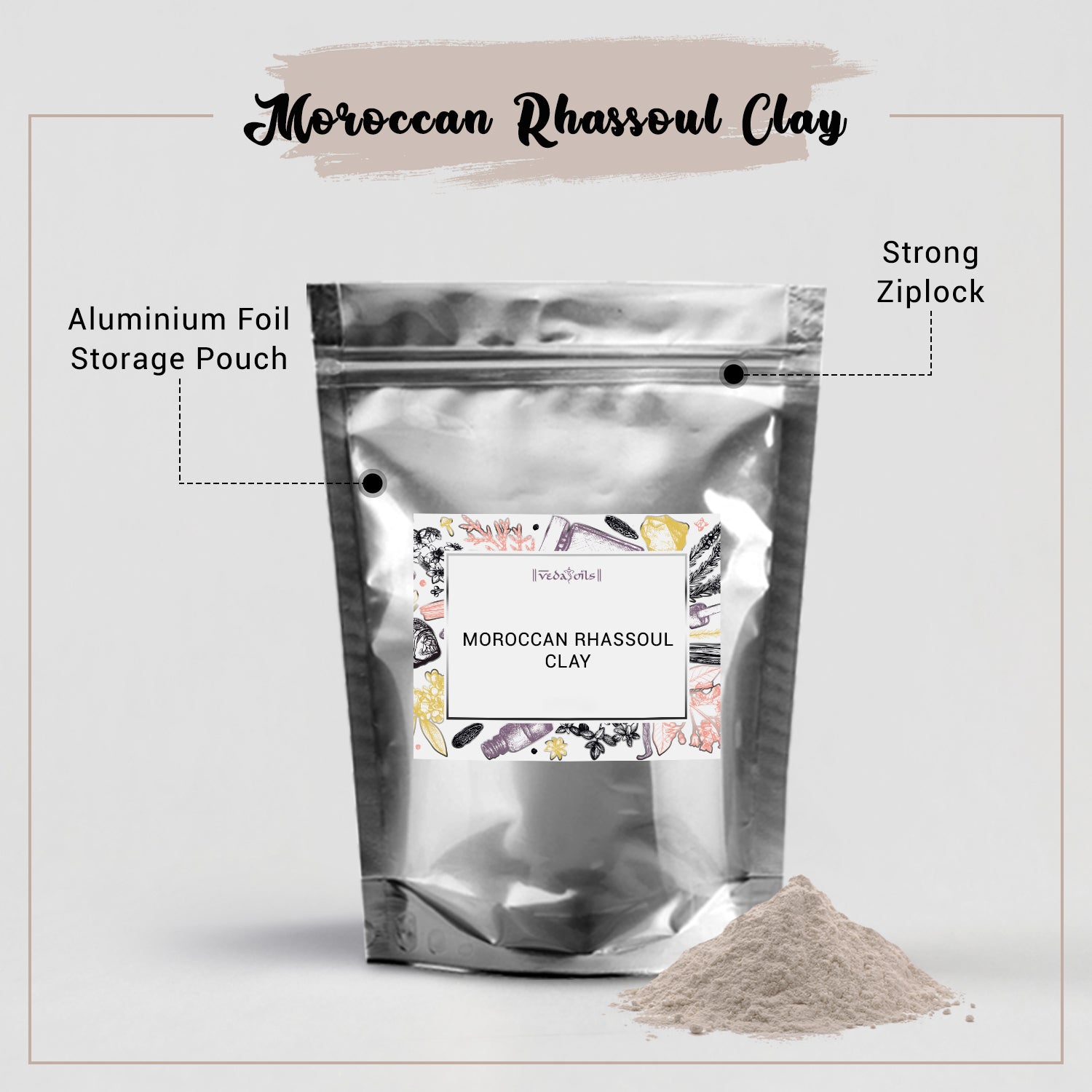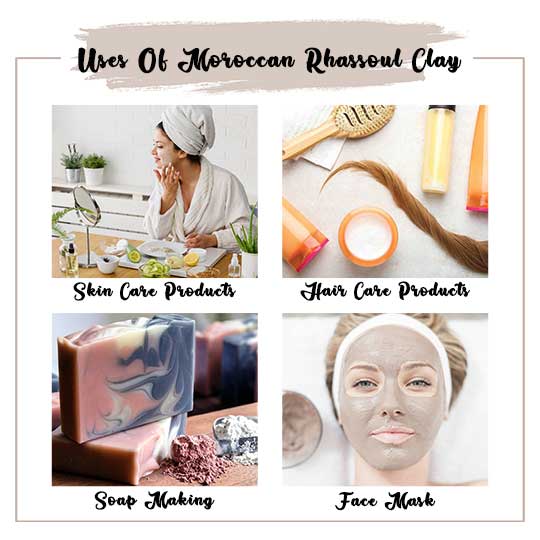 Our Certifications
Moroccan Rhassoul Clay Powder (Nude)
Moroccan Nude Rhassoul Clay Powder which is also known as Ghassoul Clay is derived after mining ancient mineral-rich deposits of the Moroccan Atlas Mountains. This fine and smooth-textured clay is made from natural geothermal and volcanic activities making it even richer and nourishing. This nude-colored Rhassoul clay contains a variety of minerals like magnesium, iron, silica, sodium, potassium, etc.
The Organic Moroccan Rhassoul Clay powder possesses immensely well detoxifying and remineralizing properties due to its diverse mineral composition. The richness of essential elements and compounds in this clay makes it even more nutritive for skin and hair. It helps to effectively reduce dryness and itchiness. It also enhances skin elasticity and clarity. Rhassoul Clay helps in unclogging the pores and getting rid of stubborn blackheads by eliminating toxins & impurities from the skin making its appearance smoother and softer.
The cleansing and extractive qualities of Rhassoul Clay help to remove the excess oil and grease from the hair. It also unclogs the hair follicles. Moroccan clay provides a complete hair and scalp treatment making hair shiny, bouncy, and voluminous.
We at VedaOils offer the Finest-quality Moroccan Rhassoul Clay that restores skin and hair health constructively. It is suitable for making soaps, skincare, cosmetics, and bathing products that will nourish your skin and hair. You can even use it to create your DIY products using this clay powder.
Moroccan Rhassoul Clay Uses
Hair Cleanser
Naturally unearthed Moroccan clay has cleansing and extracting abilities which help to remove the product buildup, excess oil, dirt, and gunk from your scalp. It polishes the hair making hair strands shiny, healthy, and polished.
DIY Face Mask
Rhassoul clay is super clay that makes skin glowing, and radiant. The facial mask made from this clay helps to get rid of dead skin cells, oil, dirt, and grime. Its regular application result in diminishing age spots, blemishes, and acne scars.
Exfoliating Face Scrub
Minute granules and particles of Moroccon nude Rhassoul clay have excellent exfoliating properties which help in buffing the textured and bumpy skin making it smooth, and baby-soft. It also helps in stimulating blood circulation of the face.
Nourishing Hair Mask
Hair mask made up of Nude Moroccan Rhassoul clay Powder helps provide nutritious value to the scalp as well as hair strands. It makes the hair soft, silky, and frizz-free. It also makes the hair look naturally straightened.
Soap Making
Nude Moroccan Rhassoul clay has cleansing properties which make excellent conditioning and clarifying soap bars. It also makes a luxurious and rich lather which provides a good cleansing and nourishing experience.
Bath Bombs
Skin hydrating and sustaining Moroccan Clay is used to make bath bombs as it helps to hold the shape and texture together. This Clay powder also adds beautiful natural color to the bath bomb.
Moroccan Rhassoul Clay Benefits
Cleansing & Extracting Properties
Nude Moroccan Clay contains natural purifying and cleansing qualities that help to get rid of all the impurities and toxins from the surface of the skin as well as hair and that is why it is used in many soaps, shampoos, and body cleansers.
Smoothens Skin
Magnesium and potassium present in natural Moroccan Ghassoul Clay powder help to exfoliate the skin and improve blood circulation which provides a smooth and even tone skin. It also reduces the texture of the skin.
Youthful & Glowing Skin
Enhanced blood circulation from the application of Rhassoul clay powder helps to provide a natural glow and shine to the skin. Moroccan Rhassoul Clay effectively tightens the pores which revitalize the skin and makes it younger looking.
Remineralizes Hair
Rhassoul clay powder provides a polishing and conditioning effect on the hair due to its remineralizing and restoring properties which make hair look nourished and shiny. This also naturally strengthens the hair.
Balances Skin
Silica and sodium in this clay powder as an exfoliant that balances the uneven skin tone and texture. It rejuvenates and restores the damaged skin cells by providing nutrients and natural supplements to the skin.
Fights Free Radicals
Natural Moroccan Nude Rhassoul Clay Powder can fight off free radicals and harmful bacteria from the skin and eliminate them permanently. Organic ghassoul clay also prevents acne and bacteria from causing skin diseases.
Product Specifications
| | |
| --- | --- |
| Product Name: | Moroccan Nude Rhassoul Clay |
| INCI Name: | N/A |
| CAS No: | N/A |
| Form: | Powder |
| Color: | Brown |
| Alternative Name: | Moroccan Nude Rhassoul Clay Powder |
| Product Type: | Clay |
| Paraben Free: | Yes |
| Usage: | Skin Care, Face Mask, Cosmetics, Hair Products |
| Packaging Type: | As Per Requirement |
| Purity (%) | 98 |
| Shelf Life: | 2 years |
| COA: | |
| MSDS: | |
Packaging Sizes
Please Note: The packaging shown above is a General Representation of the various sizes and types of packaging available for this product. Not all sizes and types of packaging for this product maybe available at all times.
Buy Nude Moroccan Rhassoul Clay Powder at Wholesale Price
VedaOils is one of the largest bulk manufacturers, distributors, suppliers, and wholesalers of the Best-quality Moroccan Rhassoul Clay Powder in United Kingdom. Our clay powder is made from mineral-rich and high-quality clay powder that will enhance skin and hair health. We offer our clay powder at an affordable price.
Our Nude Rhassoul Moroccan Clay Powder is free from chemically infused or toxin-based ingredients. We do not even add any artificial colorant and fragrance to our clay. No fillers, additives, or preservatives were added in the manufacturing of our Organic Rhassoul clay. It is also Vegan-friendly and Cruelty-free so you can enjoy using it without any guilt. The various health properties of this clay powder help to effectively enhance the skin and hair texture.
Certain standard packaging and quality check measures are followed while packing our premium quality Moroccan Rhassoul Clay in zip-lock Aluminum packs so that you can receive them in perfect condition at your doorsteps.
We at VedaOils offer our Moroccan Ghassoul Clay Powder Online in packages of different quantities (100gm, 500gm, and 1kg) so that you can order them as per your needs on our website. We export our Rhassoul clay in bulk quantities to various countries like The USA, Canada, Australia, etc. using our logistic partners DHL, FedEx Blue Dart, India Post, etc.
Frequently Asked Questions
WE NOTICE YOU ARE FROM
US & CANADA LOCATION