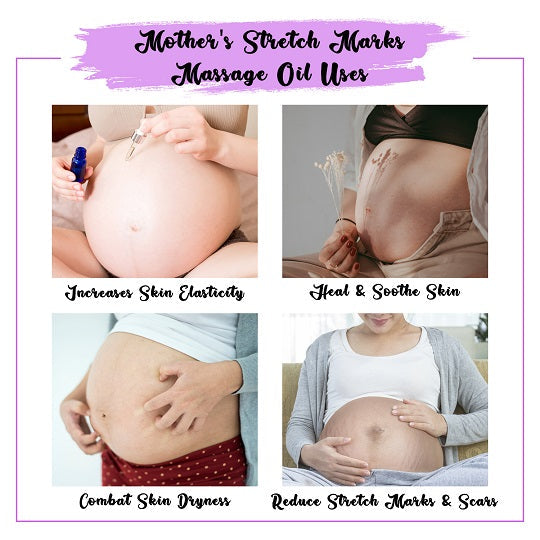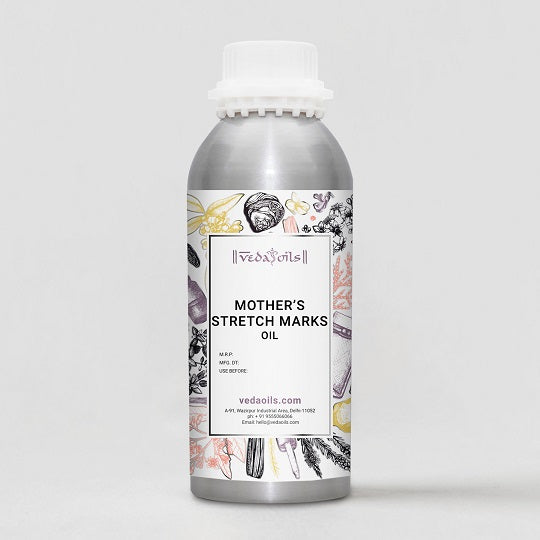 Our Certifications
Mother's Stretch Mark Massage Oil
Mother's Stretch Mark Massage Oil is made with grapeseed oil, argan oil, orange oil, pomegranate seed oil, patchouli oil, and jojoba oil works effectively on reducing the appearance of visible stretch marks and other scars. All of these components aid in preventing stretch marks that are mainly visible due to pregnancy, teenage growth spurts, or periods of rapid growth. This massage oil also lightens and tones other scars and marks on the skin.
Stretch Mark Reduction Massage Oil has antioxidant and collagen-producing qualities in it. It also has great regenerating, moisturizing, hydrating, and skin tightening properties which help in constructively reducing stretch marks. This stretch mark-reducing oil penetrates deeply into the skin and helps in smoothening your aging and wrinkled skin reduce. The natural oils also tone and nourish the skin.
VedaOil Mother's Stretch Massage Oil contains biologically active compounds which stimulate collagen synthesis and prevent skin damage. The high amount of vitamin A present in this massage oil provides a lot of antioxidants for the skin. This oil lightens the redness and slight swelling on stretch marks. It also nourishes the scar, uneven skin tone, aging, and dehydrated skin which causes Stretch marks.
How to Use: Take a few drops of Mother's Strech Mark massage oil on your palms and gently rub it in on the affected area. Massage in a circular motion to break fat cells. Apply little pressure using fingertips on the problematic areas.
Mother's Stretch Mark Massage Oil Ingredients
Argan Oil
Argan oil is a rich source of fatty acids, which may improve skin elasticity and reduce or prevent stretch marks. The application of this oil will help to promote collagen production and improve skin tone. Its anti-aging properties may also help reduce wrinkles.
Pomegranate Seed Oil
Pomegranate seed massage oil is believed to increase skin elasticity and thickness for the reason that it contains potent antioxidants and anti-inflammatory properties, which help to prevent or reduce the appearance of blemishes and stretch marks.
Orange Oil
Orange oil has powerful skin-protective, antioxidants, and healing properties, which can significantly improve the look of wrinkles, stretch marks, and aged skin. The rejuvenating and restoring property helps to promote smoother and younger-looking skin.
Grapeseed Oil
Powerful antioxidant properties of grapeseed oil enhances blood circulation, reduce stretch marks, and varicose vein appearance. This oil also enhances the collagen production and elasticity of the skin which helps lighten the skin and reduce other marks and scars.
Jojoba Oil
Regular application of Jojoba oil Helps to promote collagen synthesis and encourages the skin cells to bind together better. Its naturally nourishing and hydrating properties also enhance the elasticity of the skin which eventually helps to prevent stretch marks.
Patchouli Oil
Patchouli oil boosts the health of the skin by treating wounds and fading scars. It has antioxidant properties as well as healing properties which help to promote collagen synthesis and reduce stretch marks. This oil also heals the redness and swelling of the stretch marks.
Mother's Stretch Mark Massage Oil Benefits
Treats Stretch Marks
Stretch mark reduction massage oil is a great tool to tone the body and eliminate fat and stretch marks. It is also an effective way to increase blood circulation, which tightens sagging skin and thereby reduces stretch marks.
Firms and Tones Skin
Mother's Stretch Mark massage oil retains skin elasticity, hydrates, and improves skin smoothness. It also reduces uneven skin tone caused by hormonal changes, excessive exposure to UV light, and other skin conditions.
Improves Skin Elasticity
Antioxidant properties in stretch marks massage oil help to improve the skin's elasticity by fighting free radical damage, thus making the skin radiant. The oil treats dry skin and also helps to control oil production.
Hydrates Skin
Essential fatty acids and vitamin A present in stretch mark massage oil helps to moisturize the skin cells, which helps to maintain elasticity. This oil is wonderful for dry, irritated skin because of its high fatty acid content.
Boosts Collagen Synthesis
Stretch mark massage oil also contains high-fat content, in addition both oleic and linoleic fatty acids that offer powerful moisturizing properties. It also regenerates the dermis and encourages wound healing due to the boost in collagen production.
Lighten Scar and Blemishes
Antimicrobial properties present in Mother's Stretch Mark Oil helps to kill harmful bacteria, preventing infections and promoting wound healing, potentially resulting in fewer scars. This oil also promotes new tissue growth with its healing properties.
Product Specifications
| | |
| --- | --- |
| Product Name: | Mother's Stretch Mark Oil |
| Brand: | VedaOils |
| Country of Origin: | United Kingdom |
| Form: | Liquid |
| Color: | N/A |
| Aroma: | N/A |
| Alcohol-Free: | Yes |
| Usage/Application: | Body Massage / Aromatherapy |
| Packaging Type: | As per requirement |
| Storage: | Store in a Cool & Dry place. |
| Color: | Pale Yellow |
| Aroma: | N/A |
| Shelf Life: | 2 years |
Packaging Sizes
Please Note: The packaging shown above is a General Representation of the various sizes and types of packaging available for this product. Not all sizes and types of packaging for this product maybe available at all times.
Buy Mother's Stretch Mark Massage oil Online In UK at Low Price
VedaOils is one of the leading Wholesale Suppliers, Manufacturer, and Exporter of Mother's Strech Mark Massage Oil and other massage oil in United Kingdom. We offer the purest forms of massage oils to our customers. No chemicals, additives, or fillers are added to them. They also do not contain any artificial colors, preservatives, and fragrances. Therefore, they prove to be ideal for daily use.
We employ numerous tests and quality checks to ensure that only Premium-quality and Mother's Strech Mark Massage oil reaches you. The highest quality and packaging standards are employed to deliver desirable results on usage. Also, our portal uses a secure payment gateway to safeguard your transactions. Buy Natural Mother's Strech Mark Massage Oil from VedaOils Online according to requirements at the best competitive prices in the market.
We export our high-quality massage oils to the US, Canada, Australia, and other countries. Our products follow the highest standards when it comes to quality and purity. We assure you that you will not regret choosing us! We also deliver the products throughout the world using our logistic partners DHL, FedEx Blue Dart, India Post etc. Do not miss this excellent opportunity to buy chemical-free and multi-purpose Mother's Strech Mark Massage oil from VedaOils.
Frequently Asked Questions
WE NOTICE YOU ARE FROM
US & CANADA LOCATION