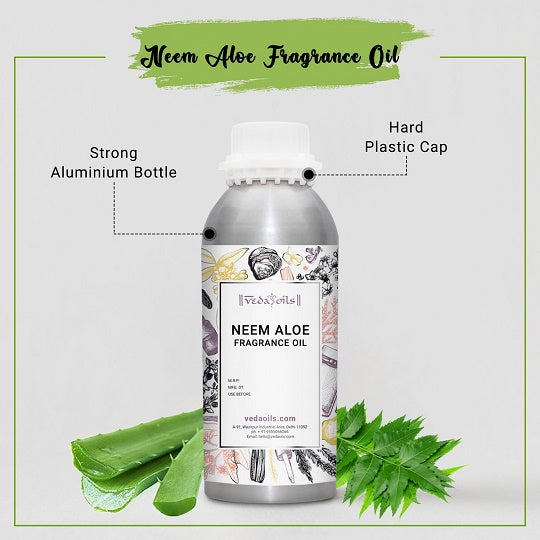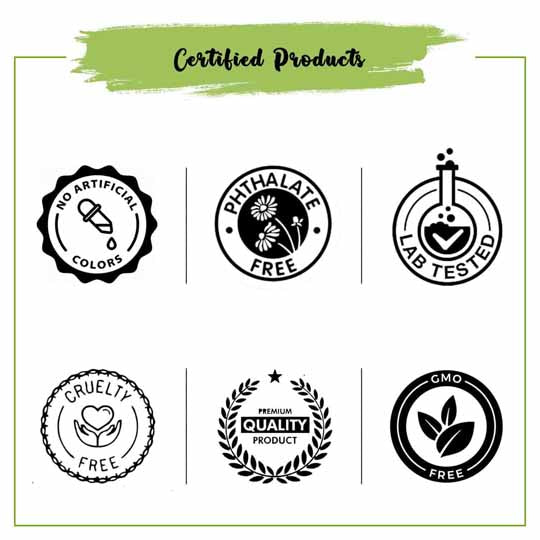 Our Certifications
Neem Aloe Fragrance Oil
Prepared from the natural extracts obtained from neem leaves and the Aloe Vera plant, Natural Neem and Aloe Scented Oil is a perfect combination of spicy, clean, and fresh fragrances. It has a slightly woody undertone to it that is preferred by several cosmetic and soap manufacturers.
The inviting and exuberant aroma of this oil makes it a favourite pick of perfume makers. You may find it in several skincare, haircare, body sprays, deodorants, and colognes due to this reason. Its clean and green scent also helps to keep the environment fresh and lively. Therefore, you can diffuse it to keep your rooms away from stale odour.
Our pure aloe and neem perfume oil is used as a fragrance enhancer in shampoos and shower gels. As it is an organic Neem Aloe Fragrance Oil it is safe to add it in DIY skin and hair care products. Though it has an intense aroma, you may change its concentration while including it in different products to achieve the desired level of fragrance.
Neem Aloe Fragrance Oil Uses & Benefits
Candle making
Making candles with aloe and neem scented oil is a good choice as it exudes a fresh and inviting scent. The unique scent of this fragrance oil will make these candles release exotic fragrances when lighted.
Cosmetics & Skincare Products
For imparting a rare and mystical fragrance to your cosmetic or skincare products, you may add a few drops of our natural aloe and neem perfume oil. It may be included in body lotions, face scrubs, moisturizers, etc.
Perfumes
Perfume makers usually look for unique and invigorating fragrances. Our organic neem and aloe fragrance oil can be perfect for making exotic and refreshing perfume sprays, deodorants, under-arm sprays, etc.
Incense Sticks
Make ambiance blissful and exuberant with incense sticks that are made by adding neem aloe scent oil. Mesmerizing scent of this oil is good enough to make your religious ceremonies and special events auspicious.
Air fresheners & Car Sprays
Eliminating bad or foul odour from the surrounding air, our natural neem and aloe perfume oil can make the air smell clean and fresh. Makers of air fresheners and car sprays would love to add them to their products.
Scented Soaps
Soap makers utilize aloe and neem scented oil for adding the real fragrance of neem leaves and Aloe Vera to soaps. It goes well with both melt-and-pour and liquid soaps bases. It is completely safe on skin.
How to use Neem Aloe Fragrance Oil?
Perfumed Soaps - While adding Neem and Aloe Perfume Oil to soaps, ensure that you don't add more than 10ml of this fragrance oil in approximately 150grams of soap base. It will give a rich and invigorating scent to your soaps.
Aromatic Baths - Adding 5 to 6 drops of aloe neem scented oil to the bathtub is recommended if you intend to incorporate it for enjoying aromatic baths. It will soothe your mind and make you feel better.
Cosmetics & Skincare Products - Be cautious while adding organic aloe and neem scented oil to your cosmetic and skincare products as overusing it may cause skin irritation. Use it sparingly to add a pleasant and gentle fragrance to your products.
Scented Candles - 15ml of natural fragrance oil is sufficient enough to make candles from 250grams of wax. It will make your scented candles exude a fresh and soothing scent when they are lit.
Note: Vary the concentration of pure Aloe and Neem Fragrance Oil as per the requirements or purpose of use.
Product Specifications
| | |
| --- | --- |
| Product Name: | Neem Aloe Fragrance Oil |
| INCI Name: | N/A |
| Country of Origin: | India |
| Foam: | Liquid |
| Flash Point: | N/A |
| Color: | N/A |
| Aroma: | Mildly, Earthy, Sweet, and Spicy |
| Suitable for: | Bath Bombs, Lipsticks, Lip Balms, Facial and Body Scrubs, Creams, Perfume Oils |
| Packaging Type: | As per requirement |
| Storage: | Store in a Cool & Dry place. |
| Shelf Life: | 2 years |
| COA: | |
| MSDS: | |
Packaging Sizes
Please Note: The packaging shown above is a General Representation of the various sizes and types of packaging available for this product. Not all sizes and types of packaging for this product maybe available at all times.
Buy Neem Aloe Fragrance Oil At Low Prices in UK
A leading manufacturer, distributor, and supplier of premium-quality Neem Aloe Fragrance Oil, VedaOils strives to provide the best and highly effective natural products and supplies in United Kingdom. Our pure neem and aloe fragrance Oil does not include any toxins or chemicals that may harm your health in any way. It is free from alcohol, animal-based ingredients, and artificial preservatives. Therefore, even vegans may use it as per their requirements.
High stability of our fragrance oils enables you to add them to numerous DIY and commercial products. Extracted from neem leaves and Aloe Vera extracts, Aloe & Neem Perfume Oil is multi-purpose oil as it can be used for different purposes. The fresh, woody and slightly sweet aroma of this oil with a tinge of spicy notes make it perfect for personal care, cosmetic, and skincare products.
We are offering neem Aloe scented oil at cost-effective and wholesale prices for commercial users and also provide discounted rates and offers to make them economical for everyone. Our quick delivery and high standards of quality and packaging enable us to deliver effective and high-quality products at your doorsteps.
Our natural Neem Aloe Fragrance Oil is available in packages of 100 ml, 1 L, and 5 L and through our website, we are providing them in various countries like the US, Australia, and Canada. Our logistics partners like FedEx, Blue Dart, India Post, DHL, etc. make it possible to deliver our products in real-time.
Frequently Asked Questions
WE NOTICE YOU ARE FROM
US & CANADA LOCATION