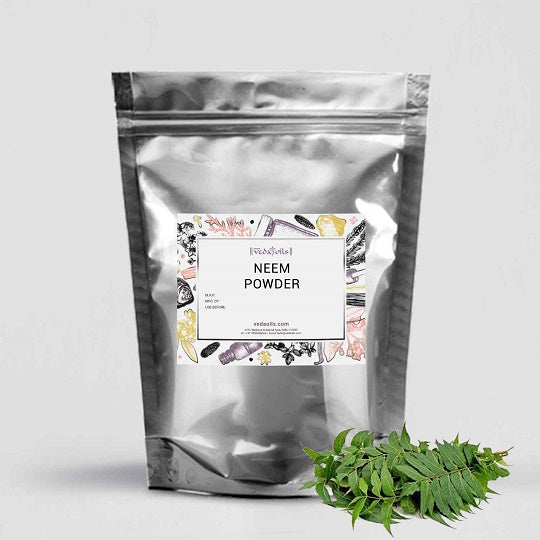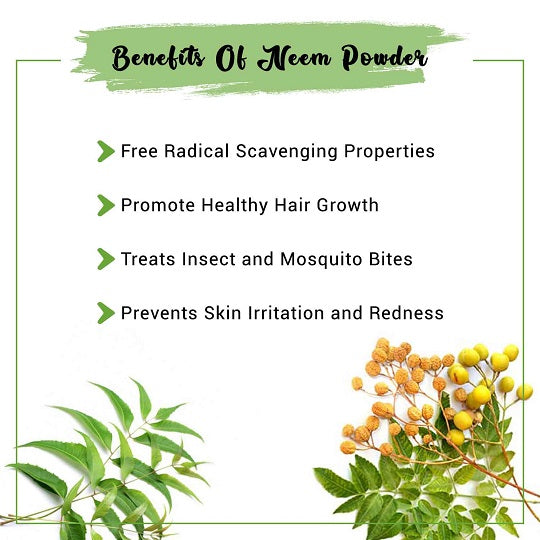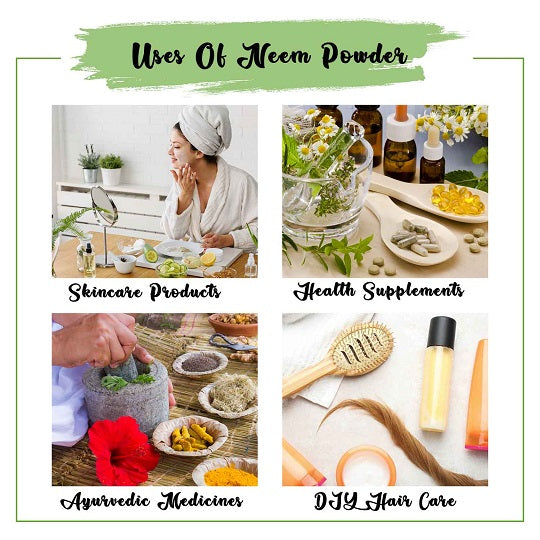 Our Certifications
Neem Powder
Neem Powder is a pure herbal powder that is organic and chemical-free. It is made from the dried leaves of the Neem tree which has been used in India due to its medicinal properties for centuries.It comes in a powdered form of pastel green color and has a mild herbal aroma. Herbal Neem Powder exhibits antiseptic properties and can also be used to treat fungal infections due to its anti fungal properties.
Many people use Neem Powder for treating their head lice and dandruff. It is also used for the treatment of skin issues due to its anti-inflammatory properties. You can also add organic neem leaf powder in your herbal face packs to improve their effectiveness.
Due to its soothing properties, you can use it to treat rashes, skin irritation, and allergies. Neem Patti Powder can also be used to cure nappy rashes that babies suffer from due to wearing wet and unclean nappies
100 % Natural Neem Leaf Powder to be a miracle for skin and scalp. Neem has anti- fungal and anti- bacterial properties, and rich in Vitamin C. Neem Leaf Powder is sourced from the finest quality, hand picked organic neem leaves from around India. Buy 100% pure Neem Powder from Vedaoils. You may use neem powder in creams, face packs, lotions, moisturizers, and other skin treatment applications. It can also be added to shampoos and conditioners.
Neem Leaves Powder Uses
Hair Care Product
Make a natural hair pack with olive oil and ayurvedic neem powder to form a paste. Use this paste as a hair pack and massage on your scalp and hair to promote healthy hair growth.
Face Whitening
Gram flour and neem powder in a bit of yogurt and nicely apply this paste on your face, then wash with lukewarm water. Natural neem powder will remove face marks and scars and give a brighter complexion to your face.
Teeth Whitening
Add a little water to a mixture containing dry neem powder and baking soda to make DIY toothpaste that makes your teeth clean and kills the bacteria inside your mouth.
Reduce Dark Spots
Reduce dark spots with organic aloe vera gel and dried neem leaves powder. To eliminate dark spots, scars, and other blemishes, you can apply this paste to your face.
Nourishing Bath
Make a nourishing body pack for a bath with sandalwood and original neem powder containing rosewater and plain water. Apply all over your body to enjoy a rejuvenating bath.
Fungal Infection
Having strong antifungal properties, Neem leaves can kill fungal. Couple of neem powder in little warm water and apply to the infected area to get instant relief from fungal infection.
Neem Powder Benefits
Diminish Hair Dandruff
Neem leaf powder conditions your hair follicles naturally and improves their texture to give them a smooth and glossy finish. Therefore, you can add neem tree powder to your shampoos and conditioners.
Get Rid of Itchy Scalp
Dandruff or itchy scalp, Make a paste by this powder with water and massage neem powder on the scalp. Wash your hair, and you will notice instant relief from both scalp irritation and dandruff.
Effective Skin Cleanser
Add neem powder in salt scrubs formulated to treat dry and chapped skin. Neem extract powder also proves to be an effective skin cleanser, especially if it is soiled after working in mud or fields.
Make Face Pack
Add organic neem powder to cosmetic clay to make a herbal DIY face pack that resolves issues like acne, sun spots, dryness, etc. Neem penetrates deep into your skin to clear the impurities.
Reduce Acne Marks
Organic neem powder for the face mixed with water and applied to the face helps in reducing acne and acne scars. Neem powder for acne is the most important and famous use of neem powder.
Skin Improvement
Neem Powder is beneficial for the skin as it contains soothing properties that keep your skin safe from infections. Neem herbal powder helps maintain skin tone and gives a radiant and beautiful complexion.
Product Specifications
tr>
| | |
| --- | --- |
| INCI Name: | Azadirachta Indica |
| Raw Material Source: | Neem leaves (dried) |
| Manufacturing Process: | Dried Neem leaves are crushed and finely ground to obtain the Neem powder. Then it is further processed and filtered to remove any impurities that might be present in it. |
| Tested On Animals?: | No |
| GMO: | GMO-free but not certified for it. |
| Vegan: | Vegans can use it because it does not contain any animal-derived components. |
| Shelf Life: | 2 years |
| Brand: | VedaOils |
CAUTION: It is meant for external purposes. Keep it away from the reach of your kids and avoid direct contact with eyes
Packaging Sizes
Please Note: The packaging shown above is a General Representation of the various sizes and types of packaging available for this product. Not all sizes and types of packaging for this product maybe available at all times
Buy Neem Powder Online in UK at Best Price
VedaOils is one of the prominent manufacturers, suppliers, & wholesale distributors of Neem Powder and other herbal powders in United Kingdom. Our products are trusted all over UK for their high quality and purity. No artificial colours, preservatives, or fragrances are added while making Neem Powder. Hence our Neem powder is 100% Natural and Organic.
Order Best Neem Powder online through VedaOils' shopping portal according to your requirements. We deploy high standard delivery to ensure that the best quality product reaches you in time. Neem Powder is now available in packets of 100 gm, 500 gm, 1 kg, and 5 kg.
You can also Buy Neem Powder in Bulk at wholesale prices from us. We offer discounts and wholesale rates for bulk purchases. you can leave a query in our Bulk Enquiry section to buy Neem powder at the best price in UK.
We export Neem Powder in bulk quantities to The USA, Canada, Australia, and many more countries using our logistic partners DHL, FedEx Blue Dart, India Post, etc.
Frequently Asked Questions
WE NOTICE YOU ARE FROM
US & CANADA LOCATION