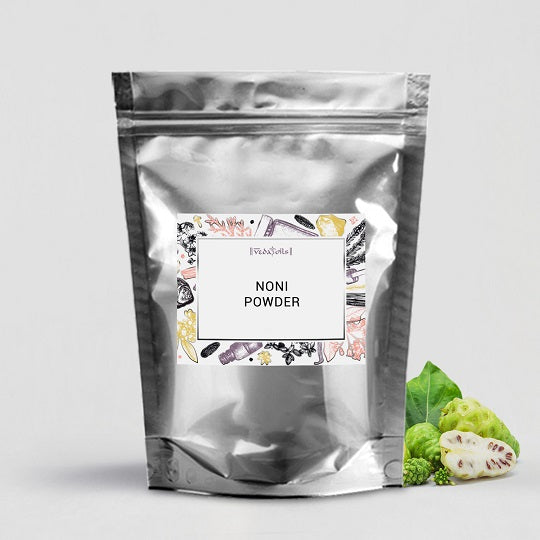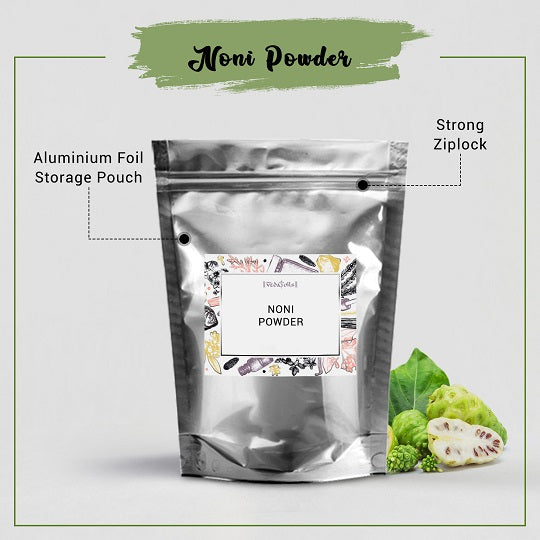 Our Certifications
Noni Powder
The Noni Plant is a tiny, shrubby tree native to Asia, Australia, & the Polynesian islands. The tubular white blossoms of the shrub. The fruit is huge & yellow-greenish-white in hue, with a pebbled surface. Noni powder is made by drying the ripe fruit. It has a distinct cheese-like odor. Noni Powder is a high-quality source of vitamin C.
Organic Noni Powder can be used as a general & nutritional tonic for people of all ages. Noni powder has a high concentration of antioxidants, polysaccharides, amino acids, vitamins, & minerals. It is completely natural & has no additives. Use organic noni powder to produce noni juice or blend with other foods & drinks for a higher immune boost.
Pure Noni Powder is a great source of vital fatty acids, which our bodies do not make naturally & must receive through food. Essential fatty acids are necessary to maintain our cells working correctly, while essential amino acids are required to assist our systems in the production of proteins.
Noni Powder Uses
Skincare Products
Noni powder has a variety of antioxidants, as well as antibacterial & antifungal qualities, making it ideal for use in skincare products. Noni powder topical use not only helps to cleanse your skin, but it also maintains skin suppleness.
Haircare Products
Hair & scalp damage can be reduced by using haircare products containing noni herbal powder. Because of its antibacterial & antifungal characteristics, it inhibits the growth of microorganisms in your scalp produced by sweat & humidity.
Sunscreen
Noni powder functions as a natural sunscreen, reduces the look of red, irritated skin, making it an excellent aid for sunburn recovery. Sunscreens made with noni powder moisturize the skin without retaining heat, resulting in a cooling effect on the skin.
Noni Powder Benefits
Antioxidant Properties
Pure Noni powder is an antioxidant powerhouse, filled with antioxidants, flavonoids, & Vitamin C. These substances protect cells from oxidative damage produced by free radicals, lowering the risk of premature ageing & chronic diseases like as heart disease.
Immune Booster
Natural Noni is high in polysaccharides, which help the body's natural defense mechanism against disease & infection. Noni juice's polysaccharide content promotes the activity of white blood cells in the immune system, which protects the body against sickness.
Essential Nutrients
Organic Noni powder is a superb source of necessary fatty acids as well as all nine essential amino acids. Our cells require necessary fatty acids to operate regularly, & essential amino acids are required to function properly, provided by Noni Powder
Enhances Skin Quality
Pure Noni powder has algesic, antioxidant, & anti-inflammatory characteristics that assist to nourish & heal the skin. The presence of vitamin C & selenium helps to combat free radicals, retain skin suppleness, & counteract the negative effects of ageing.
Healthy Hair
Compounds in Noni herbal powder such as glycerol & butyric acids may play a function in hair health. Fatty acids can also aid to strengthen hair follicles & heal any associated disorders. It aids in the treatment of scalp disorders such as dandruff, among other things.
Increases Energy
Noni powder has been used to treat general body weakness, increase energy levels, & improve overall physical performance. The anti-bacterial, anti-inflammatory & antifungal characteristics aid to improve our body's defensive system.
Product Specifications
| | |
| --- | --- |
| INCI Name: | Noni Powder |
| Raw Material Source: | NA  |
| Manufacturing Process: | Dried wood is crushed into a powder and activated using steam to obtain product. |
| Tested On Animals?: | No |
| GMO: | GMO-free but not certified for it. |
| Vegan: | Vegans can use it because it does not contain any animal-derived components. |
| Shelf Life: | 2 years |
| COA: | |
CAUTION: It is meant for external purposes. Keep it away from the reach of your kids and avoid direct contact with eyes
Packaging Sizes
Please Note: The packaging shown above is a General Representation of the various sizes and types of packaging available for this product. Not all sizes and types of packaging for this product maybe available at all times.
Buy Noni Powder Online in UK at Low Price
VedaOils is one of the prominent manufacturers, suppliers, & wholesale distributors of Noni Powder and other herbal powders in UK. Our products are trusted all over United Kingdom for their high quality and purity. No artificial colours, preservatives, or fragrances are added while making Noni powder. Hence our Noni powder is 100% natural and organic.
Order Pure Noni powder online through VedaOils' shopping portal according to your requirements. We deploy high standard delivery to ensure that the best quality product reaches you in time. Noni powder is now available in packets of 100gm, 500gm, 1kg, and 5kg.
You can also Buy Noni Powder in Bulk at wholesale prices from us. We offer discounts and wholesale rates for bulk purchases. You can leave a query in our Bulk Enquiry section to buy organic Noni powder at the best price in UK. We export Noni Powder in bulk quantities to The USA, Canada, Australia, and many more countries using our logistic partners DHL, FedEx Blue Dart, India Post, etc.
Frequently Asked Questions
WE NOTICE YOU ARE FROM
US & CANADA LOCATION