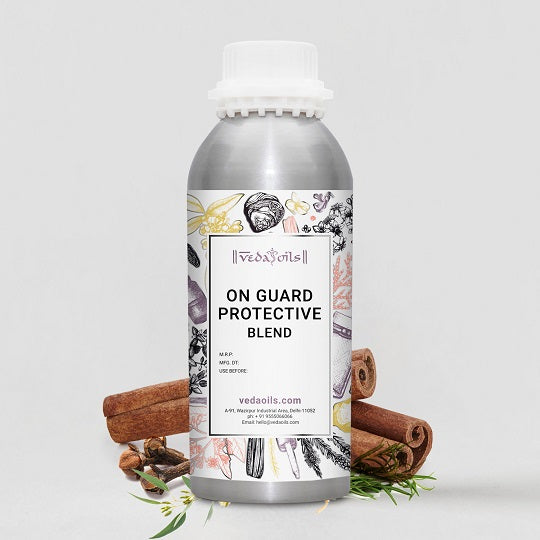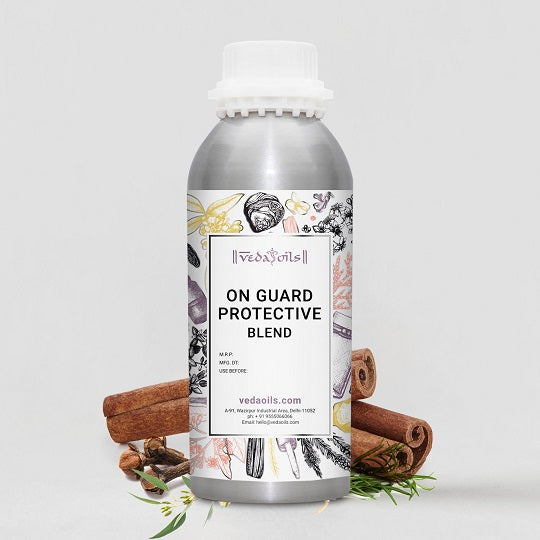 Our Certifications
On Guard Essential Oil Blend
On Guard, Powerful Essential Oil Blend is a natural and effective remedy for immune support as it is made from a combination of essential oils of Clove bud, Orange, Cinnamon, Eucalyptus, Rosemary, and Thyme. This powerful blend is recognized for its potent immune-boosting properties. It is one of the most efficacious and functional blends because it defends the body against environmental and seasonal risks. Even On Guard Essential Oil Blend can be used regularly to keep your immune system in good shape.
On Guard Oil may also be used as a non-toxic cleaning on surfaces throughout the home. The defensive benefits of the this blend stretch beyond the physiological realm because it helps in repelling destructive pathogens and resisting undesirable energies. When diffused, On Guard Protective Essential Oil Blend aids in air purification and may be highly energetic and uplifting, the woody, spicy and warm aroma of this blend makes it an unrivaled source of comfort and support.
How To Use: Dispense a few drops of On Guard Essential Oil Blend into a vessel or diffuser and inhale it through steam inhalation for stronger immunity. You can also apply it to your body parts and use it as a surface cleaner.
On Guard Essential Oil Ingredients
Orange Essential Oil
Orange essential oil is among the most frequently utilized oils for purification and microbial prevention. Besides its beneficial health and cleaning properties, orange is a strong immune booster since it fights pathogens. It also keeps foul and unpleasant smells at bay.
Eucalyptus Essential Oil
Eucalyptus can help loosen naturally existing cough and mucus because of its decongestion and expectorant qualities. The natural medicinal properties of eucalyptus Oil give great relief from fever, pains, and fatigue. It also revitalizes the body and restores its natural vitality.
Lemon Oil
Delightful lemon zest aroma may be utilized to remove odors from your homes. Lemon essential oil brightens both your mood and your surroundings. It is also quite useful against yeast infections, athlete's foot, and a variety of other skin disorders.
Cinnamon Essential Oil
Cinnamon Essential Oil is a wonderful immune-boosting treatment that stimulates metabolism and even assists in retaining memory and psychological health. It also provides a warming impact that helps to relieve coughs, colds, and congestion.
Clove Bud Essential Oil
Clove Bud essential oil is antimicrobial, antiviral, and antifungal, as well as a powerful antiseptic. This essential oil is also a fantastic immune booster that helps treat digestive issues, infection healing, and skin concerns.
Rosemary Essential Oil
Rosemary essential oil is said to increase the body's resistance to illness and assist you in breathing easily and deeply. Because rosemary develops a stronger immune system, it can help avoid the onset of infections due to weather changes.
On Guard Essential Oil Blend Benefits
Strengthens Immune System
Qualities of this essential oil blend make it suitable for eradicating seasonal threats from your system. It also possesses natural antispasmodic properties, which act as a great immune system booster. It also helps you keep your health and fitness in check.
Revitalizes Body
High analgesic and anti-inflammatory properties of the On Guard Protective essential oil blend help reduce the symptoms of immune-related disorders such as flu, fever, congestion, bodily aches, sinusitis, and so on.
Protect Against Harmful Pathogens
Monoterpenes, widely known for their stimulating characteristics, are found in this invigorating, uplifting, and refreshing On Guard Protective blend. These substances naturally increase emotions and quickly make you feel pleasant and bright.
Elevated Health
On Guard essential oil mix provides great bacterial and sickness prevention. This oil's antibacterial, antimicrobial, and antibiotic properties assist in the fight against hazardous germs and bacteria that cause diseases and low immunity.
Relieves Respiratory Problems
On guard oil blend promotes healing by enhancing spiritual, physical, and emotional health. This oil has properties that can boost the immune system and reset the nervous system, increasing inner peace and energy levels.
Refreshes Room
Respiratory infections are treated by inhaling this essential oil, which swiftly penetrates the upper and lowers respiratory passages. Additionally, their antibacterial and anti-inflammatory qualities make them effective for respiratory tract infections.
Packaging Sizes
Please Note: The packaging shown above is a General Representation of the various sizes and types of packaging available for this product. Not all sizes and types of packaging for this product maybe available at all times.
Buy On Guard Essential Oil Blend In UK at Low Price
If you are looking for a therapeutic remedy to protect your body from the attack of bacteria, fungus, and other microbes, then the On Guard Protective Essential Oil Blend is for you. VedaOils is one of the leading manufacturers and suppliers of pure essential oils, essential oils blends, and other natural raw materials In United Kingdom. Our Pure On-Guard Oil is a beautiful concoction of pure essential oils beneficial for your health and overall well-being.
VedaOils Organic On Guard Essential Oil Blend is prized for its ability to strengthen your overall body. When it comes to preparing the essential oils blends, our experts stick to our long live organic roots and design a remedy that is so versatile in use. We provide premium quality natural On Guard oil at the best price in United Kingdom.
Buy Pure On Guard Protective Essential Oil Blend online through our online shopping portal. Our portal uses a smooth transaction process, and our customer care services are available to help you out shopping or getting the answer to your queries. We deliver our this blend all over United Kingdom and other countries using our logistic partners DHL, FedEx BlueDart, India Post, etc.
We ensure you that our Therapeutic Grade On Guard Protective Essential Oil Blend is entirely free from any additives. To manufacture our Ambiance Blend, we do not use colored tints, preservatives, fragrances, or chemically infused ingredients. So use our products without hesitation!
Frequently Asked Questions
WE NOTICE YOU ARE FROM
US & CANADA LOCATION