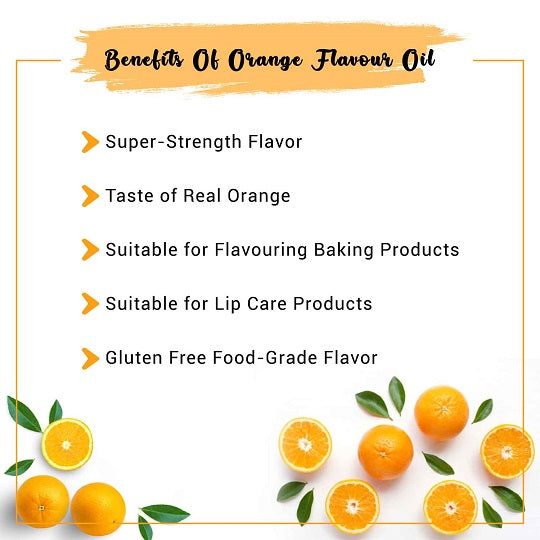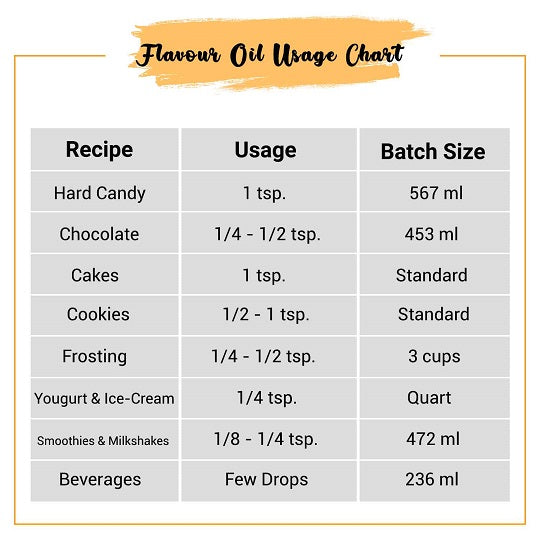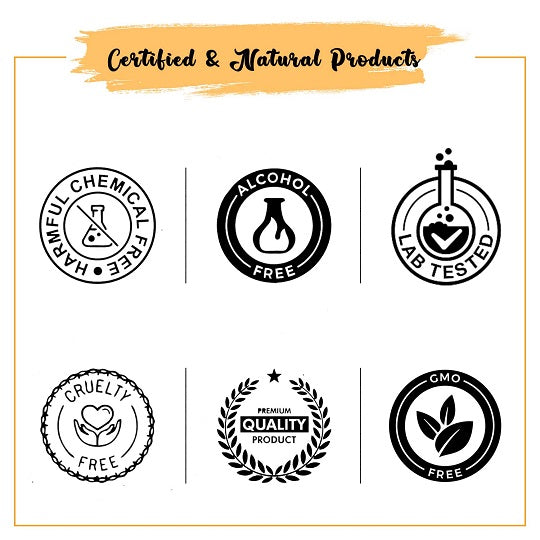 Our Certifications
Orange Flavour Oil
Made from fresh and ripe Oranges, VedaOils Orange Food Flavouring Oil will make your sweets, confectioneries, and juices taste awesome. Orange Flavour Oil gives a refreshing citrusy scent to your food items that will give you an instant boost of energy. The liquid essence of orange is strong enough to provide the desired flavour to your food items with a small quality.
Since VedaOils Pure Orange Flavour Oil is a food-grade flavouring essence oil, you need not worry about anything while adding orange flavouring oil to your food preparations. However, since it is a concentrated and powerful flavour, you need to use it sparingly. Premium Grade Orange Flavour Essence is suitable for baking purposes and since they are water-soluble, you can use them in a variety of food items and juices as well.
Natural Orange Flavoured Oil is plentiful in Vitamin B, folate, and potassium just as flavonoids, anthocyanins, and polyphenolic intensifies flavour. Stacked with regular oils and supplements they are exceptionally helpful for flavouring recipes. Also, Orange Flavouring Essence retains its aroma and taste even when used at extremely high temperatures.
Orange Flavour Oil Uses
Lip Care
Utilization of orange flavor oil in preparation of lip care things presently offers it a dazzling smell, yet also a brand name, vegan lover amicable very much arranged and a cruelty free nature.
Hard Candies
Uniqueness and the captivating, sweet individual and fragrance of the orange flavoring oil can prove to be an amazing asset in the preparation of seasoned hard confections for adolescents.
Bakery Products
New and model sweet and tart orange flavoring oil will move a surprising reach and spunk to your plans and ends up being particularly useful for getting ready prepared things.
Frozen Yogurts
Utilizing the orange flavour oil at last high astonishing frozen yoghurts can most agreeably help with setting them up significantly, including a wellbeing of uniqueness to your yogurt kitchen.
Chocolates
You can add an immense standard reshape to your chocolates through including the orange flavouring oil alongside all the other things, in this way making your chocolates fragrant and superb.
Sweets
Desserts and baked items prepared with the utilization of orange flavoured oil end up being a basic hit at birthday occasions for youths of every sort of event as it empowers the agreeableness of cakes at your festivals.
Orange Flavour Oil Benefits
For Baking
It is a premium-quality orange flavoring oil that gives an intense orange taste and scent to your baked goods, chocolates, and confectioneries. Natural Orange flavor oil helps add a tangy taste to your bakeries and other confections.
Tangy Flavour
Due to its tangy taste and citrusy aroma, it proves to be a perfect addition to candies, juices, and sherbets. The tangy, citrusy flavor of the orange essence helps in adding an exceptionally fruity and delectable punch to your recipes.
Fruity Aroma
Orange flavored oil doesn't make your lip items and enhancements taste sweet as it adds taste exactly when utilized with a sugar. It's utilized in these points of interest to simply add the gooey smell of citrusy oranges to them.
Focused Oil
Liquid pith of sweet and tart person is adequately reasonable to offer the supported inclination for your plans with Orange flavouring oil. There may be no convincing motivation to apply it exorbitantly to be sure as improving your recipes.
Secure & Organic
Orange flavor oil is characterized to be of food-grade first class. As they don't have any additional substances and hazardous manufactured combinations like alcohol, gluten, and so on you may utilize this material for great.
For Frozen Foods
Orange Flavor Oil is consistent and holds its suitability and taste for sure at low temperatures. As such, you can utilize it for improving frozen items like yoghurts, treats, ice creams, etc.
Product Specifications
| | |
| --- | --- |
| Product Name: | Aam Papad Flavour Oil |
| Brand Name: | VedaOils |
| Ingredients: | Edible Vegetable Oil, Permitted Nature Identical & Flavouring substances |
| Suitable For Flavouring: | Candies, jellies, jams, chocolates, sherbets, juices, and other bakery items and beverages. |
| CAS Number: | 8008-57-9 |
| GMO: | It is GMO-free since no plant-derived ingredients are used for making it. |
| Vegan: | As it is free from animal-derived ingredients, vegans can use it without any doubts. |
| Alcohol-Free: | Yes |
| Storage: | Store the bottle in a cold and dry place away from direct sunlight for prolonged use. |
| Shelf Life: | 1 years |
CAUTION: It is meant for external purposes. Keep it away from the reach of your kids and avoid direct contact with eyes
Packaging Sizes
Please Note: The packaging shown above is a General Representation of the various sizes and types of packaging available for this product. Not all sizes and types of packaging for this product maybe available at all times.
Buy Orange Flavour Oil Online in UK at Low Price
VedaOils is one of the leading Wholesale suppliers, manufacturer, and exporter of Orange Flavour Oil and Food Flavour Oil in United Kingdom. We specialize in both oil and water-soluble flavouring oils and our catalog is wide enough to serve all your requirements. Our food flavour oils are gluten-free and naturally prepared.
Buy Orange Flavour Oil Online at the best price in United Kindom through VedaOils Online Portal. We ensure smooth and safe transactions. We also employ a high standard of delivery to supply your order in the best quality. You can buy Orange Essence Oil at wholesale prices as we are offering them in bulk quantities.
We also export our high-quality Orange flavouring oil to the US, Canada, Australia, and other countries. Our products follow the highest standards when it comes to quality and purity. We assure you that you will not regret choosing us! We also deliver the products throughout the world using our logistic partners DHL, FedEx Blue Dart, India Post, etc.
Frequently Asked Questions
WE NOTICE YOU ARE FROM
US & CANADA LOCATION