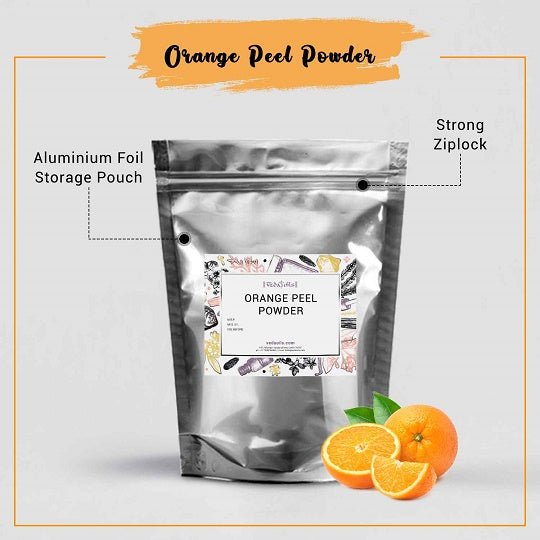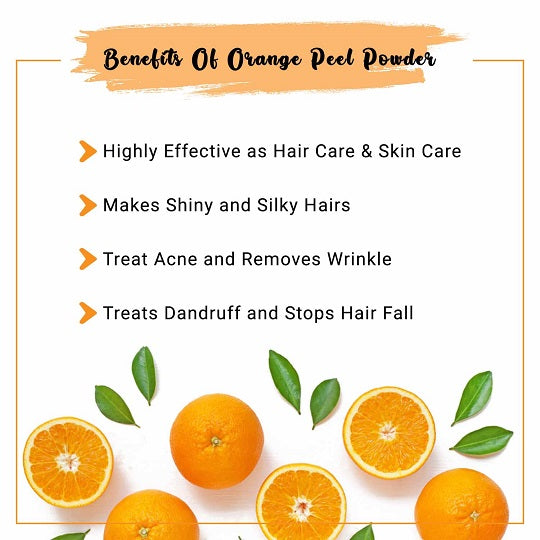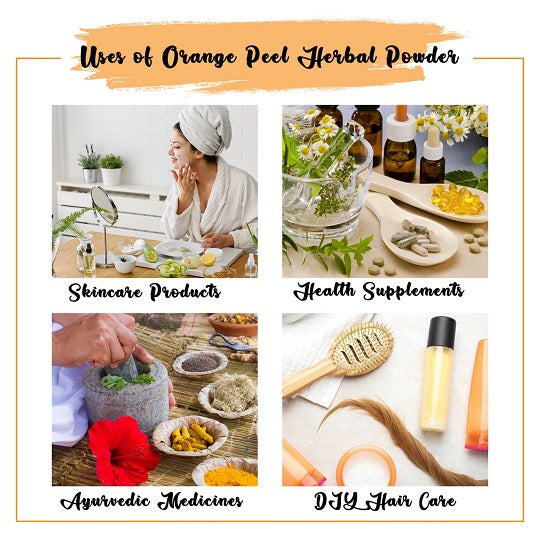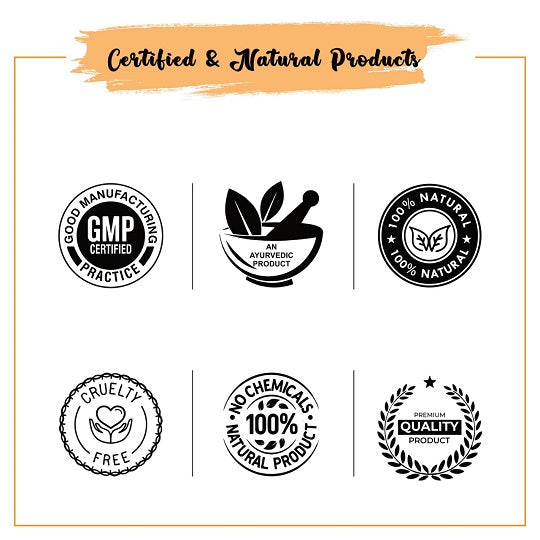 Our Certifications
Orange Peel Powder
Organic orange peel powder is a nature gift packed with the goodness of vitamins A and C, citric acids, and antioxidants. This ingredient leaves you with healthy skin and lustrous hair. Orange peel powder contains high concentrations of citric acid, which helps exfoliate skin and dry out pimples. Furthermore, the powder removes wrinkles and imperfections.
With orange peel powder, you can achieve spotless, radiant skin that will always be ready for any occasion. Orange peel powder promotes healthy skin and is a well-kept beauty secret! This amazing face mask ingredient is effective, easy to prepare, and retains all of its benefits when ground into powdered form.
Natural bleaching elements found in this pure organic peel powder aid in the removal of black spots, dark patches, and blemishes. For genuine and all-natural Orange Peel Powder, visit VedaOils.com. Organic orange peel powder from VedaOils is one of the best cosmetic raw materials. It can be used in a variety of products such as creams, lotions, soaps, body scrubs, face masks, bath bombs, shampoos, and hair conditioners.
Orange Peel Powder Uses
Face Pack
Orange peel powder is rich in Vitamin C that helps various skin types' especially oily skin types to form the collagen and elastin of the skin when used in a face pack. Orange Peel Powder face pack fights acne-forming bacteria too to give you flawless skin.
Face Scrubs
Orange peel powder's antioxidants and citric acids remove dead skin and offer amazing exfoliation with sugar and honey. The best part is that you can use natural orange peel powder daily to fend off your skin woes.
Sunscreens
Orange peel powder makes for an excellent scrub, and scrubbing is one of the best ways of getting rid of a stubborn tan. Using this ingredient in your products improves the skin's oxygen absorption and skin cell regeneration cycle; vitamins A and C offer SPF protection.
Hair Growth Formulas
Orange peel powder contains antioxidants, vitamins C, E, and citric acid. They play a major role in facilitating hair growth by improving hair follicle health. The antioxidants fight off free radicals, preventing hair damage and boosting growth.
Disinfectant Cream
Orange peel powder can be added with other natural ingredients to fabricate disinfectant cream and organic cream for daily use. Products from this powder offer anti-viral, anti-microbial, and anti-inflammatory benefits to deal with fungi and infections.
Control Dandruff
Orange peel powder is a fantastic hair conditioner. In addition to reducing dandruff, it also increases blood flow in your products, which results in more lustrous hair and less hair loss. Due to being fully organic, it is harmless for all skin types.
Orange Peel Powder Benefits
Anti-Aging
It's no secret that orange peel powder is high in vitamin C, which helps to even out skin tone and texture by accelerating collagen formation. By regaining flexibility, your dermis appears firmer. Avoid wrinkles and fine lines. Regular application results in a smoother, more even-looking complexion and protection from external harm.
Combats Acne
Are your pores clogged, and does your skin appear dull? The citric acid in orange peel powder will take care of that. Its acidic properties promote pore opening and effectively remove all dirt and impurities from your face. It's an ideal natural remedy if you have hormonal complexion issues, acne, or a sudden troublesome breakout.
Fortify Skin's Layers
You're probably aware that Vitamin A benefits the skin, and orange peel powder is highly concentrated. Orange peel powder gift help to fortify the skin's outer dermal layer, which helps to smooth out wrinkles and fine lines. It also increases blood flow to your face, caressing and oxygenating it while keeping it clear!
Natural Bleach
Due to the obvious Vitamin C and organic AHAs in orange peel powder, it is not only a natural but also a safe approach to restoring the skin's natural complexion and oils. Orange peel powder is the best source of vitamin C and can be used to whiten your teeth and skin.
Lustrous Hair
Orange peel powder contains antioxidants and vitamins A and C, which benefit hair. Applying this to your scalp regularly will make your hair lustrous. Unruly hair can be tamed, and a lovely natural shine can be added. Vitamin C helps to unclog follicles, which improves hair growth.
Sun Protectant
Orange peel powder is an excellent ingredient for lip balms because it naturally protects your lips from tanning and dryness. In addition to being a great source of vitamin C, Orange peel powder is also a great source of vitamin A, which acts as a natural sun protection agent.
Product Specifications
| | |
| --- | --- |
| INCI Name: | Citrus Aurantium Dulcis |
| Raw Material Source: | Peels of Orange fruit |
| Manufacturing Process: | It is made from the dried peels of Orange fruit without the use of any chemicals or oils. |
| Tested On Animals?: | No |
| GMO: | GMO-free but not certified for it. |
| Vegan: | Vegans can use it because it does not contain any animal-derived components. |
| Shelf Life: | 2 years |
CAUTION: It is meant for external purposes. Keep it away from the reach of your kids and avoid direct contact with eyes
Packaging Sizes
Please Note: The packaging shown above is a General Representation of the various sizes and types of packaging available for this product. Not all sizes and types of packaging for this product maybe available at all times.
Buy Orange Peel Powder Online in UK at Best Price
VedaOils is one of the prominent manufacturers, suppliers, & wholesale distributors of Orange Peel Powder and other herbal powders in United Kingdom. Our products are trusted all over UK for their high quality and purity. No artificial colours, preservatives, or fragrances are added while making Orange Peel Powder. Hence our orange peel powder is 100% Natural and Organic.
Order Best Orange Peel Powder online through VedaOils' shopping portal according to your requirements. We deploy high standard delivery to ensure that the best quality product reaches you in time. Orange Peel Powder is now available in packets of 100 gm, 500 gm, 1 kg, and 5 kg.
You can also Buy Orange Peel Powder in Bulk at wholesale prices from us. We offer discounts and wholesale rates for bulk purchases. you can leave a query in our Bulk Enquiry section to buy orange peel powder at the best price in United Kingdom.
We export Orange Peel Powder in bulk quantities to The USA, Canada, Australia, and many more countries using our logistic partners DHL, FedEx Blue Dart, India Post, etc.
Frequently Asked Questions
WE NOTICE YOU ARE FROM
US & CANADA LOCATION