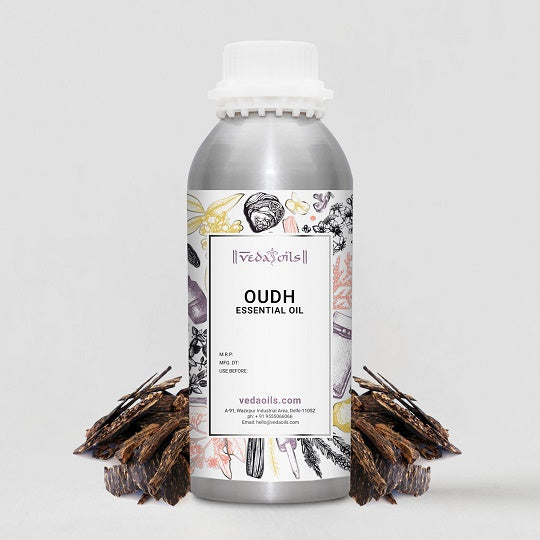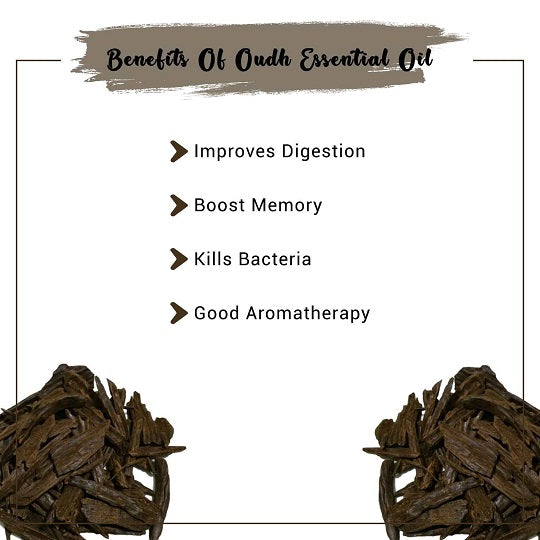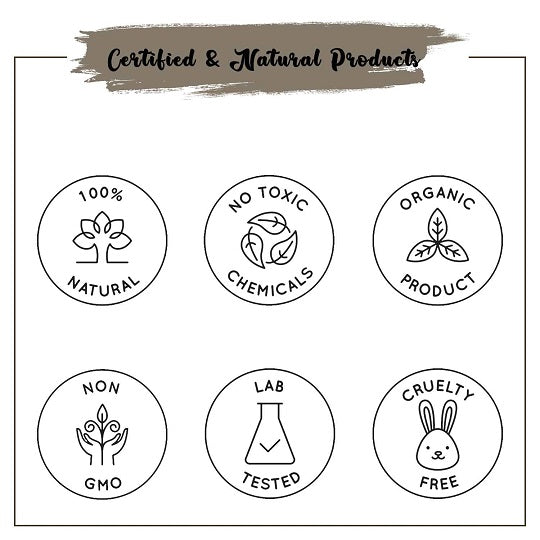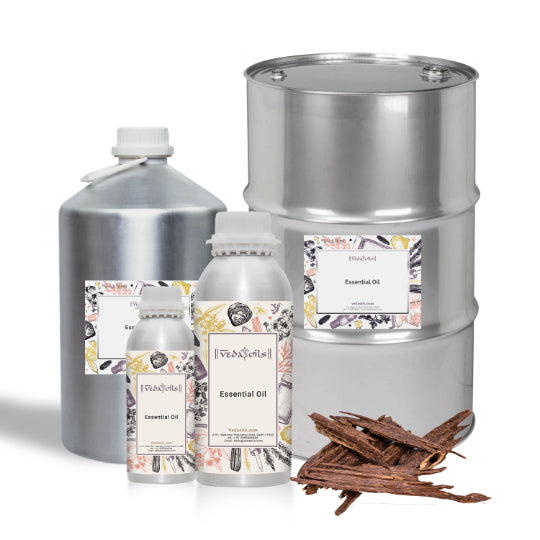 Our Certifications
Oudh Essential Oil
Known popularly as the Agarwood Essential Oil the Oudh Essential Oil is made from the barks and branches of Agarwood trees. These branches and barks produce resin after being infested with mould and it is from the resins that this precious liquid is extracted. Oud essential oil is one of the most special oils because the resin that forms on the wood can only be extracted from a few Agarwood trees that are old enough to produce resins.
Our natural and organic Oudh Essential Oil exhibits Antimicrobial Properties and it proves to be an excellent ingredient when used in anti-ageing applications and moisturizers. You can make Handmade soaps with oudh oil for a refreshing and blissful bath. Overall, Oudh oil is one of the best essential oils that you can add to your collection.
Oudh Oil's typical musky aroma is loved by many and It is often used for making Scented Candles, incense sticks, room sprays, etc. The Anti-inflammatory properties of Oud oil make it a useful ingredient in Hair Care and Skin Care products. It is also used in Aromatherapy and can be applied topically to heal cuts and scars.
Oudh Essential Oil Uses
Making Perfumes
Pure Oudh Essential Oil has a woody and musky scent that many people find to be quite appealing. Therefore, Oudh oil is widely used for manufacturing perfumes, scented candles, colognes, body mists, and other aromatic products.
Reduces Swelling
Issues like skin irritation, redness of the skin, and swelling can be treated with the help of Oud essential oil. This is possible due to the anti-inflammatory properties of this oil that soothe skin irritation and minimize swelling instantly.
Sun Protection
Oud essential oil proves to be a perfect ingredient in sunscreen creams and lotions. It contains triterpene esters, phytosterols, and cinnamic acid that are known to protect your skin from harmful UV radiation and heat.
Hair Care Products
Applying hair oils that contain Agarwood essential oil will add volume to your hair. It also adds a beautiful lustre to your hair by improving its texture naturally. In addition, soaps made from Oudh essential oil can make your hair strong from the roots.
Deodorizes Air
The musky and invigorating fragrance of Agarwood essential oil removes stale odour from the air. It also imparts a cheerful scent Therefore, it is used by makers of air fresheners and car sprays.
Aromatherapy
Oudh essential oil gets absorbed by the skin cells instantly and has calming effects on the mind and body. Therefore, it can be used in aromatherapy and massage sessions or while meditating.
Oudh Essential Oil Benefits
Makes Skin Soft
Emollient properties of our best oud essential oil can be used while manufacturing moisturizing creams. Applying this oil regularly after diluting it with carrier oil will make your skin soft and smooth irrespective of the weather conditions.
Protection from Infection
Antibacterial and antifungal properties of Oudh essential oil can provide relief from skin infection and numerous other skin ailments like acne, pimples, etc. Therefore, skin cleansers, face washes, soaps, etc. can be made by using this essential oil.
Rejuvenates Your Mind & Body
Agarwood essential oil can rejuvenate your mind and body when used in massages. Therefore, you can incorporate oud oil in your massage sessions or use it commercially in spas and sauna centres.
Cleanses Skin
It is a light oil with a thin texture that gets absorbed in your skin pores readily to eliminate excess oils, dirt, and other toxins. Agarwood Essential oil is a perfect essential oil for skin care products like face scrubs, peel-off masks, body washes, etc.
Anti-ageing
Pure oudh oil promotes collagen synthesis, and its potent antioxidants combat issues like acne, wrinkles, and fine lines. It can also be used to restore the firmness of your skin. As a result, you can use it to make anti-aging creams and lotions.
Eases Stress
Magical and energizing aroma of natural oud essential oil eases stress and provides relief from issues like anxiety and depression. This oil also promotes a sense of well-being and happiness that makes it an ideal ingredient for diffuser blends.
Product Specifications
| | |
| --- | --- |
| Botanical Name: | Aquilaria Agallocha |
| CAS#: | 8008-88-6 |
| Country of Origin: | India |
| F.E.M.A #: | NA |
| Specific Gravity: | 0.9418 - 0.966 @ 20°C |
| Optical Rotation: | +10 to +25°C |
| Refractive Index: | 1.507 - 1.515 @ 20°C |
| Flash Point: | 80 °C |
| Origin of part used: | Resins |
| Form: | Liquid |
| Shelf Life: | 2 years |
| Packaging Type: | As Per Requirement |
| Extraction or Processing Method: | Steam Distillation |
| Solubility: | Soluble in alcohols and fixed oils and slightly soluble in water |
| Color & Odor: | Colorless to pale yellow & perfumes odour |
| Major Constituents: | Oud Wood Extract |
| Blends with: | Sandalwood, Geranium, Cistus, Cardamom, and Rosemary essential oils and all types of carrier oils. |
| COA: | |
| MSDS: | |
Packaging Sizes
Please Note: The packaging shown above is a General Representation of the various sizes and types of packaging available for this product. Not all sizes and types of packaging for this product maybe available at all times.
Buy Oudh Essential Oil Online In India at Low Prices
VedaOils is one of the leading Wholesale Suppliers, Manufacturer, and Exporter of Oudh essential oil and other Essential oil in India. We offer the purest forms of essential oils to our customers. No chemicals, additives, or fillers are added to them. They also do not contain any artificial colors, preservatives, and fragrances. Therefore, they prove to be ideal for daily use. Though entirely natural, you should dilute Oudh essential oil before using it for topical application as it is highly concentrated.
We employ numerous tests and quality checks to ensure that only Premium-quality and Oudh essential oil reaches you. The highest quality and packaging standards are employed to deliver desirable results on usage. Also, our portal uses a secure payment gateway to safeguard your transactions. Buy Oudh Oil from VedaOils Online according to requirements at the best competitive prices in the market. You can order Oudh oil for your daily purposes such as dark circles, skin lightening, hair growth, arthritis, digestion, and better oral health. Check out Oudh oil price per Kg, even you can purchase Oudh essential oil in bulk quantity.
We are one of the largest manufacturers, suppliers, and exporters of top-quality Oudh Essential Oil and other essential oils in India. We also export our high-quality essential oils to the US, Canada, UK, Australia and other countries. Our products follow the highest standards when it comes to quality and purity. We assure you that you will not regret choosing us! We also deliver the products throughout the world using our logistic partners DHL, FedEx Blue Dart, India Post, etc. Do not miss this excellent opportunity to buy chemical-free, fresh, and multi-purpose Oudh oil from VedaOils.
Frequently Asked Questions
WE NOTICE YOU ARE FROM
US & CANADA LOCATION