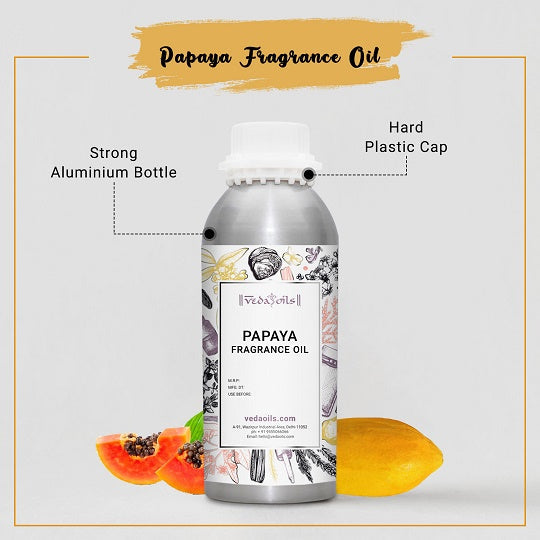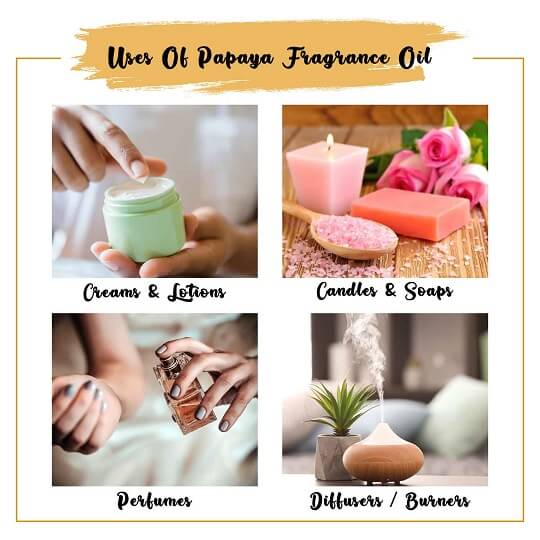 Our Certifications
Papaya Fragrance Oil
Made from natural extracts that are obtained from juicy and ripe papayas, Papaya Fragrance Oil is always in demand because of its unique and endearing aroma. The tropical scent and refreshing feel of our Organic Scented Oil will make you crave fresh, sweet, and ripe papayas!
Our pure Papaya Perfume Oil has a sweet and sugary base note with a tropical fruity scent that is exactly similar to the aroma of papayas. Bad odor due to sweat, dust, and other pollutants can be eliminated quickly due to the strong, fresh, and fruity scent of this oil. The inviting aroma of papaya scented oil can fill your room and surroundings with a refreshing and invigorating fragrance instantly.
Fruity and tempting fragrance of Papaya Perfume Oil reflects the bright and energetic mood of the tropical summer. You will find this Fragrance Oil as one of the ingredients in soaps, massage oils, potpourri, shampoos, body lotions, conditioners, scented candles, etc. as it calms your mind and energizes your mood instantly. Also, it can be added to luxurious bath care and hair care products due to the rich and happening aroma that it gives to these products.
Papaya Fragrance Oil Uses & Benefits
Body Scrubs & Face Washes
Our fresh and Organic Papaya Perfume Oil can add an inviting scent to body scrubs and face washes to give you wonderful and fresh feeling. This enchanting aroma helps you complete your work without making you feel dull or tiresome.
Perfumes & Colognes
When included in perfumes, deodorants, body sprays, or colognes, the wonderful fruity fragrance of our best Papaya Scented Oil will attract everyone during outings and social gatherings. It eliminates body odor and make you feel confident.
Candles & Agarbattis
Papaya Fragrance Oil can be incorporated as a scent in candles to fill your home and workspaces with an exuberant, rich, and soothing fragrance also you may use them during poojas, religious ceremonies, and festivals as well.
Soaps & Sanitizers
Adding our natural and pure Papaya Fragrance Oil in soaps is a good idea as it helps soap makers to append a soothing and pleasing scent to their products. Makers of sanitizers and hand washes can also utilize this in their products.
Room Fresheners
Air deodorizers and room fresheners contains Natural Papaya Perfume Oil as it tends to remove foul odor from surroundings. You may even find it in car fresheners and personal care products as it gives an amazing aroma to any product.
Massage Oils & Bath Care Products
Add Papaya Perfume Oil in massage oils to calm your mind and body. This fragrance oil is preferred by aromatherapy practitioners due to its ability to ease your thoughts and negative emotions.
Papaya Fragrance Oil Uses
Bath Oils - Experience a rejuvenating bath session by adding our Natural Papaya Fragrance Oil to your bath oils. Just add 5 to 6 drops of this fragrance oil in your bathtub and hop in to soothe your senses and relax your mind!
Making Soaps - If you want to give a blissful scent of fresh papayas to your soaps then ensure that you don't add more than 10ml of this fragrance oil in 150 grams of soap base.
Cosmetic & Skin Care Products - Use the sweet and fresh smelling Organic Papaya Perfume Oil in little proportions while adding it in cosmetic and skin care applications as too much of the concentrated fragrance oil may cause skin irritation.
Scented Candles - To manufacture great smelling candles, you should add at least 15 ml of our organic Papaya Scented Oil to around 225 to 250 grams of wax. The candles will charge up the atmosphere with positive vibrations when you scent them with our fresh Papaya Fragrance Oil.
Note: Different products may require different concentrations of fragrance oil. Therefore, do your research and take advice from experts before incorporating it into your products.
Product Specifications
| | |
| --- | --- |
| Product Name: | Papaya Fragrance Oil |
| INCI Name: | N/A |
| Country of Origin: | India |
| Foam: | Liquid |
| Flash Point: | N/A |
| Color: | N/A |
| Aroma: | Fresh, Earthy, and Sweet Floral fragrance |
| Suitable for: | Bath Bombs, Lipsticks, Lip Balms, Facial and Body Scrubs, Creams, Perfume Oils |
| Packaging Type: | As per requirement |
| Storage: | Store in a Cool & Dry place. |
| Shelf Life: | 2 years |
| COA: | |
| MSDS: | |
Packaging Sizes
Please Note: The packaging shown above is a General Representation of the various sizes and types of packaging available for this product. Not all sizes and types of packaging for this product maybe available at all times.
Buy Papaya Fragrance Oil At Low Prices in UK
VedaOils is one of the biggest names when it comes to supplying natural and organic products to consumers in United Kingdom. We excel in manufacturing premium-grade Natural Papaya Perfume Oil that is chemical-free and completely organic. Our fragrance oils do not contain any animal-based ingredients and therefore, they are suitable for vegans as well.
VedaOils manufacturers, supplies, and distributes fragrance oils in bulk so that they can be used for commercial purposes as well. We supply our products in different packages so that our customers can utilize them for both personal and commercial purposes. Moreover, we offer them at cost-effective rates so that everyone can benefit from our products.
Papaya Scented Oil is prepared from natural Papaya extract that is obtained from fresh, ripe, and juicy papayas. As it is highly concentrated fragrance oil, even a few drops will be highly effective in adding fragrance to your products. Our user-friendly web portal and dedicated logistics service ensure that your orders are delivered quickly to your doorstep. Our high purity, quality, and packaging standards ensure that only the products reach you in fine condition.
We are offering pure and Organic Papaya Fragrance Oil in packages of 100 ml,1L, 5L,10L, and 25L so that you can order them as per your requirements. Now, we are also exporting our products to Australia, Canada, United States via our logistics partners such as BlueDart, India Post, DHL, FedEx, and many others.
Frequently Asked Questions
WE NOTICE YOU ARE FROM
US & CANADA LOCATION