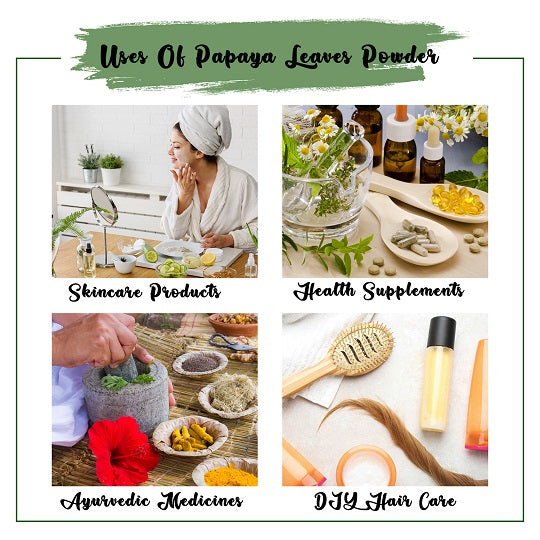 Our Certifications
Papaya Leaves Powder
Papaya, scientifically known as Carica, Papaya are high in vitamins, minerals, fiber, and antioxidants. The leaves of Papaya are high in vitamin A, vitamin B, vitamin C, vitamin E, vitamin K, and a powerful antioxidant. Papaya Leaves Powder is derived from dried and crushed leaves of papaya. Phosphorus, iron, potassium, calcium, and magnesium are all found in papaya leaves powder.
Papaya leaf powder is high in calcium and enzymes, which can help with digestion and avoid bloating. It may be used to exfoliate the skin, prevent acne, and lessen the visibility of scars. According to research, natural papaya leaf powder can enhance blood platelet levels in persons suffering from dengue fever, therefore relieving symptoms.
Organic Papaya Powder can also aid in the reduction of inflammation, the improvement of blood sugar regulation, and the maintenance of hair health. The powdered papaya leaves include fibers that aid digestion. Papaya contains the enzyme papain, which aids digestion by breaking down proteins.
Papaya Leaves Powder Uses
Skincare Products
Papaya leaf powder is commonly used to preserve smooth, clean, and youthful-looking skin. Papain, protein-dissolving enzyme found in papaya leaves, can be used topically as an exfoliator to remove dead skin cells and acne.
Health Supplements
Vitamin C in Natural papaya leaf powder boosts your immunity and protects you from a variety of diseases. Supplements derived from this powder aid in wound healing, bodily tissue growth, damaged cell regeneration, etc.
Herbal Tea
Since our pure papaya leaves powder contains phenolic compounds, papain, and alkaloids that boost the body's immunity, it is used in herbal teas. They are high in vitamins and antioxidants, which help you stay healthy.
Haircare Products
Topical application of natural papaya leaf powder is frequently used to boost hair growth and scalp health. This antioxidant-rich powder may aid in the reduction of oxidative stress and, as a result, hair growth.
Anti-Inflammatory Treatments
Organic Papaya leaf powder is commonly used to treat a wide range of internal and exterior inflammatory disorders, such as skin rashes, muscular pains, swellings, and joint discomfort.
Medicinal Remedies
Pure Papaya leaf powder helps to significantly increase the production of platelets which in turn leads to improving the platelet count. This herbal powder is used as herbal remedy in dengue as well as malaria.
Papaya Leaves Powder Benefits
Improves Skin Health
Since papaya leaves powder contains a variety of nutrients, it acts as a combination pack on the skin by keeping it clean and clear. When used topically, it has a moisturizing effect and can help prevent dry & cracked skin.
Anti-aging
Antioxidant qualities of papaya leaf powder can aid in the slowing of the aging process. It aids in wound healing and infection prevention. In general, papaya leaves powder is good for skin health.
Dengue Fever Treatment
One of the most effective dengue fever remedies is papaya leaf powder. Papaya herbal powder stimulates platelet production and raises platelet count. It also reduces dengue complications such as blisters, blood clots, etc.
Improves Digestion
The enzyme papain, which is found in papaya leaf powder, aids digestion by breaking down proteins. It also help to avoid several digestive issues including constipation, indigestion, and diarrhea.
Reduce Menstrual Cramps
Papaya leaf powder alleviates these symptoms by lowering uterine contractions. The papain ingredient in it aids in the smooth passage of blood from the uterus. It's also effective for relieving the symptoms of PCOD.
Assists with Diabetes
Diabetic people might benefit from papaya leaf powder to lessen sugar cravings and the danger of developing diabetes. The use of papaya leaf herbal powder helps to manage blood sugar levels and decreases cholesterol levels.
Product Specifications
| | |
| --- | --- |
| INCI Name: | Caricaceae |
| Product Name: | Papaya Leaves Powder |
| Brand: | VedaOil |
| Tested On Animals?: | No |
| GMO: | GMO-free but not certified for it. |
| Vegan: | Vegans can use it because it does not contain any animal-derived components. |
| Shelf Life: | 2 years |
| COA: | |
CAUTION: It is meant for external purposes. Keep it away from the reach of your kids and avoid direct contact with eyes
Packaging Sizes
Please Note: The packaging shown above is a General Representation of the various sizes and types of packaging available for this product. Not all sizes and types of packaging for this product maybe available at all times.
Buy Papaya Powder Online in UK at Best Price
VedaOils is one of the prominent manufacturers, suppliers, & wholesale distributors of Papaya Powder and other herbal powders in Uinted Kingdom. Our products are trusted all over UK for their high quality and purity. No artificial colours, preservatives, or fragrances are added while making Papaya powder. Hence our Papaya powder is 100% natural and organic.
Order Pure Papaya powder online through VedaOils' shopping portal according to your requirements. We deploy high standard delivery to ensure that the best quality product reaches you in time. Papaya powder is now available in packets of 100gm, 500gm, 1kg, and 5kg.
You can also Buy Papaya Powder in Bulk at wholesale prices from us. We offer discounts and wholesale rates for bulk purchases. You can leave a query in our Bulk Enquiry section to buy organic Papaya powder at the best price in UK. We export Papaya Powder in bulk quantities to The USA, Canada, Australia, and many more countries using our logistic partners DHL, FedEx Blue Dart, India Post, etc.
Frequently Asked Questions
WE NOTICE YOU ARE FROM
US & CANADA LOCATION