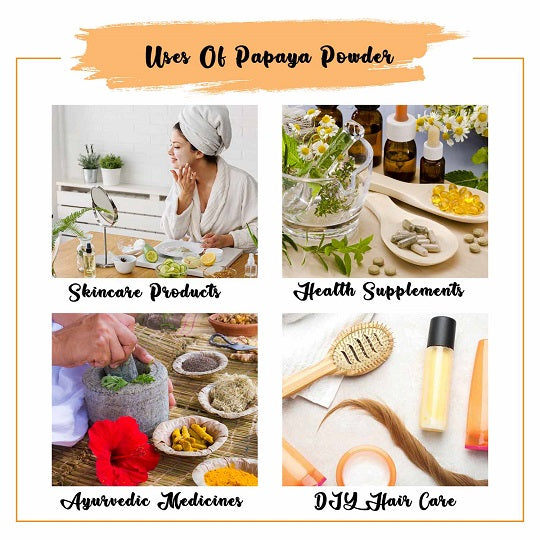 Our Certifications
Papaya Powder
Papaya Powder is made from the ripe and juicy Papayas (Carica Papaya) and is used widely in skincare formulations as it is completely natural and free from chemicals. In addition, it is rich in Vitamin A, which imparts a radiant glow to your skin, and it is also rich in Vitamin C, which is known for its skin protection properties.
Papaya Powder is only formulated for external applications and cannot be used for internal consumption. Its aroma is similar to the fragrance of fresh and ripe papayas. It is available in powdered form and is of orange color. Raw Papaya Powder is known for its ability to fight various skin issues. Only the highest quality and purity standards are used to provide the best quality product to our customers.
Papaya Seed Powder acts as an oil regulator by controlling sebum production and, therefore, proves to be useful for those who have oily skin. It is skin-friendly and, therefore, can be used daily. It also exhibits mild exfoliating properties, especially on those parts where the skin is dry. Carrier is added to the concentrated juice then the juice is spray dried to get Papaya Leaf Powder. In addition, papaya powder contains essential vital nutrients (potassium and magnesium) and enzymes to promote digestive health.
Papaya Powder Uses
Tan Removing Creams
Papaya Powder can be used for making tan removing creams and lotions due to its natural ability to fade tan and dark spots from your skin. Therefore, if you have a tan on your body or face, you can rub a green papaya powder and milk mixture on your face and wash it after a few minutes.
Dark Circle Remover
If you have dark eye circles under your eyes, you can rub a mixture of rosewater and papaya enzyme powder on the dark areas. It will bleach the area surrounding your eyes naturally and will provide beautiful eyes after a few uses. It is also used in manufacturing skin brightening creams.
Exfoliates Skin
Our papaya peel powder can be used for making face scrubs, body scrubs, and other exfoliating products. The enzymes present in this powder remove dead skin cells and impurities from your skin and help unclog the pores. As a result, your skin becomes fresh and clean naturally.
Get Rid of Facial Hair
If you have fine hair follicles on your face, then you can get rid of them permanently by massaging papaya fruit powder and curd directly on your face. The presence of papain breaks down the delicate hair follicles and prevents further formation of these hair follicles.
Reduces Acne
Papain enzyme powder proves to be an excellent remedy for removing acne and pimples. This is possible as this powder controls oil production and its antibacterial properties prevent the growth of acne breakouts and pimples. Therefore, it is widely used for making anti-acne solutions.
Pain Reliever
Our natural papaya extract powder proves to be a powerful pain-reliever due to its strong anti-inflammatory properties. It can be used to heal skin rashes, joint pain, muscle stiffness, etc. It also proves to help treat swollen body parts and might provide relief from bug bites as well.
Papaya Powder Benefits
Boosts Hair Growth
Kacha papita powder boosts hair growth and adds a natural shine and luster to your hair. It is widely used in hair masks due to its ability to strengthen hair roots. It also prevents split ends and can be used with yogurt for making natural and effective hair masks.
Moisturizes Skin and Hair
Our dried papaya powder has hair conditioning properties, and it also moisturizes your skin hair strands effectively. This is due to the presence of Vitamin A that restores the moisture content in your hair follicles and proves to be effective in treating hair and skin.
Heals Wound
Skin regenerative qualities of our organic Papaya Powder can treat cuts, wounds, and scars. The presence of powerful enzymes heal your wounds, and its anti-inflammatory properties help reduce the inflammation associated with cuts and wounds. Makers of antiseptic lotions and ointments will find these benefits to be appealing.
Glowing Skin
People suffering from matured and dull-looking skin can use papita powder in their beauty care regime. The presence of beta-carotene in this powder improves blood circulation and appends a natural glow to your face. Makers of face creams will find these benefits to be impressive.
Cleanse Teeth
Using our organic papaya seed powder as tooth powder is suggested, especially if you have stains and marks on your teeth. Our pure papaya improves the health of your teeth enamel, and the enzymes present in it protect your teeth from stains and plaque.
Treats Skin Issues
Our raw pawpaw powder can be used to treat skin issues like psoriasis and eczema. It also proves to be useful against skin rashes, redness, and pigmentation. Moreover, the itchiness of the skin can be used, and skin burns can be reduced by using our natural Papaya Powder.
Product Specifications
| | |
| --- | --- |
| INCI Name: | Carica Papaya |
| Raw Material Source: | Papaya Fruit |
| Manufacturing Process: | The fresh fruits are first cleaned thoroughly and then they are crushed to smaller pieces. After that, the seeds and the skin of the fruit are eliminated and the fruit extract is obtained which is then spray-dried to get the final product. After that, the powder is sieved on multiple occasions to obtain finer particles. |
| Tested On Animals?: | No |
| GMO: | GMO-free but not certified for it. |
| Vegan: | Vegans can use it because it does not contain any animal-derived components. |
| Shelf Life: | 2 years |
Packaging Sizes
Please Note: The packaging shown above is a General Representation of the various sizes and types of packaging available for this product. Not all sizes and types of packaging for this product maybe available at all times.
Buy Papaya Powder Online in UK at Best Price
Vedaoils is one of UK's prominent manufacturers, suppliers, & wholesale distributors of Papaya Powder and other herbal powders. Our products are trusted all over UK for their high quality and purity. No artificial colours, preservatives, or fragrances are added while making organic papaya leaf powder. We perform numerous tests and quality checks to ensure that only Papaya Powder's premium quality reaches you.
We also employ the highest quality and delivery standards to supply the desired results of our Papaya Powder. Shop Papaya Powder Online for industrial use, Skincare products, Hair care products, and other uses through Vedaoils Online Portal at affordable prices. Vedaoils papaya fruit extract powder is 100% organic and contains all these qualities. In addition, our portal uses a secure payment gateway to run smooth and safe transactions.
Order Papaya Powder Online through Vedaoils shopping portal according to your requirements. We deploy high-standard delivery to ensure that the best quality product reaches you in time. We export Raw Papaya Powder in bulk quantities to The USA,Canada, Australia, and many more countries using our logistic partners DHL, FedEx Blue Dart, India Post, etc. You can also buy Papaya Powder in Bulk at wholesale prices from us. We offer discounts and wholesale rates for bulk purchases. Leave a query in our Bulk Enquiry section to order organic green papaya powder at the lowest price in United Kingdom.
Frequently Asked Questions
WE NOTICE YOU ARE FROM
US & CANADA LOCATION