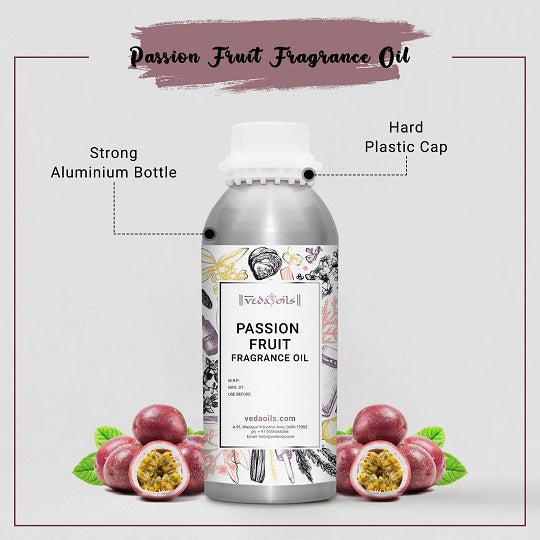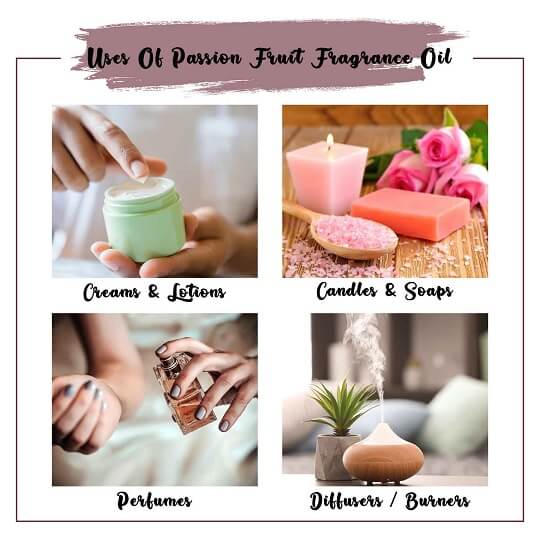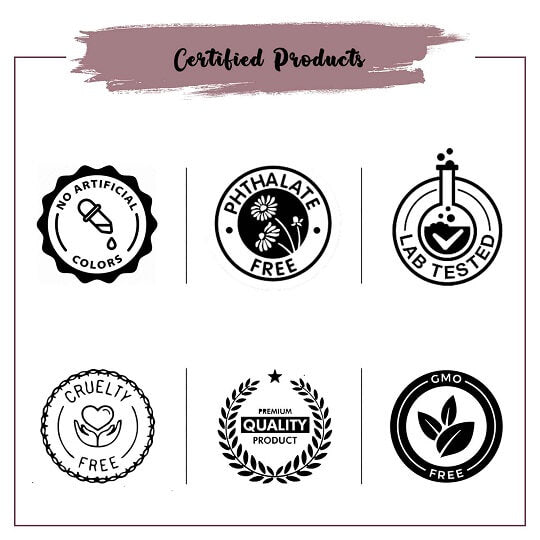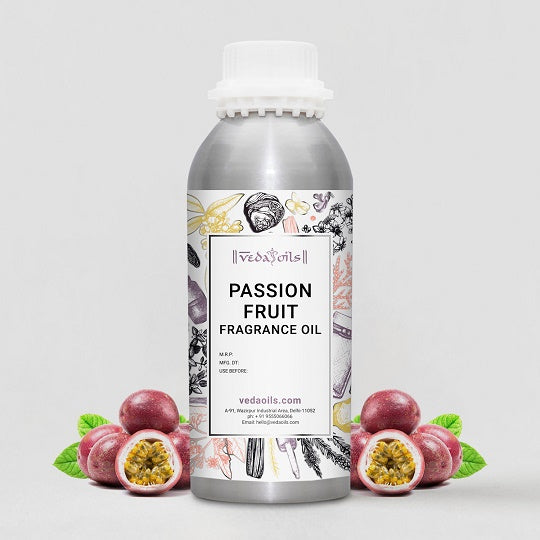 Our Certifications
Passion Fruit Fragrance Oil
Obtained from fresh, ripe, and juicy Passion fruits, the Organic Passion fruit Perfume Oil is known for its magical fruity and fresh aroma. It smells exactly similar to ripe and mouth-watering Passion fruit that fills your heart with desire and passion towards loved ones. Mild floral undertones with rich musky and fruity scents make our Natural Passion Fruit Fragrance Oil a great addition to premium grades perfumes and body sprays.
Blend of fruity and floral notes can be used to add a special and unique fragrance to cosmetic, skin, and hair care applications as well. Soothing fragrance of our Passion fruit Fragrance Oil has a positive influence on your mind and body. While it helps to refresh your spirits, it also calms your nerves and helps you to stay happy. The fragrance of our pure Passion fruit Fragrance Oil is long-lasting enough to keep you energetic and lively throughout the day!
Passion fruit Fragrance Oil Uses & Benefits
Agarbattis
Incense sticks that exude a fresh and inviting aroma can be made by using our natural passion fruit aroma oil. These incense sticks would fill the ambiance with pleasantness and positive vibrations.
Scented Candles
Passion Fruit Scented Oil is perfect for making scented candles that need a unique mix of floral and musky notes. When lighted, these candles will spread peace and comfort in your surroundings.
Deodorizers
Deodorizers that contain our best Passion Fruit Perfume Oil give a clean, happening, and charming scent to your rooms. They do so by eliminating stale odour created due to germs, dust, and dirt present in the air.
Perfumes
Durable and fresh aroma of our passion fruit scent oil can be infused in perfumes and deodorants to make them last longer. The sweet floral base note of this oil will keep you energetic throughout the day.
Bath Oils
Bath Oils are highly used to improve skin conditions due to its medicinal properties. To enjoy a rejuvenating and luxurious bath feel, you must include our organic Passion fruit Perfume Oil in your DIY bath care recipes.
Cosmetic Products
Including Passion Fruit Natural Aroma Oil in cosmetic products will prove to be a good decision as it gives a mild and refreshing scent. You can include it in shower gels and shampoos. It is completely safe on skin.
How to use Passion fruit Fragrance Oil?
Scented Candles: Adding around 15ml of Passion fruit Aroma Oil would be good enough to make candles of approximately 250 grams of wax. Measure the quantity accurately to avoid making scented candles that have an overpowering fragrance.
Skin Care & Cosmetics: Use Natural Passion fruit Perfume Oil sparingly in cosmetic, skin, and hair care formulas as it is concentrated fragrance oil. A few drops of this oil would be enough to give a gentle aroma to a bottle containing 200 ml of moisturizer or body lotion.
Soap Making: Pour 10ml of Scented Oil in 150 grams of soap base to make highly aromatic and soothing soap bars that will give a smooth and nice feel to your skin.
Aromatic bath: Around 5 to 6 drops of Passion fruit Fragrance Oil can be added to a bathtub filled with water to relish an aromatic bath that will soothe your mind and calm your senses.
Note: The concentration of Passion Fruit Natural Fragrance Oil needs to be varied as per the purpose of use and requirements.
Product Specifications
| | |
| --- | --- |
| Product Name: | Passion Fruit Fragrance Oil |
| INCI Name: | N/A |
| Country of Origin: | India |
| Foam: | Liquid |
| Flash Point: | N/A |
| Color: | N/A |
| Aroma: | Fresh, Earthy, Citrus and Fruity fragrance |
| Suitable for: | Bath Bombs, Lipsticks, Lip Balms, Facial and Body Scrubs, Creams, Perfume Oils |
| Packaging Type: | As per requirement |
| Storage: | Store in a Cool & Dry place. |
| Shelf Life: | 2 years |
| COA: | |
| MSDS: | |
Packaging Sizes
Please Note: The packaging shown above is a General Representation of the various sizes and types of packaging available for this product. Not all sizes and types of packaging for this product maybe available at all times.
Buy Passion Fruit Fragrance Oil At Low Price in UK
As a leading manufacturer, distributor, and supplier of rich-quality fragrance oils, VedaOils is committed to providing a satisfying experience to the users United Kingdom. We are offering Organic Passion Fruit Perfume Oil in bulk quantities and at wholesale prices so that it would be easy to use it for commercial purposes. Retail packages of 100 ml are available for personal use whereas commercial users can order our Passion fruit Aroma Oil in packages of 1L.
Our user-friendly website and prompt delivery service help us to deliver your orders quickly to your doorstep. Do not worry as we employ high packaging and quality standards so that only effective and highly powerful fragrance oils reach you. The pleasant and blissful aroma of Passion fruit Scented Oil makes it multi-purpose and highly effective as a scent obtained from organic sources.
It does not contain any chemicals or artificial preservatives and is, therefore, a good alternative to synthetic fragrances and oils. The amazing fruity, sweet, and crispy scent of Passion Fruit Natural Fragrance Oil allows you to explore its use in multiple applications and products. Our logistics partners like DHL, India Post, Blue Dart, FedEx, etc. help us to provide Fragrance Oils to customers residing in the USA, Canada, Australia, etc. with ease.
Frequently Asked Questions
WE NOTICE YOU ARE FROM
US & CANADA LOCATION