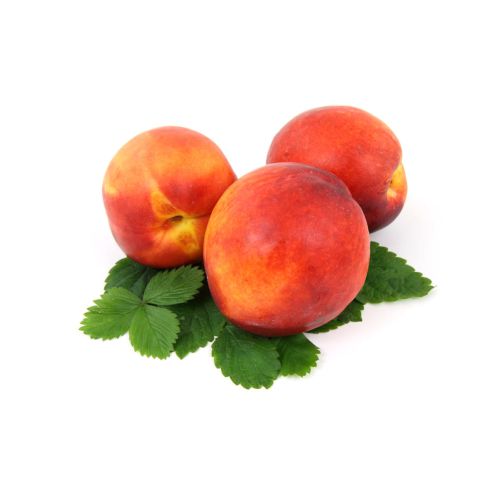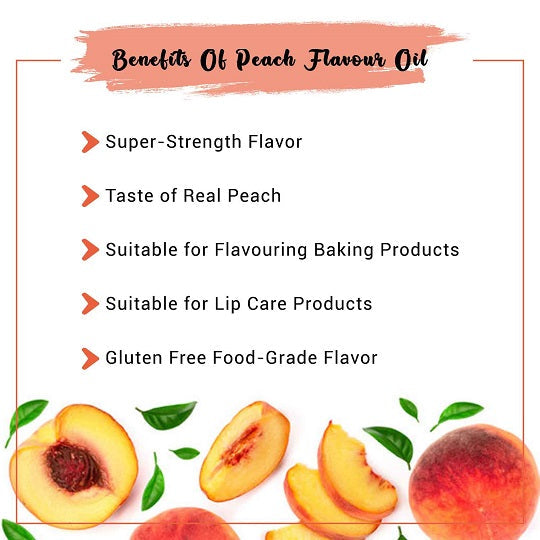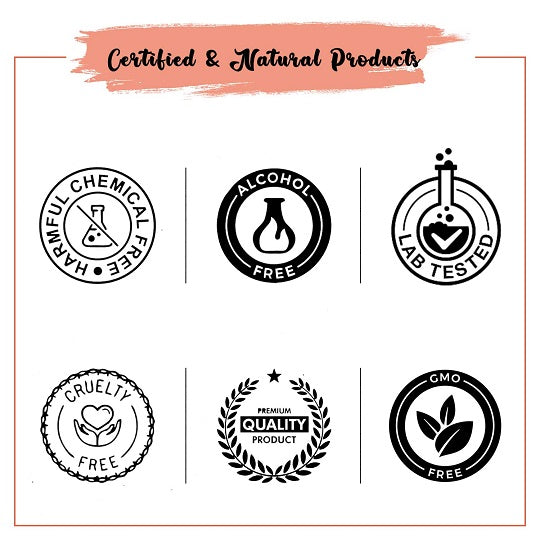 Our Certifications
Peach Flavour Oil
Peach flavouring oil has a fruity and juicy taste as it is made from fresh and ripe peaches. It has a dense aftertaste whose flavours are somewhat similar to apples and nectarines. It also has a sweet and sugary taste of pineapple and papaya. Peach Flavouring Oil has a sweet, refreshing aroma, which adds a different essence to the food items. It also has a smooth flavouring that melts easily into the mouth.
Peach's super-strength oil's fresh and fruity flavour is used widely in milkshakes, smoothies, juices, tea, jellies, jams, etc. It is also added to flavouring candies, cakes, desserts, and other food items. The formulation of Peach Flavouring Oil is built so that it retains its natural taste and aroma even after cooking it at a high temperature. Peach flavour oil makes candies, pies, cakes, loaves of bread, puddings, and many more.
The composition of Peach Flavour Oil contains only natural flavouring agents, which makes it safe and skin-friendly. So, you can add it to your DIY natural lip care products like lip balms, lip gloss, and lipsticks. The formula of peach super-strength oil is quite stable as it is blendable with water and oil-based ingredients. This liquid essence is concentrated enough to provide the required flavour to your food items using a small quantity.
Peach Flavouring Oil Uses
Cooking and Baking
Peach flavor oil is suitable for cooking and baking as it is used to prepare recipes like Peach cranberry bread, Peach gingerbread, cheesecake, Peach blackberry pie, Peach cookies, Peach salad, etc. The taste of this flavoring oil does not change even after cooking it at a high temperature.
Lip Care Products
Lip gloss, lip balms, and lipsticks use peach flavour oil to add a sweet taste to the products. The natural juicy and fruit flavors in this super-strength oil add the tangy and sweet fruity aroma of freshly cut peaches to the lip products.
Candies
Peach flavoring oil is suitable for making candies, jellies, gummies, etc., due to the presence of sweet and tangy flavors. The taste of these flavoring oils does not overpower the taste buds, and its flavors also last for a long time. Hard candies, lollipops, and chocolates also use this flavoring oil.
Juices and Drinks
Peach flavouring oil proves to be the perfect flavoring agent for making beverages, juices, drinks, and squashes as it is free from preservatives or additives. This natural juicy essence present in it enhances the taste of the drinks. You can even customize your alcoholic drinks using this flavoring oil.
Confectionery Items
Peach flavored oil has a fruity and juicy essence used to make confectionery items like fudges, marshmallows, wafers, etc. Gourmet confectionery products also widely use this flavoring agent due to its rich flavors and also because it has additive and preservative-free formulation.
Desserts
Candy-like taste of peach flavoured oil is popularly used to make desserts like custards, mousse, shakes, tarts, donuts, etc., as the juicy flavors present in it melt easily inside the mouth. The natural flavors of this super-strength oil make the desserts even more tempting.
Peach Flavouring Oil Benefits
Gluten-free
Peach flavor oil formulation is completely free from gluten, alcohol, and other synthetic chemicals. People who have gluten intolerance or gluten allergies can easily consume this super-strength oil.
100% Vegan Product
Peach flavour oil is entirely free from dairy products or other animal-derived components, making it 100% safe for vegans. This flavoring oil is accredited by the Kosher and Halal certifications, which makes it safe for consumption.
Versatile
Peach flavoring oil is quite versatile as it is easily blendable with a wide range of ingredients like honey, sugar, etc. It can also be mixed with other cosmetic raw materials that are used to make lip care products.
Effective Flavour
Liquid essence of peach flavouring oil has a strong taste that helps provide the required flavor to your food items using a few drops. The intense flavoring agents present in this super-strength oil add real Peach's taste into the food items.
No Extra Sugar
Peach flavored oil does not contain any added sugar, fats, or carbohydrates, so it will not increase the calories. This flavoring agent is also free from any artificially infused aroma or taste.
Food-Grade
Peach flavoured oilis an excellent tasting agent that helps impart real peach flavours into the food items. This super strength oil has been recognized by the vegecert certification, which makes it safer for consumption.
Product Specifications
| | |
| --- | --- |
| INCI Name: | Prunus Persica |
| Raw Material Source: | Peach Fruits |
| Manufacturing Process: | Edible Vegetable Oil, Permitted Nature Identical & Flavouring substances |
| Peach Flavour Suitable For: | Chocolates, ice creams, juices, milkshakes, candies, etc. |
| Aroma: | Sweet To Sour |
| Colour: | Light to Dark Yellow |
| Vegan: | As it is free from animal-derived ingredients, vegans can use it without any doubts. |
| Colour: | Light Yellow To Dark Yellow |
| Aroma: | Sweet To Sour |
| Alcohol-Free: | Yes |
| Storage: | Store the bottle in a cold and dry place away from direct sunlight for prolonged use. |
| Shelf Life: | 2 Years |
CAUTION: It is meant for external purposes. Keep it away from the reach of your kids and avoid direct contact with eyes
Packaging Sizes
Please Note: The packaging shown above is a General Representation of the various sizes and types of packaging available for this product. Not all sizes and types of packaging for this product maybe available at all times.
Buy Peach Flavour Oil Online in UK at Low Price
VedaOils is one of the leading Wholesale suppliers, manufacturer, and exporter of Peach Flavour Oils and Food Flavour Oil in United Kingdom. We specialize in both oil and water-soluble flavoring oils and our catalog is wide enough to serve all your requirements. Our food flavor oils are gluten-free and naturally prepared.
Buy Peach flavor oil at the best price in United Kingdom through VedaOils online portal. We ensure smooth and safe transactions. We also employ a high standard of delivery to supply your order in the best quality. You can buy Peach Essence Oil at wholesale prices as we are offering them in bulk quantities.
We also export our high-quality Peach Flavoring Oil to the US, Canada, Australia, and other countries. Our products follow the highest standards when it comes to quality and purity. We assure you that you will not regret choosing us! We also deliver the products throughout the world using our logistic partners DHL, FedEx Blue Dart, India Post, etc.
Frequently Asked Questions
WE NOTICE YOU ARE FROM
US & CANADA LOCATION