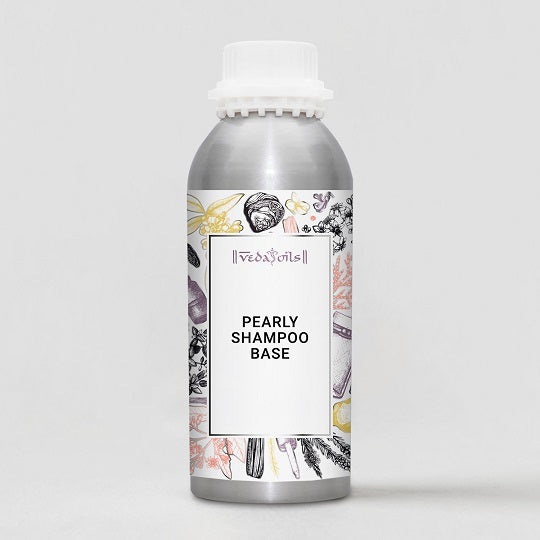 Our Certifications
Pearly Shampoo Base
Our Pearly Shampoo Base prepared from sugar-based ingredients possesses exceptional lathering and foaming properties. Enriched with amino acids and surfactants, this liquid base facilitates an easy shampoo-making process for professional shampoo makers. You just need to add fragrances and essential oils of your choice and your final product would be ready and good to go!
Our Pearly Shampoo Base is also compatible with herbal extracts and powders. As all ingredients and oils don't blend well with a liquid shampoo base, conduct a stability test by using smaller quantities of ingredients first. Pearly Shampoo Base is ready to be used in shampoos. It comprises several properties that make them beneficial for shampoo manufacturers.
Sugar-Based Pearly Shampoo Base Ingredients
Sodium Cocoyl Isethionate
Sodium Cocoyl Isethionate is a commonly used surfactant in body cleansing and hair cleansing products. It is obtained from dehydrating and condensing Sodium Isethionate and fatty acids obtained from Coconut Oil. It is totally safe for your scalp and can be used in concentrations up to 50% in cleansing products.
CAPB
Obtained from Coconut Oil, CAPB (Cocamidopropyl Betaine) is used to enhance the foaming properties of our Pearly Shampoo Base. It also works as a thickener and emulsifying agent in personal care products. Due to its gentle properties, CAPB is considered to be safe for all skin types. It is even added to baby care products because of its mild cleansing effects.
Sodium Lauroyl Sarcosinate
Prepared from Sarcosine, Sodium Lauroyl Sarcosinate is added to our Pearly Shampoo Base due to its cleansing and foaming properties. Though it cleanses your hair and scalp, it does not scrape off the oils that are necessary for protecting your hair and scalp. Sodium Lauroyl Sarcosinate also works as a conditioning agent and makes your hair soft and shiny.
Glycol Distearate
Made from Ethylene Glycol and Stearic Acid, Glycol Distearate gives a pearly finish to our shampoo. Moreover, it also works as a moisturiser due to its inherent emollient properties.It stabilises emulsions and conditions your hair. Also, it gives a thick emulsion and also enhances the opaqueness of our Pearly Shampoo Base.
Polyquaternium-7
Derived as a copolymer of monomers such as diallyl ammonium chloride and acrylamide, Polyquaternium-7 works as a film former and antistatic component in cosmetic products. Polyquaternium-7 supports the protective barrier of your skin and also restores its moisture level. Therefore, it helps to maintain the softness and suppleness of your skin.
Sodium Cocoamphoacetate
Sodium cocoamphoacetate act as a surfactant that gently cleanses the skin and hair while making a luxurious foam. Sodium cocoamphoacetate is a mild surfactant, foam booster, stabilizer and hair conditioning ingredient. It's an organic compound derived from coconut oil.
Pearly Shampoo Base Uses & Benefits
Good Foaming Properties
Sulfate-Free Sugar-Based Pearly Shampoo Base exhibits excellent foam-forming properties that enhance the effectiveness and quality of shampoos. It contains blended oils and compounds that are beneficial for your hair in many ways.
SLS and Paraben Free
Made from organic and natural ingredients, our Sulfate-Free Sugar-Based Pearly Shampoo Base is free from SLS, sulfates, and parabens. This makes it suitable for hair care products meant for regular use.
Naturally Derived Surfactants
All the ingredients used in this Sulfate-Free Sugar-Based Pearly Shampoo Base are obtained from natural sources like coconut oil, palm oil, etc. Therefore, they are safe for your skin and hair.
Water-soluble extracts
We are offering a liquid soap base that can be blended with water-soluble extracts. They blend easily in aqueous solutions and are suitable for preparing large batches of hair shampoos, conditioners, and other products.
Good Fragrance Retention
Our liquid soap bases have a high fragrance retention capability. Therefore, you can incorporate a wide range of fragrances and natural extracts to improve the fragrance and manufacture luxurious shampoos and hair care products.
Multipurpose Usage
The same liquid base can be mixed with different ingredients to make a wide range of shampoos. By including essential oils, herbal powders, and other natural ingredients, formulate shampoos meant for specific or multiple uses.
Packaging Sizes
Please Note: The packaging shown above is a General Representation of the various sizes and types of packaging available for this product. Not all sizes and types of packaging for this product maybe available at all times.
Buy Pearly Shampoo Base at Wholesale Prices
VedaOils specialises in providing top-quality ingredients to facilitate easy manufacturing of shampoos, conditioners, and other hair care solutions. We offer natural ingredients that enhance the quality and texture of your hair.
Our Sugar-based Pearly Shampoo Base is pure, natural, and chemical-free. It is available in bulk and commercial manufacturers can benefit from the bulk rates and discounts we are offering to our customers.
We aim to facilitate high-quality natural supplies at cost-effective rates to startups and small scale organisations. We also share our resources with top industry manufacturers and promote the use of natural ingredients over synthetic ones.
With the strong backing of logistic partners and suppliers, we will never fail short of your expectations in terms of delivery and packaging. Connect with us online through our official website and we will be pleased to assist you through your first order!
Frequently Asked Questions
WE NOTICE YOU ARE FROM
US & CANADA LOCATION