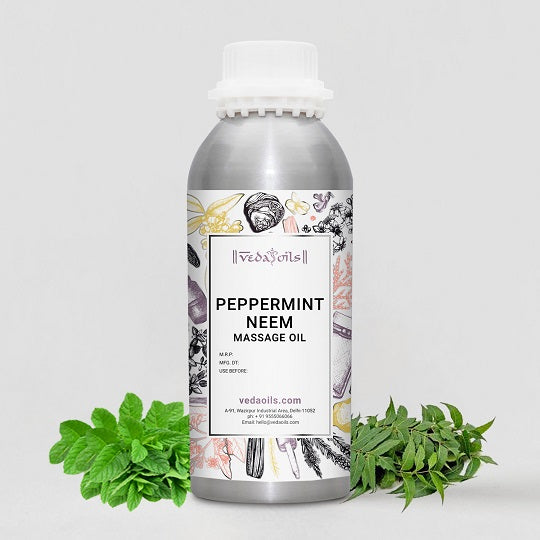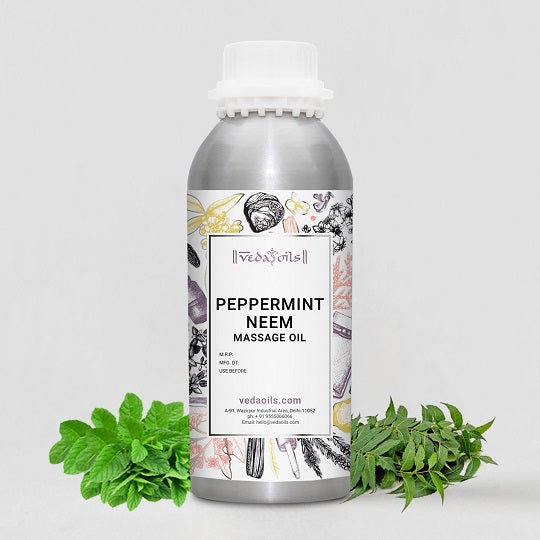 Our Certifications
Peppermint & Neem Massage Oil
The Peppermint & Neem Massage Oil is made of fresh leaves of Neem and Peppermint, which is refreshing and revitalizing. Peppermint & Neem Massage Oil is effective in treating headaches, muscle cramps, inflammation, and stress. The healing properties of this oil are effective in treating itching, common cold, headaches, and congestion. Vitamin A, C, manganese, iron, calcium, magnesium, and manganese-all play a role in helping maintain a healthy complexion.
Neem & Peppermint massage oil has powerful anti-inflammatory, antimicrobial, and astringent properties which have the ability to boost the body's capabilities to combat infections, as well as reduce muscle spasms and pain. A deep tissue massage using this oil can help alleviate migraines, joint pains, and muscle aches and tension. It is also useful for easing the symptoms of menstruation like cramps, back pain, and mood swings.
Peppermint & Neem massage oil contains biologically active components that have a very calming and relaxing aroma. This oil is beneficial in treating insomnia, anxiety, depression, and restlessness because of its unique chemical composition that calms and relaxes the nervous system. Infusing this massage oil into the skin will provide a feeling of invigoration and energization, as its natural healing properties stimulate the mind and promote feelings of happiness.

How to use : Please take a few drops of our special Peppermint & Neem massage oil on your palms. Now, massage it gently over your body or specific body part. Use circular motions while massaging and apply pressure evenly on the entire part through your fingertips
Benefits of Peppermint & Neem Massage Oil
Relieves Headaches
Peppermint & Neem Natural Massage Oil is excellent for reducing stress hormones as well as preventing migraines and tension headaches. It also aids in relaxation and alleviates physical symptoms including nausea, vomiting, and neck and shoulder pain.
Alleviates Joint and Muscle Pain
Neem & Peppermint massage oil contains high amounts of healing content, which helps relieve pain from chronic conditions and sore muscles. These components also soothe spasms, throbbing, and cramped muscle ache, as well as joint pain.
Refreshes your mind
Peppermint & Neem massage oil is known to boost cognitive function since its scents have a relaxing effect on the brain. They regulate stress hormones, resulting in an energized feeling.
Reduce Anxiety and Depression
Due to its refreshing effects on the mind, Neem & Peppermint oil aromatherapy massage can ease depression and mild mental exhaustion. This aromatherapy massage also eases feelings of anxiety and sadness.
Antimicrobial properties
Peppermint and Neem oil have mild antimicrobial properties, but also antibacterial properties, which inhibit the growth of bacteria. It also has fungicidal and fungistatic properties that are effective against allergies and infections caused by microbes.
Uplifts Mood
This massage oil is useful for reducing heart rate, headaches, releasing stress, and lifting the dull mood thanks to its refreshing scent. Peppermint & Neem oil is also useful for boosting your mood, energy, and focus.
Product Specifications
| | |
| --- | --- |
| Product Name: | Peppermint & Neem Massage Oil |
| Brand: | VedaOils |
| Country of Origin: | United Kingdom |
| Foam: | Liquid |
| Color: | N/A |
| Aroma: | Peppermint & Neem |
| Alcohol-Free: | Yes |
| Usage/Application: | Body Massage / Aromatherapy |
| Packaging Type: | As per requirement |
| Storage: | Store in a Cool & Dry place. |
| Shelf Life: | 2 years |
| Aroma | Minty |
| Color | Light To Dark Yellow |
Packaging Sizes
Buy Peppermint & Neem Massage Oil Online In UK at Low Price
VedaOils is one of the leading wholesale suppliers, manufacturers, and exporters of premium quality Peppermint and Neem Massage Oil and other Natural Oils. We offer the purest forms of massage oils to our customers. No chemicals, additives, or fillers are added to them. They also do not contain any artificial colors, preservatives, and fragrances. Therefore, they prove to be ideal for daily use.
We employ numerous tests and quality checks to ensure that only premium-quality and effective Peppermint & Neem massage oil reaches you. The highest quality and packaging standards are employed to deliver desirable results on usage. Order Certified Peppermint and Neem massage Oil from our safe and secure payment gateway to safeguard your transactions. You can purchase Peppermint & Neem massage oil for your daily purposes for skincare, hair growth.
You can also check out Peppermint & Neem massage oil price per kg and order it online in bulk quantity. We also export Organic Peppermint and Neem massage Oil worldwide, including the Australia, Dubai, USA, Canada, etc. We have partnered with efficient logistic partners like DHL, FedEx BlueDart, India Post, etc which ensure safe and timely delivery of our products. Do not miss this wonderful opportunity to buy chemical-free and multi-purpose Peppermint & Neem massage oil from VedaOils.
Frequently Asked Questions
WE NOTICE YOU ARE FROM
US & CANADA LOCATION