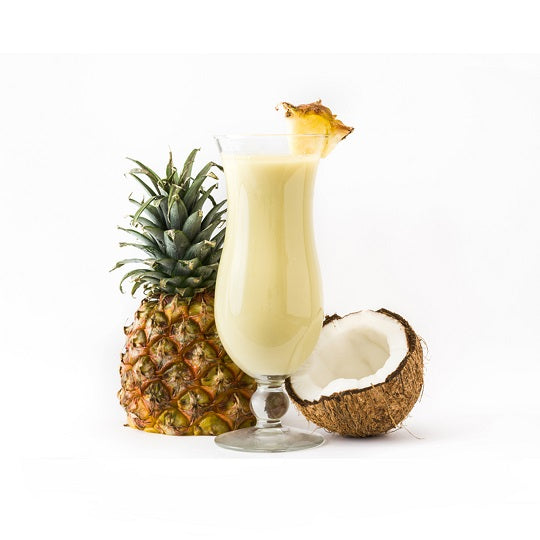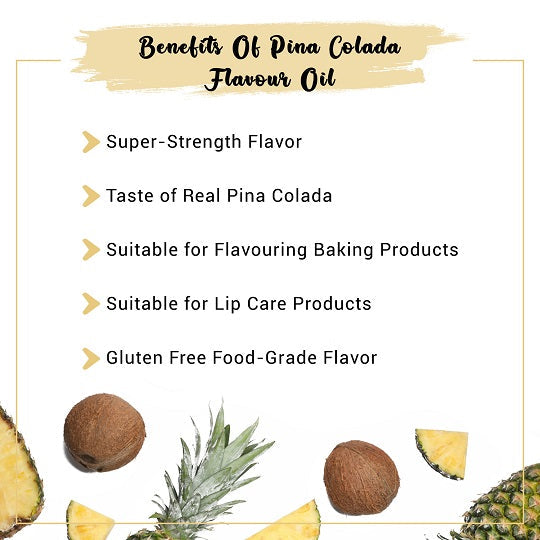 Our Certifications
Pina Colada Flavour Oil
Pina Colada is a well-known and delectable tropical treat that tastes like pineapple and coconut. The flavours of this super-strength oil provide a cocktail-hour flavour to beverages such as slushies, cocktails, and smoothies. This tropical cocktail drink's tastes include a dash of rum, sweet, creamy coconut, and tangy pineapple juice.
The mellow Pina Colada Flavour Oil enhances ice cream, smoothies, baked products, and unusual Italian sodas. This professional-quality flavour oil can also be used to give depth and taste to cakes, icings, and pastries. In addition, Pincolada's tantalizingly wonderful tropical taste is a favorite of both children and adults.
Pina Colada Flavour Oil Uses
Lip Care Products
Pina Colada flavouring oil is used in lip care products such as lip balm, lip gloss, lip scrub, and lipsticks because it has a fruity and candy-like taste. These lip balms are made even more pleasurable by their juicy and fruity aromas.
Juices and Shakes
Fruity and juicy tastes of Pina Colada super-strength oil have a very smooth taste that complements shakes, smoothies, flavoured milk, and other similar beverages. Pina Colada flavouring oil is also added for a pleasant flavour.
Jam and Jellies
Pina Colada Flavour Oil has a distinctively refreshing and sweet flavour, making it ideal for jams and jellies. These jellies' seductive and exquisite tastes melt effortlessly into the tongue and leave a delightful aftertaste.
Candy and Ice Cream
Pina Colada flavoured oil is a popular flavouring component in candies and chocolates. Its sweet and fruity flavour is often employed in the production of toffees, lollipops, candy floss, and more. It's essence is also utilized in ice cream and frozen yogurt.
Bakery Items
Pina Colada flavoured oil is used in bakery items such as cakes, pastries, muffins, donuts, tarts, and so on because of its distinct flavour. This essence is ideal for baking since it retains its natural flavour and scent even when heated to high temperatures.
Confectionary Items
Pina Colada flavoured oil provides a delicious and juicy essence that is used to manufacture goods such as fudges, marshmallows, wafers. Due to the richness of its tastes and scent, this flavouring ingredient is very commonly used in gourmet confectionery items.
Pina Colada Flavour Oil Benefits
Quality Beverages
Pina Colada Flavour Oil is designed in such a manner that it keeps its flavour and smell even when heated. As a result, you may use it to infuse strawberries' fresh and genuine flavour into a variety of culinary and beverage items.
Authentic Flavour
Food-grade Pina Colada flavouring oil imparts the scent and flavour of real and fresh strawberries to food and beverages. Because it contains no preservatives, additives, or other synthetic elements, this flavouring essence will be ideal for you.
Alcohol and Gluten-free
Naturally derived Pina Colada oil is gluten and alcohol free. It contains no additional synthetic ingredients, such as fragrances or odors, making it fully safe to consume. This flavouring ingredient is also suitable for people who are gluten intolerant.
Vegan-friendly
Colada Flavour Oil is vegan-friendly does not include any animal-derived ingredients or dairy products. It has Vegecert certification and produced in accordance with Kosher and Halal standards, allowing Vegans to utilize it as well.
Easily Blendable
Pina Colada flavoured oil's recipe is designed to be readily blended with both oil and water-based products. It also mixes well with other natural components such as milk, honey, sugar, salt, and so on.
Versatile and Stable
When Pina Colada oil is applied to culinary items, it does not change texture, consistency of the finished product, making it highly stable by nature. This flavouring ingredient is also quite adaptable, since it may be utilized to create a variety of goods.
Product Specifications
| | |
| --- | --- |
| Product Name: | Pina Colada Flavour Oil |
| Brand Name: | Vedaoils |
| Raw Material Source: | Pina Colada extracts |
| Manufacturing Process: | Edible Vegetable Oil, Permitted Nature Identical & Falvouring substances |
| Suitable For Flavoring: | Chocolates, sherbets, candies, pastries, ice creams, juices, and bakery items. |
| Aroma: | Pineapple and Coconut Aroma |
| Color: | Yellow |
| GMO: | It is GMO-free since no plant-derived ingredients are used for making it. |
| Vegan: | As it is free from animal-derived ingredients, vegans can use it without any doubts. |
| Alcohol-Free: | Yes |
| Storage: | Store the bottle in a cold and dry place away from direct sunlight for prolonged use. |
| Shelf Life: | 2 years |
CAUTION: It is meant for external purposes. Keep it away from the reach of your kids and avoid direct contact with eyes
Packaging Sizes
Please Note: The packaging shown above is a General Representation of the various sizes and types of packaging available for this product. Not all sizes and types of packaging for this product maybe available at all times.
Buy Pina Colada Flavour Oil Online in UK at Best Price
VedaOils is one of the leading Wholesale suppliers, manufacturer, and exporter of Pina Colada Flavour Oil in United Kingdom. We specialize in both oil and water-soluble flavouring oils and our catalog is wide enough to serve all your requirements. Our food flavour oils are gluten-free and naturally prepared.
Buy Pina Colada Flavouring Oil at the best price in United Kingdom through VedaOils online portal. We ensure smooth and safe transactions. We also employ a high standard of delivery to supply your order in the best quality. You can buy pina colada flavour oil at wholesale prices as we are offering them in bulk quantities.
We also export our high-quality Pina Colada Flavouring Oil to the US, Canada, Australia, and other countries. Our products follow the highest standards when it comes to quality and purity. We assure you that you will not regret choosing us! We also deliver the products throughout the world using our logistic partners DHL, FedEx Blue Dart, India Post, etc.
Frequently Asked Questions
WE NOTICE YOU ARE FROM
US & CANADA LOCATION