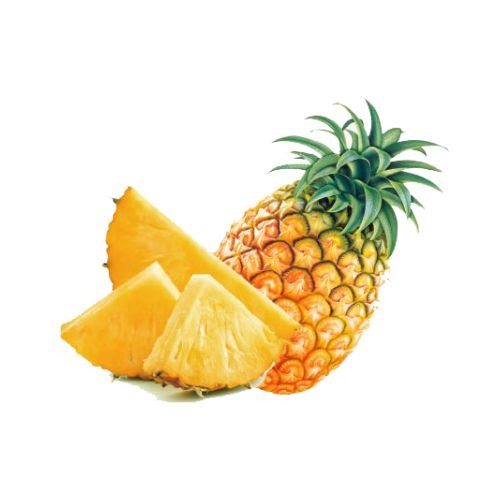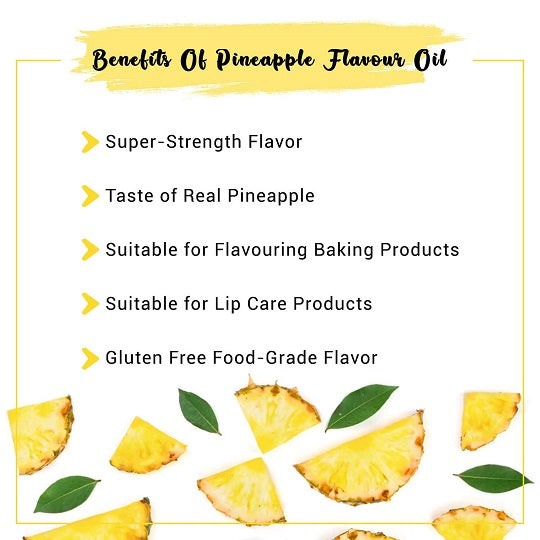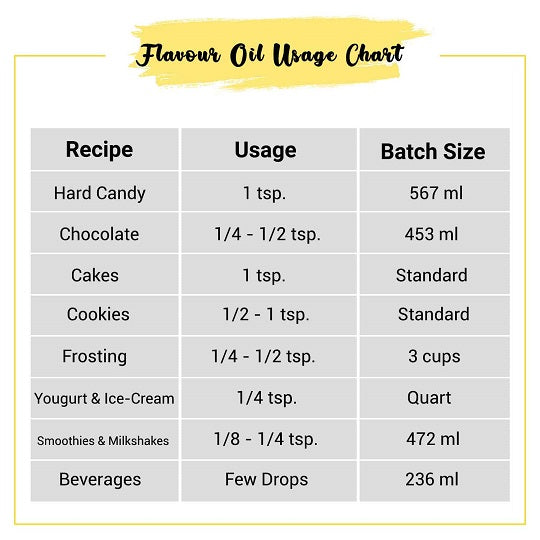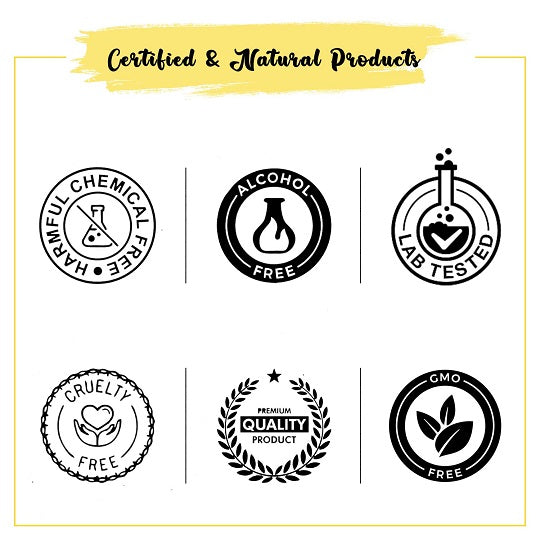 Our Certifications
Pineapple Flavour Oil
Obtained from ripe and juicy pineapples, Pineapple Flavour Oil can give your desserts, drinks (both alcoholic and non-alcoholic), and baked goods a tropical flavour. It is a naturally preserved and sweetened oil that is perfectly safe and healthy. Therefore, you may use it in your beverages and food items without any apprehensions or worries. In addition, this flavouring oil is a rich source of Vitamin C, which means that it is healthy for your overall health and immunity.
With their starting point in South America, pineapples were named after their pinecone shape and became famous as a good tropical organic product. Loaded with supplements, cell reinforcements, and numerous regular mixtures and catalysts, Pineapple Food Flavour Oil has restorative and therapeutic properties that assist it to be beneficial for various purposes.
Pineapple Flavoured Oil is acquired from the mash of new, ripe pineapples and is high in supplements and low in calories. Unadulterated pineapple tastes oil is plentiful in Vitamin C, Vitamin A, Vitamin K, phosphorus, zinc, and calcium. Moreover, as pineapples are stacked with normal cancer prevention agents like flavonoids and phenolic acids, they assist the body with lessening oxidative pressure normally.
This flavour oil are suitable for baking purposes, and since they are water-soluble, you can use them in a variety of food items and juices. The liquid essence is strong enough to provide the desired flavour to your food items with a small quality. Also, Pineapple Flavouring Essence retains its aroma and taste even when used at extremely high temperatures.
Pineapple Flavour Oil Uses
Lip Care Products
Use of pineapple flavour oil in the preparation of lip care items now offers it a lovely smell, yet additionally a trademark, vegan-friendly, well disposed and cruelty-free nature.
Candies
Uniqueness and the enchanting, sweet person and aroma of the pineapple flavour oil can be a remarkable resource in the readiness of prepared hard candies for youngsters.
Cakes & Pastries
New and model sweet and tangy pineapple flavour oil will move a remarkable reach and grit to your recipes and winds up being especially helpful for preparing seasoned items.
Yogurts
Utilizing the pineapple flavour oil eventually high dazzling frozen yoghurts can't most satisfactorily assist with preparing them greatly, including wellness of uniqueness to your yoghurt kitchen.
Confectionery Items
Utilizing the sweet flavour oil in the practice of high pleasant confectionery products cannot most effectively assist in flavouring them wonderfully, including an aptitude of uniqueness to your bakery.
Desserts
Desserts and baked items ready with the use of pineapple flavour oil wind up being a critical hit at birthday events for adolescents of each kind of occasion as it enables the enjoyableness of cakes at your celebrations.
Pineapple Flavour Oil Benefits
Fruity Aroma
Pineapple Flavour Oil does not make your lip products and supplements taste sweet as they add to taste when employed with sugar. It's employed in these particulars to add the gooey smell of recently sliced pineapples to them.
Safe & Organic
Pineapple flavour oil is defined to be food-grade top notch. As they do not have any added substances and dangerous synthetic fusions like liquor, gluten, etc. You might use this canvas for good.
For Baked Goods
Pineapple Flavour Oil is steady and holds its viability and taste at high temperatures. In this manner, you can use it for enhancing baked products like breads, cookies, biscuits, and so forth.
Perfect For Drinks
Pineapple flavour oil can be used in various manual authorities, smoothies, and shakes, it does blend well with different solvents, and thus, you can use it to add a unique flavour to your drinks.
Fantastic Flavour
Gives a fantastic flavour to chocolates, goodies, and ice creams. It blends with several natural constituents to give a tasteful flavour to your food medications.
Vegan
Pineapple flavour oil is free from dairy obtained products or any other animal-derived components which makes it a safer option for Vegans. It is also accredited with Kosher and Halal standards.
Product Specifications
| | |
| --- | --- |
| Product Name: | Pineapple Flavour Oil |
| INCI Name: | Ananas Sativus Flavouring Oil |
| Manufacturing Process: | Edible Vegetable Oil, Permitted Nature Identical & Flavouring substances |
| Suitable For Flavouring: | Cakes, pastries, sherbets, juices, chocolates, ice creams, candies, frozen desserts, and other food items. |
| CAS Number: | 97676-27-2 |
| GMO: | It is GMO-free since no plant-derived ingredients are used for making it. |
| Tested On Animals?: | No |
| Vegan: | As it is free from animal-derived ingredients, vegans can use it without any doubts. |
| Alcohol-Free: | Yes |
| Storage: | Store the bottle in a cold and dry place away from direct sunlight for prolonged use. |
| Colour: | Light Yellow |
| Aroma: | Sweet and Juicy |
| Shelf Life: | 2 years |
CAUTION: It is meant for external purposes. Keep it away from the reach of your kids and avoid direct contact with eyes
Packaging Sizes
Please Note: The packaging shown above is a General Representation of the various sizes and types of packaging available for this product. Not all sizes and types of packaging for this product maybe available at all times.
Buy Pineapple Flavour Oil Online in UK at Low Price
VedaOils leading manufacturer, distributor, and supplier of premium-quality Pineapple Flavour Oil, We specialize in both oil and water-soluble flavour oil and our catalog is wide enough to serve all your requirements. Our food-grade flavour oils are gluten-free and naturally prepared. Organic Pineapple Food Essence does not include any toxins or chemicals that may harm your health in any way. It is free from alcohol, animal-based ingredients, and artificial preservatives. Even vegans may use it as per their requirements.
High stability of essence oils enables you to add them to numerous DIY and commercial products. We are offering Best Pineapple Food Flavour Oil at cost-effective and wholesale prices for commercial users and also provide discounted rates and offers to make them economical for everyone. Our quick delivery and high standards of quality and packaging enable us to deliver effective and high-quality products at your doorsteps.
Vedaoils Pineapple Flavoured Oil is available in packages of 0.100 KG, and 1.0 Kilogram through our website, we are exporting them in various countries like the USA, Australia, and Canada. Our logistics partners like FedEx, Blue Dart, India Post, DHL, etc that make it possible to deliver our products in real-time.
Frequently Asked Questions
WE NOTICE YOU ARE FROM
US & CANADA LOCATION