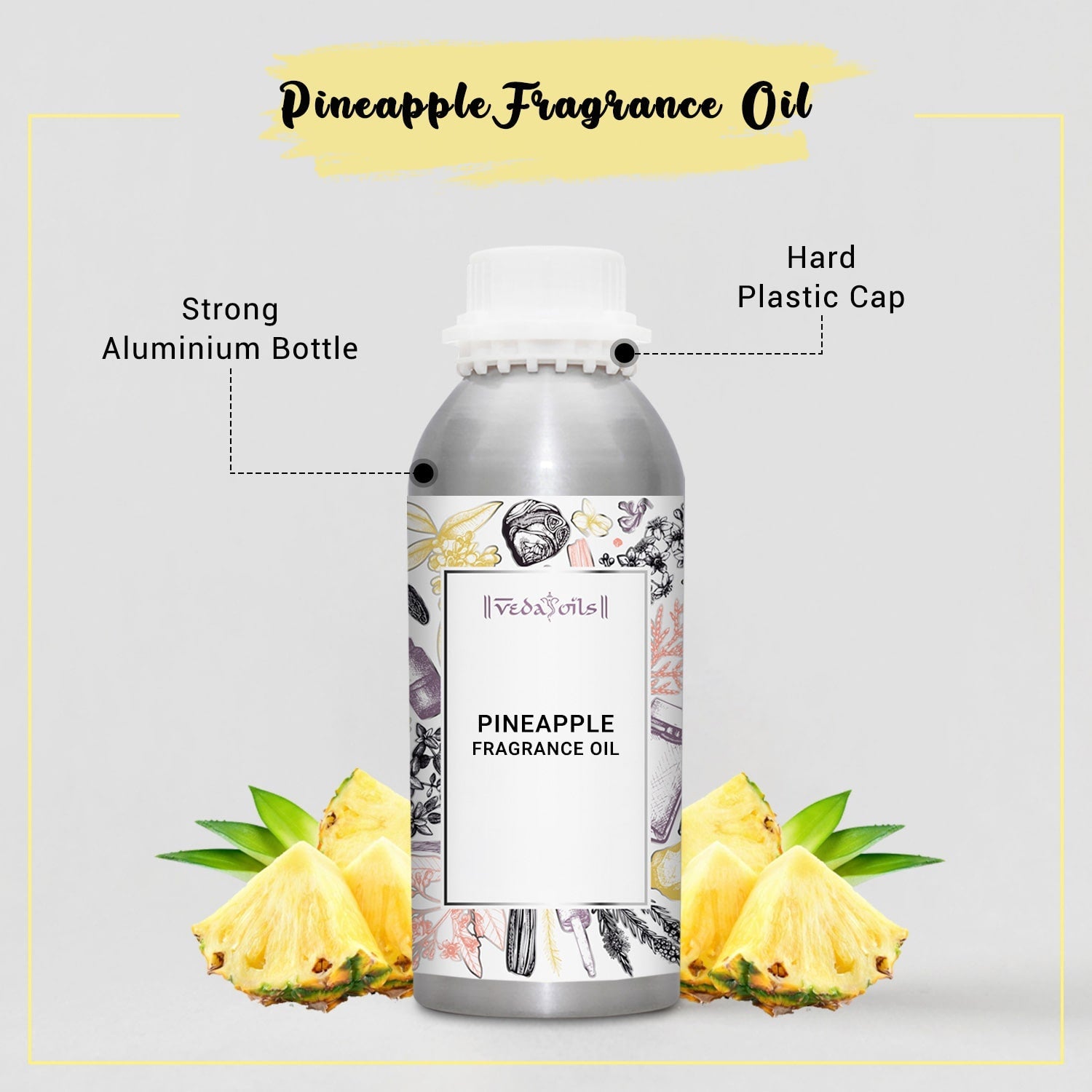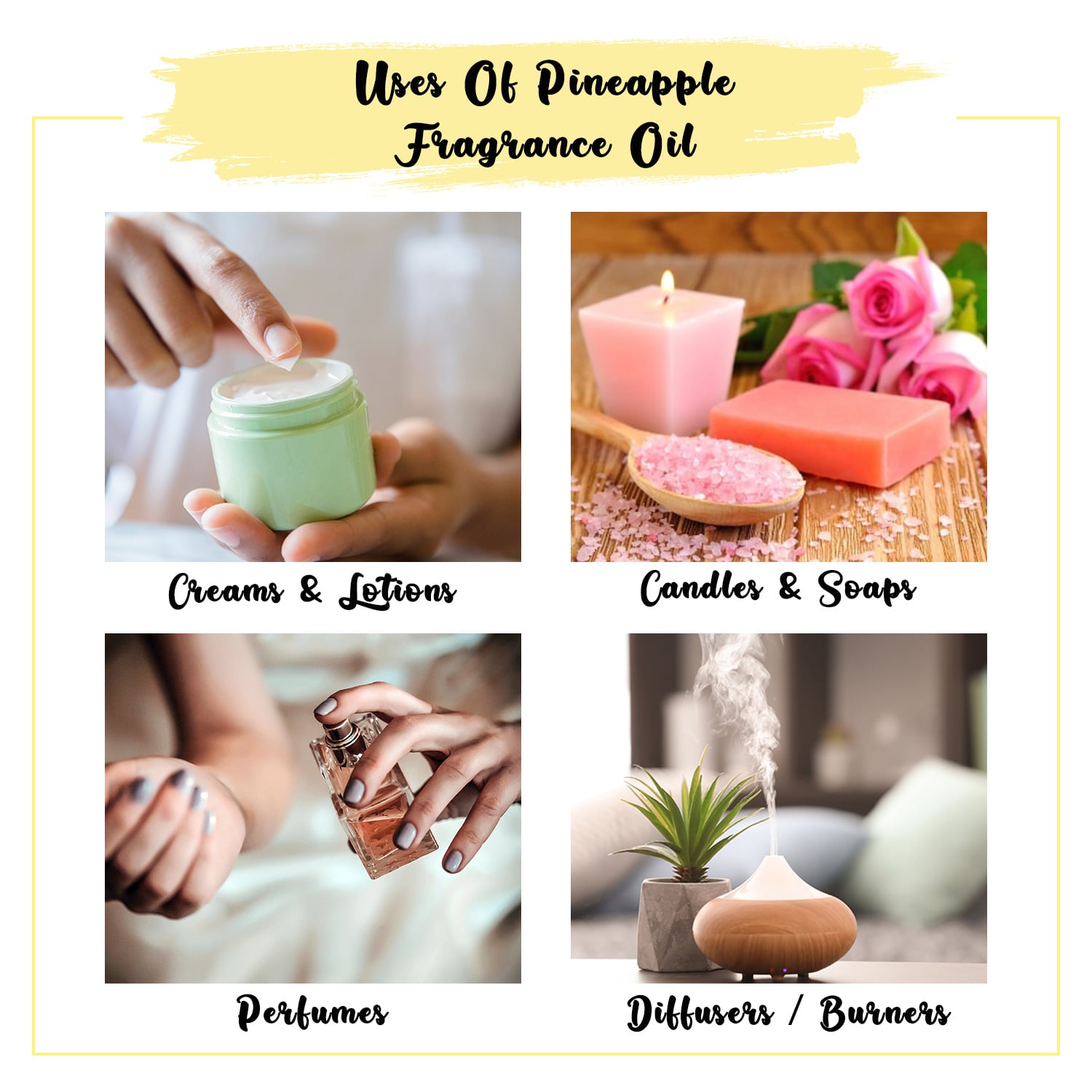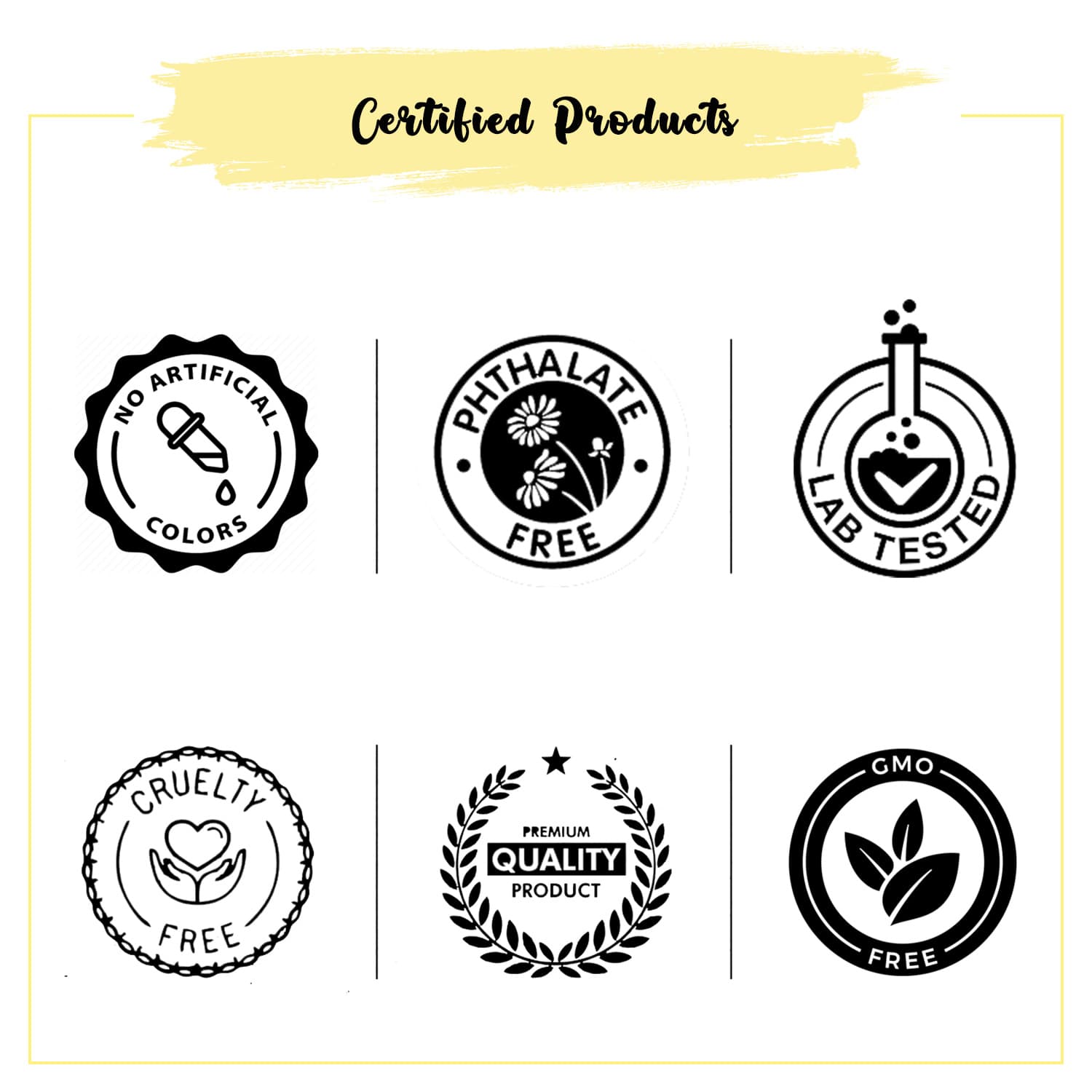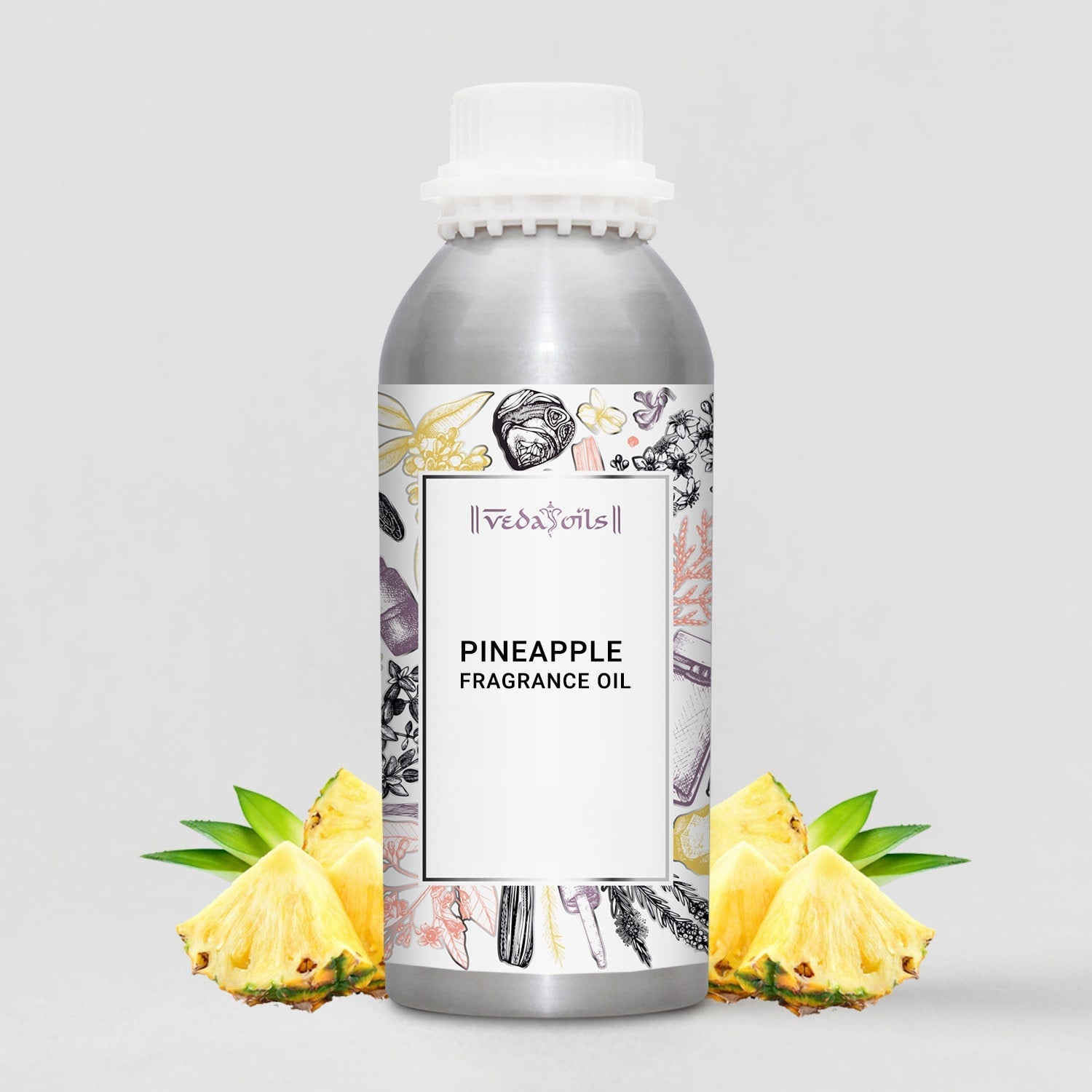 Our Certifications
Pineapple Fragrance Oil
Pineapple Fragrance oil has an exotic aroma that is reminiscent of pina colada and all things tropical. Its invigorating scent will transport you to a beautiful island. The delicious aroma of ripe pineapple extracts will warm your heart and soul. This aroma is completed by the basic notes of Vanilla and Musk, which give it a soft, smoother, and sweeter essence. It is a must-have for your fragrance oil collection.
Pineapple Fragrance Oil is a popular fragrance that is used in the production of perfumes, soaps, bathing products, scented candles, and cosmetic products such as creams, lotions/body lotions, body scrubs, face washes, lip balm, facial marks, hair care products, and facial products. Its fresh and tropical aroma is also added to diffusers, air fresheners, and a variety of other products.
VedaOils believes in only providing high-quality products, so we offer 100% pure pineapple fragrance oil that is homogeneous and safe for use on the skin.
Pineapple Fragrance Oil Uses & Benefits
Scented Soap Making
Pineapple Fragrance Oil's crisp and vibrant fragrance is used to create refreshing and revitalizing soap bars and bathing bars. Because of its homogeneous nature, the fragrance of this oil can easily blend with melt-and-pour soap bases as well as liquid soap bases.
Aromatic Candle
Aromatic candles are also scented with fresh fruit oil to give them a delicate and mellow aroma. Pineapple Fragrance Oil easily gels with soy wax, paraffin wax, beeswax, and other waxes. These candles provide an excellent throw of the fruity tangy pineapple aroma.
Air fresheners or Diffusers
The aroma of pineapple fragrance oil is sweet and tangy, and it is refreshing. Pineapple Fragrance Oil's refreshing and reviving fragrance is used in many air fresheners such as room spray, toilet diffusers, cooler perfumes, and even scented beads because it adds cheer and vibrancy to the space.
Bath & Body Products
Pineapple Fragrance Oil has a sweet, juicy, and tangy aroma that adds a fruity punch to your bathing product. It can be used to make bath and body products such as shower gels, body scrubs, and bathing lotions, among other things.
Body Mist & Splash
Pineapple Fragrance Oil is used to create a base perfume for body mists and body splashes because it gives the impression of walking into a farm full of fresh fruits. These products typically remain in the body for an extended period of time.
Skin Care Products
Pineapple Fragrance Oil is used to create skincare products such as lotions, toners, face mists, cleansers, and so on. This fragrance oil is allergen-free and has a fruity, tangy, and juicy aroma. These products are suitable for use on the skin.
Product Specifications
| | |
| --- | --- |
| Product Name: | Pineapple Fragrance Oil |
| INCI Name: | Parfum |
| Country of Origin: | India |
| Foam: | Liquid |
| Flash Point: | N/A |
| Color: | Pale yellow to amber in color. |
| Aroma: | Fresh, Earthy, and Sweet Floral fragrance |
| Suitable for: | Bath Bombs, Lipsticks, Lip Balms, Facial and Body Scrubs, Creams, Perfume Oils |
| Packaging Type: | As per requirement |
| Storage: | Store in a Cool & Dry place. |
| Shelf Life: | 2 years |
| COA: | |
| MSDS: | |
Packaging Sizes
Please Note: The packaging shown above is a General Representation of the various sizes and types of packaging available for this product. Not all sizes and types of packaging for this product maybe available at all times.
Buy Pineapple Fragrance Oil in the Uk at Wholesale Price
VedaOils is a leading manufacturer, distributor, and wholesaler of premium quality Pineapple Fragrance Oil in the UK. Our Pure Pineapple Fragrance Oil is free from toxins and alcohol-based ingredients. It is also Vegan-friendly and Cruelty-free so that you can add it to any ingredients of your choice. The formula and consistency of this Fragrance oil are perfect for adding in any DIY product as it is highly stable.
We offer Natural Pineapple Fragrance Oil wholesale price in bulk quantities for personal and commercial purposes. This aroma oil has boundless uses and benefits. It is also very versatile. The olfactive notes of this scented oil contain hints of honey, mossy, spicy, and fruity fragrance, which can be used in different ways.
Now you can order pineapple fragrance oil at best-assured prices. Get big discounts, cashback offers, and great deals while buying fragrance oils online from the VedaOils platform. We follow certain packaging standards while packing our high-grade fragrance oil so that you can receive them in perfect condition at your doorsteps.
VedaOils offers its Pure Pineapple Fragrance Oil in packages of different quantities (100ml, 500ml, 1lt) so that you can order them as per your needs from our website. We export our Aroma Oil in bulk quantities to various countries like The USA, Canada, Australia, etc., through our logistic partners DHL, FedEx Blue Dart, India Post, etc.
Frequently Asked Questions
WE NOTICE YOU ARE FROM
US & CANADA LOCATION