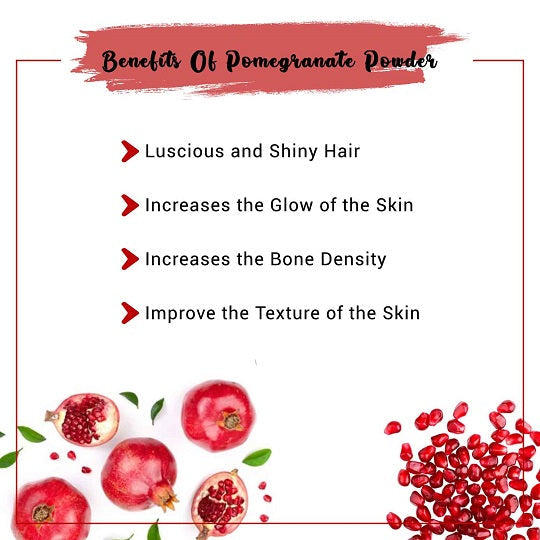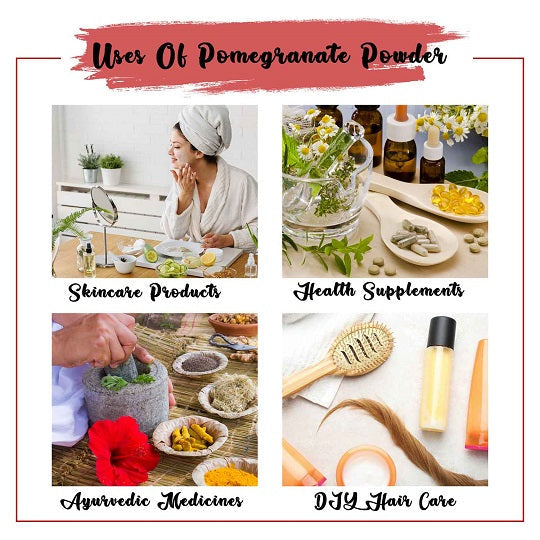 Our Certifications
Pomegranate Powder
Pomegranate Powder is made from the dried seeds of the Pomegranate fruit. It is a rich source of antioxidants which helps to eliminate the free radicals from your skin. This powder contains anti-aging compounds that prevent your skin from sagging and also reduces wrinkles and fine lines to a great extent. It is also packed with the goodness of Vitamin C which is known for its several skin benefits. Therefore, Pomegranate Herbal Powder can be used as a key ingredient in many cosmetic applications especially those that are formulated for face care purposes.
Dry pomegranate seed powder mainly used in skin care applications, pomegranate herbal powder can be used for hair care purposes as its powerful antioxidants stimulate hair growth and help to strengthen the hair roots as well. Completely natural and does not contain any additives or fillers. Therefore, regular use of this herbal powder will not cause any harm to your skin or hair. We have integrated the highest safety and quality standards to maintain the effectiveness and purity of the final delivered products. You cannot ingest Dried Pomegranate Powder as it is meant only for external purposes.
Organic Pomegranate Powder is rich in Vitamin A, K, C, and Vitamin B1, B2, and B3 along with sodium, calcium, and other nutrients. It contains antioxidants and anthocyanidins as well. All these nutritional elements make it an ideal cosmetic ingredient. Pomegranate powder is used for making soaps, creams, face masks, face packs, hair conditioners, hair oils, shampoos, etc. It has a light pink color and is available in a fine powdered form. Its aroma is slightly sweet and fruity. However, it cannot be used to impart fragrance to cosmetic products.
Pomegranate Powder Uses
Moisturizers
Pomegranate Powder keeps your skin hydrated and contains a high level of moisture content. Vitamin C present in this powder works effectively against rough and dry skin. Using Pomegranate Juice Powder regularly on your face via face masks or moisturizers helps to make your skin soft, supple and nourished.
Hair Growth Formulas
Presence of punicic acid in Dried Pomegranate Powder stimulates hair growth and strengthens existing hair follicles. It proves to be an effective ingredient in hair growth shampoos and conditioners. Organic Pomegranate Juice Powder improves blood flow to the scalp and promotes the healthy growth of hair.
Anti-frizz Solutions
Organic Pomegranate Powder can be used as one of the main ingredients in anti-frizz solutions as it smoothes and softens tangled and frizzy hair. Pomegranate collagen powder is an effective hair conditioner as it conditions your hair strands deeply to maintain their texture and shine for a long time.
Face Scrubs
Coarse texture of this natural Pomegranate Powder can be massaged on the face to exfoliate dead skin cells and toxins from it. The exfoliating properties of pomegranate extract powder are often added while making DIY natural face scrubs and exfoliating creams. It also makes your skin fresh and vibrant.
Sunscreens
Pure Pomegranate Powder can block harmful sun rays and can protect your skin from harsh UV light. These uses make it an ideal ingredient in sunscreen lotions and creams. It can be used in skin protection lotions to protect your skin from dry weather, pollution, smoke, dust, and other environmental pollutants.
Disinfectant Creams
Makers of disinfectant creams can add Pomegranate Peel Powder in their products as it contains powerful antiseptic and antibacterial properties. It soothes your skin from infections and its anti-inflammatory effects also help to reduce the swelling and pain that are associated with a skin infection.
Pomegranate Powder Benefits
Slows-down Aging
Antioxidants that are present in Pomegranate Fruit Powder keep aging spots under check and also prevent the formation of wrinkles and fine lines on your face. Pomegranate collagen powder also boosts skin regeneration and proves to be effective when added to anti-aging creams.
Reduces Acne & Breakouts
Antimicrobial properties of Pomegranate Powder help to tackle the harmful bacteria and fungus that may promote the formation of acne breakouts. It is possible due to the vitamin C present in high quantities in Pomegranate Powder. It provides relief from skin ailments.
Strengthens Gums
Some researchers have confirmed the benefits of Pomegranate Powder when it comes to supporting oral health. It also tightens loose teeth and improves the health of your gums naturally. Makers of mouthwashes and other oral care products may add them to their products.
Maintains Hygiene of Skin
Cleansing effects of Pomegranate Powder can prove to be effective in maintaining the health and hygiene of your skin. Organic pomegranate juice powder removes dirt, oil, dust, and other toxins from your skin and helps you to make your face fresh and lively.
Hydrates Skin
Pomegranate Powder is used in several home remedies especially when it comes to healing dry and flaky skin. This is possible due to the moisturizing properties of this powder that helps to keep your skin hydrated. It is beneficial for both dry, patchy, or oily skin.
Improves Skin Tone
Pomegranate Powder improves your skin tone naturally and also helps to remove whiteheads or blackheads from your face. For that, you can mix it with yogurt and apply the paste to your face regularly. It keeps your face free from blemishes and aging spots.
Product Specifications
| | |
| --- | --- |
| INCI Name: | Pomegranate (Punica Granatum) Powder |
| Raw Material Source: | Seeds of Pomegranate fruit |
| Manufacturing Process: | Pomegranate fruit seeds are dried first and then they are crushed thoroughly to obtain a fine powder. It is a 100% pure and organic product with no added chemicals or additives. |
| Tested On Animals?: | No |
| GMO: | GMO-Free |
| Vegan: | Vegans can use it because it does not contain any animal-derived components. |
| Shelf Life: | 2 years |
CAUTION: It is meant for external purposes. Keep it away from the reach of your kids and avoid direct contact with eyes
Packaging Sizes
Please Note: The packaging shown above is a General Representation of the various sizes and types of packaging available for this product. Not all sizes and types of packaging for this product maybe available at all times.
Buy Pomegranate Powder Online in UK at Best Price
VedaOils is one of the prominent manufacturers, suppliers, & wholesale distributors of natural Pomegranate Powder and other herbal powders in UK. Our products are trusted all over India for their high quality and purity. No artificial colors, preservatives, or fragrances are added while making pomegranate powder. Hence our pomegranate powder is 100% natural and organic.
Order Pure Pomegranate powder online through VedaOils' shopping portal according to your requirements. We deploy high standard delivery to ensure that the best quality product reaches you in time. Pomegranate powder is now available in packets of 100gm, 500gm, 1kg, and 5kg.
You can also Buy Pomegranate Powder in Bulk at wholesale prices from us. We offer discounts and wholesale rates for bulk purchases. you can leave a query in our Bulk Enquiry section to buy organic pomegranate powder at the best price in United Kingdom.
Frequently Asked Questions
WE NOTICE YOU ARE FROM
US & CANADA LOCATION