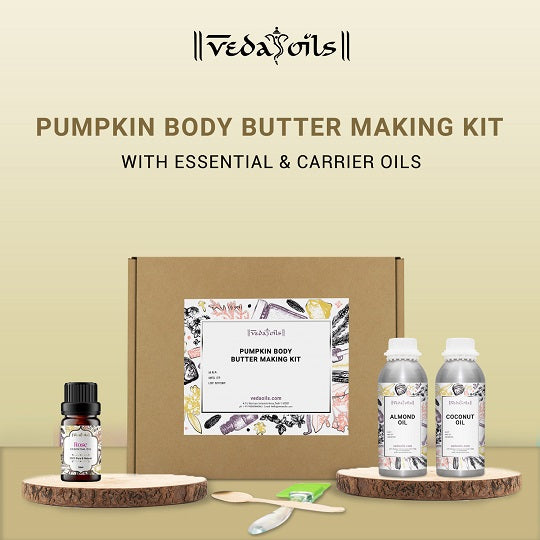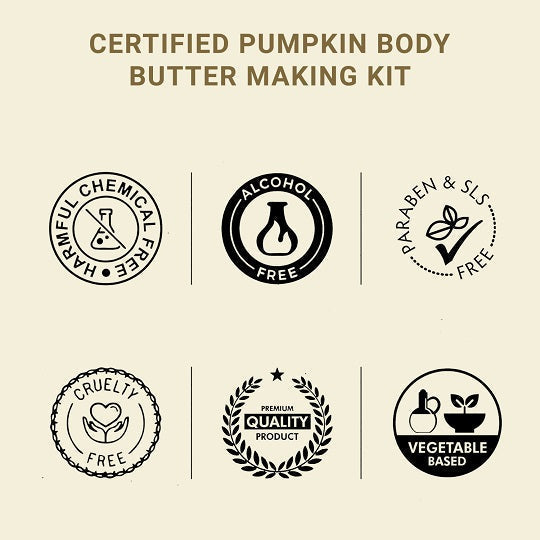 Our Certifications
Pumpkin Butter Body Butter Making Kit
Want to indulge your Body into the richness of intense moisturization? What's better than homemade body butter? We at Vedaoils have made the job much easier for you. Presenting "The ideal kit" - VedaOils Pumpkin Body Butter DIY Kit. Start your DIY journey with this easy DIY kit for a wonderful homemade whipped body butter experience. The end result is a delightful, fluffy body butter that is full of vitamins and antioxidants and that your skin will adore.
Pumpkin Body Butter Kit has everything you need to make your own homemade whipped Pumpkin body butter. Pumpkin Butter, Sweet Almond Oil, Virgin Coconut Oil, Rose Essential Oil, a recipe card, Spoon, Spatula and two empty jars to hold your finished whipped body butter are all included in the set. Give some away as gifts to friends and family and keep some for your own skin. Being an all natural recipe with organic ingredients we are sure of it to be great for all skin types.
Whipped Pumpkin Body Butter Making Kit Ingredients
Soy Body Butter- Soy beans, which are highly rich in lecithin, sterolins, vitamin E, omega-3 fatty acids, and isoflavones, are the source of soy butter. This butter absorbs quickly into the skin, making it a powerful moisturizer for soothing dry, chapped, and damaged skin and rehydrating the lipid barrier. It spreads well on the skin, making it perfect for use as a body balm basis or as a massage butter.
Sweet Almond Oil- It is well recognized that organic almond oil works well for restoring skin that has been harmed by pollution, sunlight, dust, and other environmental causes. Natural almond oil helps your skin cells retain moisture and nutrients for a long time when applied topically. Your skin does not grow dry or irritated as a result.
Virgin Coconut Oil- Due to its wide range of advantages, virgin coconut oil, which is extracted from fresh coconut meat, is frequently referred to as a superfood for skin. Coconut oil is a great way to moisturize your rough, dry skin and it also helps to relax tense muscles. This oil has antiseptic qualities that make it particularly good for your skin due to the presence of fatty acids.
Rose Essential Oil- Rose essential oil's deep floral perfume will fill your spaces with a captivating and revitalizing aroma that closely resembles a real rose flower. Your skin receives intense hydration and nourishment from pure rose essential oil. Its antimicrobial and antifungal characteristics help your cosmetics stay longer. As a result, you can use it as a natural preservative for your skincare and cosmetic applications.
Homemade Pumpkin Body Butter - Recipe Steps
Mix Ingredients
Add 1 Cup Pumpkin Body Butter, 50 Ml each of Almond Oil & 50 Coconut Oil in a Bowl.
Melt Ingredients in Double Boiler
Now Use a double boiler on Low heat to melt the ingredients properly.
Add Essential Oils
Add 5 Drops of Rose Essential Oil in the Mixture
Cool Down
Now place the mixture in the bowl and put it in a Refrigerator for 2-3 hours or until it is firm but not completely solid.
Whip Mixture
Use a Mixing machine to Whip the mixture for 4-5 minutes or until you get the desired consistency.
Store Whipped Butter in Jars
Store the freshly whipped Pumpkin body butter in the Plastic jars and cover them with the lids provided.
Product Specifications
Pumpkin Body Butter

:
Homemade

Pumpkin

Body Butter DIY Kit
Brand:
VedaOils

Pumpkin

Body Butter:
250 Gm
Almond Oil:
100 Ml
Coconut Oil:
100 Ml
Rose Essential Oil:
10 Ml
Empty Glass Jar with Lids ( 100 Ml):
2 Units ( Plastic)
Measuring Jar:
1 Unit
Gloves
1 Unit
Spoon:
1 Unit
Spatula:
1 Unit
Pumpkin Butter Soap Making Kit at Low Price
VedaOils is top wholesale dealer and supplier of Natural Pumpkin Body Butter Making Kit & Other Body Butter Kits. We take great satisfaction in offering high-quality products because we only stock organic and natural items. This natural body butter kit has everything needed to get started producing your own whipped body butter, making it the ideal supply for anyone looking to make their own body butter on a budget or for fun.
VedaOils provides a vegan-friendly Organic Pumpkin Body Butter Making Kit that is devoid of any materials produced from animals. There are no additives present in the ingredients, such as synthetic scents or dyes. You can buy an Organic Pumpkin Body Butter Making Kit at the lowest price in United Kingdom from the VedaOils online store.
To guarantee that the body butter making kit we give you contains only the highest quality ingredients, we adhere to strict packaging and quality control standards during the packing process. To assure the safety of our products, we vacuum seal them. Our logistics partner, DHL, FedEx BlueDart, India Post, etc., delivers our kit to destinations throughout the world.
Frequently Asked Questions