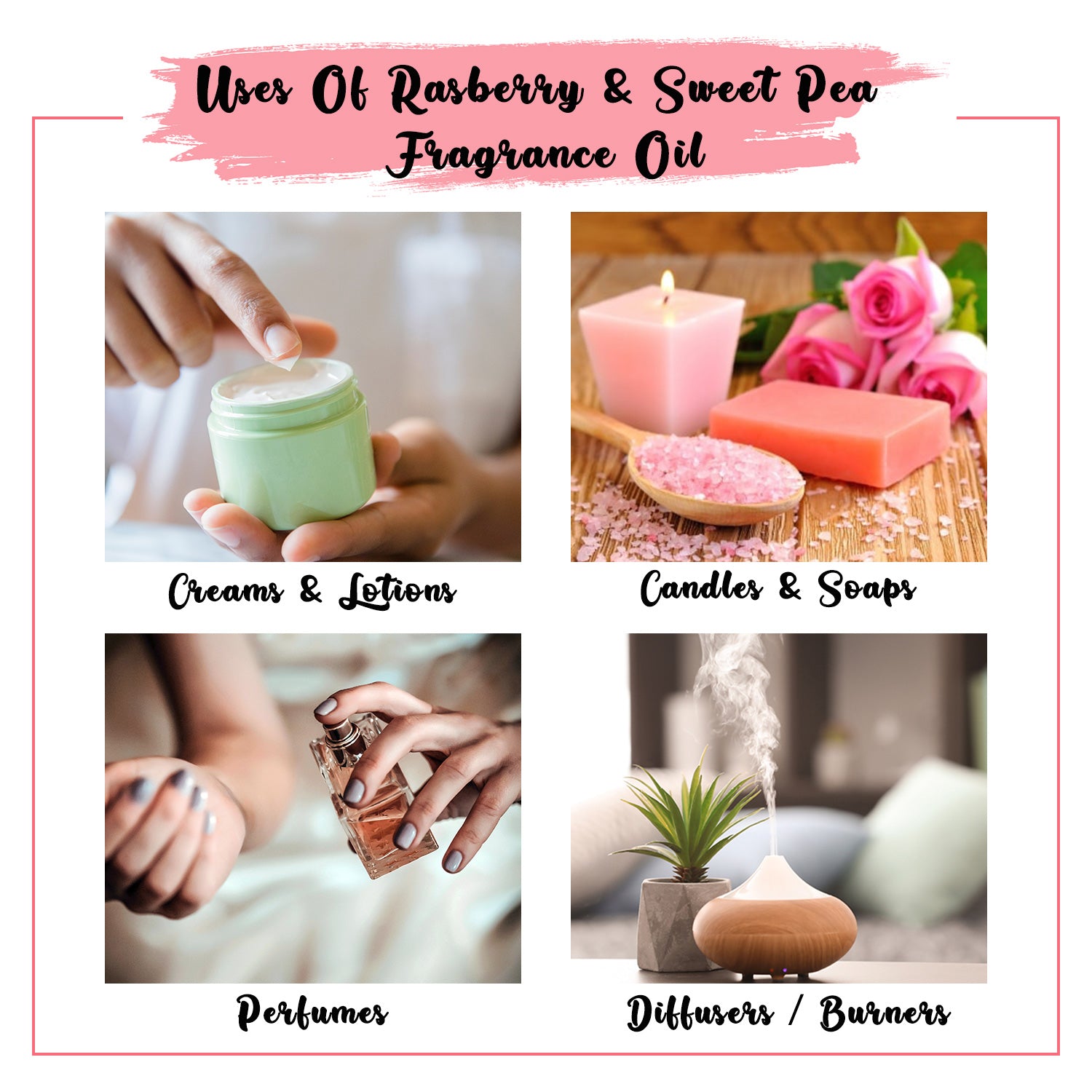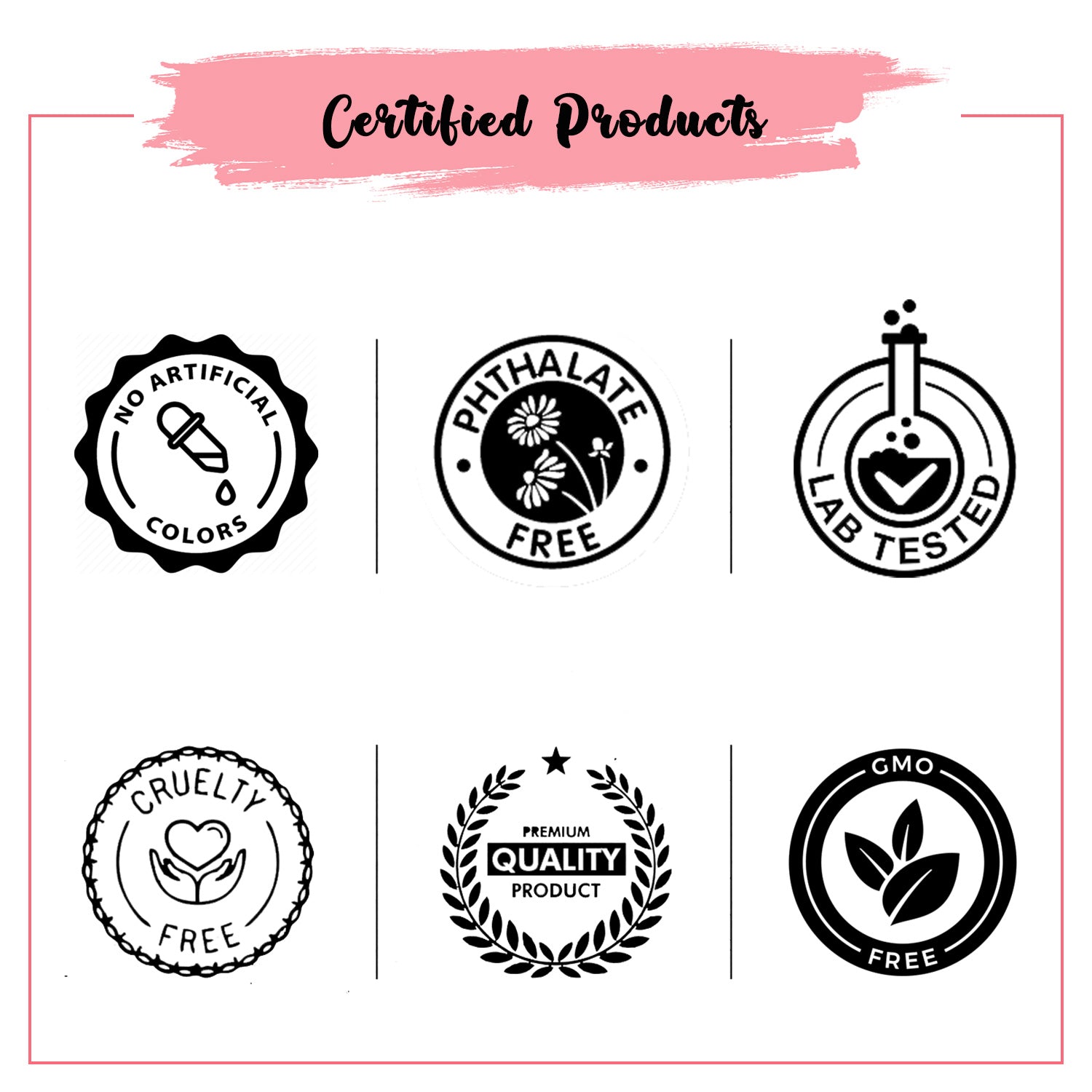 Our Certifications
Rasberry & Sweet Pea Fragrance Oil
The delightful and subtle aroma of Raspberry & sweet Pea fragrance oil is one out of the world fragrance one cant resist. This fruity fragrance oil comes the fruity and floral aromas of raspberries and sweet peas. This fragrance oil curates a refreshing and uplifting atmosphere which is perfect for any environment.
It has a sweet and tangy scent of raspberries which is complimented by the soft, delicate floral notes of sweet peas, creating a perfect balance of fruity and floral aromas. This fragrance oil is perfect for use in a variety of applications, such as diffusers, candles, and body care products. It can be used to create a calming and relaxing environment in your home or to add a refreshing scent to your bath and body products.
Raspberry & Sweet Pea Fragrance Oil Uses & Benefits
Soap Making
Raspberry & Sweet Pea Scented Oil is intensely formulated to obtain the most natural scents that can be easily added while making different kinds of soaps. This fragrance oil is free from allergen or gluten so it is safe for the skin.
Scented Candles
Luxurious and strong aroma of organic raspberry & sweet pea fragrance oil is suitable for making scented candles which instantly energizes the mood. The Relaxing scent of these candles makes the atmosphere comforting and calming.
Air fresheners or Diffusers
Many reed diffusers and air fresheners use raspberry & sweet pea perfume oil, It diffuses a vibrant, jolly, and uplifting scent which helps in sleep and calm anxiety. Raspberry & Sweet Pea is effective for eliminating unpleasant odour from the atmosphere.
Incense sticks or Agarbatti
Raspberry & Sweet Pea Spa Scented Oil is used to make scented Incense Sticks or Agarbatti which throw a refreshing and calming scent. These incense sticks can be used while doing Yoga, Meditation, Prayer, etc., to calm the mind.
Perfumes & Body Spray
Perfume, roll on, and body mists use raspberry & sweet pea breeze fragrance oil to create a signature scent that will keep body fresh and energizing throughout the day. The perfumes have a rich scent so they leave a clean and elegant trail.
Skin Care Products
Sensitive and mild aroma of raspberry & sweet pea perfume oil is used to make products like Toners, moisturizers, lotions, face packs, etc. These products do not trigger sensitivities or allergies so, it is completely safe on skin.
How to Use Raspberry & Sweet Pea Fragrance Oil?
Aromatic Candle: You can make your favourite pure raspberry & sweet pea scented candles by imbuing them with calm and comforting Fragrance oil from VedaOils. All you need is to mix 2 ml of fragrance oil for 250 grams of candle wax flakes and let it sit for a couple of hours. Make sure you measure your quantities correctly so that the fragrance doesn't bother your sensitivities.
Relaxing Aromatic Bath: Reviving and restoring an aromatic bath in a bathtub helps to relax the mind and body. To enjoy the most amazing aromatic bath You can add 5-6 drops of your favourite raspberry & sweet pea breeze fragrance oil in a bathtub full of lukewarm water. Viola! Your aromatic bath is ready for you.
Scented Soap Making: A lightly scented soap bar is appreciated by everyone. Using the fragrance soap helps to provide a luxurious bathing experience. To make your favourite bathing or soap bar you need to add 5 ml of your favourite natural raspberry & sweet pea scent oil in a 1ltr soap base and let it sit for a day or so.
Skin Care and Cosmetic Products: Mild and gentle scented cosmetic products and skincare products are liked by almost everyone. But make sure you use this Fragrance oil in a very little proportion to not react to the skin.
Tip: Make sure you use the Organic Raspberry & Sweet Pea Perfume Oil in calculated quantities so that it does not react with your skin. You must also conduct all the necessary tests before you apply any of the products directly to your skin.
Product Specifications
| | |
| --- | --- |
| Product Name: | Raspberry & Sweet Pea Fragrance Oil |
| Country of Origin: | India |
| Foam: | Liquid |
| Color: | Transparent to Pale Yellow |
| Aroma: | Raspberry & Sweet Pea |
| Suitable for: | Bath Bombs, Lipsticks, Lip Balms, Facial and Body Scrubs, Creams, Perfume Oils |
| Packaging Type: | As per requirement |
| Storage: | Store in a Cool & Dry place. |
| Shelf Life: | 2 years |
| COA: | |
| MSDS: | |
Packaging Sizes
Raspberry Sweet Pea Fragrance Oil In UK
VedaOils best natural raspberry & sweet pea perfume oil from has a very natural and invigorating scent as it is extracted from the real raspberry & sweet pea plant in the United Kingdom. This scented oil has boundless uses and benefits because of its versatile nature. The olfactive notes of this scented oil contain nuances of different flowers and gourmet aroma which makes it even more unique.
VedaOils is a leading manufacturer, distributor, and wholesaler of premium quality Raspberry & Sweet Pea Scent Oil. We offer our products at a wholesale price and in bulk quantities. Our Aroma Oil is free from toxins and alcohol-based ingredients. It is also Vegan-friendly and Cruelty-free so you can add it to any ingredients of your choice and use it guilt-free. The formula and consistency of this Fragrance oil are perfect for adding in any DIY product as it is highly stable.
We follow certain packaging standards while packing our high-grade fragrance oil so that you can receive them in perfect condition at your doorsteps. VedaOils offer its Raspberry & Sweet Pea Fragrance Oil in packages of different quantities (100ml, 500ml, 1L, 5L) so that you can order them as per your needs from our website. We export our Aroma Oil in bulk quantities to various countries like The USA,Canada, Australia, etc. through our logistic partners DHL, FedEx Blue Dart, India Post, etc.
Frequently Asked Questions
WE NOTICE YOU ARE FROM
US & CANADA LOCATION