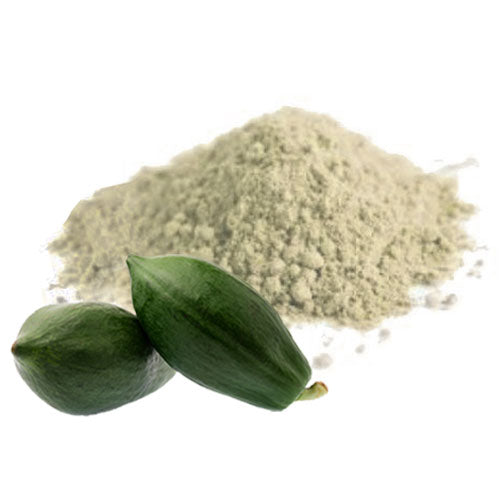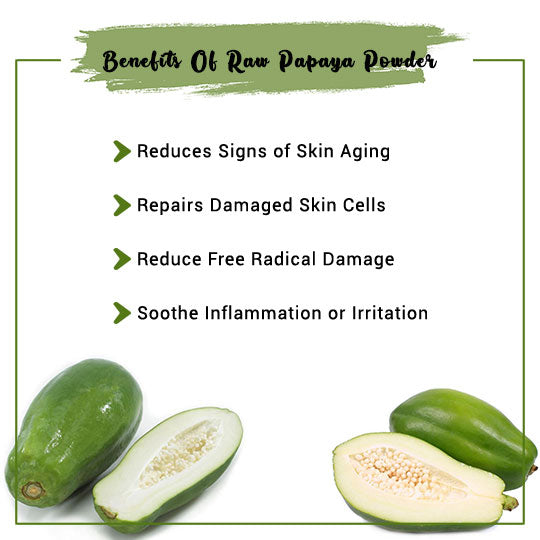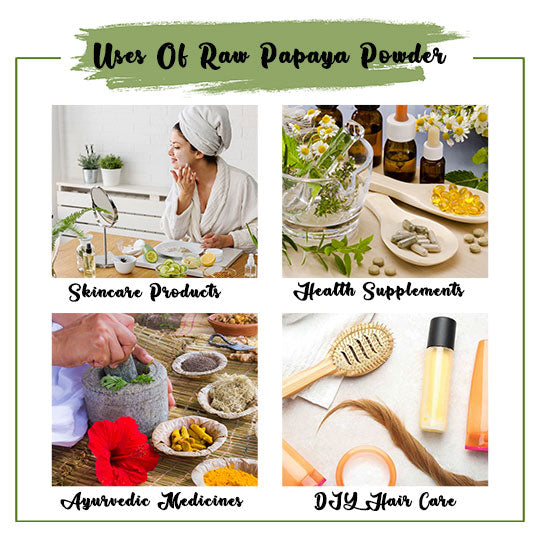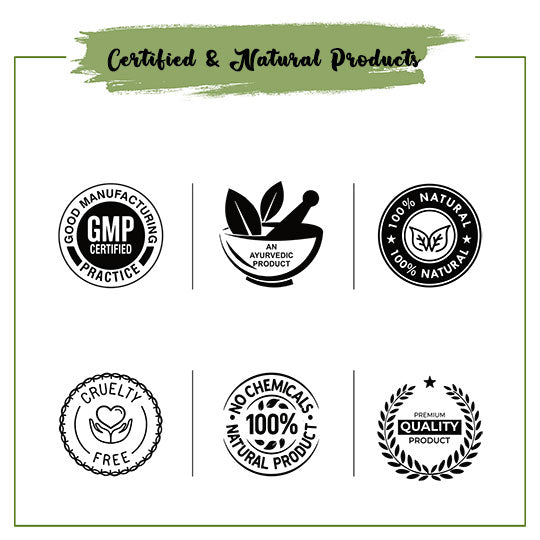 Our Certifications
Raw Papaya Powder
Raw Papaya Powder is prepared from still green, tough, immature, raw papaya fruits (Carica papaya) and is used in a wide range of cosmetic products, Ayurvedic formulations, industrial ingredients, pharmaceutical formulations and personal care products. This product is completely natural, best in quality, free from harmful chemicals, cruelty free, vegan friendly and ethically produced.
Natural Raw Green Papaya Powder is a rich source of papain, which is a proteolytic enzyme extracted from the raw, tough, green fruit. These proteolytic enzymes are known to help in breaking down proteins into smaller fragments known as peptides and amino acids. Unripe papaya powder helps in reducing pain, relieving inflammation and swelling. It has also been used since ancient times to improve digestive tract activities, along with treating infections, diarrhea and allergies.
Just like the fiber in the raw, green papaya fruit cleanses your body of harmful toxins internally, using the raw green papaya powder in your routine can help with combating difficult skin conditions such as acne, blemishes, acne marks, dark circles, pimples and hyperpigmentation. Organic Unripe Papaya Powder is known to have best in class dead cell dissolving properties and is hence the best beauty product you can utilize in your daily skincare routine.
Raw Papaya Powder is known to be a great, high quality tenderizer for meat and is widely used in tenderization industries for preparation of good quality, soft and tender lean meat. It is also rich in fibers which can help in relieving digestive tract problems like chronic constipation, acidity, piles and such. Papain present in Raw Papaya Extract Powder can help provide your body a wonderful deep cleanse from the inside and is known to be a miraculous remedy for problematic skin. Apart from this, it is also rich in antibacterial, antifungal and antimicrobial properties which can help prevent infection.
Raw Papaya Powder Uses
Sore Throat Relieving
Used in preparation of sore throat relieving formulations. Natural raw papaya powder contains papain which is good ingredient for relieving symptoms of sore throat such as swelling, pain and redness.
Inflammation Relievers
Used in manufacturing of inflammation relieving formulations. Unripe papaya powder contains proteolytic enzymes which relieves redness, soreness, pain and inflammation, and soothing inflamed areas.
Face Scrubs
Rich in papain effective exfoliating properties, raw green papaya powder can be used in preparation of face scrubs. It helps in deep cleansing your skin and nourishes your cells, giving your skin radiant glow.
Face Packs
Organic raw Papaya Powder can be used in preparation of face packs. Antioxidants of this product penetrate deep into skin and help in removal of dead skin cells without stripping skin of natural oils.
Anti-Ageing Creams
Antimicrobial, antibacterial and antifungal properties with antioxidant richness, green papaya extract powder, used in preparation of anti ageing creams. Prevents fine lines, and wrinkles providing radiant glow.
Muscle Strain Relievers
Raw papaya powder used in preparation of muscle strain relieving formulations, also called protease supplements. They can help relieve muscle soreness, muscle strains and muscle pain after long periods of exercise.
Raw Papaya Powder Benefits
Anti-inflammatory Properties
Proteolytic enzymes present in natural raw green papaya extract powder is known to have anti-inflammatory properties. It can help reduce inflammation after injury or trauma.
Aids Digestion
Different kinds of miraculous compounds present in raw papaya powder are known to be helpful in aiding digestion. It helps ease digestive issues like constipation, bloating.
Heals Wounds
The raw papaya powder is rich in papain, a compound which is a known ingredient to heal wounds. It can be used as a natural remedy for healing ulcers, wounds and other skin conditions.
Eases Muscle Soreness
Organic raw green papaya powder used in preparation of protease supplements. They can help in relieving muscle soreness and easing muscle pain after strenuous exercises.
Anti-Ageing Properties
Unripe green papaya powder is rich in antimicrobial, antifungal and antibacterial properties. It is rich in antioxidants which prevents fine lines, wrinkles and other signs of ageing.
Deep Cleanses Skin
Renowned and revered best in class exfoliating properties of the raw papaya extract powder are beneficial in cleansing skin. It penetrates deep into skin, removes dead cells and nourishes skin.
Product Specifications
| | |
| --- | --- |
| Product Name: | Raw Papaya Powder |
| INCI Name: | Carica Papaya |
| Raw Material Source: | Unripe mangoes |
| Manufacturing Process: | The unripe mangoes are dried first and then crushes and processed into a fine powder. |
| Tested On Animals?: | No |
| GMO: | It is GMO-free but does not contain a certificate for it. |
| Vegan: | Vegans may also use amchur powder as it is free from animal-derived components. |
| Shelf Life: | 2 years |
CAUTION: It is meant for external purposes. Keep it away from the reach of your kids and avoid direct contact with eyes
Packaging Sizes
Please Note: The packaging shown above is a General Representation of the various sizes and types of packaging available for this product. Not all sizes and types of packaging for this product maybe available at all times.
Buy Raw Papaya Powder Online in UK At Wholesale Price
Vedaoils is one of United Kingdsom's prominent manufacturers, suppliers, and wholesale distributors of Organic Raw Green Papaya Powder and other herbal powders. Our products are trusted all over UK for their high quality and purity. No artificial colours, preservatives, or fragrances are added while making natural raw papaya powder. We perform numerous tests and quality checks to ensure that only Unripe Papaya Powder's premium quality reaches you.
We also employ the highest quality and delivery standards to supply the desired results of our amchur Powder. Shop Raw Green Papaya Powder Online for industrial use, Skincare products, Hair care products, and other uses through Vedaoils Online Portal at affordable prices. Vedaoils unripe papaya extract powder is 100% organic and contains all these qualities. In addition, our portal uses a secure payment gateway to run smooth and safe transactions.
Order Green Papaya Juice Powder Online through Vedaoils shopping portal according to your requirements. We deploy high-standard delivery to ensure that the best quality product reaches you in time. We export Raw Amchur Powder in bulk quantities to The USA, Canada, Australia, and many more countries using our logistic partners DHL, FedEx Blue Dart, India Post, etc. You can also buy Amchoor Powder in Bulk at wholesale prices from us. We offer discounts and wholesale rates for bulk purchases. Leave a query in our Bulk Enquiry section to order organic green papaya powder at the lowest price in UK.
Frequently Asked Questions
WE NOTICE YOU ARE FROM
US & CANADA LOCATION