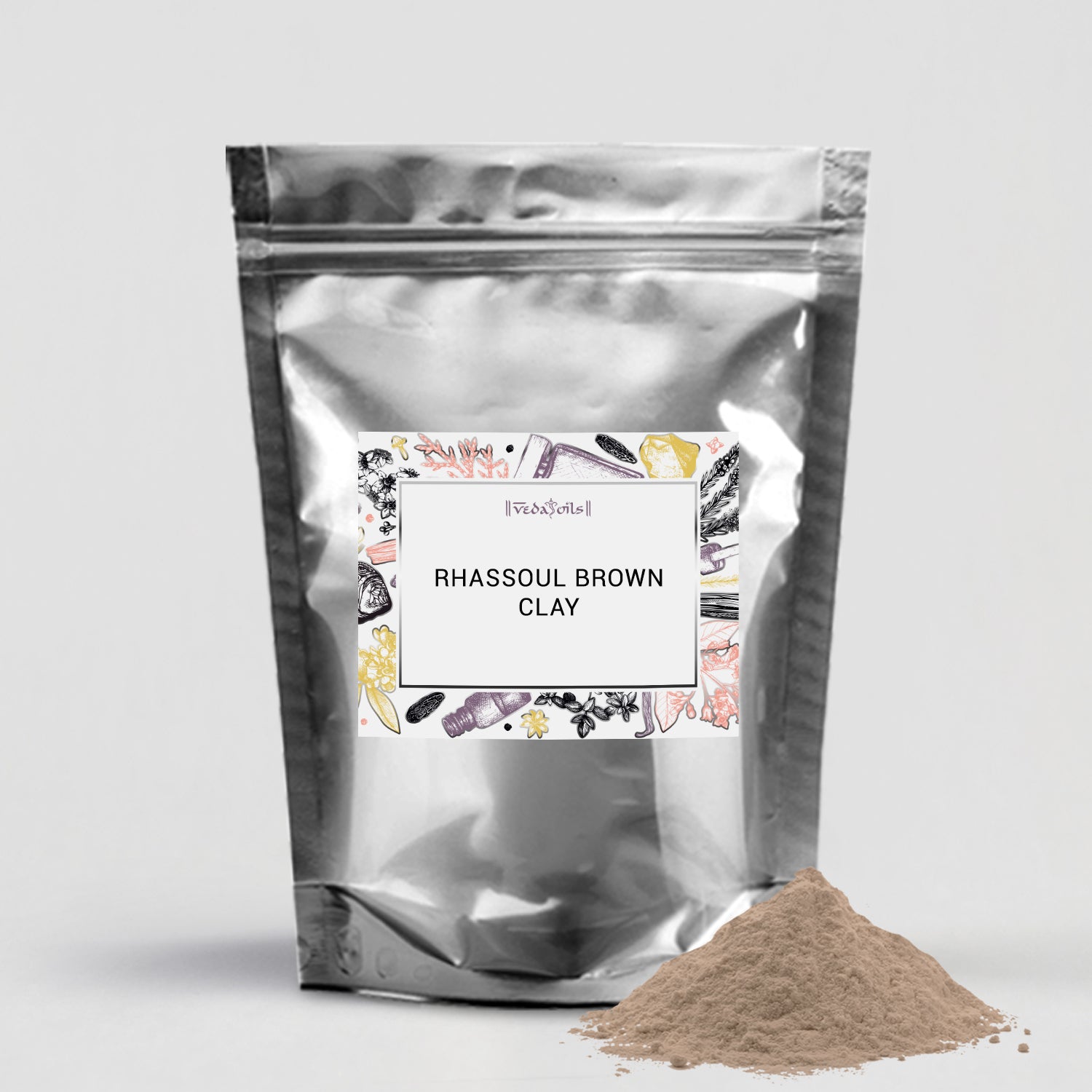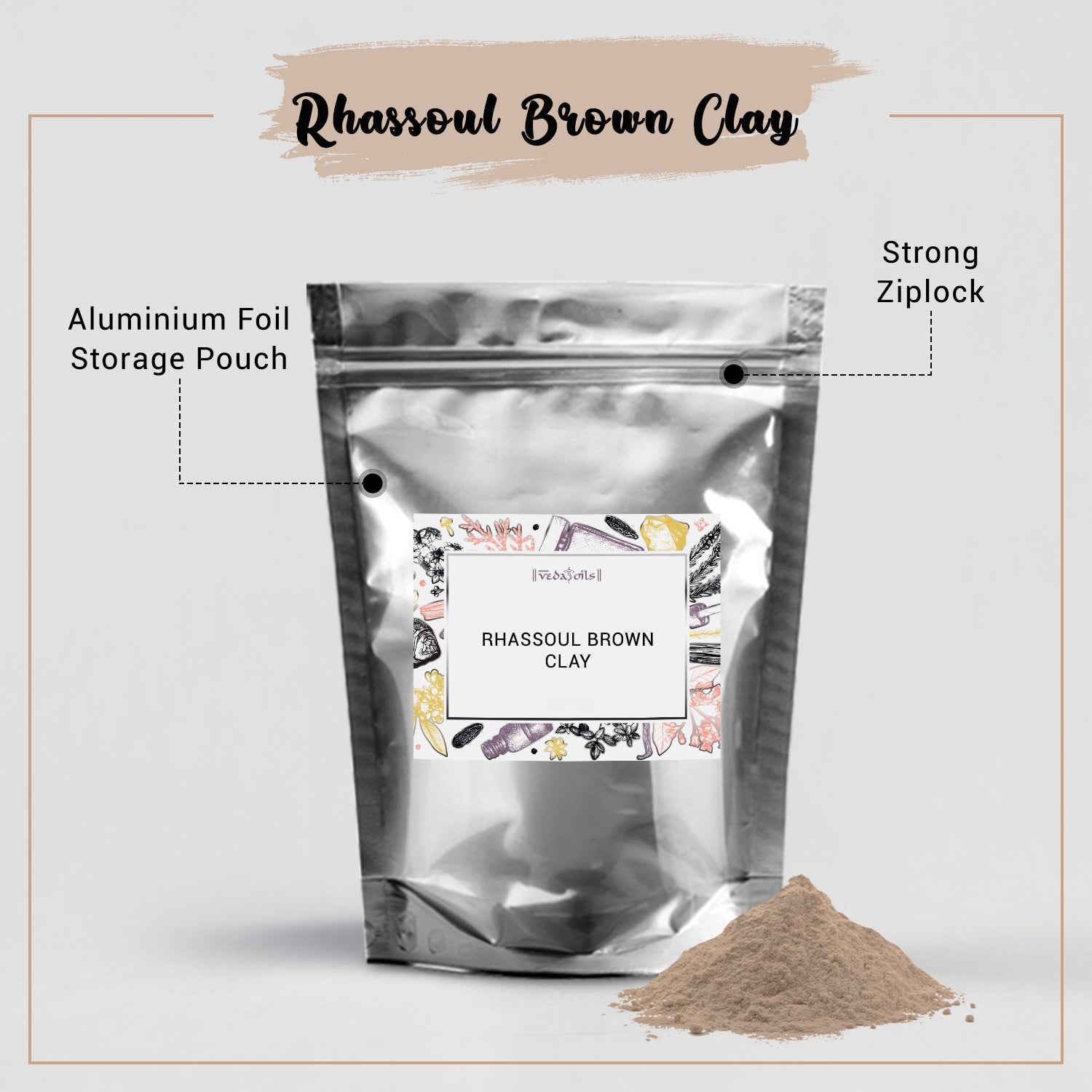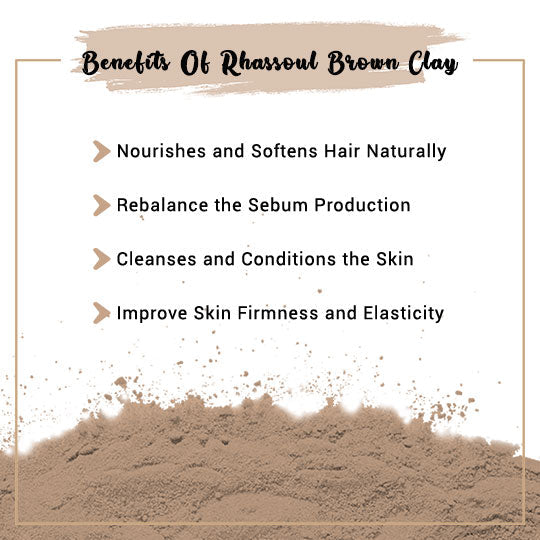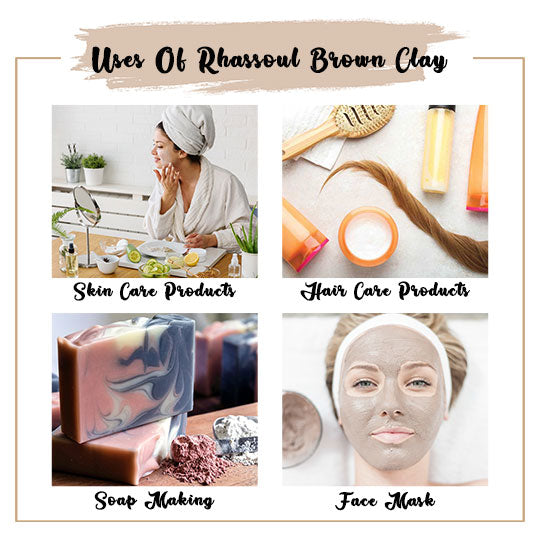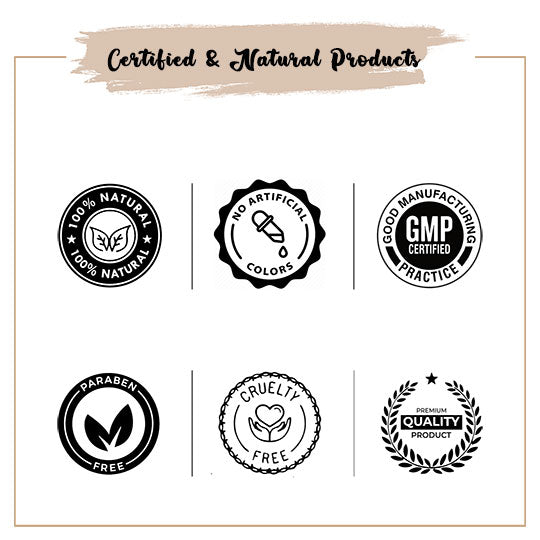 Our Certifications
Brown Rhassoul Clay
Brown Rhassoul Clay comes from the fertile land of the Brown Atlas Mountains. This organic and natural Rhassoul Brown Clay Powder is formed from volcanic ashes and geothermal activities. This mineral-rich unearthed clay including iron, magnesium, silica, sodium, potassium, and lithium. The reddish-brown color of Pure Brown Rhassoul Clay Powder is due to its high mineral content and essential natural elements.
The soothing and revitalizing Rhassoul clay contains mineralized ingredients that enhance the quality of skin and hair. This Clay prevents skin dryness, itchiness, and irritation. It also helps in easing the symptoms of inflammation like redness; swelling, etc. organic brown rhassoul clay is effective for enhancing skin clarity by reducing the acne and its scars. It has excellent extractive abilities which remove the blackheads and whiteheads from the skin. It also seizes the impurities and dirt from the pores.
The restoring capabilities of pure brown rhassoul clay are used in various spas and salons for hair and scalp treatment, Powdered Rhassoul Brown Clay productively cleanses the hair by removing greasiness, oiliness, and impurities from the scalp. It also leaves hair shiny, bouncy, and voluminous.
The Pure Brown Rhassoul Clay Powder from VedaOils has therapeutic and remineralizing properties which are widely used for making various DIY products. Our organic Brown Rhassoul clay powder does not contain any chemicals, toxins, alcohol, preservatives, or additive so it is completely safe for your skin.
Brown Rhassoul Clay Uses
Facial & Body Scrubs
Exfoliating and extracting abilities of the pure brown rhassoul clay are used for making facial and body scrubs as it unclogs the pores and makes skin smooth and soft. It also increases blood circulation.
Soap Making
Organically unearthed Brown Rhassoul Clay is used for making soap bars and bathing bars as it has cleansing and rejuvenating properties. Rhassoul Brown Clay powder effectively helps in lessening skin dryness.
Hair Conditioner & Mask
Haircare products like conditioners, hair masks, and cleansers use Rhassoul Brown Clay powder as it has remineralizing properties which make the hair and scalp healthy. It treats various scalp issues.
Face Mask
You can create DIY Facial masks using Brown Rhassoul Clay by adding your favorite ingredients like essential oil, hydrosol, toners, floral water, etc to restore and freshen your skin health.
Bathing Products
Bathing bars, bath bombs, bath salts, and many other bathing products use organic Brown Rhassoul clay powder as it effectively helps to get rid of dead skin cells and promote cell generation.
Skincare Products
Many Clay-based beauty and skincare products use Brown Rhassoul clay powder as it absorbs the oil and dirt from the skin providing it with a matte finish. It also reduces the growth of acne and pimples.
Rhassoul Brown Clay Benefits
Cleanses Skin
Extracting abilities of brown rhassoul clay helps to suck out all the impurities and toxins from the skin. It also deeply cleanses the clogged pores making it appear smoother and shinier.
Smoother & Softer Skin
Application of brown rhassoul clay helps in the generation of new skin cells it also helps to get rid of the damaged and dead skin cells which make skin's texture soft and supple.
Restores Hair Health
Essential elements and minerals present in powdered brown rhassoul clay make hair strands and scalp healthy. It strengthens the roots and restores all the beneficial nutrients in the hair.
Reduce Acne & Pimples
Excess oil and sebum effectively hamper the growth of acne and pimples. Brown rhassoul clay powder also wards off harmful bacteria and free radicals which causes skin inflammation.
Reduces Blemishes and Marks
Rhassoul brown clay has skin lightening qualities which help to diminish the blemishes, acne scars, stretch marks, wound and cut marks, etc and making skin's appearance even and bright.
Heals Diaper Rashes
Babies often face a problem of diaper rashes which cause irritation, redness, itchiness, and many allergic reactions. Use of Rhassoul brown clay powder will soothe the skin and make it rashes-free.
Packaging Sizes
Please Note: The packaging shown above is a General Representation of the various sizes and types of packaging available for this product. Not all sizes and types of packaging for this product maybe available at all times.
Buy Brown Red Clay Powder at Wholesale Price
VedaOils is the leading Bulk Manufacturers, distributor, supplier, and wholesaler of the Best-quality Brown Rhassoul Clay Powder Online in United Kingdom. Our mineral-rich and high-quality clay powder effectively enhance skin and hair health. Our clay powders are available at a very affordable price on our website.
Our Rhassoul Brown Clay Powder does not contain any chemically infused or toxin-based ingredients. It does not even have any artificial colorant and fragrance. Our clay powder is also free from fillers, additives, or preservatives. It is also Vegan-friendly and Cruelty-free. The various health properties of this clay powder will inspire you to add to various DIY Products.
We follow certain standard packaging and quality check measures while packing our premium quality brown Rhassoul Clay in zip-lock Aluminium packs so that you can receive them safely at your doorsteps.
We at VedaOils offer our Organic Brown Rhassoul Clay Powder in packages of different quantities (100gm, 500gm, and 1kg) so that you can order them as per your needs from our website. We export our Rhassoul brown clay in bulk quantities to various countries including The USA, Canada, Australia, etc. through our logistic partners DHL, FedEx Blue Dart, India Post, etc.
Frequently Asked Questions
WE NOTICE YOU ARE FROM
US & CANADA LOCATION