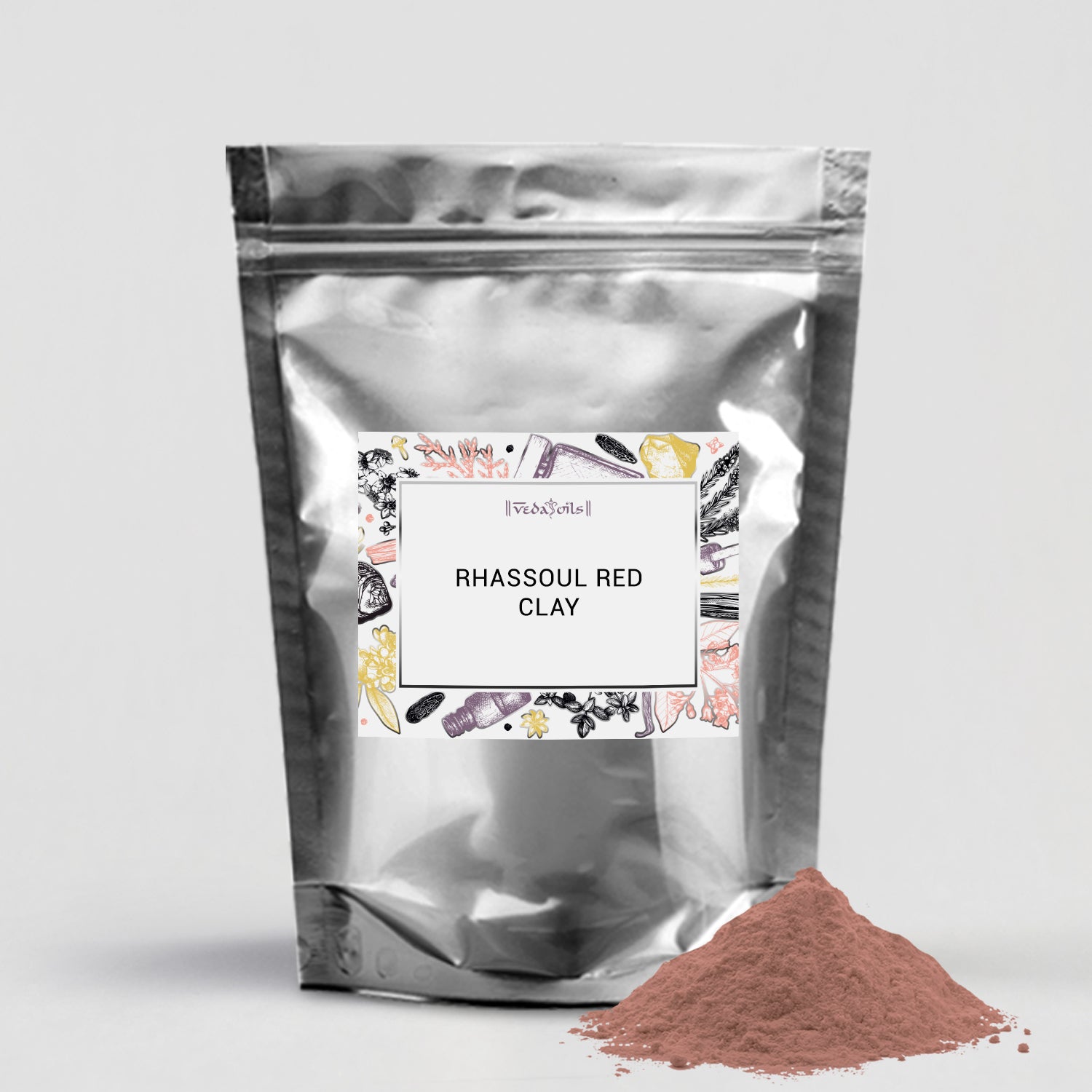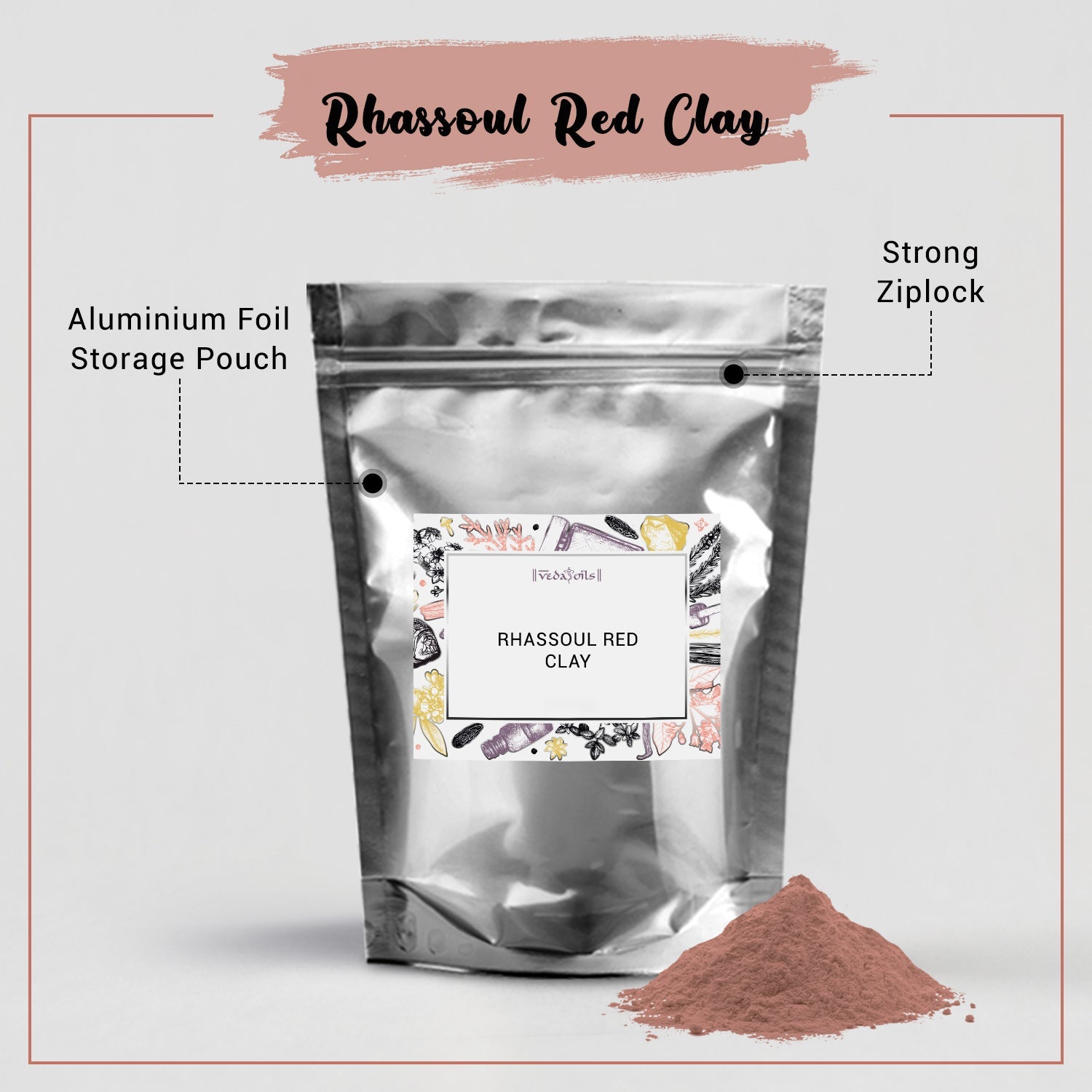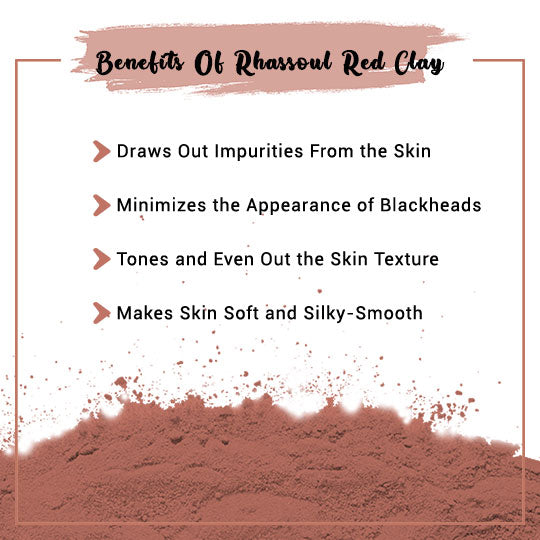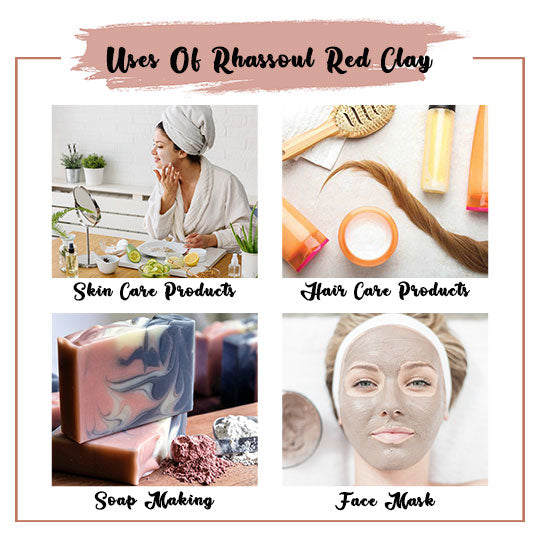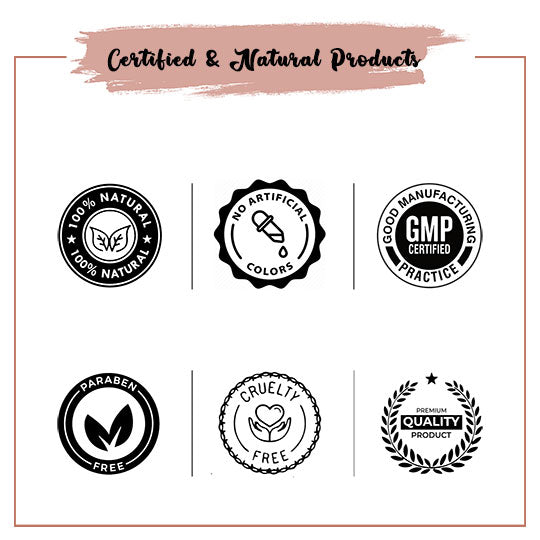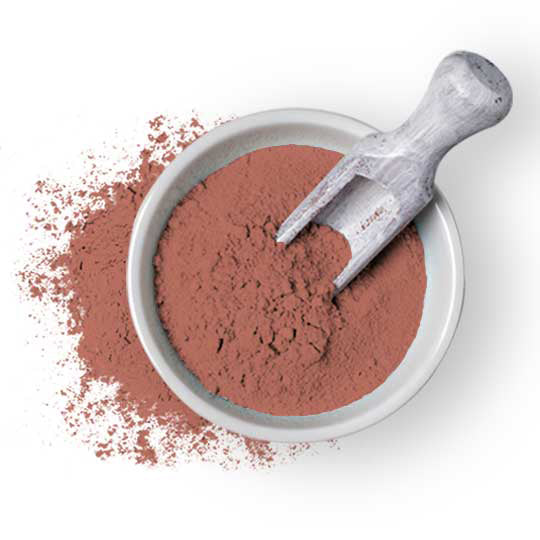 Our Certifications
Red Rhassoul Clay
Red Rhassoul Clay has been one of the most used clays from the last 1500 years. It is found in the fertile deposits of the Moroccan Atlas Mountains. Powdered Red Rhassoul Clay is widely known cosmetic clay that is rich in Hematite Iron. The rich iron content in this clay powder makes its appearance red in color. Natural Red Rhassoul Clay Powder also contains montmorillonite, kaolinite, illite, and calcite which make it even more skin rejuvenating.
Mineral-rich Red Rhassoul Clay Powder has excellent detoxifying and remineralizing properties which help to enhance the skin's texture and overall quality. This clay is mild so it is suitable for all skin types. Organic Rhassoul Red cosmetic clay makes the appearance of skin toned, refreshed, and smoothened. The effective nutrients present in this clay contain anti-aging agents which tighten the pores and diminishes the appearance of wrinkles and fine lines. Natural Rhassoul Red clay also constructively revitalizes the skin and provides a youthful glow to it.
Pure Red Rhassoul Clay is rich in silica and magnesium which are the most effective ingredients for hair growth and nutrients restoration. These minerals possessing clay are used to make various hair care products like Hairmasks, Cleansers, Conditioners, etc. You can even use Red Rhassoul clay powder to make DIY Face Masks, Scrubs, and many other cosmetic products.
We at VedaOils offer you the most amazing Rhassoul Red Clay Powder that will benefit your hair and skin in boundless ways. It is completely chemical and toxin-free so you can use it without stressing about any side effects.
Red Rhassoul Clay Uses
Shampoo
Magnesium and potassium-rich Red Moroccan clay are used to make shampoo as it has amazing extracting and cleansing properties that wash away the product buildup on the scalp. It removes excess oil, dirt, and greasiness from your scalp.
Soap Making
Bathing and Soap bars use Organic Red Rhassoul clay powder as it acts as a magnet that attracts all the dirt and impurities from the skin. The application of this soap bar on the skin provides a good cleansing and nourishing experience.
DIY Facial & Body mask
Rhassoul Red super clay is used to make face and body masks which makes skin glowing, and radiant. It helps to get rid of dead skin cells and damaged skin that gets accumulated on the skin. It diminishes age spots, and blemishes.
Hair Mask
Powdered Rhassoul Red clay adds a nutritious value to hair masks which helps to keep the scalp and hair strands healthy. Organic Red Rhassoul clay hair mask helps in detangling hair by making them frizz-free, soft, and silky.
Body & Face Scrub
Small particles and granules of Red Rhassoul clay are used to make exfoliating scrubs that can be used on the body as well as the face. This scrub will help in buffing the texture and bumpiness on the skin.
Bath Salt
Skin hydrating and nourishing Moroccan Rhassoul Red Clay is used to make relaxing bath salt which will calm and soothe the irritated skin. It will also help to treat various skin issues like rashes, itchiness, redness, etc.
Rhassoul Red Clay Benefits
Extracting Properties
Natural Rhassoul Red Clay from Morocco contains natural purifying and extracting qualities that attract all the impurities and toxins from the surface of the skin. It also cleans the excess oil and sebum from the skin.
Even Skin Tone
Potassium and sodium present in natural Red Rhassoul clay powder helps to balance the pH level of the skin. Red Rhassoul clay takes care of the uneven skin tone and texture making it looks smoother and brighter.
Makes Skin Smooth
Silica present in Rhassoul Red clay powder helps to provide natural softness and smoothness to the skin. It reduces the texture of the skin by getting rid of the damaged and dead skin cells and promoting cell regeneration.
Revitalizes Skin
Rhassoul Red clay is rich in minerals and nutrients which help to enhance blood circulation and providing a natural glow and luster to the skin. Rhassoul Red clay also tightens the pores making it younger-looking.
Prevents Breakout
Natural Red Rhassoul clay wards off harmful bacteria from the skin which causes breakouts and pimples. Powdered Red Rhassoul clay also prevents acne and pimples by controlling the production of oil and sebum.
Restores Hair Health
Red Rhassoul clay powder contains high content of magnesium and silica which has conditioning effect on the hair. It remineralizing and restores the nutrients in the hair scalp and strands making its appearance shiny.
Packaging Sizes
Please Note: The packaging shown above is a General Representation of the various sizes and types of packaging available for this product. Not all sizes and types of packaging for this product maybe available at all times.
Buy Red Rhassoul Clay Powder at Wholesale Price
VedaOils is one of the leading Bulk Manufacturers, distributors, suppliers, vendors, and wholesalers of the Best-quality Red Rhassoul Clay Powder in United Kingdom. We manufacture mineral-rich and high-quality clay powder that will make your skin and hair rejuvenated and healthy.
Red Rhassoul Clay Powder is free from chemical, toxin, and alcohol-based ingredients. It does not even contain any artificial colorant and fragrance. It is also free from fillers, additives, or preservatives. Red Rhassoul Clay is Vegan-friendly and Cruelty-free.
Our Powdered Red Rhassoul Clay is packed in zip-lock Aluminium packs to avoid spills and damage during transit. We follow certain standard packaging and quality check measures while packing our finest quality Red Clay so that you can receive them in perfect condition at your doorsteps.
We at VedaOils offer our Red Rhassoul Clay Powder in packages of different quantities (100gm, 500gm, and 1kg) so that you can order them as per your needs from our website. We export our Pure Rhassoul Red Clay in Bulk Quantities to various countries like The USA, Canada, Australia, etc. using our logistic partners DHL, FedEx Blue Dart, India Post, etc.

Frequently Asked Questions
WE NOTICE YOU ARE FROM
US & CANADA LOCATION