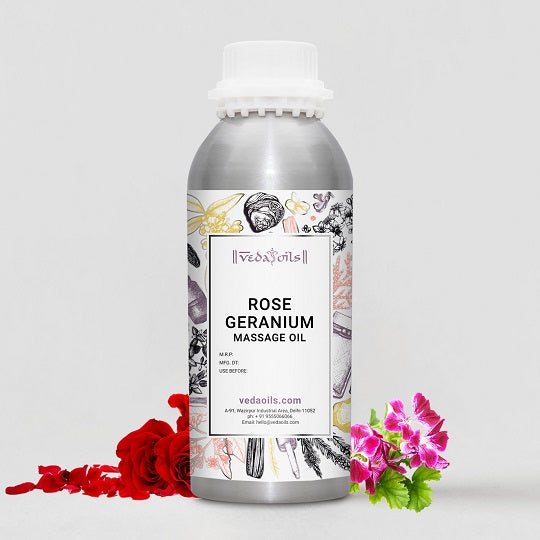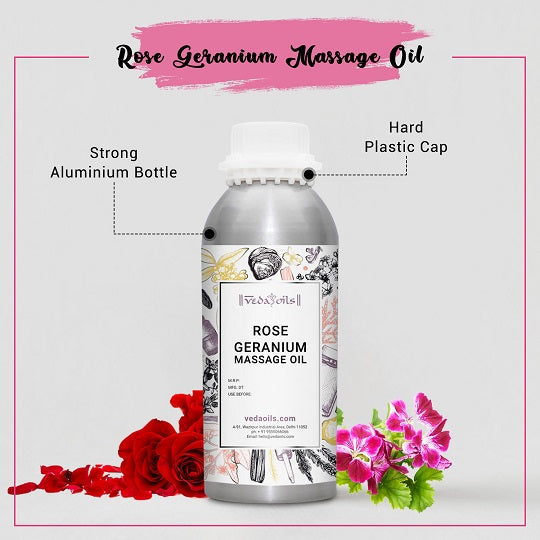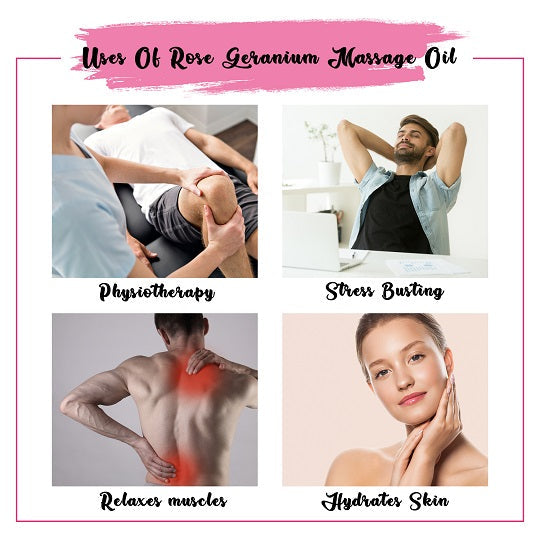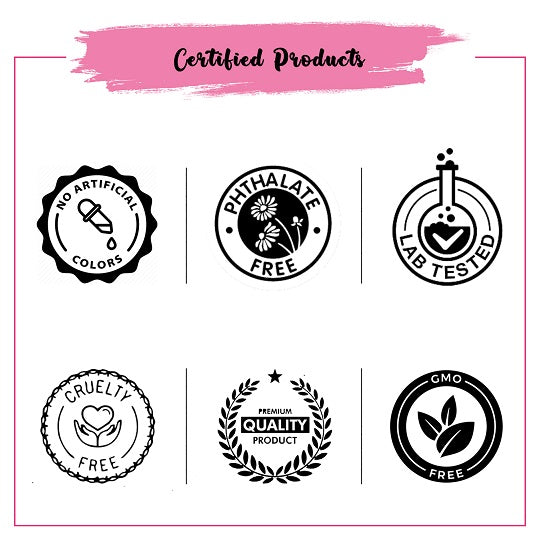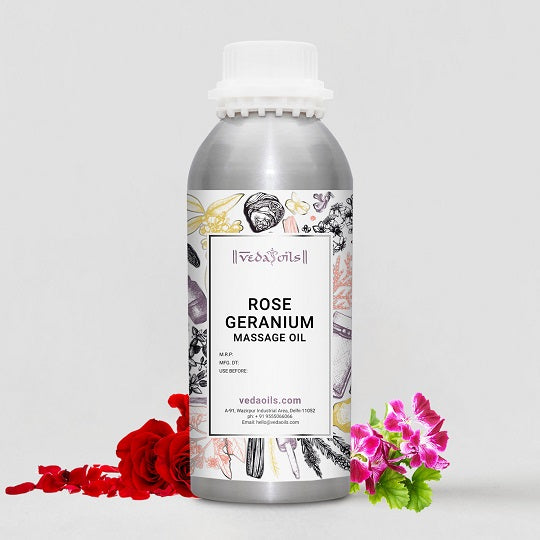 Our Certifications
Rose Geranium Massage Oil
Rose Geranium Massage Oil is a delectable blend, full of antioxidants, vitamins, and nutrients that keeps skin supple, soft, and toned. It contains a fusion of exotic ingredients that maintains mind and body harmony. In addition to firming and toning, this massage oil also smooths rough skin texture. Vitamins A, C, D, and E make this oil a natural moisturizer.
Geranium Rose Massage Oil's soothing, the floral scent makes you feel less stressed whenever you smell it. It acts as a powerful emotional stabilizer to help balance hormones. With its slight woody scent, you will feel comfortable and relaxed as it provides the perfect balance between nature and energy while providing you with the feeling of being rejuvenated and calm.
Blood circulation is promoted by Rose Geranium massage oil. Also known for its antioxidants and hydrating effects, it has long been used to combat aging and skin irritations. Massage using this oil will help to reduce cellulite and ensure a youthful appearance. The essential fatty acids present in Rose Geranium oil act as anti-bacterial and anti-inflammatory substances that penetrate the skin deeply and nourish and soften it.
How to Use: Take a few drops of Geranium Rose massage oil and apply it all over your body. Gently massage the body in a circular motion for 25-30 minutes. Leave it on for at least 30 mins so that nutrients can absorb deeply into the skin.
Benefits of Rose Geranium Massage Oil
Reduce Anxiety and Depression
Geranium Rose massage oil has a calming and rejuvenating aroma that helps to relieve depression and mild mental fatigue, as well as mild anxiety and sadness. It has a refreshing effect on the mind that helps to ease anxiety and depression.
Alleviates Joint and Muscle Pain
Analgesic and anti-inflammatory properties of Rose Geranium prevent and ease the pain. It is very effective for chronic pain, general muscle soreness, and muscle spasms. It also helps with joint discomfort and muscle aches.
Anti-inflammatory Effect
Geranium Rose massage oil contains natural ingredients that have strong anti-inflammatory properties, so it can be used to reduce inflammation in muscles and joints. It also eases the pain or body ache that is caused by inflammation.
Antimicrobial properties
Rose Geranium massage oil not only treats acne but also prevents infections and allergies caused by microbes. It removes bacteria that may enter your pores, causing breakouts, and leaves your skin looking clear and smooth.
Softer and Elastic Skin
Geranium Rose massage oil contains vitamins E and C that improve the efficiency and effectiveness of the skin. It also improves your skin's elasticity and softness as it's helpful in replenishing moisture, flexibility, and softness.
Uplifts Mood
Rose Geranium essential oil has a very relaxing and pleasant aroma that helps to relieve stress, anxiety, and lift your mood. This massage oil also experience also provides a great energy boost as well as an increase in your mood and focus.
Product Specifications
| | |
| --- | --- |
| Product Name: | Rose Geranium Massage Oil |
| Brand: | VedaOils |
| Country of Origin: | United Kingdom |
| Foam: | Liquid |
| Color: | Light to Dark Yellow |
| Aroma: | Floral, Rosy and Green |
| Alcohol-Free: | Yes |
| Usage/Application: | Body Massage / Aromatherapy |
| Packaging Type: | As per requirement |
| Storage: | Store in a Cool & Dry place. |
| Shelf Life: | 2 years |
Packaging Sizes
Please Note: The packaging shown above is a General Representation of the various sizes and types of packaging available for this product. Not all sizes and types of packaging for this product maybe available at all times.
Buy Rose GeraniuM Massage Oil Online In UK at Low Price
VedaOils is one of the leading Wholesale Suppliers, Manufacturer, and Exporter of Rose Geranium Massage Oil and other natural oil in United Kingdom. We offer the purest forms of massage oils to our customers. No chemicals, additives, or fillers are added to them. They also do not contain any artificial colors, preservatives, and fragrances. Therefore, they prove to be ideal for daily use.
We employ numerous tests and quality checks to ensure that only Premium-quality and Rose Geranium massage oil reaches your doorsteps. The highest quality and packaging standards are employed to deliver desirable results on usage. Also, our portal uses a secure payment gateway to safeguard your transactions. Buy Rose Geranium massage oil from VedaOils Online according to requirements at the best competitive prices in the market.
We export our high-quality massage oils to the US, Canada, UK, Australia, and other countries. Our products follow the highest standards when it comes to quality and purity. We assure you that you will not regret choosing us! We also deliver the products throughout the world using our logistic partners DHL, FedEx Blue Dart, India Post, etc. Do not miss this excellent opportunity to buy chemical-free, and multi-purpose Geranium Rose massage oil from VedaOils.
Frequently Asked Questions
WE NOTICE YOU ARE FROM
US & CANADA LOCATION