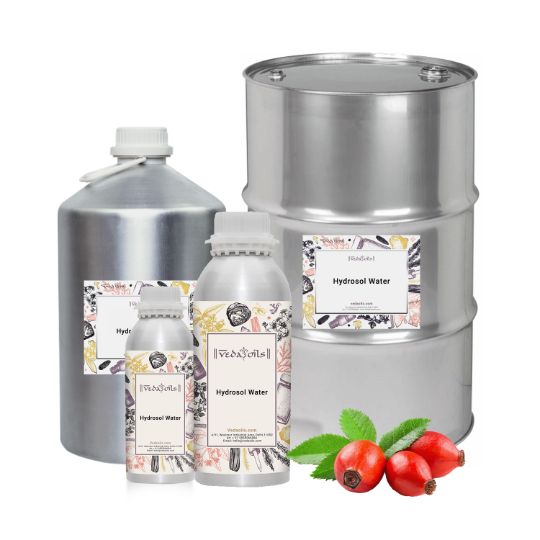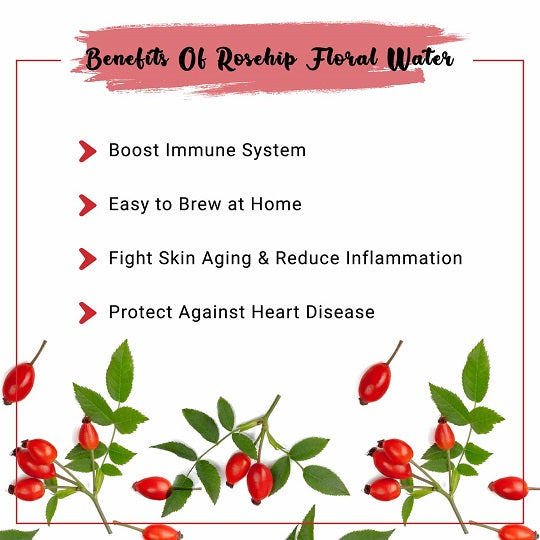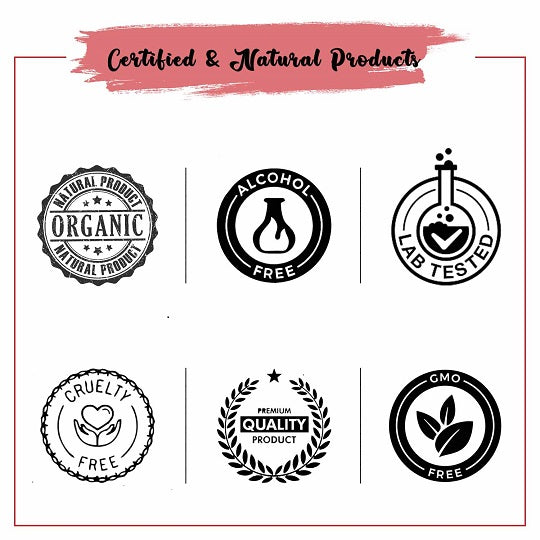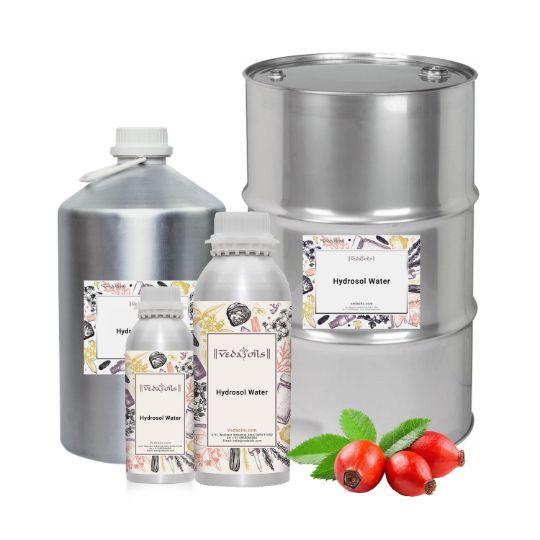 Our Certifications
Rose Hip Hydrosol Water
Rosehips are known as delicate fruits of a domestic or a wild rosebush. When roses die out or wilt, and left on the bush, they leave behind a bright reddish-orange, spherically shaped fruit. These tiny edible, spherical fruits are known through studies to be a rich source of powerful medicinal properties.
Rose hips are extremely high in naturally occurring vitamin C. Rose Hip Hydrosol makes great skin toning additives to any beauty care recipe. This version of a rosehip is waterborne, so it can be easily incorporated into a lotion recipe by subbing out the water portion in your formulation for this hydrosol. It also makes a great standalone facial toner, and with continued use, it will help tone and tighten the skin.
Natural Rosehip Floral Water has been studied by researchers and is known to contain essential vitamins like vitamin C and vitamin A. It has also shown to contain essential fatty acids like oleic acid, palmitic acid, linoleic acid and gamma linolenic acid. Rosehip water is an excellent source of vitamin F, which is a fatty acid made of linoleic acid and alpha-linoleic acid.
Rosehip flower water is crafted organically by the steam distillation of rosehip essential oil or rosehip seed oil. The plant matter used in essential oil distillation imparts the hydrosol with water-soluble aromatic and therapeutic properties of the plant.
Distilled Rosehip Water is known to have fabulous and fantastic properties which provide numerous benefits to the skin. It is a proven raw ingredient and an excellent choice for use in facial toners, hair care products, scalp toners, face cleansers, room fresheners, air fresheners, aromatic bath additives, foot sprays, body mists, facial masks, meditation or prayer sprays, car freshening sprays, calming sprays and such.
Rose Hip Hydrosol Water Uses
Face Toners
Rosehip is an excellent face toner ingredient. Organic rosehip water is effective in regulating excess sebum. After cleansing and drying your face, put some onto cotton and dab it onto your face, then apply moisturizer.
Cosmetic Care Products
Naturally extracted product, Rosehip hydrosol is best ingredient for preparation of make-up setters. Spritzing hydrosol after doing make-up helps it stay in place for longer period and gives dewy appearance to skin.
Hair Care Products
Rosehip floral water is considered as best distilled water intended for hair care. It adds volume, boosts growth and prevents thinning. Its astringent and moisturizing properties rejuvenate scalp and strengthen roots.
Aromatic Bath
Good aromatic bath in a bathtub helps to calm mind and body. You can add a few drops of distilled rosehip water in a bathtub to enjoy a rejuvenating and a relaxing aromatic bath. It also soothes senses.
Diffusers
Natural rosehip water when used in diffusers can help open up nasal passage and refresh the senses. Used in aromatherapy, candle lit diffusers is best method for diffusing the rosehip hydrosol.
Home Cleansers
Spritzed on clothes and window curtains to repel bugs like mosquitoes, flies and such. Using rosehip hydrosol water in home cleansing activity can help disinfect surfaces.
Rose Hip Hydrosol Water Benefits
Anti-Ageing Properties
Include rosehip flower water in your beauty regimen proves to help in minimize wrinkles, fade scars, blemishes and age spots. It also curbs fine lines, improves complexion and balances skin tone.
Hydration Properties
Remove any blemishes from skin, pure rosehip water helps in refining skin pores by cooling skin. Great hydration and cooling properties of floral water also helps in controlling skin breakouts.
Treat Skin Itchiness
Rosehip hydrosol water can be used to treat redness and itchiness of skin instantly. You can add hydrosol onto a fine mist spray bottle. Spritz on acne as needed throughout the day.
Treating Acne
Acne sufferers have acne that's itchy, dry and painful, especially those with cystic acid. You can add rosehip hydrosol into fine mist spray bottle. Spritz on your face as needed.
Regenerative
Organic rosehip water is rich in vitamin C, which is known for its collagen-boosting and cell turnover properties. It helps regenerate damaged skin including sunburns and scars.
Cleansing
Deep skin cleansing properties in rosehip floral water which drives out stale sebum, dirt, and pollution within pores. It contains alpha-hydroxy acids that help exfoliate skin and remove impurities.
Product Specifications
| | |
| --- | --- |
| Product Name: | Rosehip Hydrosol Water |
| INCI Name: | Rosa Canina |
| Raw Material Source: | Rosehip leaves |
| Extraction Process: | Steam Distillation |
| CAS Number: | N/A |
| Country of Origin: | United KIndom |
| Suitable For: | Creams, Lotions, Facial steam |
| Color: | Colorless |
| Odour: | Soft, Slightly Green, Fresh, Swwet Anise/Licorice-Like Aroma |
| Solubility : | Soluble In Water And Alcohol, Insoluble In Fixed Oils |
| Storage: | Store in a Cool & Dry place. |
| Shelf Life: | 2 years |
| COA: | |
| MSDS: | |
CAUTION: It is meant for external purposes. Keep it away from the reach of your kids and avoid direct contact with eyes.
Packaging Sizes
Please Note: The packaging shown above is a General Representation of the various sizes and types of packaging available for this product. Not all sizes and types of packaging for this product maybe available at all times.
Buy Rose Hip Hydrosol Water At Wholesale Price
VedaOils is the largest manufacturer, supplier, wholesaler and seller of varied types of hydrosol waters, We promises to indulge you in the freshness and quality of our wide-range products, including our Organic Rosehip Floral Water. Vedaoils do not compromise with the quality of the products when it concerns your health and beauty. We assure you that we adopt the highest quality standards both in production and packaging, delivering to you the ultimate, premium quality product.
We follow strict packaging standards while packing our high-grade hydrosol water so that you can receive them in perfect condition at your doorstep. We offer VedaOils Pure Rosehip Water in packages of different quantities (1kg, 5kg, 10kg, 25kg) so that you can order them as per your needs from our website. We aim to provide you with the finest of the goods, giving to you the richness and the goodness of pure natural ingredients.
You can purchase VedaOils rosehip flower water from our online store, from the comfort of your home at the most affordable prices and safe payment methods. Our hydrosol waters not only caters to your cosmetic and beauty needs, but also to preparation of cleaners, room sprays and more. Check out the bulk prices of our products and avail huge discounts.
Apart from being a fine manufacturer in the United Kingdom market, VedaOils is quickly emerging as a leading producer, and exporter of global quality natural rosehip hydrosol water. We are exporting products globally to countries like the USA, Canada, Australia and many more. It does not contain any chemicals or artificial preservatives and is, therefore, a good alternative to synthetic fragrances and oils. Our logistics partners like DHL, India Post, Blue Dart, FedEx, etc.
Frequently Asked Questions
WE NOTICE YOU ARE FROM
US & CANADA LOCATION